Safest Cars For Winter Driving
11 November 2021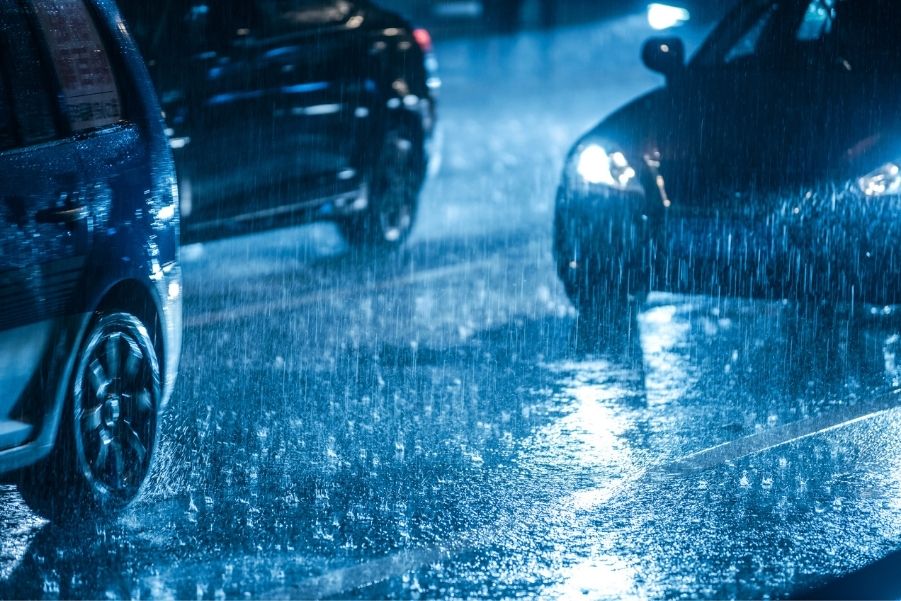 Photos © 2022 Motorpoint
Whether you carry passengers or drive alone, your safety is paramount to, especially as the weather starts to turn and the nights get darker.
Winter driving brings multiple challenges, whether that is heavy rain, ice, snow or just the dark commutes. But not to worry, there are certain cars and features that will enable you to drive confidently in those tricky wintery conditions. We have listed some of our favourite features that can play a big part in safe driving during winter.
Best Features For Winter Driving
4 Wheel Drive
The four-wheel drive system (sometimes referred to as AWD) has to be the feature that will have the biggest impact on your safety when driving this winter. This system engages all four wheels rather than two, which maximises traction when pulling off but also provides you with more control. This feature tends to be most common within larger vehicles such as saloons and SUVs / Crossovers.
Heated Windscreen
Gone are the days of spending agonising minutes (which leys face it, always feels like hours) waiting for your windscreen to defrost and demist!
Heated windscreens are designed to work faster than your normal in car heaters. Ultra thin filaments generate more power to clear your windscreen faster and get you on the move quickly on cold frosty mornings.
Clear visibility is essential before setting off and what quicker and safer way than a heated windscreen?
Heated Seats
Once you get used to a car having heated seats, it becomes an essential feature on all your future car purchases. Whether the interior is cloth, part or full leather, it is certainly not our idea of fun climbing into a freezing cold car first thing in a morning.
Amongst modern cars, it will only take a few minutes for them to get warm, so you won't have to suffer for too long!
Automatic Lights & Wipers
When conditions are really bad, being able to give your full attention to your driving is a huge help without having to worry about adjusting the speed of your wipers and switching your lights on and off.
Automatic lights will sense the changes in outside light conditions and automatically turn on and off where necessary.
Automatic wipers will sense if it is raining outside and also how heavily the rain is falling and adjust the wiper speed accordingly, enabling you to focus on the road ahead.
Heated Wing Mirrors
The feature you never knew you needed! This is a great feature to keep your wing mirrors clear and ensure you have all round visibility.
Heated Steering Wheel
This may be viewed as more of a luxury than an essential feature but it doesn't mean we love it any less. A heated steering wheel is a real nice treat during those cold months to keep your hands nice and warm whilst driving.
Puddle Lighting
One of our favourite winter features. Puddle lighting will light up an area when getting in and out of your car in the dark so you can see where it is safe to stand.
Keeping your footwear dry will stop your feet from slipping off the pedals but also prevent you from ruining your best footwear!
Intelligent Lighting
Found amongst some Mercedes, intelligent lighting will highlight speed limits on the road so no need to get distracted by looking for road signs when visibility is poor.
Safest Cars For Winter Driving
We have established some handy winter features, but which cars tick all the boxes when driving this winter? We have worked our way through a vast amount of makes and models to select our top 5 cars for winter driving.
Volvo XC60 AWD
Volvo continue to be a major player in manufacturing safe and reliable vehicles and the XC60 is no different.
The AWD system allows for a relaxing, smooth ride coping comfortably with whatever Mother Nature throws its way. Heated seats will keep you warm and comfortable throughout your journey and Volvo's heated windscreen will enable you to be on your way a lot quicker than having to de-ice your windscreen from scratch.
The home safe lighting consists of dipped beam, position lamps & lamps in the outside handles to even keep you safe when you are parked up and getting in and out of your car.
Heated windscreen
Heated seats
Heated door mirrors
4WD
First Aid Kit
Home safe & approach lighting
Drive mode selector
Rain sensor windscreen wipers
Front & rear parking sensors
Sat nav


Mercedes C Class 4matic Premium
Mercedes will always provide a luxury feel and well-built vehicles. The premium model C Class is no different; however it comes with a lot more specification and features.
The pick of the features has to be the active park assist which uses sensors in the rear bumper to detect the size of a space and allow you to see if your vehicle will be able to fit in a space by parallel parking.
The 4matic system will keep you ahead of the game during winter. Their four wheel drive system will make winter driving a breeze!


Rain sensor windscreen wipers
Active park assist
Collision prevention assist
Heated folding wing mirrors
Heated seats
Front & rear parking sensors
Reverse Camera
Sat Nav


Ford Kuga ST Line X
It was difficult to decide which model of Ford Kuga we preferred as there are so many good options available. We decided on the sporty ST Line X, which gives you a fierce exterior with a vast amount of features to get stuck into.
Our pick of the features is without a doubt the active park assist. This impressive feature will locate you a suitable space as you drive past and steer you into that parking space, which can be just 20% longer than your vehicle. If you have a lack of confidence when it comes to parking, you certainly won't now.


Heated windscreen
Heated seats
Active park assist
Heated folding wing mirrors
Automatic temperature control
Keyless entry & hands free boot opening
Front & rear parking sensors
Sat Nav
Audi A4 Allroad Quattro Sport
Audi's Quattro all-wheel drive system is one of our favourites on the market. It is quite staggering how well it holds up in tricky weather conditions.
Audi's impressive build quality gives you huge confidence in what you are buying (you know you will be purchasing a reliable vehicle built to last)! If you are somebody that enjoys a winter walk, a spot of golf or you are in charge of the big festive food shop, the A4 Allroad's boot space will allow you plenty of room to store everything you need to enjoy your day to day activities.


Heated Seats
Front & rear sensors
Reverse camera
Rain & light sensors
Audi parking system
Heated folding door mirrors
Quattro all wheel drive
Audi connect safety (e-call)
Tesla Model 3
Is there a car with more features and gadgets than a Tesla? We struggle to find one. They even have the Model 3 available in an all-wheel drive. Leading the world in future tech like autonomous driving, Tesla have made huge leaps towards improving not only road, but pedestrian safety too. Pulling out of your driveway on those dark mornings is that bit easier thanks to the rear cross traffic camera, and traffic sign recognition can help flag up the speed limit to make sure you don't accidently drive over the speed limit in poor conditions.


Adaptive cruise control
Lane departure warning
Front parking sensors
Park assist camera
Rear cross traffic camera
Traffic sign recognition
Automatic emergency braking
Blindspot information system
Premium heated seats
Looking For A New Car To See You Through The Winter?
We have a fantastic choice of nearly new cars all available at unbeatable prices. Whether you're looking to upgrade your current model, or looking for something that is more suited to the unpredictable British winter, you're sure to find the car you are after.