Estate cars combine the value and driving manners of a hatchback with the space of an SUV. Here's why you should buy one
Estate cars are still popular in the UK, despite the ever-increasing tide of SUVs. No longer simply boring boxes on wheels, estate cars have become stylish and economical alternatives to high-riding crossovers.
They're based on hatchback or saloon cars, but add a much bigger boot – and, in the case of saloons, a bigger tailgate that allows you to carry bulky items with ease. In an SUV, the higher ride height and larger body can have an impact on handling and fuel economy versus an equivalent hatchback, but many estates still handle well and offer excellent fuel economy.
Why buy an estate car?
You'll probably buy an estate car because you need lots of space or you like the 'long-roof' look. Estates are great as family cars – they'll swallow several pushchairs with ease, and typically have good rear-seat space. Their low windows mean that visibility for kids is probably going to be better than in an SUV – if you can get them to look away from their tablets, of course!
Estate cars also feature heavily on our list of the best cars for dog owners. The big boot means that even a Great Dane has space to spread out, and an estate's lower boot lip versus an SUV makes it easier for dogs to jump in and out.
There are petrol estates, diesel estates, hybrid estates and even an electric estate in the form of the MG 5. Fast estates are also a big deal, with the likes of the Ford Focus ST Estate, Volkswagen Golf R Estate and Audi RS4 providing thrilling driving and space for a whole village's groceries.
What are the benefits of an estate car?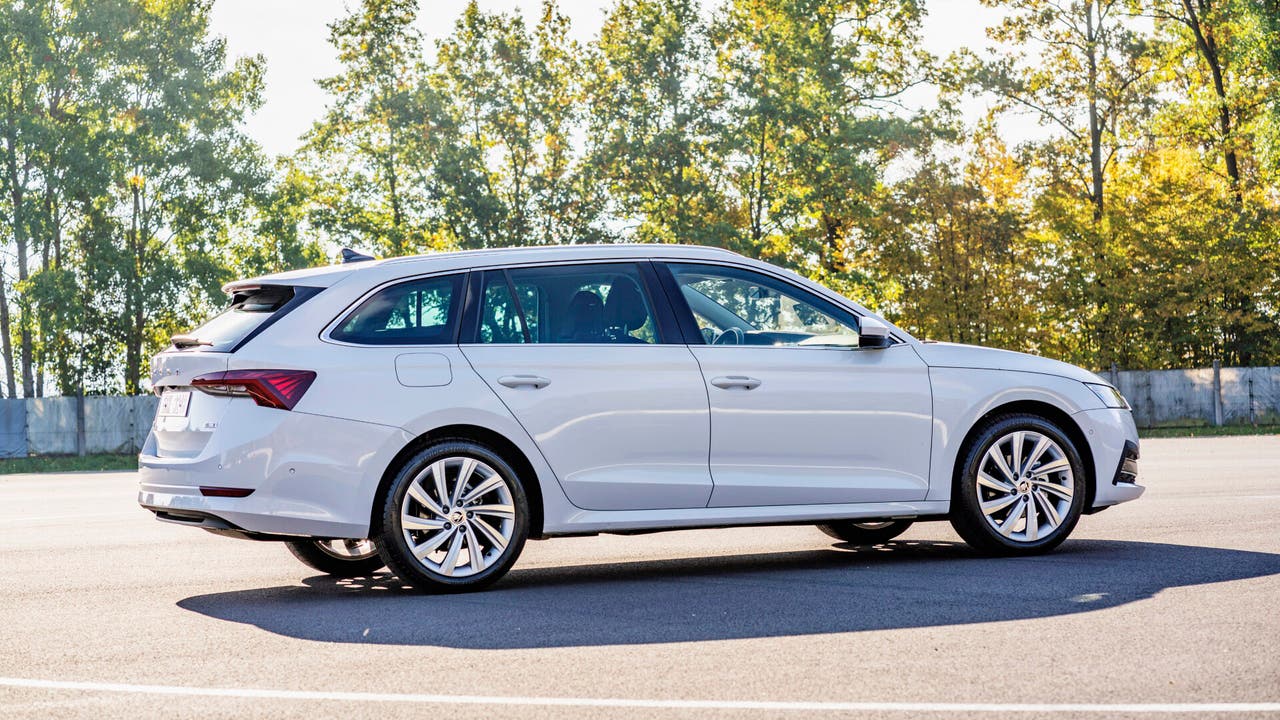 As we've mentioned, estate cars will typically be more efficient and better to drive than an equivalently engined SUV. As an example, a Skoda Octavia Estate in SE L spec with a 1.5-litre petrol engine returns up to 50mpg, while a Skoda Karoq in the same spec tops out at 46mpg – not a huge difference on paper, but it'll add up over the course of a year.
Estate cars may be more expensive than the cars they're based on, but estates are typically cheaper than SUVs. Taking those two cars above, a brand-new Skoda Karoq SE L is about £1,000 more to buy than the Octavia Estate. Let's compare them in more detail.
| | | |
| --- | --- | --- |
| Estate vs SUV comparison | Skoda Octavia Estate 1.5 SE L | Skoda Karoq 1.5 SE L |
| Price new (as of August 2023) | £29,760 | £30,660 |
| Fuel cost per year* | £1,364 | £1,482 |
| Boot space (seats up/down) | 640/1,700 litres | 479-588/1,605-1810 litres |
| Insurance group | 20 | 18 |
* based on manufacturer's mpg figures, 10,000 miles per year and with an example petrol price of 150p per litre
Of course, estate cars have always been known for their big boots, but these days there are many family-size SUVs that'll match or beat an estate's boot capacity. What you might not have considered is how your luggage will be loaded – in an SUV, you'll have to stack everything on top of each other to make use of all the boot space, and it's hardly feasible to stack crates of beer or bottles of wine on top of eggs and soft fruit. In an estate, your luggage can be stacked horizontally, which may be more useful more of the time, depending on what you have to carry.
If you're ready to join the wagon crew, check out our list of the best used estate cars to buy now.