On the hunt for an electric car but baffled by the sudden amount of choice? We've whittled them down to 10 of the very best
If anyone tells you electric vehicles or EVs are still niche, tell them that in 2021 the zero-emissions heroes claimed 11% of the entire UK car sales market, growing by 76% over the year before. So electric cars aren't just the future, they're already here. EVs have exploded in popularity thanks to more choice, ever-improving battery range, the continuing roll-out of charge points, and huge tax incentives – but the appeal remains much the same as it's ever been. There's instant thrust each time you press the throttle, gorgeous refinement because there's no engine thrashing about under the bonnet, plus you're doing the right thing by saving the planet AND saving loads on petrol too.
Really it's a question of when not if you make the switch to EVs (the government will force you to one day, after all), so to help you on that journey, here are Motorpoint's top-ten EV turn-ons. It's worth noting that some are too new to be on Motorpoint's forecourts of nearly new cars, but you can still check out every used electric car we have.
Kia EV6
Kia's dipped a toe in the water with electric cars before, but the EV6 pushes the boat out with its first clean-sheet design. It's why it looks so radical with a nose like a supercar and a stretched wheelbase like a limo, and why rear passengers would need a deck chair and empty beach to bag more legroom. Generous standard kit includes a curved digital display with two 12.3-inch screens, and there's even something called vehicle-to-load charging so you can use the car's battery to power other stuff. Rear-wheel-drive models offer 328 miles on a charge, but go all-wheel-drive and you'll boost power to 325hp and still eke out 300 miles. A Jag iPace on a budget… with more room.
Hyundai Ioniq 5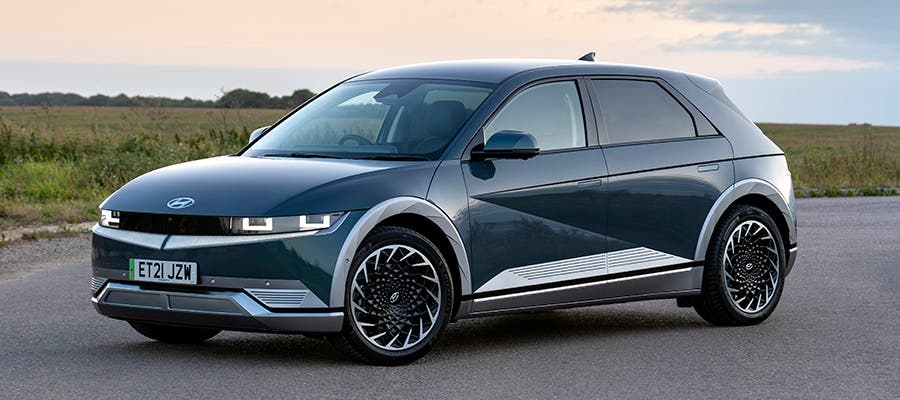 The Ioniq 5 is the Kia EV6's cousin, and both are built on the same mechanical bits that give you loads of space inside and super-fast charging (10-80% in 18 mins if you can find a 350kW charger). You won't mix the two up, though, because the Hyundai rocks a supersized origami hatchback vibe that looks incredible in person. Go for the top-spec all-wheel-drive model if you want bells, whistles and 298 miles of range, but the 5 is also available with rear-wheel drive and a smaller 58kWh battery (as well as the 73kWh whopper) to make this the more affordable of the two Koreans. Even then it's still good for 240 miles.
Find a used Hyundai Ioniq 5 at Motorpoint
Tesla Model 3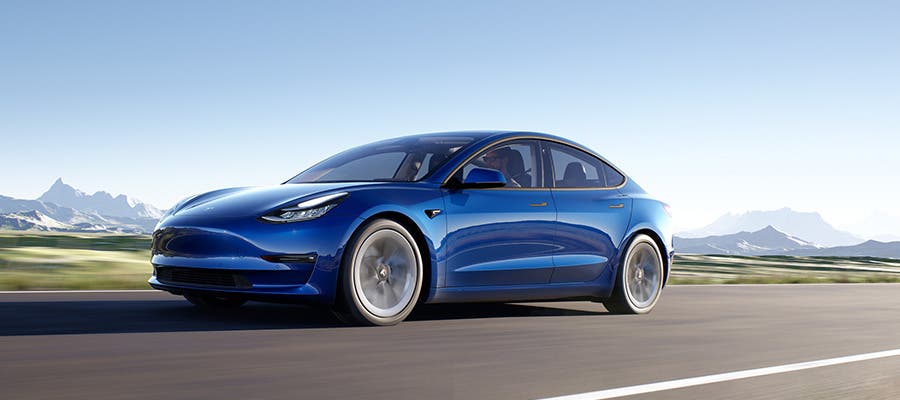 Tesla's most affordable model, the Model 3 was the UK's second best-selling car of all types in 2021, beaten only by the humble Vauxhall Corsa. Of course it ticks all the Tesla boxes, with UFO looks, masses of space including a trunk and a frunk, plus a whopping great touchscreen that lets you play arcade games using the actual steering wheel. But the Model 3's secret weapon is also being a sparky little thing to drive, with lightning-quick steering, perky handling and performance that pings it down the road like a ball off a bat. Get the top-spec Long Range Dual Motor and you can cruise for 374 miles on a charge.
Find a used Tesla Model 3 at Motorpoint
Polestar 2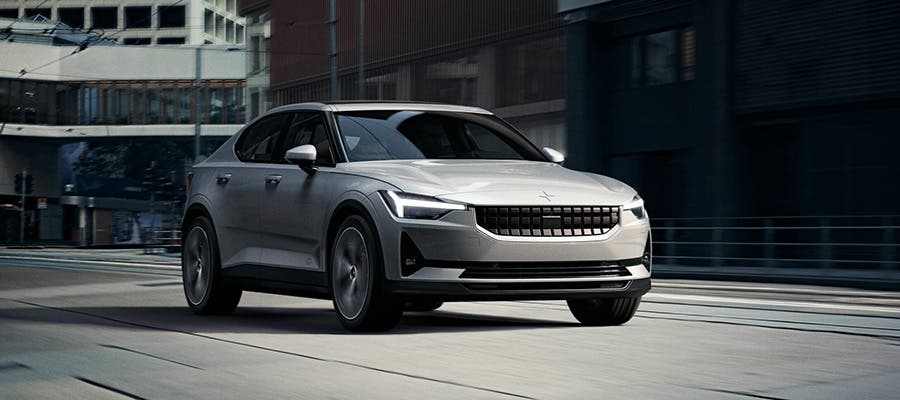 Polestar is Volvo's cleaner, cooler all-electric cousin, and the 2 is, erm, its first all-electric car (the 1 was a hybrid). Deadly rival to the Tesla Model 3, the most powerful Long Range versions have 475hp and squash 50-75mph into just 2.2 seconds, but are good for 335 miles if you resist the temptation. Some plastics feel cheap, but the vegan interior has a Scandi sort of simplicity, and the 2's the world's first car to get Google Android infotainment. That means brilliant Google Maps on a huge touchscreen, and you even get a prediction of how much range you'll have left come journey's end. Not as spacious as most EVs, mind.
Find a used Polestar 2 at Motorpoint
Porsche Taycan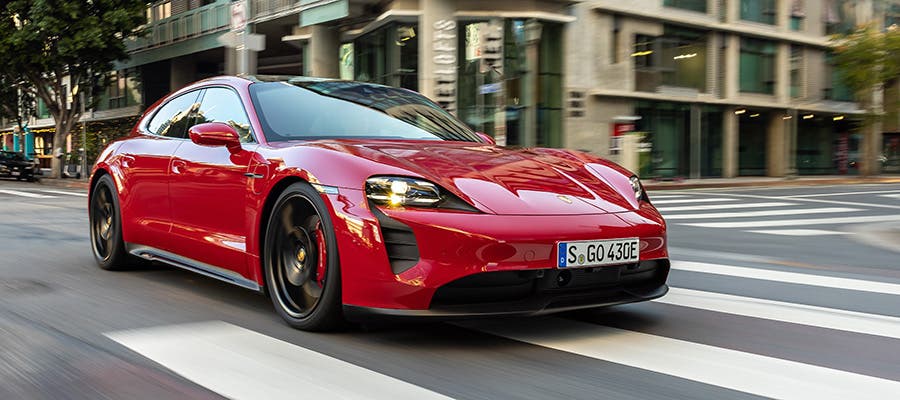 The best driving electric car on sale today by a fair margin, the Taycan is a Porsche first, an EV second. The Sport Turismo version of the Taycan has a sleek estate body and better rear headroom than the cramped-in-the-back regular model, while the Cross Turismo adds a dash of crossover-spec adventure. Even the most affordable examples break the £70k barrier new, and it's easy to blow way past £100k. Range is the biggest weakness, so remember the larger 93.4kWh battery is optional on more affordable Taycans, though an official 268 miles for the entry-level model ain't bad. The GTS wins our 'pick of the bunch' award.
Mercedes EQA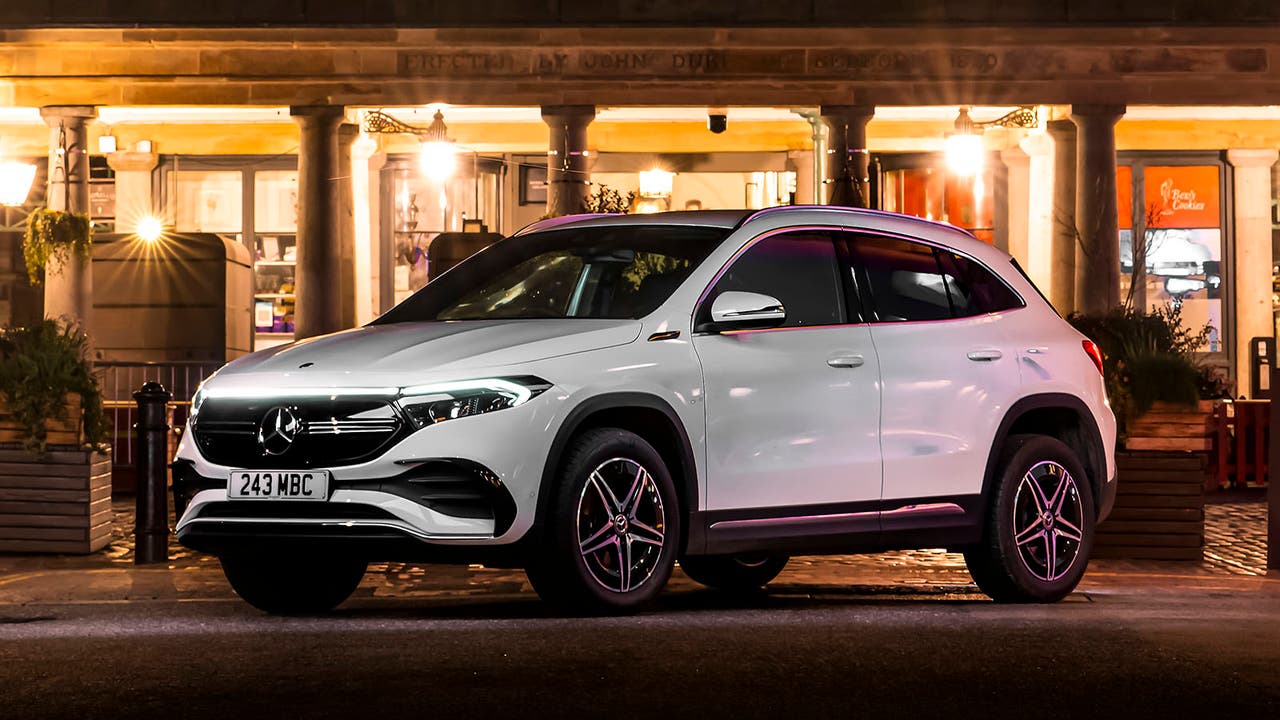 The EQA is the smallest EV in the Mercedes lineup, but it's still one of the best – especially as a nearly new purchase that's already shed some of its value through depreciation. Ignore the battery-powered parts for a moment and you'll appreciate the plush, spacious cabin – soft-touch materials cover nearly every surface and there's loads of neat design details, plus passengers get much more room than they would in an A-Class hatchback. The dual-motor 4Matic versions are impressively quick, but the entry-level EQA 250+ gets a slightly larger battery pack, pushing range north of 300 miles.
Shop nearly new Mercedes EQA cars at Motorpoint
BMW i4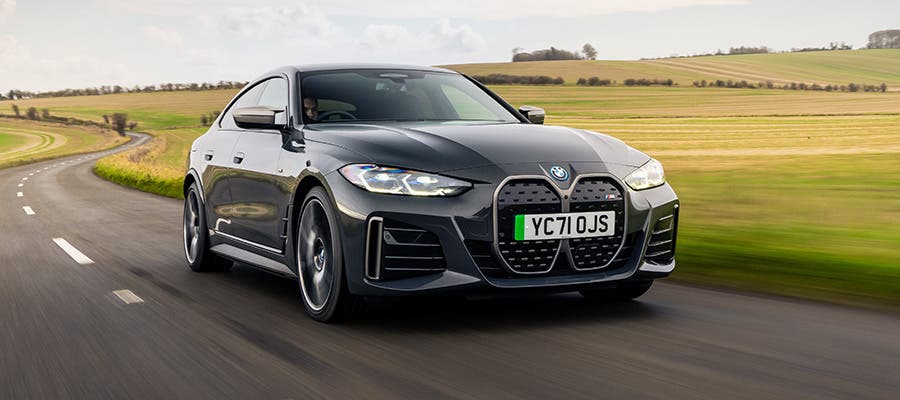 BMW was early to the EV party with the i3, which came in fancy dress, but the new i4 is much more conventional – and that's no bad thing. Based on the 4-series Gran Coupe with its sleek five-door body and gorgeous interior, the i4 just swaps petrol or diesel for electricity, then romps down the road like an Ultimate Driving Machine should. M40 is your entry-level rear-drive model with a 365-mile extension lead and 340hp, while the M50 amps up performance to a whoa-there 544hp, adds all-wheel drive and still runs for up to 318 miles. Both get fab new 27-inch long Curved Display – an infotainment system bigger than some smaller people's TVs.
Audi Q4 e-tron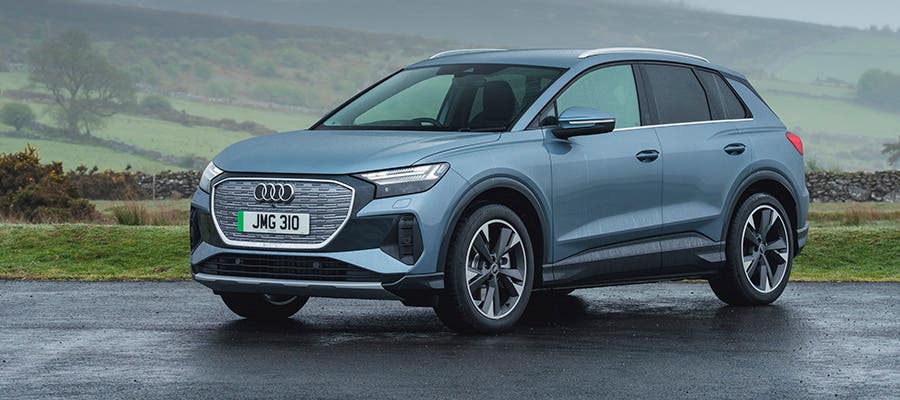 A big EV USP is that they offer more room inside than comparable petrol or diesel cars, simply because batteries and motors eat up less space than pistons and propshafts. Check out Audi's super-stylish Q4 – the posh off-roader takes up the same amount of parking space as a Q3, but step inside and there's more room to max and relax than the much bigger Q5. You'll need the '50' model to get a 77kWh battery,  all-wheel drive and up to 314 miles of range, and that's our pick, but the entry-level 35 is best for value. Range drops to 205 miles and it's no dragster, but it's plenty for nipping around town. Also available as a Sportback with a more slippery coupe-like shape.
Volkswagen ID.3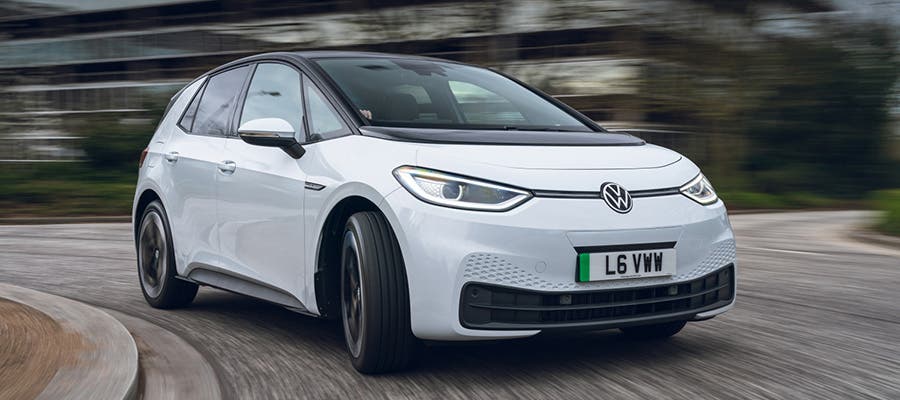 First there was Beetle, then Golf, and now ID.3 – that's how significant Volkswagen's first purpose-built EV is (and why it has a 3 in the name). Like its legendary predecessors, the ID.3 is built to mobilise the masses, so it's pretty affordable for an EV, practical for all the family, plus it's even cheaper to run. A 58kWh battery isn't huge, but it helps keep weight down and still lets you roam for up to 259 miles. Even entry-level versions get the Discover Pro sat-nav and natural voice control – tell the car 'my bottom's cold' and it'll crank up the heated seats, though it can't put food on your table.
Check out our range of nearly new VW ID.3s
Skoda Enyaq iV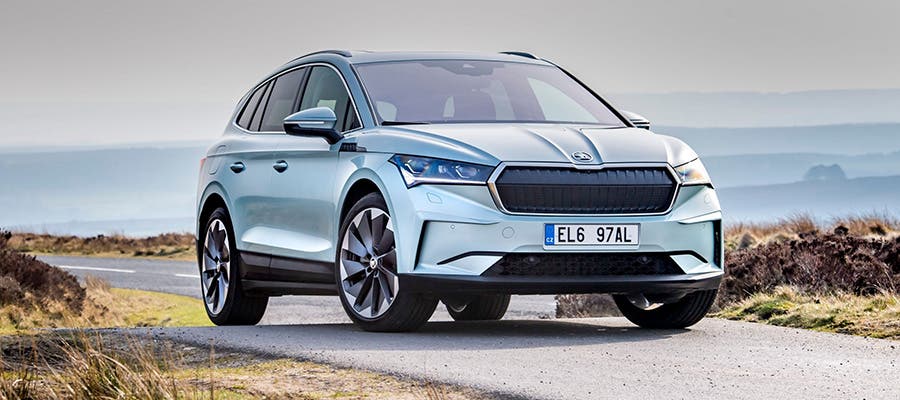 What do you call a zero-emissions Skoda? No, not broken down, it's the oddly named Enyaq iV (and these days they're brilliant BTW). Based on the same bits as the VW ID.4, the all-electric Enyaq IV ticks all the Skoda boxes like a gunslinger shooting bottles off a wall. Comfy? Yep. Refined. Course it is. Huge in the back? Massive Boot? Great value for money? Tick, tick, tick. Choose from 60, 80 and (all-wheel drive) 80x models – all are fab, but the 80's the sweet spot thanks to a bigger 82kWh battery, decent performance and up to 333 miles of cruising.
Not quite ready for a full electric car?
If you're not up for jumping into the EV life, why not check out our favourite plug-in hybrid cars?