Don't want to wait months for a new car but fancy the peace of mind you get from a long warranty? We've picked the best used cars with long warranties
Here at Motorpoint we often hear customers talking about the peace of mind you get with a warranty on a new car. And it's true – if you want the maximum possible warranty duration, then you probably want to buy a brand-new car. However, that's not always possible: new cars are expensive and you're often looking at waiting times of up to a year for new cars to be built.
You'll find used cars for sale on our website that have years and years left under the manufacturer's original warranty. Here are 10 of our favourite used cars that still have long warranties on them – and remember you can always add on our extended warranty to any Motorpoint purchase. Boom.
See what's covered by the Motorpoint Extended Warranty:
Kia Sportage
Warranty length from new: 7 years/ 100,000 miles
We've put the Sportage top of this list because every new Kia is sold with a seven-year transferable warranty. That means you can buy a two-year-old Sportage from Motorpoint (at a huge saving over a brand-new one, naturally), and you still have a whopping five years of warranty cover. Five years! Some people change houses more regularly than that.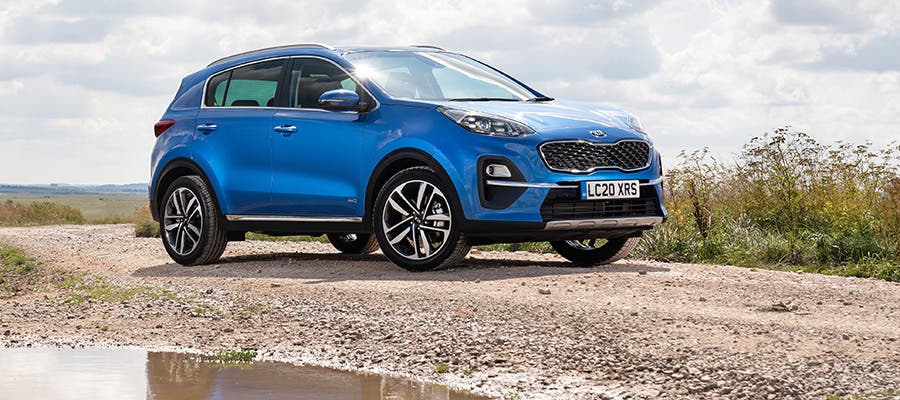 We could also talk about how the Sportage is an excellent all-round family SUV that has plenty of space for all your gubbins, as well as decent infotainment technology such as Apple CarPlay. But we're running out of space so we won't. Oh.
Check out our range of nearly new Kia Sportages – all of which you can drive away today. No waiting.
Toyota C-HR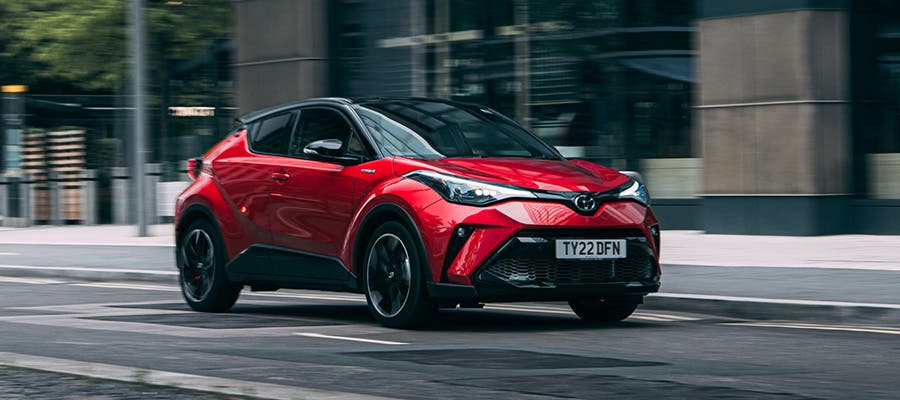 Warranty length from new: up to 10 years/ 100,000 miles
Another brand that's made a name for itself on the back of rock-solid reliability backed by a long warranty is Toyota. And one of the Japanese brand's biggest sellers is the C-HR, a medium-sized SUV that combines striking design with super-efficient hybrid engines and a practical interior. 
As standard, C-HRs registered since June 2021 have a pretty ordinary three-year/60,000-mile warranty. Cars registered before that have a five-year, 100,000-mile warranty, but, BUT, all used Toyotas can be warrantied until they're 10 years old or have 100,000 miles on the clock. Have your car serviced at a Toyota dealer and you'll get a year's warranty tacked on – regardless of how many previous services have been done at a main dealer. Not that you're likely to need to use it, mind.
Take a look at our selection of used Toyota C-HRs. And no, you don't have to wait until they're built. You can go and collect one today. Try it!
Hyundai Tucson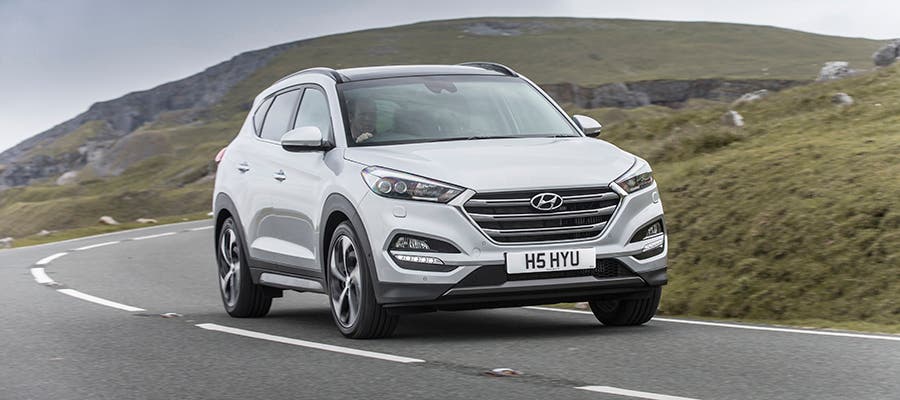 Warranty length from new: 5 years, unlimited miles
It's hardly an industry secret that the Kia Sportage and Hyundai Tucson are, under the skin, essentially the same car. They share the same choice of engines, similar interior technology and the same boot space (give or take a few litres). The choice of which you buy, then, is really dictated by which you like the look of most. 
The Hyundai's five-year warranty may be two years shy of the Kia's, but it's still a brilliant bit of added value when you're buying a nearly new one from Motorpoint. Hyundai doesn't impose a mileage limit, though – perfect if you're a motorway mile-muncher.
Have a browse of our range of nearly new Hyundai Tucson models.
MG ZS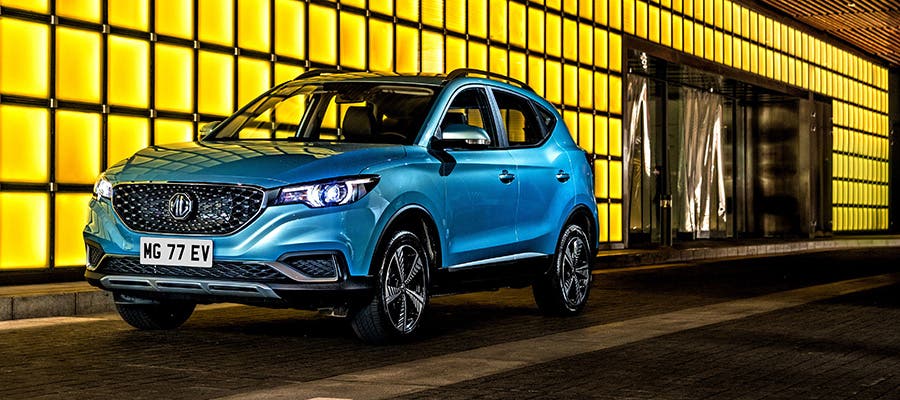 Warranty length from new: 7 years/ 80,000 miles
The MG ZS may have flown under your radar, but this Chinese-built SUV has a lot going for it – including a seven-year warranty.
If you need an urban runabout you'd do well to take a look at the ZS because it's available as an EV. Its purely electric powertrain is set up for efficiency rather than performance, but you'll still only get about 160 miles from a full charge. If you can charge at home and don't do lots of long journeys, however, this could be an ideal family SUV. And just think of the warranty…
Check out our range of used MG cars for sale.
Kia Niro PHEV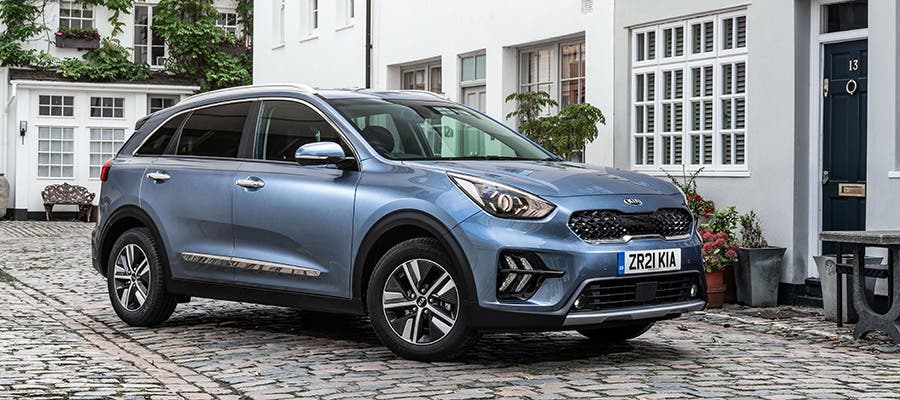 Warranty length from new: 7 years/ 100,000 miles
Another alternatively fuelled car, the Kia Niro is available as either a self-charging hybrid or a plug-in hybrid (PHEV), which can travel up to 30 miles on a charge. It's another small family SUV, which prioritises interior space over performance – which is fine by us. It's worth noting that the 324-litre boot isn't massive on the plug-in hybrid – the regular self-charging hybrid version gets 382 litres, which is quite a reasonable improvement.
Find a nearly new Kia Niro to suit you.
SsangYong Korando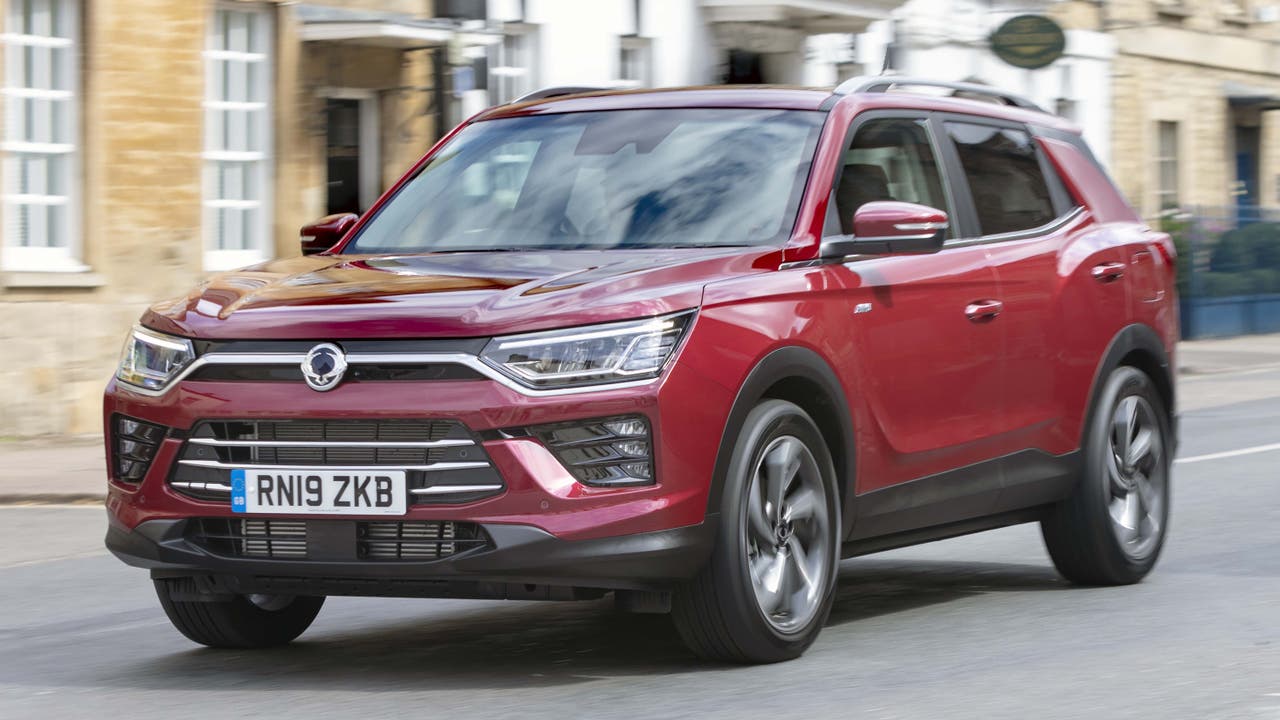 Warranty length from new: 7 years/ 150,000 miles
It might sound like some sort of mythical dragon (SsangYong literally means 'double dragon'), but the Korando is actually a good-value SUV that rivals the likes of the Nissan Qashqai. The Korando's rugged feel is backed up by the availability of four-wheel drive and an industry-leading warranty. Many cars get scrapped long before 150,000 miles, but this workhorse won't be. Inside, there's plenty of space for a family, and more tech than you might expect given how much you're paying for it. High-spec versions get a powered tailgate, digital dials and heated and cooled front seats.
Shop used SsangYong Korando cars for sale at Motorpoint
MG HS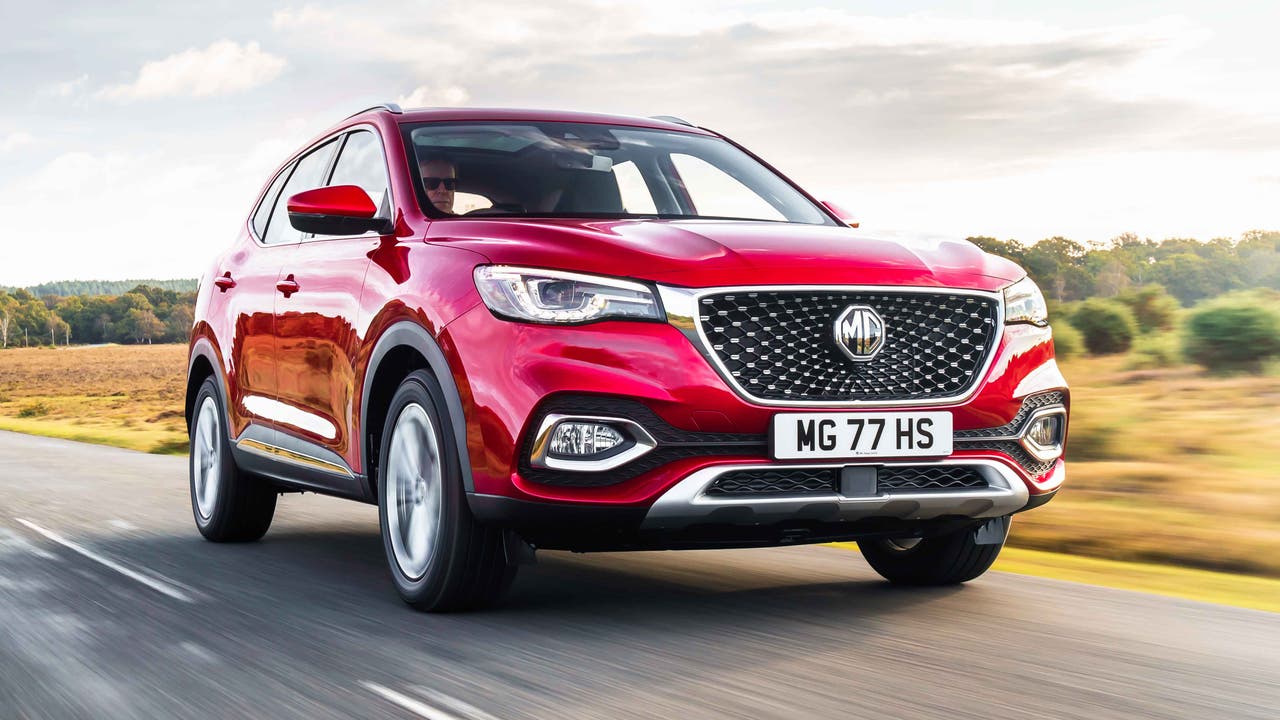 Warranty length from new: 7 years/ 80,000 miles
MG's bigger SUV could well be its best-value model. In the HS you get vast amounts of interior space and plenty of room for five people, plus a smartly designed interior with tactile shortcut buttons for the home screen and climate control functions. There's even a plug-in hybrid available, which is capable of 32 miles of whisper-quiet eco-friendly electric driving from a fully charged battery.
And, of course, MG will cover your HS for up to seven years if you have servicing done at an MG garage.
Browse our exciting range of used MG HS cars for sale
Renault Clio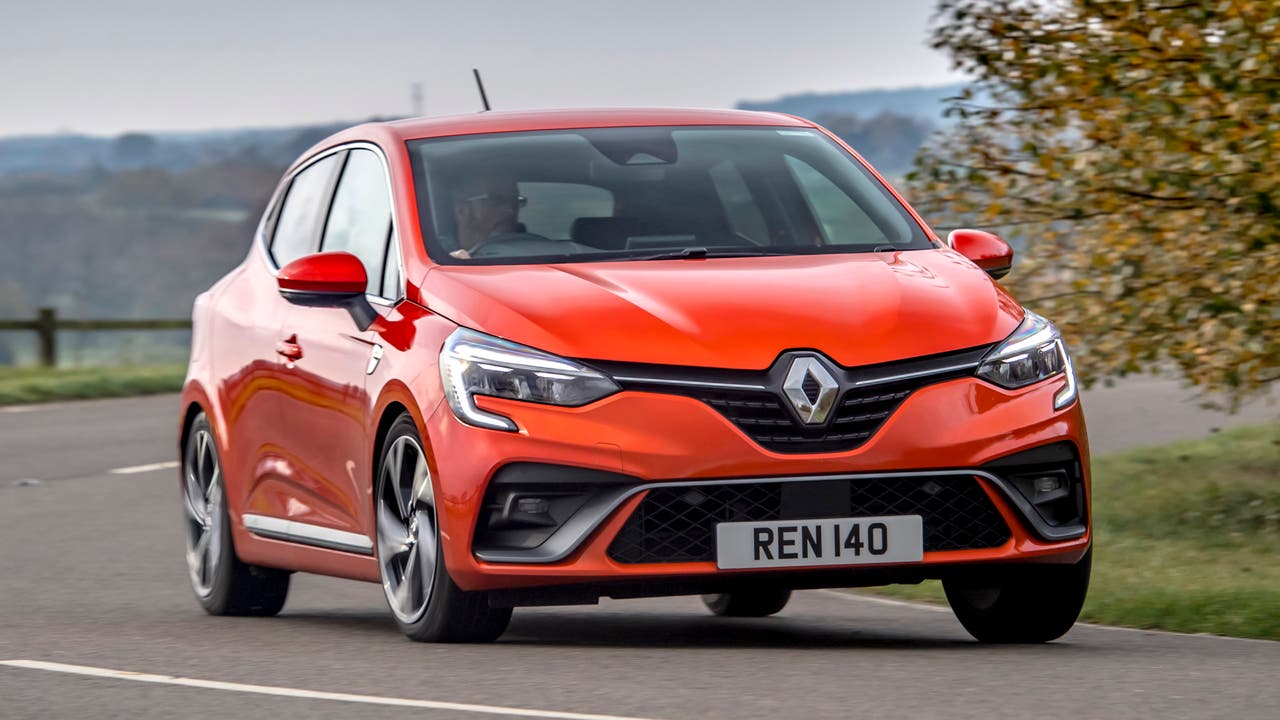 Warranty length from new: 5 years/ 100,000 miles
Often, it's manufacturers from Japan, Korea and China who offer the most generous warranties to UK customers, with many European carmakers offering a pretty average three-year deal. Renault is an exception – its cars get a five-year warranty from the date of first registration.
We love the Renault Clio. It's a supremely stylish supermini with the must-have phone connectivity, economical engines and practicality stats that some of its rivals could only dream of. The latest car also has a fantastically frugal hybrid offering which, if you spend most of your time around town, can drive on electric power alone for over half the time.
Find the used Renault Clio for you
Lexus UX
Warranty length from new: up to 10 years/ 100,000 miles
Lexus is the more premium arm of Toyota, and the UX uses a lot of the same parts as the Toyota C-HR and Corolla. Its warranty is the same, too, so stick with a main dealer for servicing and your UX will be covered until the first half of the next decade.
The UX is Lexus' smallest and most affordable SUV, but it still boasts the traditional Lexusisms – the quiet, unruffled driving experience, the impeccable build quality and the smugness that comes from knowing the hybrid system is saving loads of fuel. And the slightly fiddly infotainment system, admittedly.
Explore our used Lexus UX cars for sale
Toyota Corolla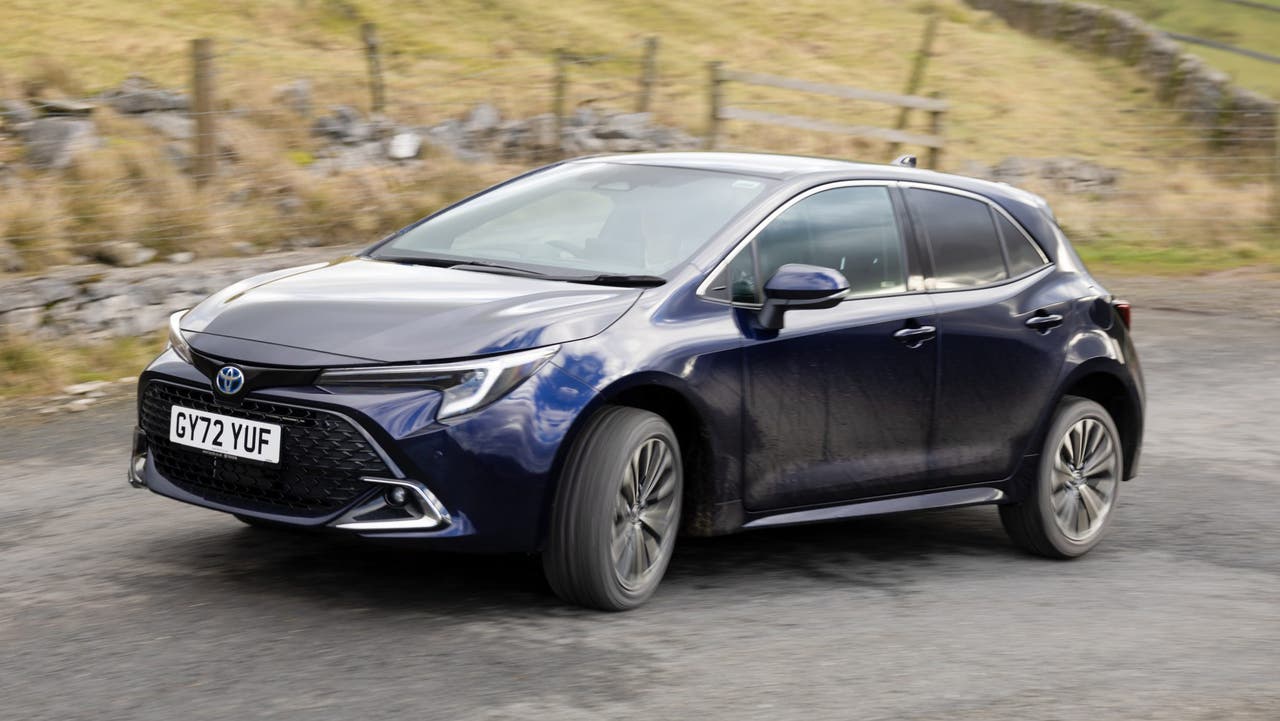 Warranty length from new: up to 10 years/ 100,000 miles
The Toyota Corolla is one of the world's best-selling cars and one of the longest-running nameplates. It's always been a bastion of reliability and sensibility – it's a top choice for anyone keen to rack up a six-figure mileage – but the latest one also comes with eye-catching style, which is nice.
Now only sold as a hybrid, the Corolla is smooth, refined and easy to drive. Besides the hatchback in our pictures, it's also available as the Toyota Corolla Touring Sports estate, which is ideal if you want to save a few quid on fuel and also carry a large dog in the boot.
Do we have a used Toyota Corolla to suit you? Take a look today.