Hybrid cars let you slip stealthily through city centres on electric power, without losing the ability to travel long distances using the engine. The very best hybrids on sale also have a laundry list of other talents that make them easy to live with and a pleasure to use.
We've chosen 10 of our favourite hybrid cars on sale – all available to buy nearly new with thousands of pounds off the brand-new list price. This list covers both full or 'self-charging' hybrids, which can creep through traffic on electric power alone, and plug-in hybrids, which can usually travel a few miles without starting the engine and can be topped up from an EV charger.
Kia Sportage 1.6T Hybrid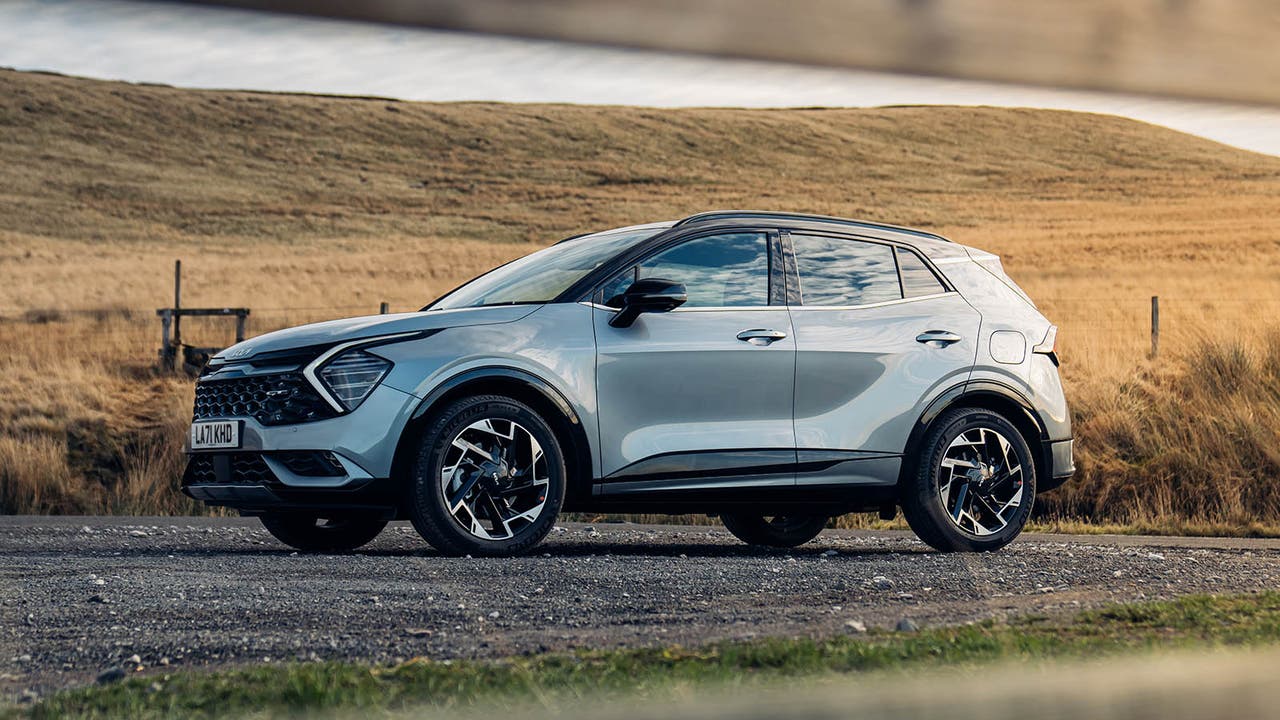 50mpg combined
129g/km CO2
The latest Kia Sportage takes the Korean brand's popular family SUV and ramps up the premium factor. Inside, the material and build quality are top-notch, coming perilously close to that you'd find in any of the Sportage's premium German rivals. There's also bags of room, with space for passengers in every position to stretch out, and a cavernous boot that can handily swallow all the baby gear you can throw at it. Plus, the fuel-saving hybrid setup still puts out a strong 229hp in total, letting it cover the 0-62mph sprint in less than eight seconds.
Shop nearly new Kia Sportage cars for sale
Toyota Corolla Touring Sports 2.0 Hybrid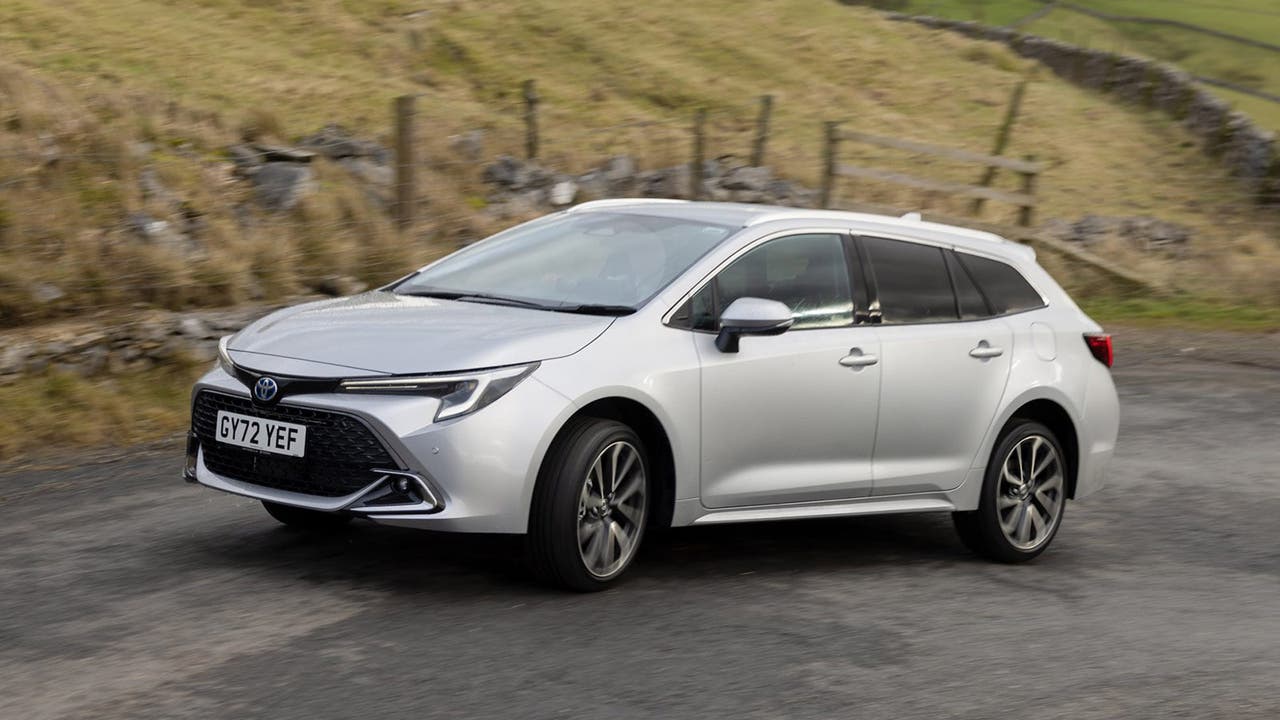 52mpg combined
127g/km CO2
As the world's best-selling car, the Toyota Corolla hardly needs more accolades thrown its way. To ignore its abundant qualities, however, would be a mistake because this hybrid family car gets an awful lot right. For starters, it's beautifully built with a robust sense of quality when you step inside. It backs this up with Toyota's latest hybrid know-how under the bonnet – the 2.0-litre engine and electric motor provide effortless performance without the droning older hybrids made under acceleration. Our favourite version is the Toyota Corolla Touring Sports estate, because this gets a larger cargo area behind the seats.
Check out a wide selection of nearly new Toyota Corolla cars
Ford Kuga 2.5 PHEV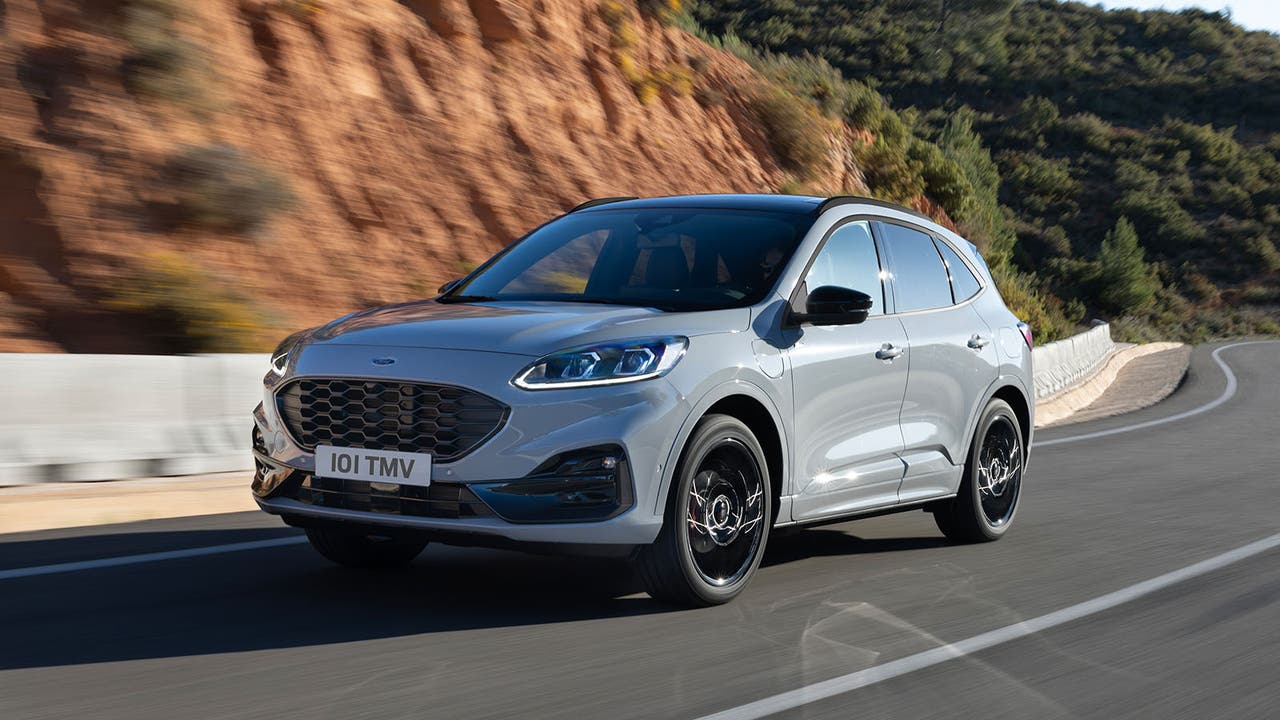 202mpg combined
23g/km CO2
39-mile electric range
The Ford Kuga has already proven its worth as a great family SUV, with thousands of households up and down the country relying on this solid all-rounder to get them where they're going. Adding a 2.5-litre petrol engine and hybrid setup simply adds yet another string to the Kuga's well-equipped bow. With careful use of the engine and battery, you can achieve astronomical fuel-economy figures or, use them together to unlock the car's 225hp output, which means the Kuga impresses for being fast as well as frugal.
Search our selection of nearly new Ford Kuga cars
Hyundai Kona 1.6 Hybrid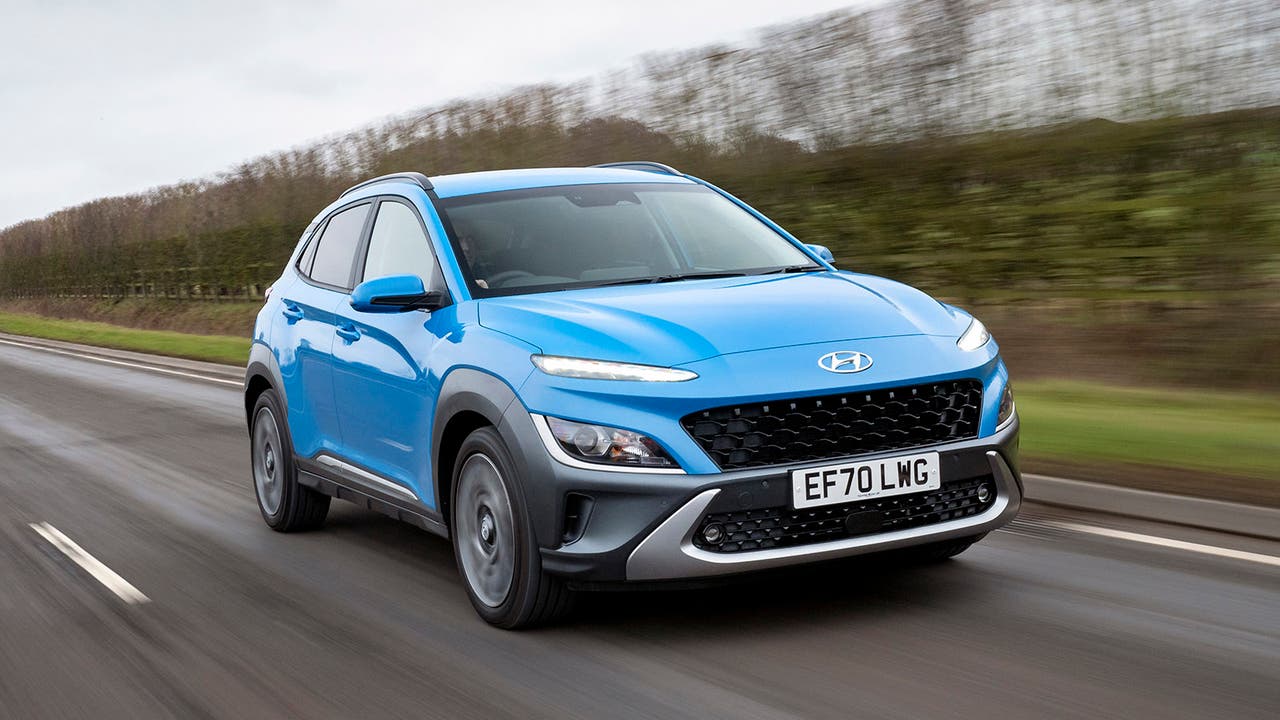 57mpg combined
114g/km CO2
Packaging the firm's hybrid tech into a compact SUV body, the Hyundai Kona offers decent practicality and fantastically low fuel consumption, backed up by a long five-year factory warranty. The fuel-sipping 1.6-litre engine and modest battery setup aren't designed for speed like some options on this list, but the Kona is one of the more affordable hybrids in this selection and has the kind of cabin space that makes it an easier choice for families compared to a hatchback like the Kia Ceed or Ford Focus.
Browse nearly new Hyundai Kona cars for sale
Honda Jazz 1.5 Hybrid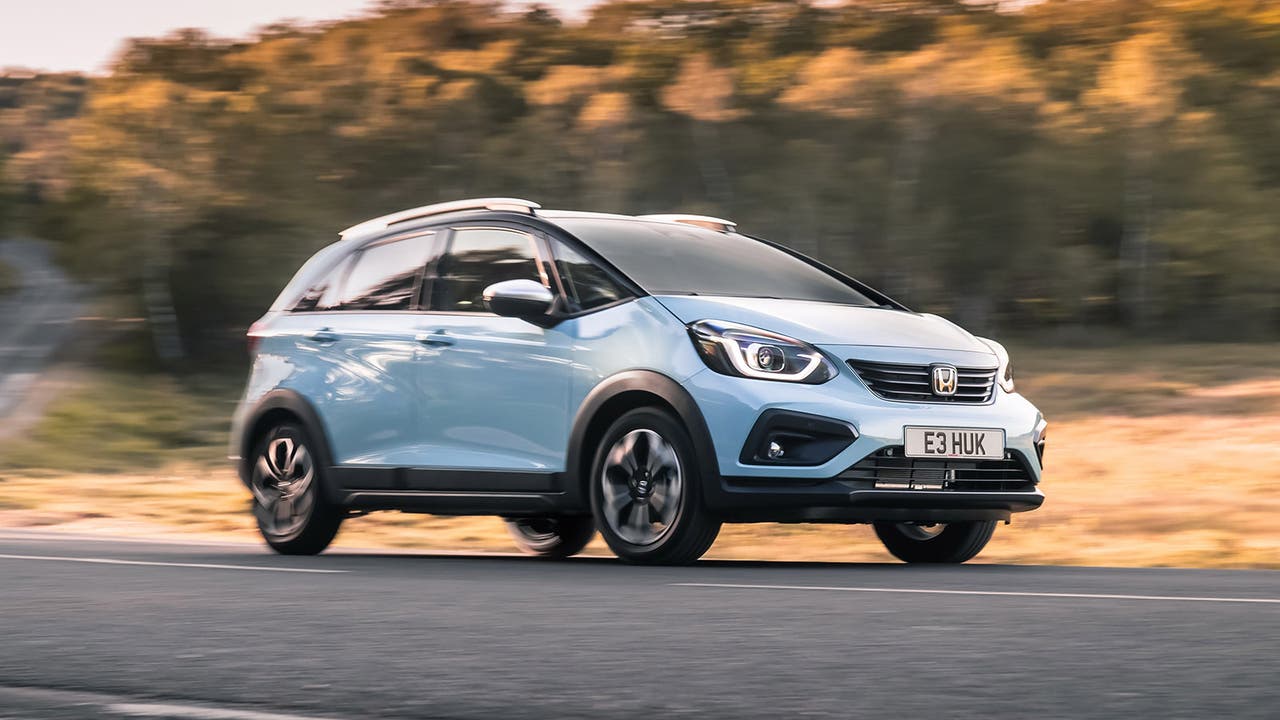 63mpg combined
102g/km CO2
Uninformed buyers might dismiss the Honda Jazz as an 'old-person's car', but they're seriously missing out. The Jazz is quite possibly the most practical compact hatchback you can buy – its small exterior dimensions hiding an astonishingly large cabin with space for four adults to sit in comfort, or five at a push. You don't need to sacrifice cargo room either because the Jazz has a deep, square boot and clever flip-up rear seat bases that fold away like theatre stalls, allowing you to store tall objects easily. All that's before you get to the strong and efficient hybrid engine that perfectly suits the Jazz's calm character.
Take a look at nearly new Honda Jazz cars
Peugeot 3008 1.6 300 PHEV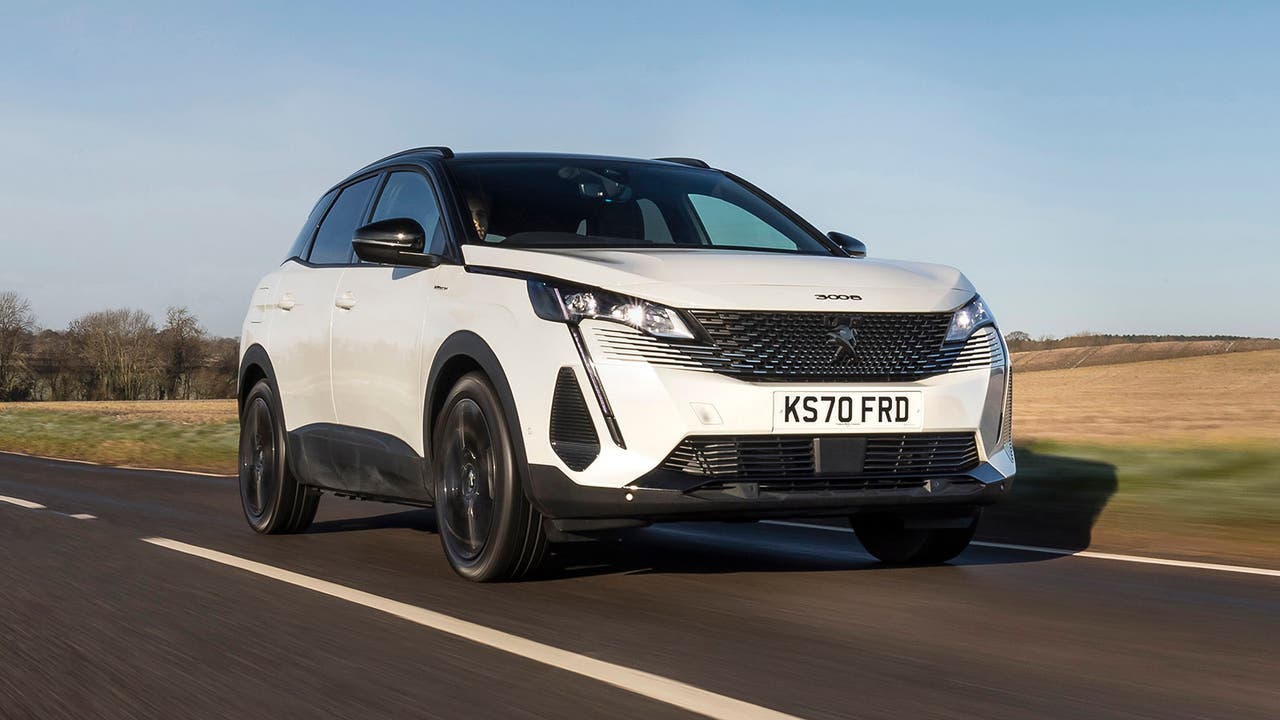 217mpg combined
29g/km CO2
37-mile electric range
If you want to enjoy a little style while slimming down your running costs, take a look at the Peugeot 3008 Hybrid4. This starts off with the handsome 3008 SUV, so you get the same plush cabin with eye-catching designs and aggressive, angular bodywork. You also keep the family-friendly practicality with lots of space to persuade kids into their car seats. The 3008 continues to impress on the road with a grand total of 300hp for mighty acceleration without sacrificing plug-in-hybrid efficiency. There's also a slightly more affordable 225hp version but, as both are similarly priced on the nearly new market, we'd be tempted by the 300hp option with its hot-hatch-like acceleration.
See a selection of nearly new Peugeot 3008 cars
Toyota Yaris Cross 1.5 Hybrid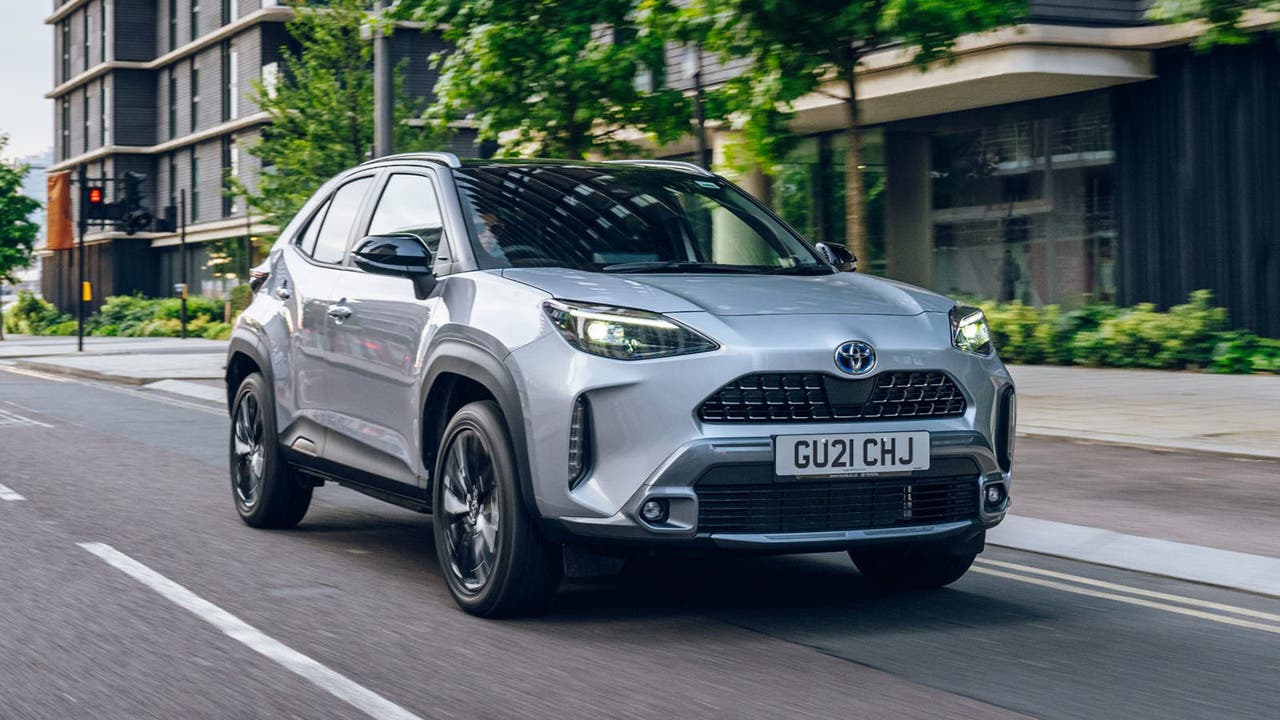 63mpg combined
102g/km CO2
If you want a city-friendly hybrid, there's very little wrong with the existing Toyota Yaris hatchback – it's efficient, comfortable and easy to drive. If you're a family buyer, however, you can enjoy most of the same benefits while having space for the kids if you choose the Toyota Yaris Cross. It keeps the well-made, ergonomic interior from its little sibling, but pairs it with a small SUV body that's just about large enough to fit kids into their car seats without bumping your head. Plus, the latest Toyota hybrid setup is more efficient and responsive than ever making the Yaris Cross a pleasure to drive in almost all scenarios.
Save money on a nearly new Toyota Yaris Cross
BMW 330e PHEV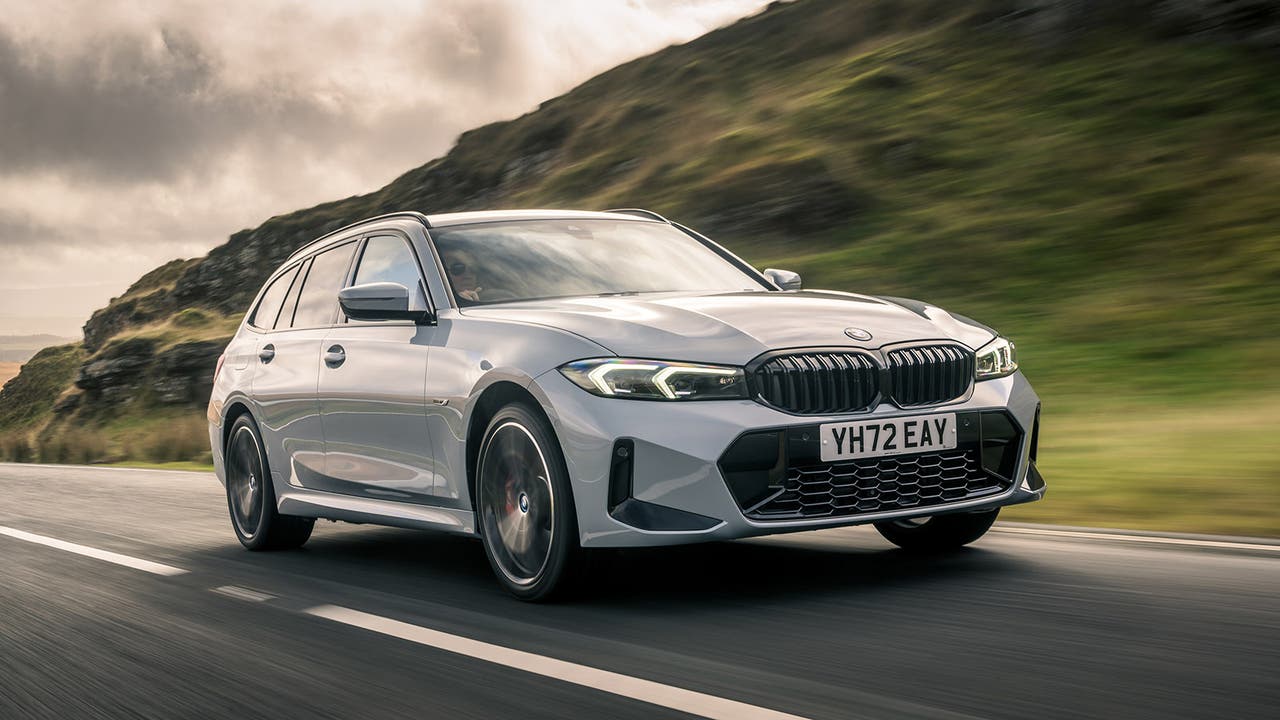 148mpg combined
31g/km CO2
37-mile electric range
Hybrids are often based on more affordable cars to soften the blow of paying for the extra battery and motor gear. The BMW 330e bucks this trend by fitting a powerful plug-in-hybrid engine to the firm's evergreen 3 Series. That means you get the same posh-looking saloon or estate body, combined with the potential for three-figure fuel efficiency and an electric-only range of more than 30 miles. The best thing, however, is that it just feels like a regular 3 Series behind the wheel, with sharp handling, excellent body control and superb build quality.
View nearly new BMW 3 Series cars for sale
Mercedes CLA 250e PHEV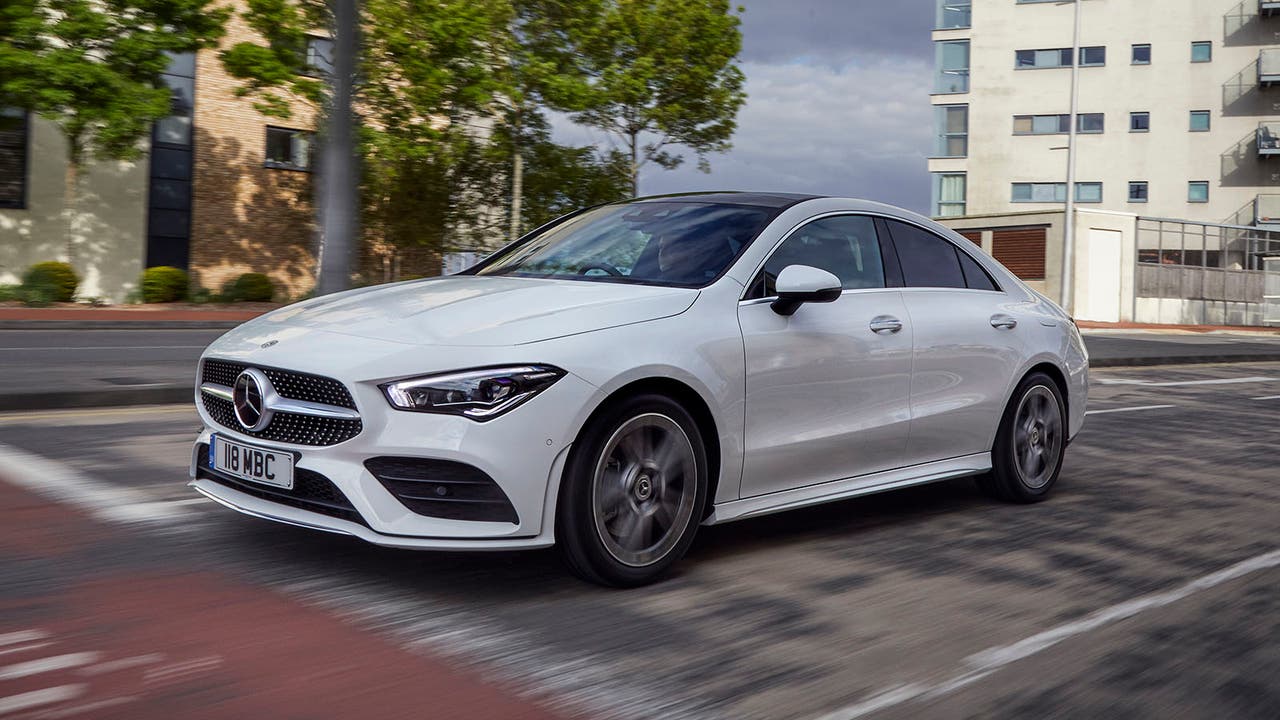 257mpg combined
23g/km CO2
40-mile electric range
Like the 330e above, the Mercedes CLA 250e pairs the headline-grabbing efficiency of a plug-in-hybrid setup with a posh, upmarket cruiser. The CLA body style borrows much from the smaller A-Class hatchback, including the interior design and engine range, but outfits it in a swoopy, dramatic four-door coupe body. There are a few minor sacrifices you have to accept including a slightly smaller boot to fit the hybrid battery and mediocre rear headroom thanks to the stunning roof design, but these are a price worth paying for a plug-in hybrid that looks this good.
Shop nearly new Mercedes CLA cars for sale
Renault Captur 1.6 145 Hybrid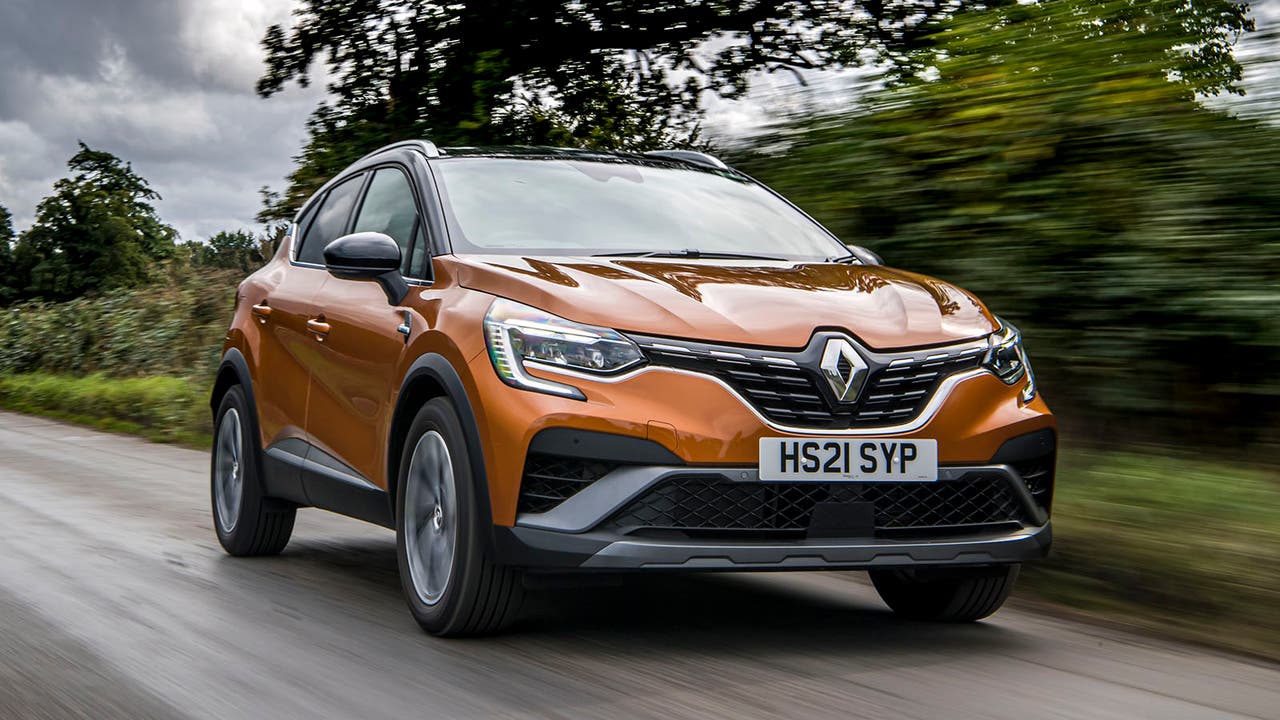 59mpg combined
108g/km CO2
The most recent Renault Captur is much smarter than the car it replaces. For starters, you actually get a choice of hybrid engines – a 145hp full hybrid and a 160hp plug-in that can be topped up from an EV charger. Both are great options with the latter offering around 30 miles of electric-only range, but we think the regular hybrid makes a little more sense for most buyers – it doesn't need plugging in and is more affordable to buy than the PHEV version, without really losing any performance.
Check out our selection of nearly new Renault Captur cars
Cut your running costs with a nearly new hybrid
Check out Motorpoint's wide selection of nearly new hybrid cars, all with low mileage and warranty coverage. If you're ready to ditch the engine entirely, check out our picks for the best electric family cars.
The best hybrid cars – FAQs