Customer Reviews
Motorpoint really values the feedback it receives from its customers. This is why we decided to share the latest comments our customers have posted on Feefo, the independent review site, after they've purchased their car from the UK's leading car supermarket.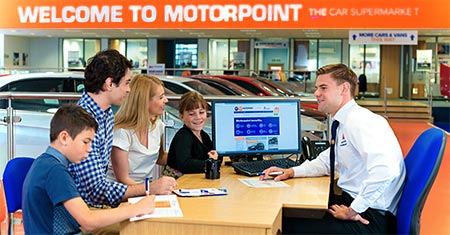 ---
Really simple process.
We were left alone to look at the vehicles they had in stock. No sales pressure. Took the keys to 3 cars, but decided that none were for us.
Visited again a week later to look at other models. Arranged a test drive and bought a six month old car. [Read More]

Reviewed on: 13 May 2021
Friendly, helpful staff. Don't hassle you, which is great.
Absolutely loving the car, it's a pleasure to drive.

Reviewed on: 12 May 2021
first time useing motorpoint, very well set out , looked after by staff, shown the 2 cars i had interest in test drove the VW tiguan ,decided to buy, all the paper work was sorted by staff, pick up car two days later, very very easy and stress free.can only thank staff 10/10 .[Read More]

Reviewed on: 10 May 2021
It was a great purchase experience. Having done my research thoroughly I could tell motorpoints prices were amongst the best out there. The sales advisor gave me a great deal of confidence in the vehicle as he knew plenty about it. I would definitely recommend motorpoint and will... [Read More]

Reviewed on: 10 May 2021
Great customer service and prices !

Reviewed on: 10 May 2021
Made to feel welcome. All questions answered. Would not go anywhere else
Very happy, car was supplied in first class condition. Would recommend to a friend

Reviewed on: 10 May 2021
Yes I surely will buy off them again ..
Very comfortable car .I'm very pleased .and the sales man nichi was a pleasure to deal with
Brilliant service, quick and easy. Good deal too. Love my car. Staff so helpful
Excellent price love my car. Good value for money
Very supportive, quick! amazed I had the car the same day! Thank you I'm very pleased
Great car ! Just what I wanted

Reviewed on: 10 May 2021
Friendly, helpful totally proffesional. Older people are not always the best with non-paper transactions !! They put you at your ease from point of sale through to collection and payment. Getting a follow up phone call to make sure you are happy with your purchase and help through the... [Read More]

Reviewed on: 10 May 2021
Excellent Service from Start to finish, no sales pressure, allowed to browse the cars at our own leisure. Found a VW Golf we liked, Ryan Sullivan (Sales Executive Swansea) explained in details all we wanted to know, very professional, good price quoted for part exchanging our car. On... [Read More]

Reviewed on: 10 May 2021
I would certainly buy from them again and I would,not hesitate to recommend them. My experience was first class. The staff were very warm and welcoming. I didn't feel pressured into buying. They were very informative not just about the car, there after sale service was first class.[Read More]

Reviewed on: 10 May 2021
1st class.
Peter smith was amazing.
Love it .............:.::

Reviewed on: 10 May 2021
Professional, friendly and attentive. Marvin and Kevin, at Motorpoint Chingford, went out of their way to ensure I took home my chosen vehicle the same day. Thanks guys
Marvin was brilliant. He arranged my finance deal quickly and provided all the paperwork I needed.

Reviewed on: 10 May 2021
Most of the process was done over the phone, quickly and efficiently. On collection day at Glasgow we had everything done, car tax, part exchange and new car checks smoothly and were on our way home in less than an hour great service.
Good service, a no pressure... [Read More]

Reviewed on: 10 May 2021
Excellent service! Not pushy and not rushed into making decisions. Erkan was a diamond! Walked us through the whole experience slowly and answering all my question too. We love our new car.
Love it! We are over the moon !
From start to finish...,Easy, Helpful and Professional.
I was kept Informed at every stage.
Replies and responses to any questions I had were prompt, helpful and reassuring.
It was my 1st time with Motorpoint....and I will/would Definitely return and use again.....[Read More]
No pressure, extremely helpful and informative. Wasn't going to visit motorpoint but advised too by friend will be recommending to everyone as we were thoroughly impressed.
Spacious, easy to drive, great extras.

Reviewed on: 10 May 2021
We were dealt with very quickly on our arrival, and not pestered like other dealerships, we were left to look at cars in our own time. The service we received was faultless from start to finish.
We are very happy with the car, it's perfect for our needs

Reviewed on: 10 May 2021
Excellent service very professional and made the experience of buying a new car painless
Love the car, everything I wanted in the car, the car is a lovely drive.

Reviewed on: 09 May 2021
Great service, staff were very professional and friendly making the whole experience an enjoyable one
Great driving experience. I needed a car just to get to work and the odd shopping trip this enables this with a few added extras and a little luxury so far very happy... [Read More]

Reviewed on: 09 May 2021