Customer Reviews
Motorpoint really values the feedback it receives from its customers. This is why we decided to share the latest comments our customers have posted on Feefo, the independent review site, after they've purchased their car from the UK's leading car supermarket.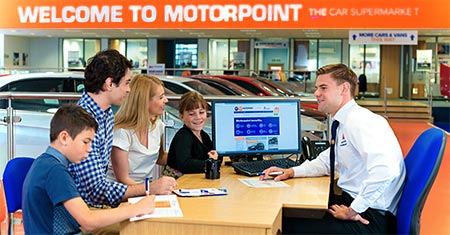 ---
Excellent. Helpful from start to finish. Many thanks.
Happy up to now. Passengers also like this car.

Reviewed on: 25 May 2019
Superb service
Very helpful and and professional staff
Not pushy and went through everything in detail
Love it
Best purchase ever

Reviewed on: 24 May 2019
Great range of cars on site, friendly and unpushy sales people who were helpful and gave information when asked, but didn't force it on us! Patient with test driving, easy to do business with, was quick and drove my new car away the next day.
Very happy with new car -... [Read More]
Superb service,
Superb service, great cat

Reviewed on: 24 May 2019
Will be back when it's time for the next upgrade. Would recommend motor point to any one.
Best car I've ever owned.

Reviewed on: 24 May 2019
It's been a while since I purchased a new car & you do hear the occasional stories about poor deals and high pressure sales tactics at car hypermarkets. My experience at Motorpoint was excellent from start to finish. Paul helped me out - no pressure, no problems about giving me my own... [Read More]

Reviewed on: 23 May 2019
The whole process was very quick and efficient. The car itself was in perfect condition, the handover went smoothly and staff were so helpful and friendly. Our saleswoman Chelsea was great, as were Mihaela and Demi in customer service, who made the whole process really enjoyable. 10/10... [Read More]

Reviewed on: 23 May 2019
Start to finish buying our car have been very pleasant experience and we have been looked after by very experienced and professional staff. We definitely recommend this to over friends.
So far so good. We are pleased with our purchase

Reviewed on: 22 May 2019
Helpful, accommodating and listened to my needs. Very accommodating
Exactly what I wanted. Great condition and a good deal.

Reviewed on: 22 May 2019
Very good experience. Fair and thorough.
Great Car, good experience and fair with after service and trade in

Reviewed on: 22 May 2019
Very good.
With in normal price rate compared to other car dealerships
excellent service.
Car was in excellent condition.
Spare key was missing however, Motorpoint have promised a replacement.

Reviewed on: 22 May 2019
Really helpful and understanding of needs

Reviewed on: 22 May 2019
Effortless sale. Congratulations on your set up and pricing structure

Reviewed on: 22 May 2019
Very good service. Listened to what I did and didn't want, made the whole process quick and simple.
Love the car, even though it's a 'downsize' - great fun
I received may photos of the Fiat by e-mail and a wide choice of colours. When I arrived to collect the car I was treated very kindly and much appreciated the complimentary coffee and the time to drink it. The whole transaction was completed quickly and efficiently. At no time did I feel... [Read More]
Great price and friendly, informative staff.
Top of the range car at an affordable price.

Reviewed on: 20 May 2019
The two young men we dealt with were honest, helpful, caring, looked after us very well and answered all our questions and not pushey
Just what I wanted at the right price

Reviewed on: 20 May 2019
good service by James and easy through. out buying and selling
good car so far only had it a week

Reviewed on: 20 May 2019
Hugh's customer service was outstanding throughout. He gave us 5 star service from start to finish, keeping us updated on progress and explaining the reasons for delays.
Delighted. We're loving our new car.
Approachable and friendly staff. I liked how you could look around the cars with no pressure but could get information/advice if needed.

Reviewed on: 20 May 2019