New cars are hard to find for less than £20,000 these days as carmakers hunt for bigger profits. Don't fret, however, because that budget goes a lot further if you can don't mind missing out the very latest numberplate and choose a nearly new car.
A car's value depreciates the quickest when it's first sold, with that rate slowing down as the car gets older. That's why nearly new cars are usually thousands of pounds cheaper than an equivalent brand-new model, without losing the look and feel of a forecourt-fresh model. We've listed 10 of our favourite nearly new cars for less than £20,000 alphabetically, covering a choice of models and body styles.
1. Abarth 595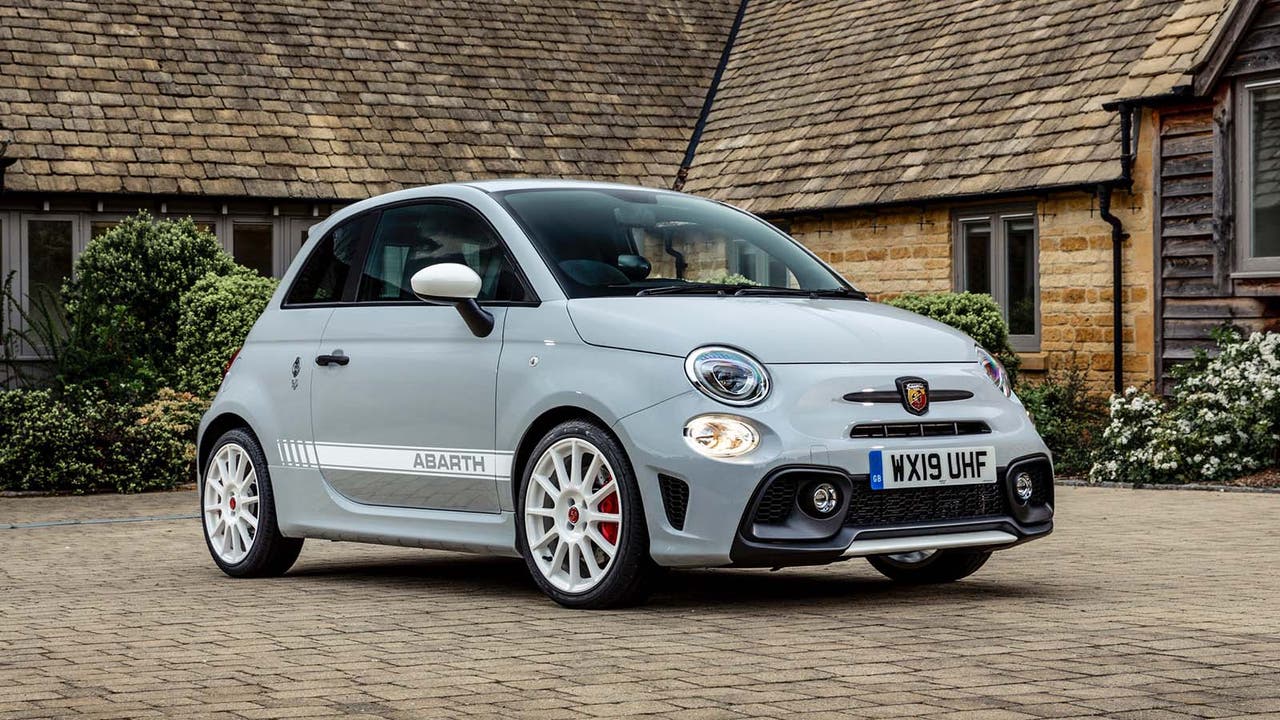 There are hot hatches that balance speed with everyday usability, and then there are hot hatches like the Abarth 595. This pint-size hot rod is 100% race car, 100% of the time. Yes, the driving position is a little awkward and neither your spine nor your ears will thank you after a long journey, but nothing about this car has been blunted in the pursuit of making it an 'all-rounder'. The steering is sharp, there's loads of grip from the wide tyres, and the boosty 1.4-litre turbo petrol engine is always egging you on to go faster. Plus, the driving experience is wrapped in a stylish, compact body, with retro styling details and a hilariously juvenile body kit.
Take a look at nearly new Abarth 595 and limited-edition Abarth 695 cars
2. Audi A1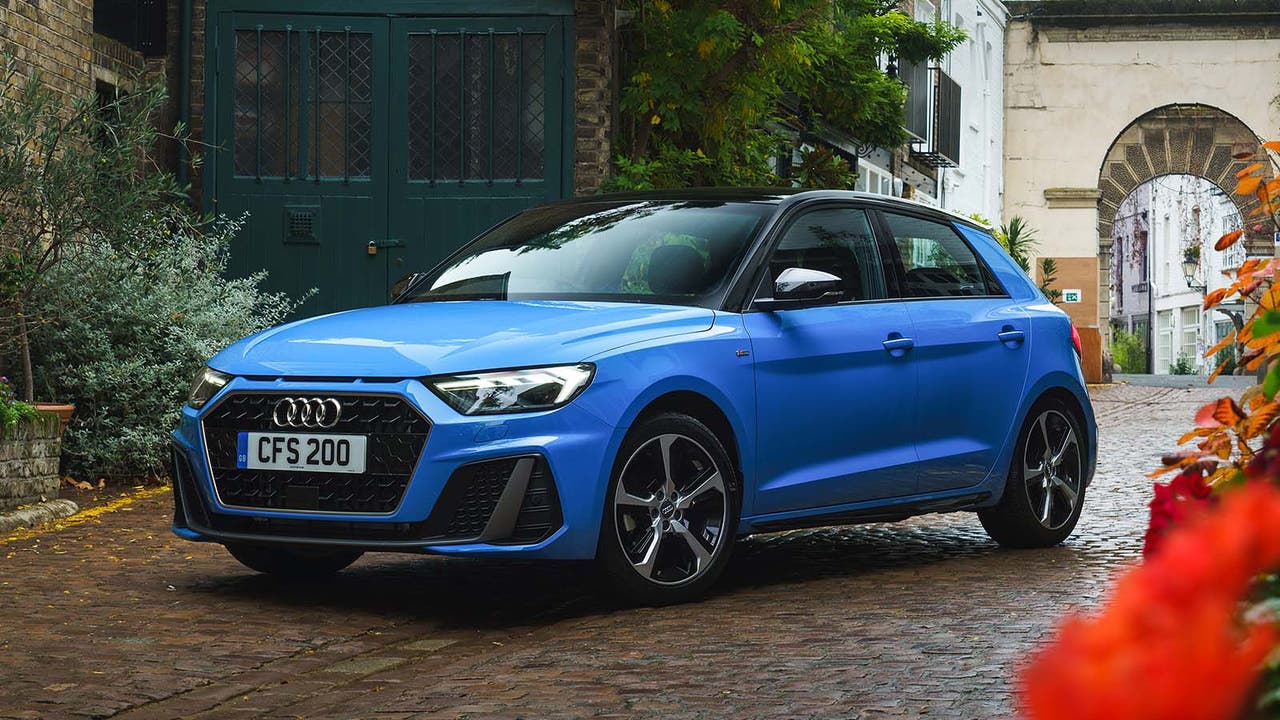 Unlike the focused Abarth, the Audi A1 scores highly across the board. You'll find an upmarket cabin, lots of on-board tech and a grippy, fuss-free driving experience. This is the most compact, city-friendly Audi you can buy, but your £20k budget will also stretch to nearly new examples of the larger A3 family hatchback and Q2 SUV if you need a little more interior space. Nevertheless, the A1's cabin is impressively practical for such a compact car, with space for four adults and a 335-litre boot that's among the largest in its class. £20,000 will buy you a nearly new A1 with the 95hp 25 TFSI engine, but keep a lookout for nearly new 30 TFSI or 35 TFSI versions, which are a bit faster and occasionally sneak under the £20k mark.
3. BMW 2 Series Active Tourer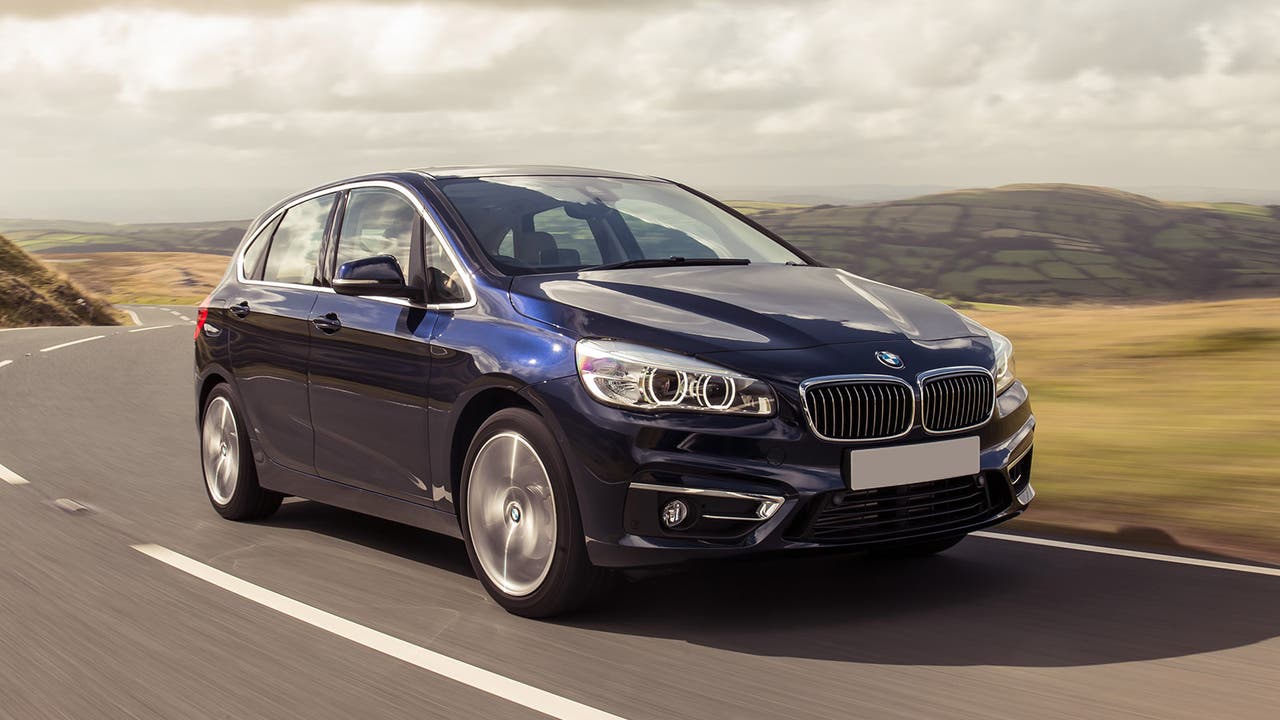 BMW's claim to building the 'ultimate driving machines' might feel unrealistic when applied to a people carrier like the 2 Series Active Tourer. However, with parts and engines borrowed from the Mini lineup, this spacious five-seat family hauler is fun and confidence-inspiring on the road. Practicality is strong, with spacious back seats and easy rear access thanks to the tall roofline, along with a large, square boot. All versions come well equipped with even entry-level SE cars including rear parking sensors, climate control and sat nav, or you can pick up an M Sport 2 Series with a more aggressive body kit, larger alloys, and heated leather seats.
Check out nearly new BMW 2 Series Active Tourer cars
4. Ford Focus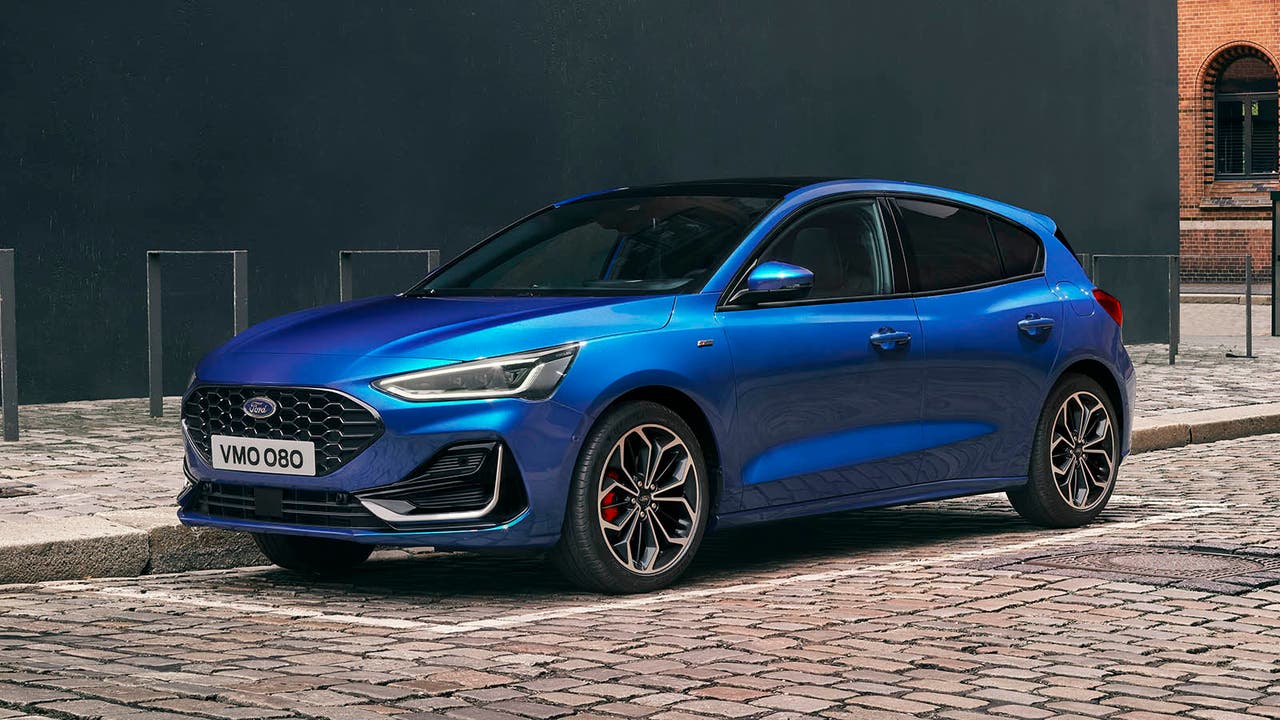 The Ford Focus has such a broad range of talents, it's easy to see why so many have found homes with UK buyers. You get a driving experience that's refined and composed, while somehow also being direct and sporty. It's not just the driver who benefits from the Focus's skillset – there's enough passenger space for four adults to sit comfortably or five at a push, and a handily square 375-litre load space. The £20,000 budget gives a good selection of nearly new Focus models including the practical Focus Estate and chunky-looking Active versions, with a choice of frugal petrol, hybrid and diesel engines.
View a choice of nearly new Ford Focus cars for sale
5. Mercedes A-Class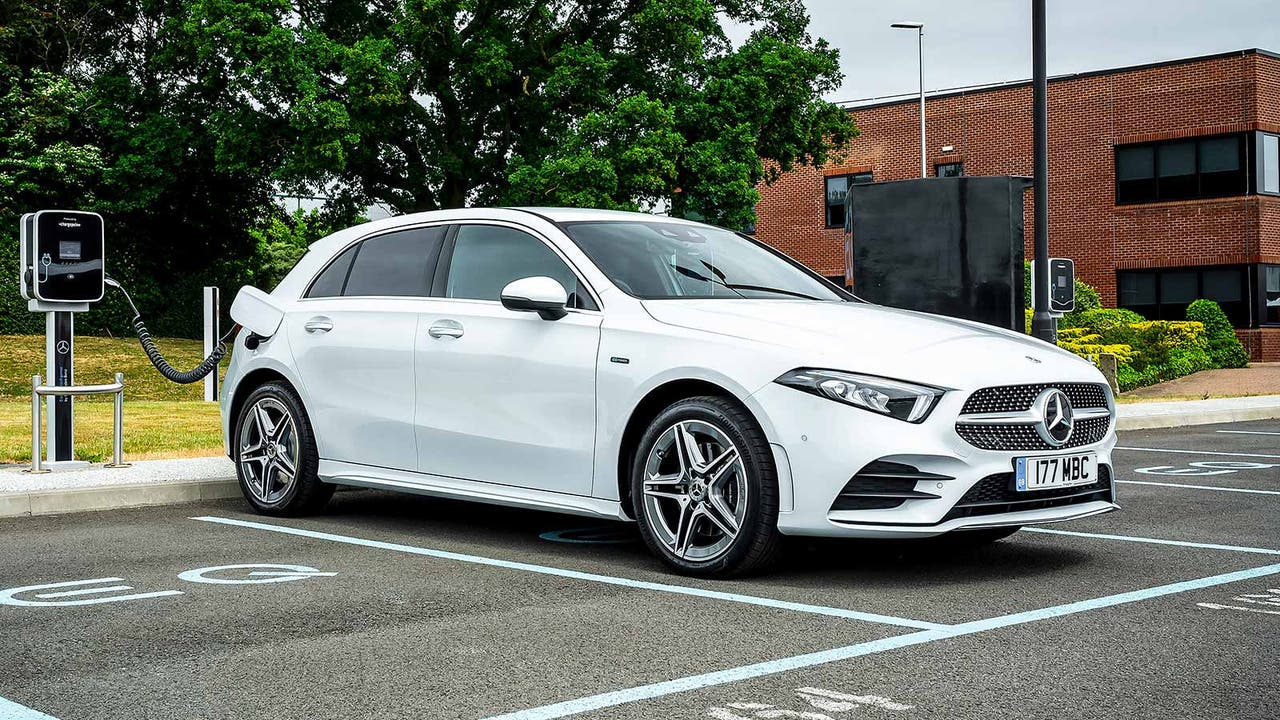 £20,000 won't buy a brand new Mercedes but nearly new buyers on that budget can afford the posh-looking A-Class hatchback. This might be the entry point into Mercedes ownership but it lives up to the brand's reputation with an attractive interior trimmed with plush materials. There's seating for four and a reasonably spacious boot on non-hybrid versions. On the road, the A-Class doesn't feel quite as sporty as the similarly priced BMW 1 Series, but it's noticeably more comfortable, and all the controls are easy to use. Most nearly new A-Class cars in this budget come with a six-speed manual gearbox which works well, but we'd try to nab one of the automatic versions because it's better suited to the car's relaxed nature. Also consider the practical Mercedes B-Class.
See nearly new Mercedes A-Class cars
6. MG 5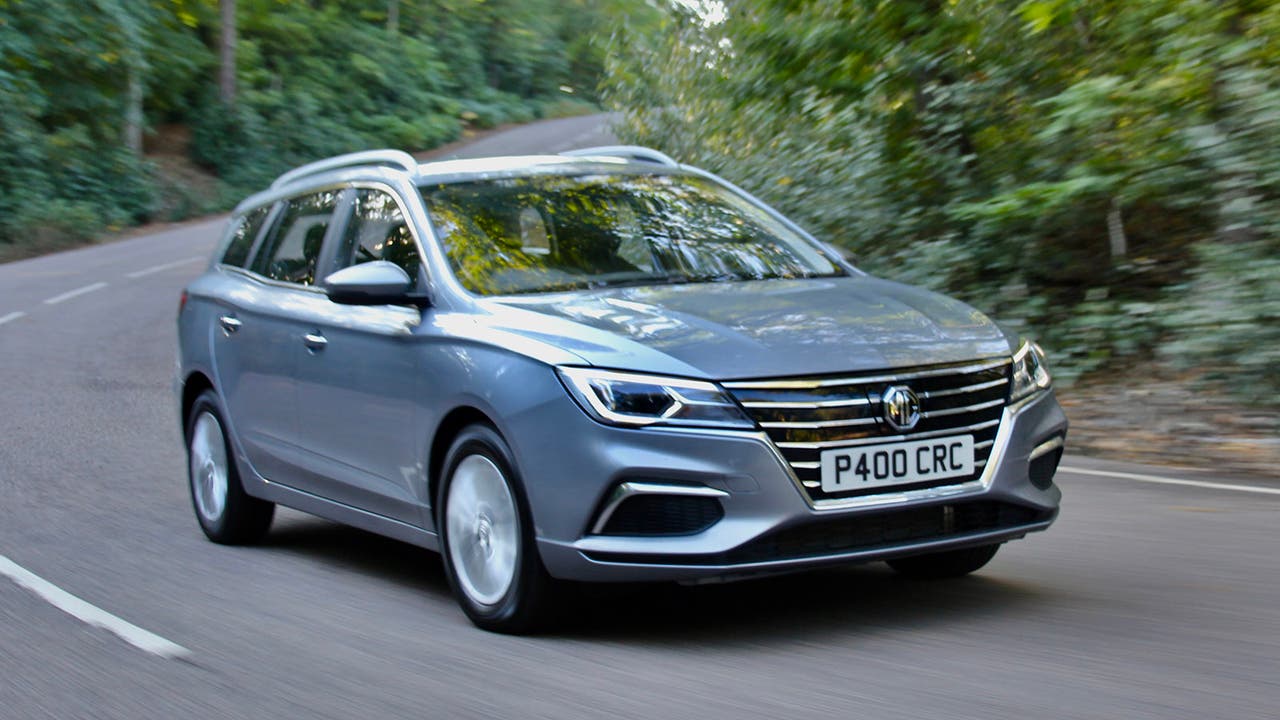 Electric cars have loads of benefits, especially if you can charge at home. However, many EVs cost quite a bit more than equivalent fuel-powered cars, putting them out of reach for most family buyers. The MG 5 is the antidote to this problem, with nearly new versions available for less than £20,000. You get a big battery capable of more than 200 miles of range in most conditions, punchy electric acceleration and a vast standard equipment list including adaptive cruise control, Apple CarPlay/Android Auto and automatic emergency braking. It's also practical, with enough space for adults in the back seats and a large boot thanks to its boxy estate body style.
Browse nearly new MG 5 cars for sale
7. Mini Hatchback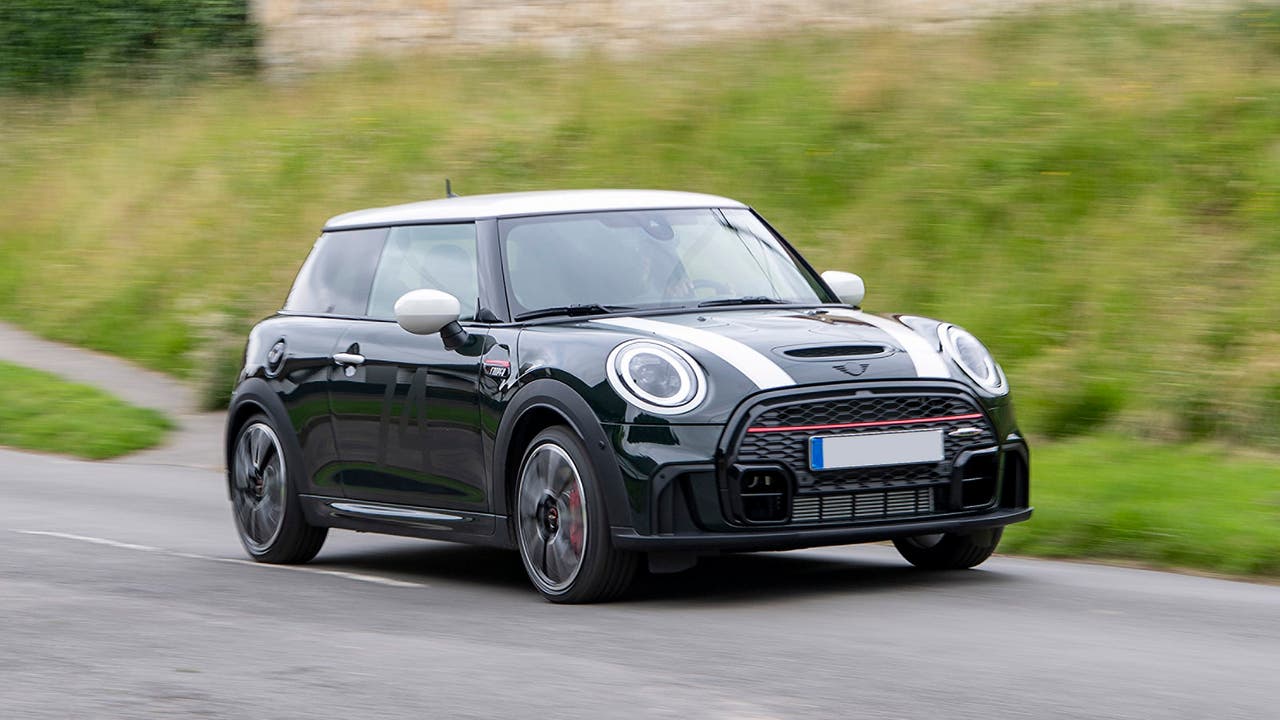 It's hardly news anymore that the Mini Hatchback is no longer very 'mini', but that does mean the latest version is safer and more practical than any of its predecessors. That's especially true of the five-door version, which has enough room for adults in the back seats and a boot large enough for most day-to-day duties. Our £20,000 budget here covers a lot of nearly new choices, so make sure you pick one that has a colour and spec you're happy with. The 1.5-litre Cooper has plenty of power but we can't deny the appeal of the sporty 2.0-litre Cooper S with 192hp and true hot-hatch pace. We think the snappy manual gearbox is more fun to use but the automatic option works extremely well so is still a great choice if you'd prefer a two-pedal option.
Check out nearly new Mini Hatchback cars for sale
8. Peugeot 208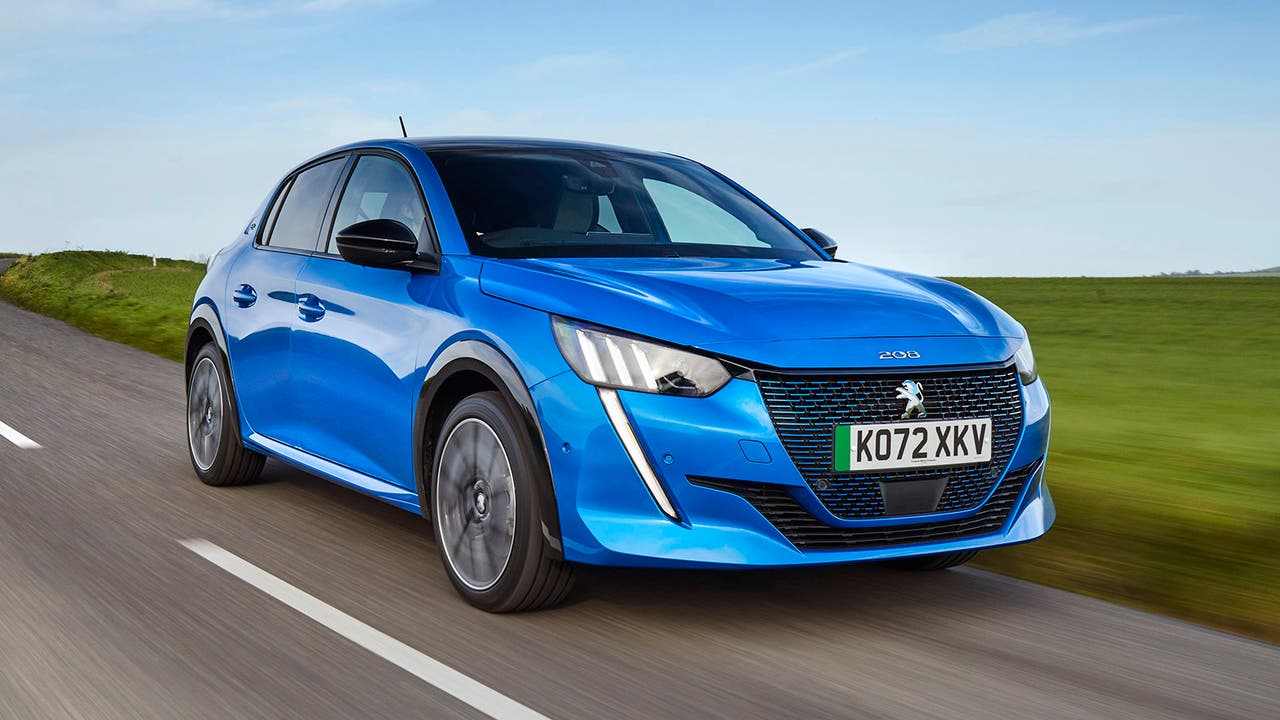 If you're after something a little different, consider the Peugeot 208. This stylish hatchback has eye-catching looks and an interior that's significantly more posh than anything Peugeot has offered before. You'll find a minimal dashboard with most of the functions moved to the touchscreen, along with Peugeot's distinctive i-Cockpit layout featuring an oddly small steering wheel and high-mounted dials. There's no need to spend all of the £20,000 budget on a nearly new 208, with affordable mid-range versions coming in at less than £15,000. However, if you choose to splash the cash, you can choose a top-spec 208 with either the punchy 130hp turbo petrol engine and eight-speed automatic gearbox, or the battery-powered e-208 EV with around 200 miles of range.
Shop nearly new Peugeot 208 cars
9. Skoda Karoq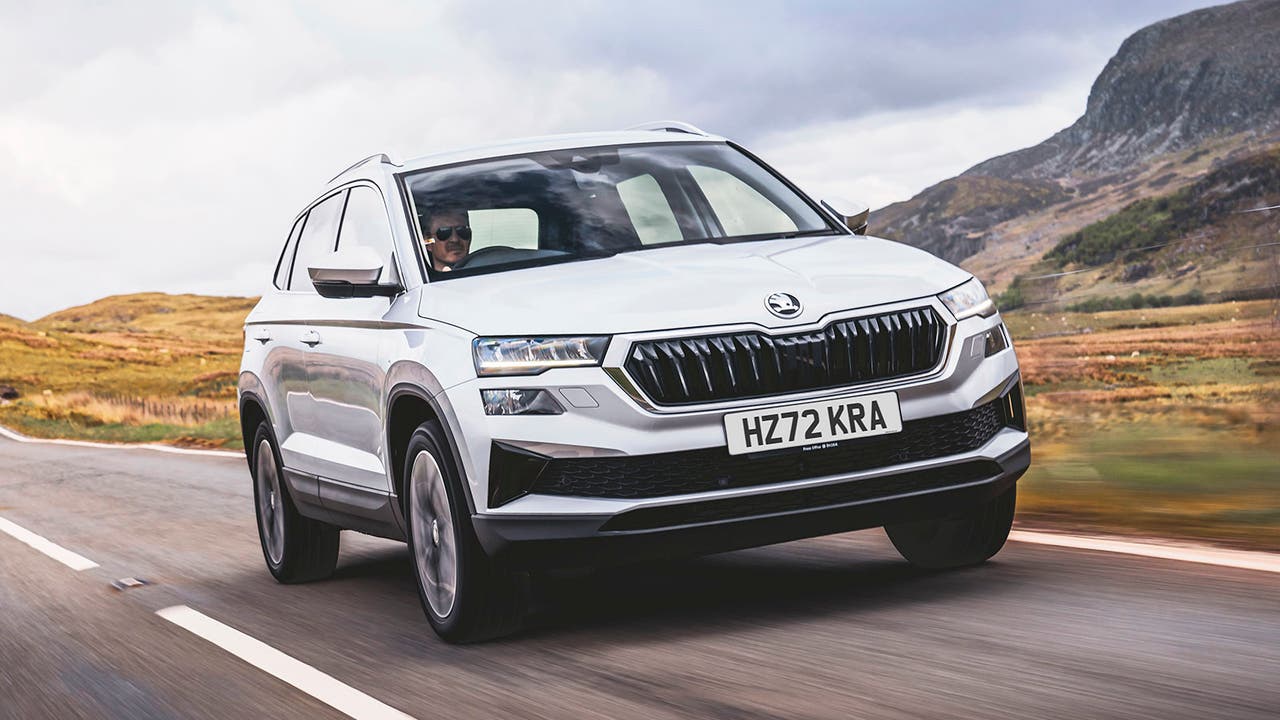 The Skoda Karoq is quite simply one of the best all-round family cars you can buy at this price point. You get the robust materials and creak-free build quality the Czech brand has become known for, along with a massive five-seat cabin. There's loads of room, even for tall rear passengers and the wide bench means fitting three side-by-side is far easier in the Karoq than other choices in this segment. Naturally, this is backed up by a huge boot with a wide, square opening that'll make light work of a family's holiday luggage. The 1.0-litre petrol engines available for less than £20,000 nearly new won't set any performance records, but the light, easy controls mean you're unlikely to get stressed driving the Karoq.
Search a selection of nearly new Skoda Karoq cars
10. Volkswagen Polo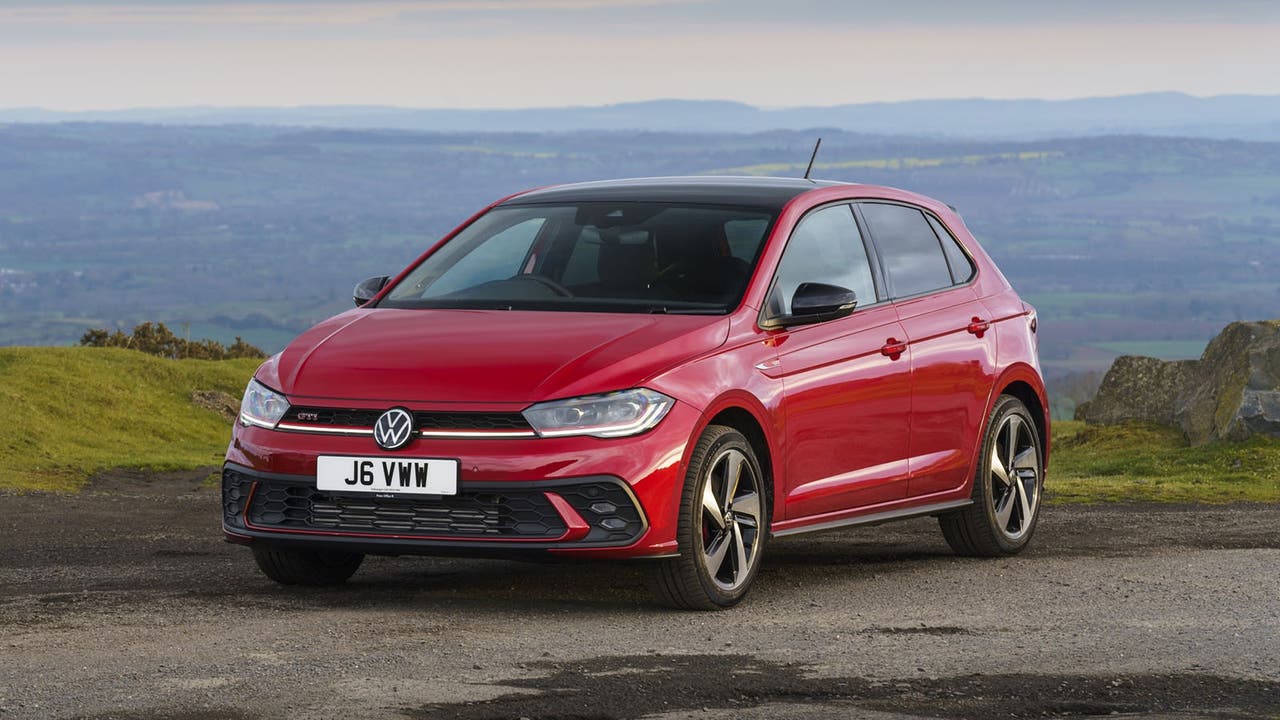 Volkswagen buyers have several options on the nearly new market for less than £20,000, including the family favourite Golf and the practical T-Roc SUV. However, we think it's worth considering the Polo at this budget. It shares many parts and engines with the Audi A1 featured earlier on this list but gives you a little more practicality for the money. What's more, while our £20,000 only buys a mid-range A1, that same budget will stretch all the way to a nearly new Volkswagen Polo GTI, which gets a 2.0-litre turbo petrol engine giving rapid acceleration. What's more, you still get all the usual benefits of Polo ownership including fuss-free ergonomics and the solid build quality you'd expect from a VW.
Take a look at nearly new Volkswagen Polo cars for sale
Chosen your £20k champion?
Shop our selection of top-quality used cars priced under £20,000. If you'd like to see more budget-beating options, see our picks for the best cheap electric cars.