Discover the cheapest cars to run in 2022. If you want to save money, our list reveals vehicles that are cheap to fuel, tax and insure
A car is likely to be one of your biggest purchases this side of a house… or two hours of central heating use. But, with many people feeling the squeeze, it's understandable if you want to cut costs. Buy with your head rather than your heart and you could be driving a car that will prove very cheap to run. If a car is merely a mode of transport to you, saving money here could let you enjoy your passions or a nice holiday.
Fuel economy, measured in miles per gallon (mpg) is one of the main ways that cars might be called cheap to run or not. A frugal car with high mpg won't cost as much to fill up as some big gas guzzler. It's not the only thing to consider, though – because tax, insurance and servicing costs all play their parts – so the question of 'what car is the cheapest to run?' isn't quite as clear-cut as it might seem.
That's why we've compiled seven of the cheapest cars to run in the UK. Remember that nobody beats us on price, so you're already giving yourself a head start by buying from Motorpoint.
1. Skoda Citigo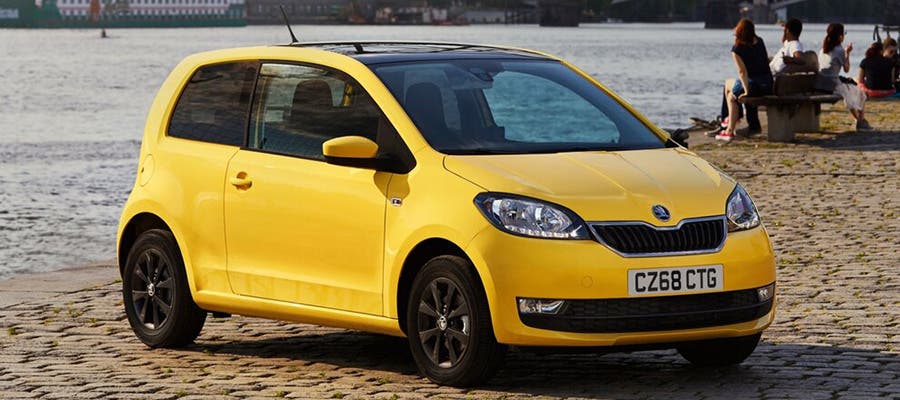 Combined fuel economy: 67.3mpg
Cost to fill up: £56
Insurance groups: 1-4
The petrol Skoda Citigo was always an inexpensive car to buy new, and it's even better value as a used buy. You get low monthly payments but plenty of space for four adults, despite being such a small car. The Skoda is best around town but is happy on longer journeys too, as long as you have a little bit of patience – its engine doesn't have a huge amount of power. Still, the Citigo's light weight and small size mean it's very fun to drive, and you'll be enjoying yourself while not spending an awful lot of money. All in all, it's a great car.
All petrol Citigos have low insurance groups, with many slotting into the very lowest groups for cheap insurance premiums. The simple 1.0-litre engine doesn't have much to go wrong, and things like brakes and tyres will be cheaper to replace than a larger car. Can't find the Citigo you want? Also check out the Volkswagen Up and SEAT Mii – they're the same car besides the badges and minor styling changes.
2. Kia Picanto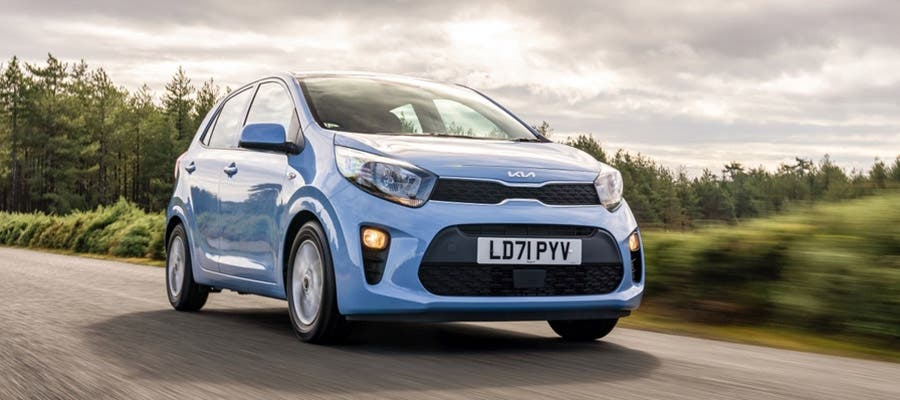 Combined fuel economy: 58.9mpg
Cost to fill up: £56
Insurance groups: 1-11
A city car will always have cheap running costs, simply because it has less metal and fewer parts than a bigger car like a Ford Fiesta. The Kia Picanto is a brilliant little car for young drivers, people who don't need or want a big car, or anyone that needs a compact runaround for skipping across town. It's very fuel efficient, consumables like tyres will be inexpensive, and models with the smallest engine and an automatic gearbox sit in the lowest possible insurance group.
Manual Picantos with the 66hp 1.0-litre petrol engine are just one group higher, but much nippier. The Picanto also impresses with its relatively spacious cabin and boot, strong list of standard equipment and refined drive. It shares a lot of parts with the Hyundai i10 but we've picked the Kia for its seven-year/ 100,000-mile warranty that should give many years of stress-free and low-cost driving.
3. Dacia Sandero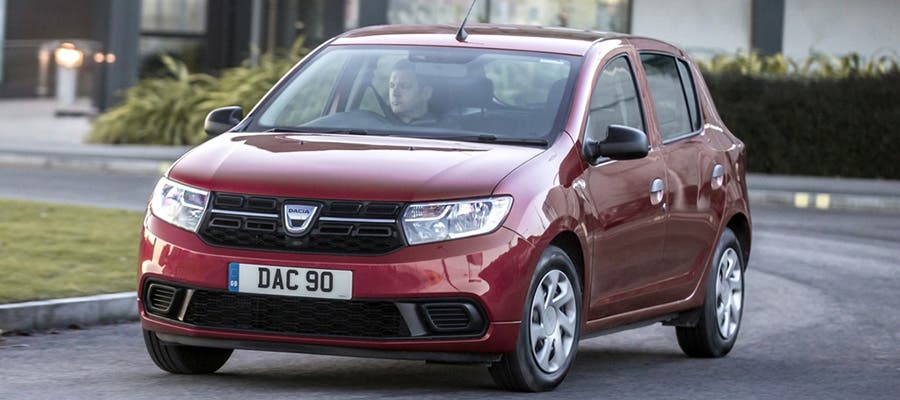 Combined fuel economy: 52.3mpg
Cost to fill up: £80
Insurance groups: 2-12
The Dacia Sandero trades on low prices, and it's actually one of the cheapest cars you can buy from Motorpoint. Even if you choose no-deposit finance, the Sandero can be bought for around £150 per month. Fuel economy of over 50mpg means it shouldn't be too harsh on your wallet, while the Essential trim with the turbocharged TCe engine sits in a reasonable insurance group (group 5 out of 50).
Dacia's TCe engine is the best choice if you're going to be tackling the occasional long journey, while the non-turbocharged SCe petrol is fine for drivers who'll mainly do local journeys. On newer models, you can also choose a Bi-Fuel model with an LPG tank as well as a petrol one – LPG is much cheaper than petrol and, when both tanks are full, you get a 600-mile driving range.
The Sandero is built from tried-and-tested Renault parts, so doesn't feel like it'll fall apart after a week of ownership. It's also bigger and more spacious than a city car like the Picanto.
4. Volkswagen Polo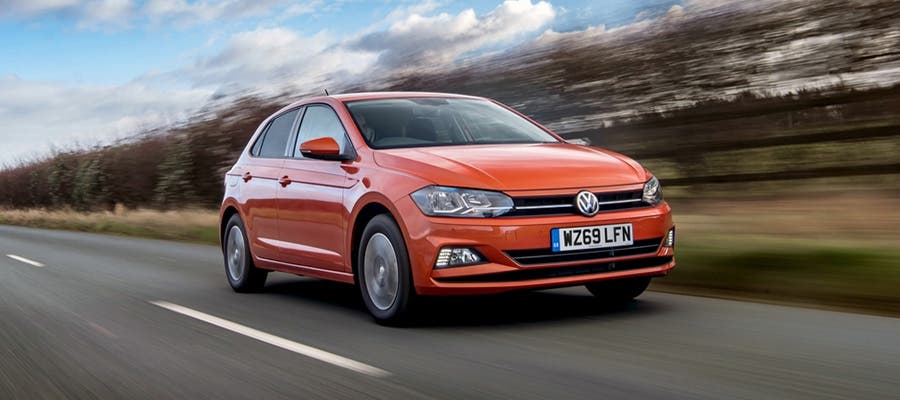 Combined fuel economy: 61.4mpg
Cost to fill up: £64
Insurance groups: 1-12
You might not expect to see a premium supermini like the Volkswagen Polo in this list. It can be surprisingly cheap to run, especially if you stick to the 1.0-litre Evo petrol engine. Fuel economy can be impressively high, while almost every Polo with this non-turbocharged engine offers the lowest possible insurance costs.
That includes high-spec Match editions with cruise control, DAB radio and shiny 16-inch alloy wheels. The Volkswagen is a grown-up feeling small car with excellent build quality, offering a confident drive and refinement at motorway speeds. This entry-level engine isn't what you'd call quick, but sticking to lower speeds will help to reduce your fuel bills anyway. Turbocharged TSI versions of the 1.0-litre engine are in a higher insurance group but offer similarly strong fuel economy and better performance.
5. Peugeot 208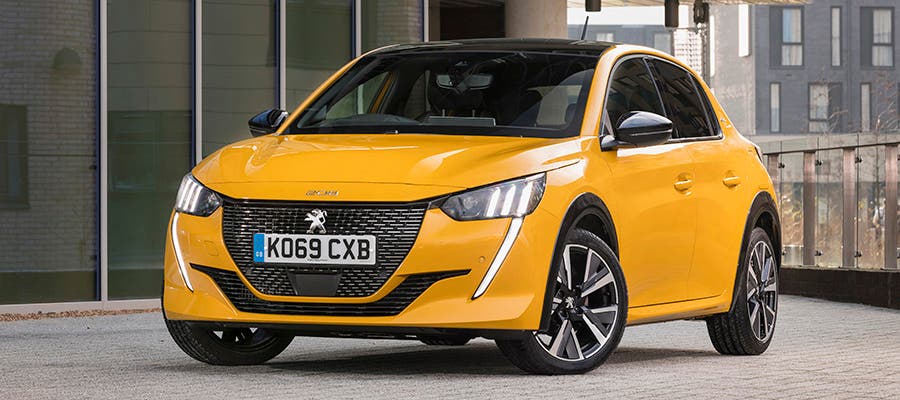 Combined fuel economy: 73.6mpg
Cost to fill up: £73
Insurance groups: 21-22
Read Peugeot 208 review
Diesel cars might still make the most sense for high-mileage drivers. If it's fuel economy you're after, you need to check out the diesel-powered Peugeot 208. Its 1.5-litre BlueHDi engine is capable of almost 75mpg if you're careful. With 100hp and plenty of low-down torque on tap, the diesel 208 is more than capable of keeping up with traffic – it's actually one of the faster cars on this list.
You'll just need to bear in mind that the diesel engine comes with higher insurance costs than Peugeot's 1.2-litre PureTech petrol engines. The 75hp entry-level petrol is in group 12, and still offers 53mpg, so lower-mileage drivers may find this version more cost-effective. Whichever engine you pick, you're guaranteed sharp styling, plenty of space for four people and a high-spec interior.
6. Dacia Duster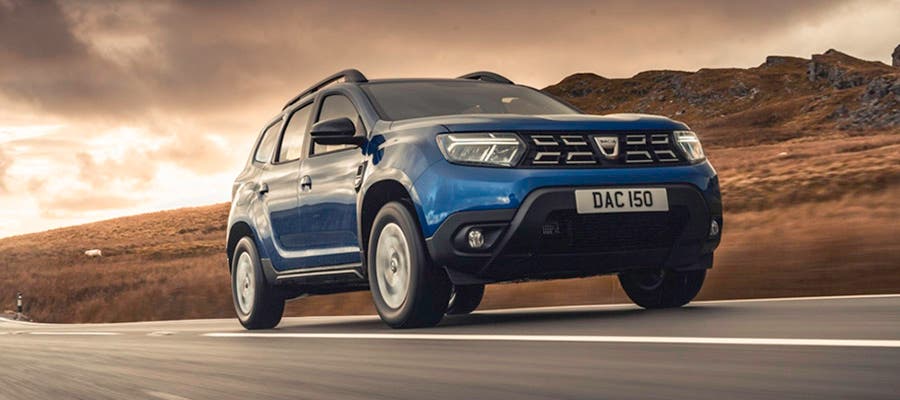 Combined fuel economy: 52.3mpg
Cost to fill up: £80
Insurance groups: 9-22
Small hatchbacks are always going to be among the cheapest cars to run, but we've thrown the Dacia Duster into this list to show you that you don't need to break the bank to drive an SUV. The Duster has chunky styling and plenty of space for a family, plus essential features.
Despite its size, the 100hp turbo petrol engine manages over 50mpg, and the 1.5-litre diesel engine is even better. Officially, this engine returns up to 64mpg and sits in a low insurance group for a car like this.
7. Renault Zoe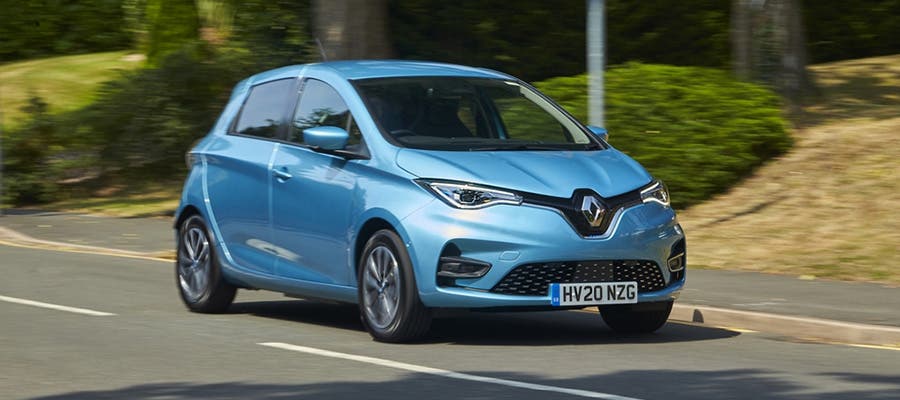 Combined economy: 3.7 miles per kWh
Range: 238 miles
Cost to recharge: £12-25
Insurance groups: 18-24
Electric cars can still be cheaper to run than petrol or diesel alternatives, especially if you pick a small EV like the Renault Zoe. The cheapest way to charge an electric car is to plug in at home, although you may have to factor in the cost of a home wallbox. It is possible to find free and low-cost charging stations at shopping centres and destinations, too.
Renault estimates that the Zoe will cost about £15 to charge at home (depending on your tariff), and a full charge gives you a maximum range of over 230 miles. Compare that to small petrol cars and the Zoe will cost less to run. And that's before you consider the free Vehicle Excise Duty (aka road tax) – saving you around £150 per year – and reduced servicing costs. Buying from Motorpoint means you can save money on the price, too – we have plenty of nearly new Zoe models costing less than £20,000.
Check out our great choice of used cars for under £10,000 or used cars under £200 per month.
* Fuel costs based on 160p per litre for petrol and 180p per litre for diesel. Economy figures are manufacturers' quoted figures and were achieved in test conditions. All figures correct at time of writing.