Home EV charging is usually the most cost-effective way to run a battery-powered car. This guide will explain everything from charge speeds to connector types.
Switching to an electric car brings loads of benefits, but also means you'll need to figure out how you're going to charge it. Until public charging access improves, the easiest way to keep your EV topped up is to have a charging point and a private parking space at your home. This guide will talk you through everything you need to know about home EV charging.
Can you charge an electric car at home?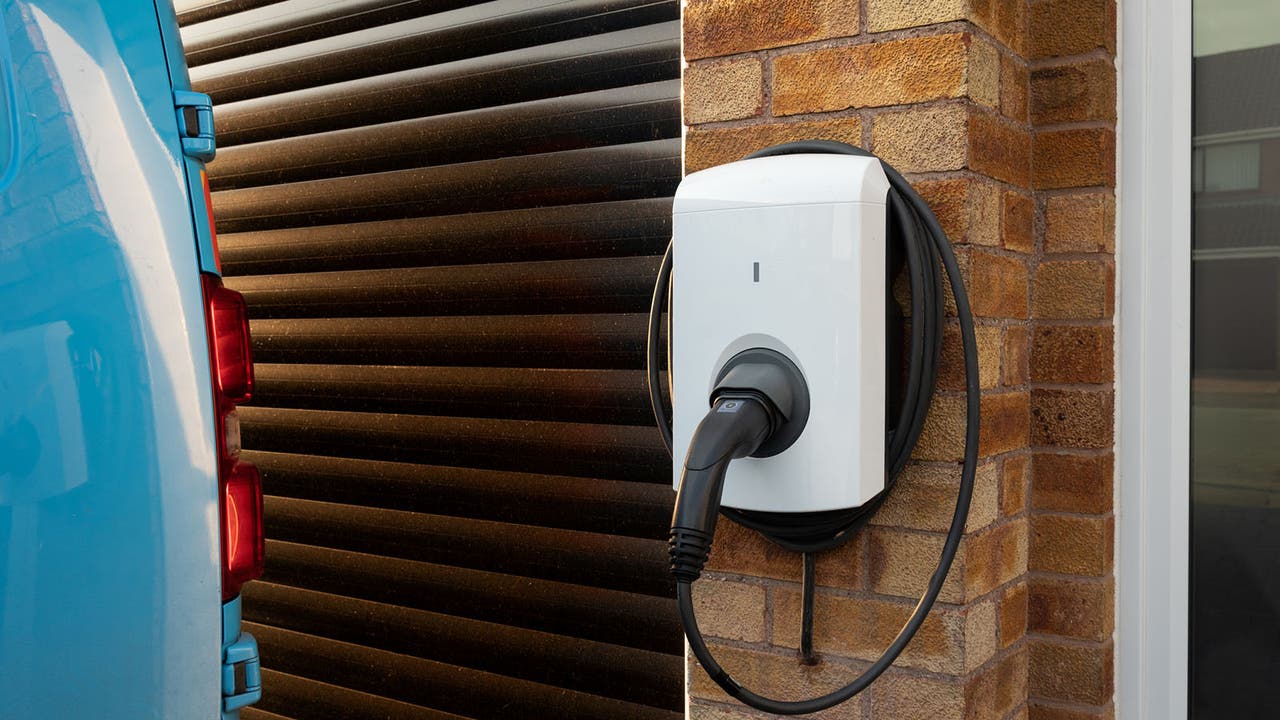 Yes. It's a good idea to have a proper EV charging point installed if you don't already have one, because this will be much faster than using a standard three-pin socket. From 2022, all newly built homes will come with a charging point installed to help boost the uptake of plug-in vehicles.
Can you plug your car in to a standard household socket?
Yes, you can plug your car in to a standard UK three-pin socket – you will need a charging cable with the correct connector for your EV on one end and a three-pin socket on the other. This isn't the most effective way to charge at home, however, because it's much slower than a dedicated EV charging point.
Charging from a standard three-pin socket also means you're drawing current at close to the maximum rate. In houses with old or dodgy wiring, or if there are several other high-draw devices on at the same time, there's a risk you could cause an electrical failure.
Can I install an EV charger at home myself?
In short, no. While you usually don't need to seek permission to install a charger, unless you're renting or your house is listed, any electrical work needs be carried out by a qualified electrician. That's especially true for EV chargers, which need to be safely connected directly to your home electricity supply. Qualified electricians are able to self-certify the work they carry out, which is a legal requirement.
What are the benefits of installing an EV charger at home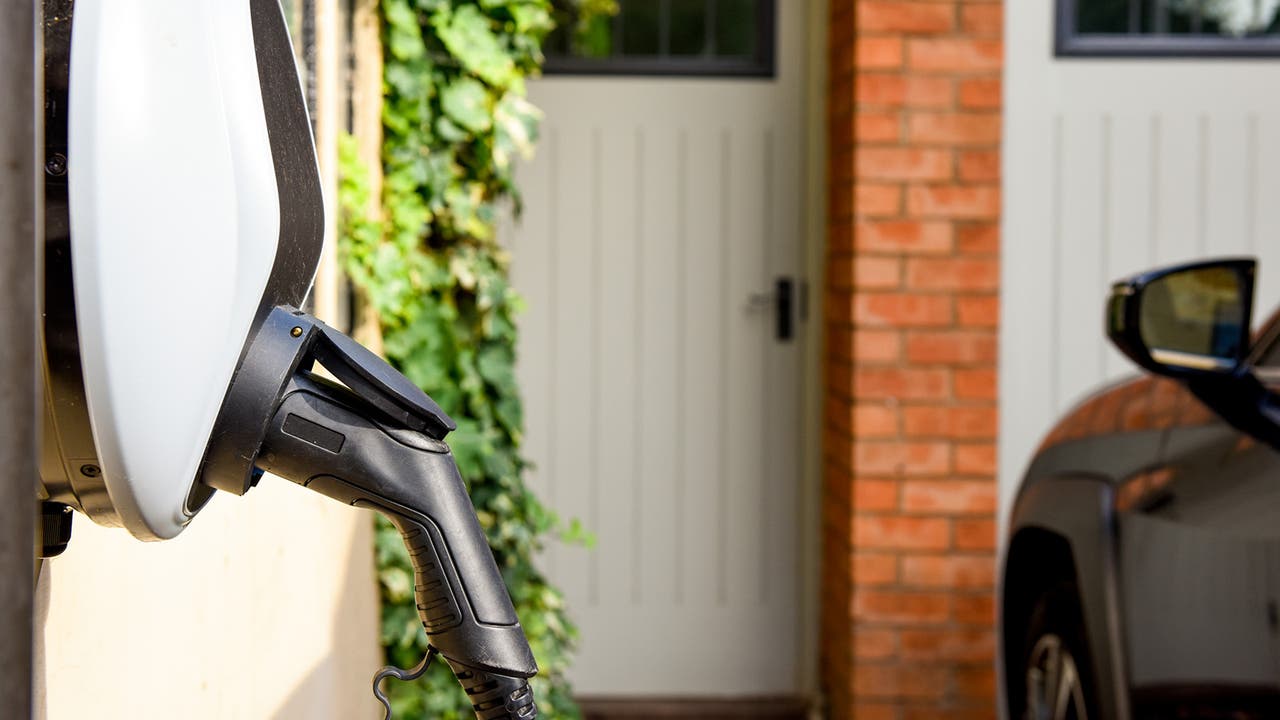 There are several benefits to having your own at-home EV charger installed: 
Faster – a dedicated charging point is much faster than a standard household plug 
Convenient – you can charge your car whenever you want, often eliminating the need to find public chargers entirely
Safety – your car and charging equipment remains entirely within your property, so there's less risk of theft, vandalism, or exposure to the elements
Resale value – while predicting house prices is something of a dark art, there's no question that having a home EV charge point will increase the value of your home, and will somewhat offset the price of the installation
How much does it cost to install an EV home charger?
This will vary depending on the type of charging point you install, but costs are typically between £800 and £1,500.
There are government grants available to help reduce this cost, but these are only available to individuals who rent or own a flat, or for landlords, and don't apply if you own your own house. The grant is for £350 or 75% of the installation value, whichever is lower.
Power – how fast are home chargers?
You'll usually find a choice of three power outputs for EV chargers.
The slowest 3.6kW chargers are only slightly faster than a standard three-pin socket but are usually the most affordable option that's specifically intended to charge EVs. This charge speed is probably enough if you have a fairly low daily mileage and your EV's battery isn't very big, but will likely feel underpowered if you trade up to a model with a larger pack.
Most UK homeowners opt to have a 7kW (sometimes up to 7.4kW) charge point installed and this is the option we'd recommend for most buyers. Charge times are nearly halved compared to the 3.6kW, making it feasible to charge EVs with big battery packs overnight, and the installation costs aren't usually much higher than the 3.6kW unit.
The fastest domestic charging points for EVs are rated at 22kW and, if your EV can accept that speed, will halve charge times again compared to a 7kW point. These aren't usually practical for home use because you'll need to have an expensive three-phase power supply installed, although that means they're a good choice for commercial properties that may already have three-phase power installed.
Choosing a tethered or untethered charger
Tethered charger – these have a charge cable permanently attached to the charging unit. This may be the more convenient option, because all you have to do is uncoil the cable and attach it to the car
Untethered charger – this is essentially just the socket on the wall, with no built-in cable, also called 'socket-only' chargers. These are slightly more flexible, allowing you to buy different length cables or ones with different connectors as needed
Neither option is truly better so it's more a question of whether you want the convenience of a tethered charge point or the flexibility of an untethered one.
EV charging connector types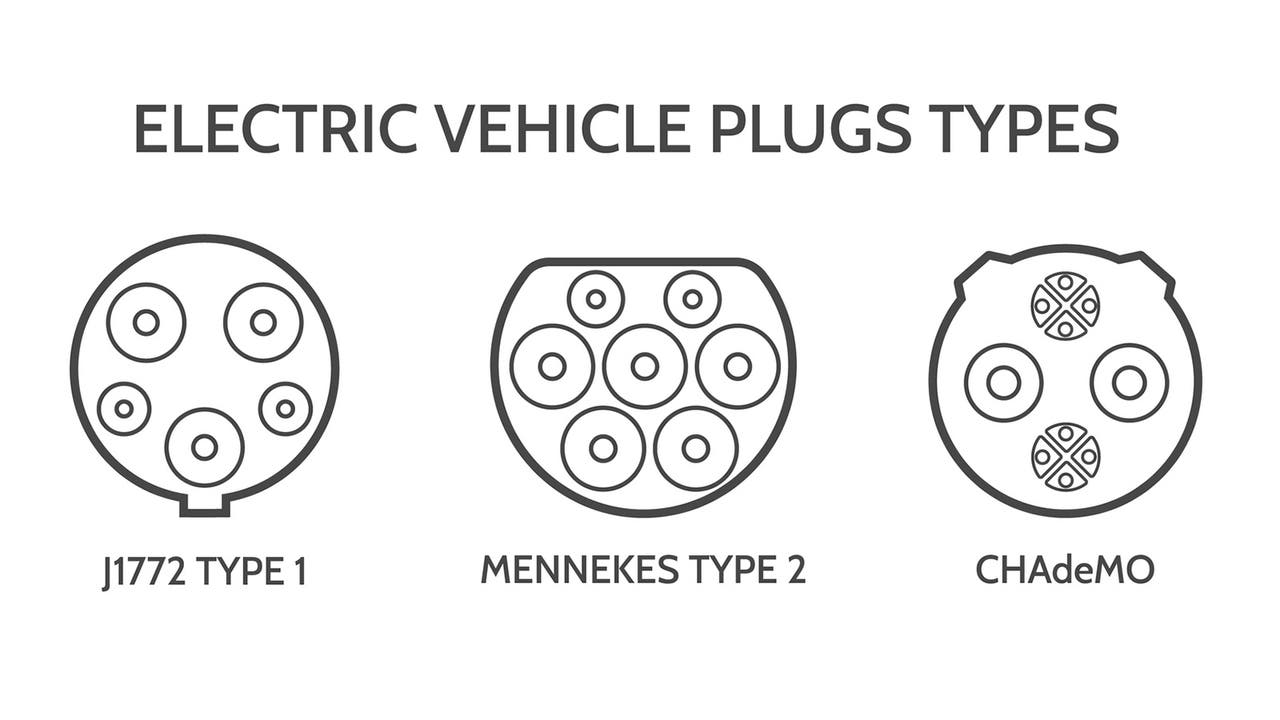 There are several different types of EV charging connector and, while most EVs on sale in the UK now use the same variety, you may still come across slightly older EVs that use a connector type that's less common in the UK.
Type 2 – also called Mennekes – is, by far, the most common connector used by EVs in the UK and is the de facto European EV connector standard. This connector is compatible with all public and home charge points.
CCS2 is becoming more common on European EVs. This includes a Type 2 connector on its top half with an additional DC connector below it that allows fast charging – this connector can accept both standard Type 2 and CCS2 plugs.
Type 1 – also called J1772 – has mostly been phased out in Europe but can still be found on some models of Nissan Leaf. Some UK public charge points have a built-in Type 1 connection but you can also buy a Type 1 to Type 2 adapter to give you more charging options.
CCS1 is the North American equivalent of Europe's CCS2, featuring a J1772 socket above additional DC connectors to permit fast charging.
ChaDeMo is another charging standard that's now nearly phased out in Europe, although you might find it on certain Nissan Leaf and Mitsubishi Outlander models.
Smart EV chargers
Many EV home chargers also offer smart features that can be controlled through an app on your phone. You can usually monitor and choose what time you want to charge your EV, allowing you to take advantage of cheaper nighttime electricity costs.
How do you charge your electric car if you live in a flat?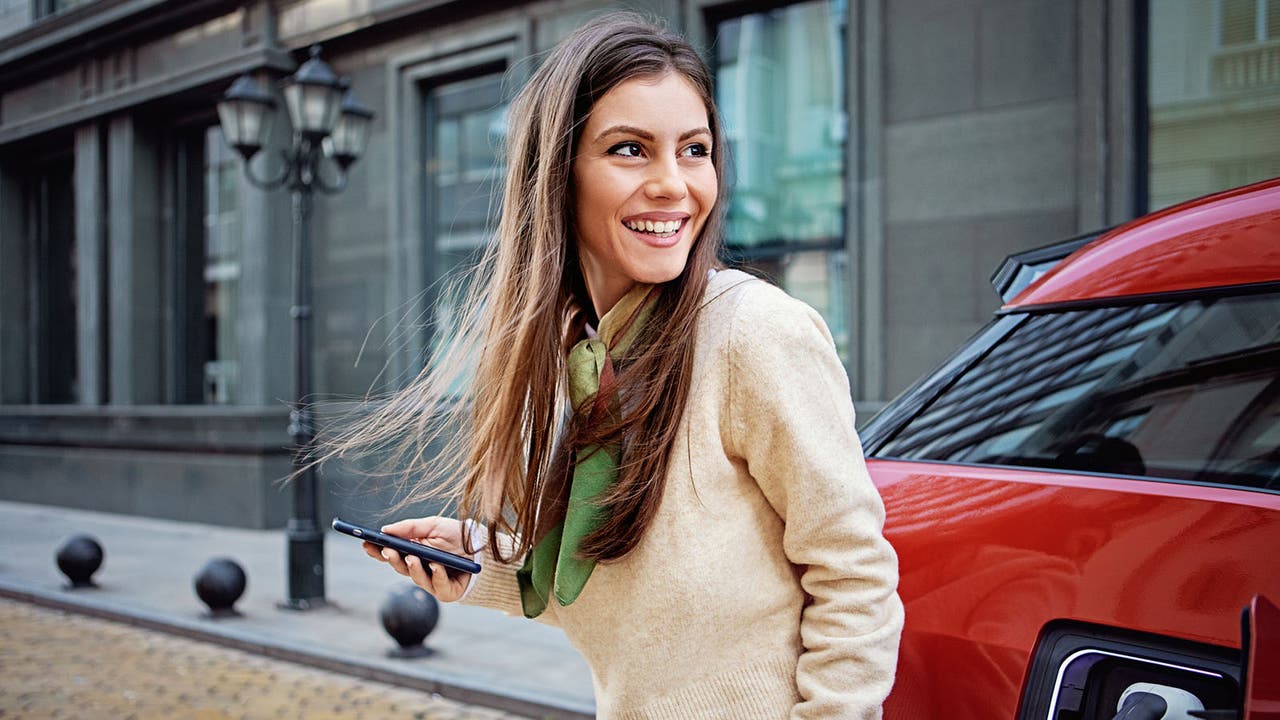 There are two main options available to you if you want to live in a flat and charge your EV.
Ideally, if you have a dedicated parking spot, you might be able to get a proper charging point installed. If you're renting, you'll want to discuss this with your landlord or, if you own your flat, you'll probably need to agree it with the building's management.
Your other options are the thousands of public charging stations across the country. You might be able to find one at the supermarket, at a service station or possibly at your work place. The downside here is that the reliability of the public network can be patchy and it can be quite expensive, especially if you take advantage of DC fast charging.
How do you charge an electric car if you don't have a driveway?
If you don't have a driveway, charging an EV on the street can be a little trickier. Like EV owners in flats, your best bet for now might be to charge at work or using a public charger.
However, more councils are starting to install lamppost charging points. These allow you to directly plug in to a lamppost when you park up on the street and start charging your car. Check with your local council about lamppost charger availability.
Can you run a charging cable across a pavement? 
You can't run an EV charging cable across the road but there are no legal restrictions on running a cable across the pavement. Before you do, however, you should consider these potential issues:
You can only run the cable across the pavement when charging your vehicle and must remove it once finished
You could be held liable if a pedestrian trips and falls over your cable
Someone might tamper with or vandalise your cable if it's running across the pavement
If your only option is to run a cable across the pavement, the best solution is to buy a brightly coloured cable protector like you'd find on a building site. These yellow-and-black ramps will hold your cable in place and provide a safe surface for pedestrians to step over.
Ready to go electric?
Motorpoint has a huge choice of nearly new electric cars. For even more info, take a look at our EV jargon buster or, to see what kind of plug-in cars you might like, check out these great affordable electric cars.