Choosing a car finance option that is right for you can be confusing, and will vary depending on your needs and circumstance
Mention car finance to most people and they'll probably think of monthly payments that make a brand-new car more affordable, but finance deals can also be used to buy used and nearly new cars. Such as those from Motorpoint, ahem. 
Used-car finance is just as flexible as new-car finance, letting you tweak the deposit amount, payment term and annual mileage to get the perfect deal for you. Better still, our friendly Motorpoint salespeople can sort a finance deal when you buy the car, or work out options beforehand, either in-store, online or over the phone. 
Every Motorpoint car advert also links to a finance calculator, making it easy to work out which cars are in your budget, so you can start dreaming today. All you have to decide is which kind of used-car finance is for you…What Types Of Car Finance Options Are Available?
The main two car finance options are Hire Purchase (or HP) and Personal Contract Purchase (often referred to as PCP).
Hire Purchase (HP)
Spread the cost of buying your car with fixed monthly payments. At the end of the agreement, you will own your car outright.
This is the best option if:
You want to own the car at the end of your agreement
You want the total amount that you have borrowed paid off by the time you reach the end of your car finance agreement.
You don't want to commit to monthly mileage limits 
Because there's no optional final payment (as there is with PCP), monthly payments on an HP have to be higher, but this gives you complete freedom with how you use the car, including not having to stick to an agreed mileage limit.
Personal Contract Purchase (PCP)
Purchase your car with lower monthly payments, by deferring a large portion of the credit into a final repayment at the end of your agreement.
This is the best option if:
You would prefer lower monthly payments
You're planning to change your car at the end of the period
You are able to commit to a monthly mileage limit
When you come to the end of your agreement, you have three options: returning the car to the dealership, making a final payment to buy the car, or getting another car.
A PCP keeps monthly payments comparatively low because a large chunk of the car's value is bundled into an optional final repayment, often called the 'balloon payment', which is based on the car's Guaranteed Minimum Future Value. You'll just need to stick to an agreed monthly mileage limit, but you can always go over it for an agreed pence-per-mile surcharge.
What is the difference between HP & PCP?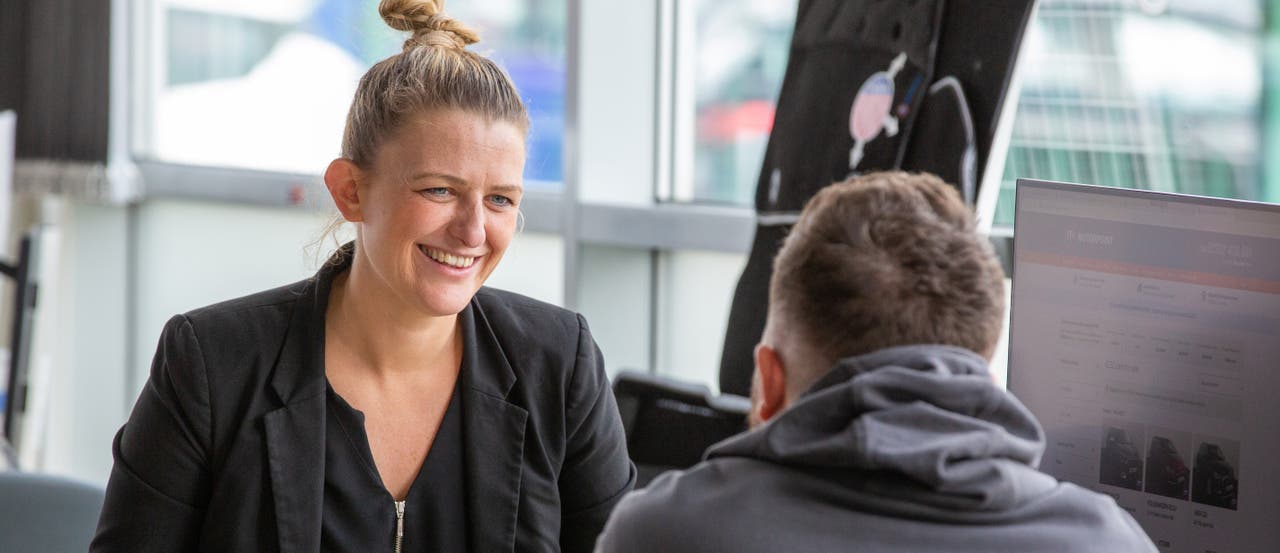 The main difference between these two types of car finance is what happens with regards to ownership at the end of your agreement.
When you buy a car using Hire Purchase, you make regular monthly payments towards the total value of your agreement. Once you have made your final payment you will own the car outright.
Cars purchased using PCP often have lower monthly payments due to you only making repayments on a smaller proportion of the value of the car. This means that you won't own the vehicle when you get to the end of your agreement. You do however have the choice of buying this at the end of your agreement (often referred to as the 'balloon payment'), or returning it, or trading it in to a dealer and taking finance out on another vehicle. Cars returned at the end of the agreement must be in good condition and within the agreed mileage limit in order to avoid incurring additional charges.
The other difference is that cars purchased using PCP are subject to mileage limitations, whereas those purchased with a HP agreement are not.
Which type of car finance is best?
There is no one best option. The car finance approach you choose to take is entirely down to your needs, requirements and circumstances. Asking yourself some of these questions may help you come to a decision about which type of finance is best for you:
I want lower monthly payments
If low monthly payments are your priority then PCP is your best option. This is because you are not paying monthly payments towards the full cost of your car, but a small portion of the credit.
I want more flexibility with my car finance
Hire Purchase offers you a great deal of flexibility when choosing a car finance option. You can choose how much deposit you want to pay, as well as the length of your agreement, and your monthly repayments.
I want to keep my car at the end of the agreement
If long-term ownership is what you're looking for then opt for Hire Purchase. Once you have made the final payment of your car finance plan, you will own the car.
Why buy a car using finance?
Spread the cost of buying a car
Saving up to buy a car can be a long journey, especially if you're not able to put a lot aside each month. Buying a car using finance gives you the option of spreading the cost of your car, with affordable manageable payments.
Upgrade your car
Car finance may also allow you to purchase a better car.
For example, let's say that you have managed to save £5,000 to buy your next car. Rather than using all this money to buy an older car at this value, you could use some of your savings as a deposit towards a nearly new car, worth £10,000.
With car finance, you can choose how much deposit you put down, depending on how much you want to borrow and how much you are able to pay each month. You may decide that you want to use £3,000 of your £5,000 savings as a deposit and finance the remaining car value.  This allows you to hold some of your savings back to put towards other purchases e.g. car insurance, or keep it in your savings account for a rainy day.
Lower monthly payment
Your monthly payments will be lower, especially if purchased using PCP as you are only paying off a small proportion of the original value of the car. 
Change your car every few years
If you aren't intent on keeping your car long-term, opting for PCP allows you to change your car for a different one instead of paying the final repayment at the end of the agreement.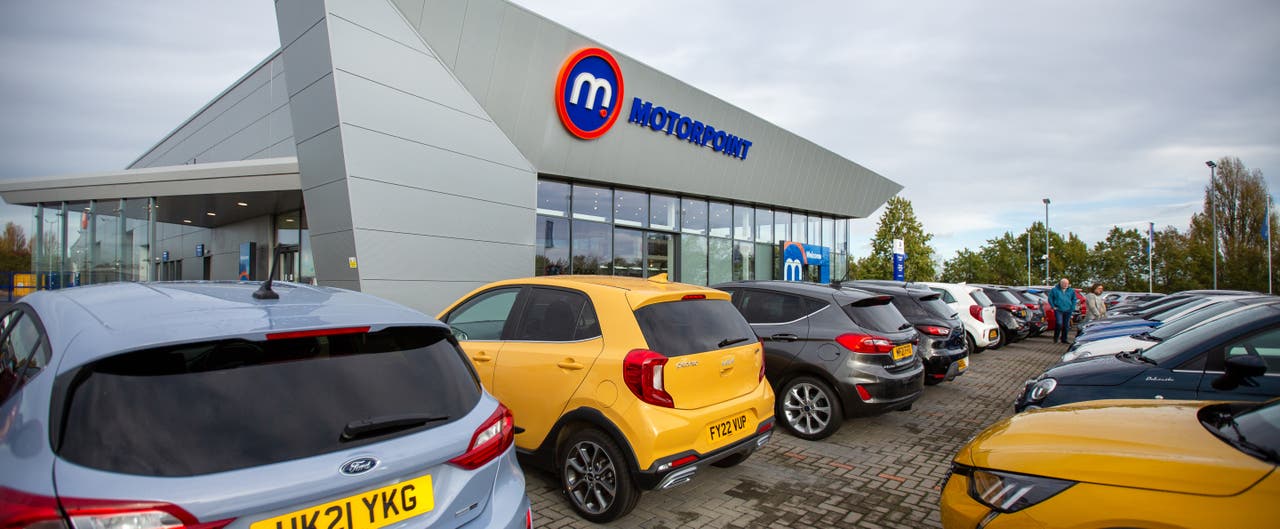 Things to remember when buying a car using finance
There are also a number of important considerations to take into account when financing a car.
Keeping up with payments - ensure you are able to keep up with your monthly payments for the entirety of your agreement. As you won't own the vehicle outright, missed payments could result in losing your car.
Stick to your agreed mileage limit - you must ensure you stick to your agreed mileage limit when buying a car using PCP. If you do not you may incur additional charges when you get to the end of your agreement. If you can't commit to this Hire Purchase may be a more suitable option.
Think about purchasing an extended warranty - many nearly new cars will still have some of their original Manufacturer's Warranty (most of Motorpoint's cars are still under theirs), however you can add an additional 1 or 2 years with products such as Motorpoint Warranty. By extending your warranty you have the added peace of mind that you are protected against cost incurred in the event of an electrical or mechanical failure of a covered component, or breakdown/immobilisation of the vehicle.
Consider taking out Motorpoint Asset Protection on your car - asset protection provides additional cover for your vehicle should anything happen to it. If your car were to be written off, your insurer will only pay the vehicle's current market value. Asset protection makes up the difference between any insurance payment and the amount you still owe on the vehicle so you are not left out of pocket. It covers you in case of accident, theft, fire, flood, and the policy can be transferred to another car, and can be cancelled at any time (subject to an administration fee).
Keep your car looking as good as new with Williams Paint Protect - this helps to protect your car against the weather and other environmental pollutants. It can be used to protect paintwork, bumpers, alloys and internal fabric, and comes with a lifetime value. Such products are particularly beneficial if you have purchased your car using PCP, and wish to return it at the end of your agreement, helping you maintain it's condition when the time comes to return the vehicle.
Looking for your next vehicle? We have thousands of cars in stock to suit all needs and budgets. Browse all cars.