Buying a used car doesn't have to be a challenge! We've put together this guide to explain the complete process – from deciding what model to buy, to figuring out how you'll pay for it, and what you should do when you're test driving it.
Keep reading for answers to all your used-car-buying questions. For more options, take a look at Motorpoint's huge selection of nearly new cars backed by our quality guarantee and price promise.
Why buy a used car?
The most obvious reason you should buy a used car is that it's cheaper than buying the same car when it was brand new. That means, for the same budget, you could get a larger, more premium or more powerful used car for the same price as a smaller, less upmarket brand-new car.
For example, at the time of writing, a brand new Kia Picanto – an excellent but very small hatchback – costs a little more than £13,000 brand new. If you spent the same budget on a nearly new car from Motorpoint, for example, you could choose from a range of larger, more powerful cars such as the SEAT Arona, Ford Fiesta or Vauxhall Corsa.
Should I buy a new or used car?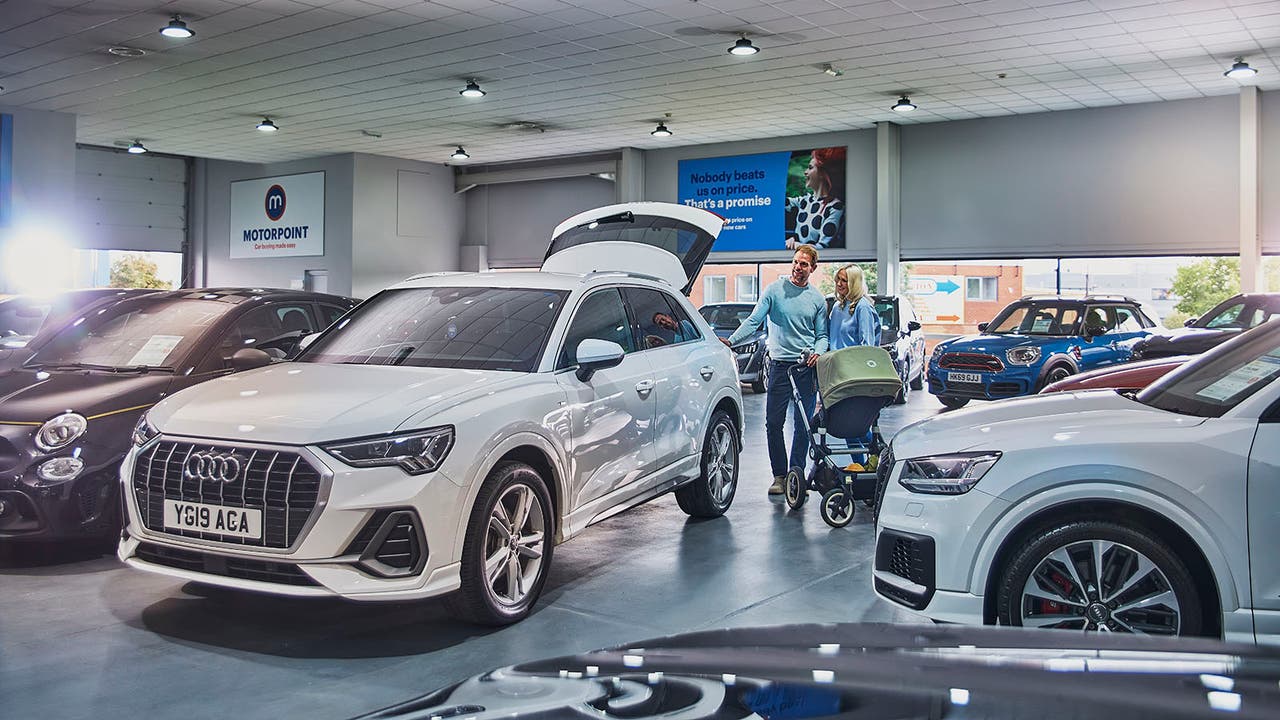 You should make this decision based on your car-buying priorities. The advantages of buying a brand-new car include being able to select the exact specification it's delivered with, having the full balance of its factory warranty, and the parking-space bragging rights associated with having the latest numberplate on your car and very few miles on the clock.
However, there are also several advantages of buying a used car. For one, they can cost substantially less than brand-new cars, and they're often available immediately rather than having a potentially months-long wait for your new car to be built. Plus, you get a very wide choice of cars on the used market, and are less exposed to depreciation than a vehicle's first owner.
Are used cars reliable?
The short answer is 'that depends'. The more in-depth answer is that used cars can be just as reliable as new cars, especially if previous owners have kept up with regular service intervals. Most used car models have been on the market for a few years – this means that design issues that were missed when the car first launched will have had more time to get fixed by the manufacturer, which helps make these models more reliable in the long run.
Are used cars good value for money?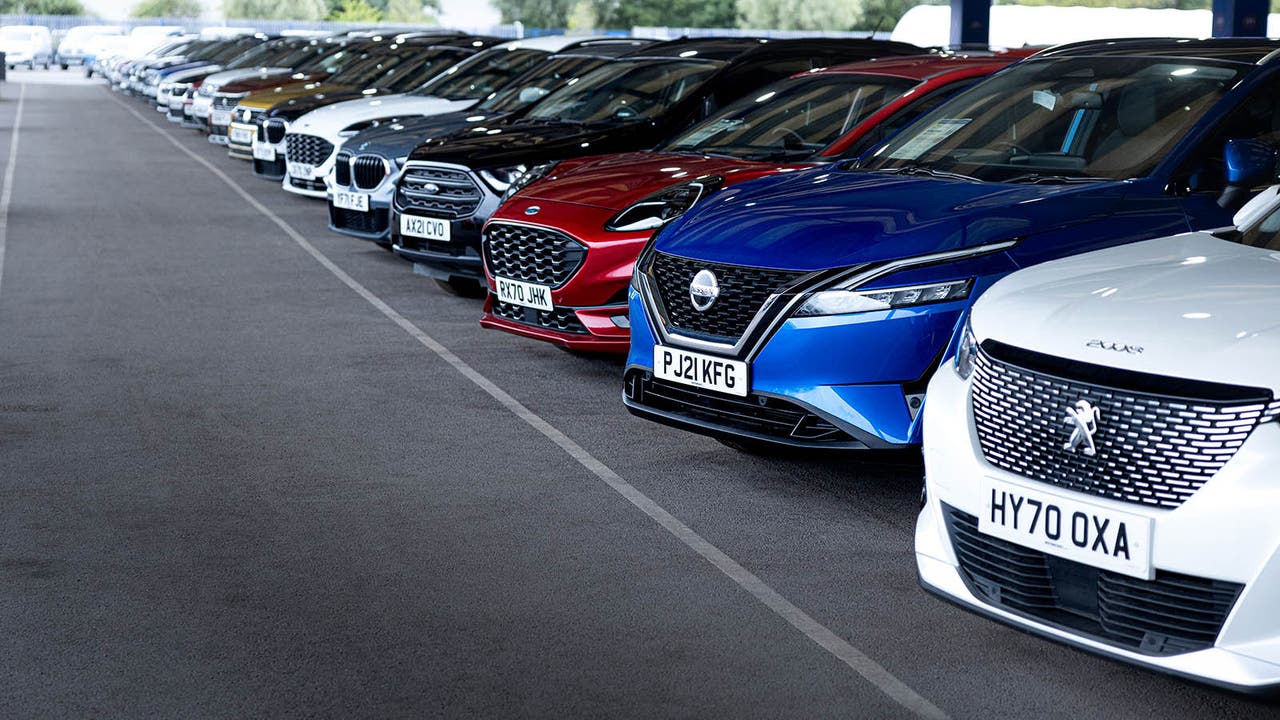 Some cars offer better value for money than others but, generally speaking, used cars represent better value for money than brand-new cars. You get almost entirely the same experience as the car's first owner but for less money.
The trade-off here is that, as a car gets older, it will continue to require maintenance to keep it running properly. That means, compared to the first few years of a car's life, an older used car will generally cost a little more in maintenance as parts wear out and need replacing. Buying an extended warranty for your used car can help shield you from large, unexpected maintenance costs.
How much are used cars?
That's a little like asking 'how long is a piece of string?'. The answer, of course, depends on the model of car you're looking at but, as a rule, used cars cost less than they do when they were new. This is due to depreciation, which pushes their value down over time.
To illustrate this answer you can look at the Tesla Model 3 – a popular premium electric car. At the time of writing, you can buy a Model 3 brand new for around £43,000. The same model purchased nearly new from Motorpoint costs around £31,000 – that's £12,000 less or 28% cheaper than buying the car brand new.
What to do before buying a used car?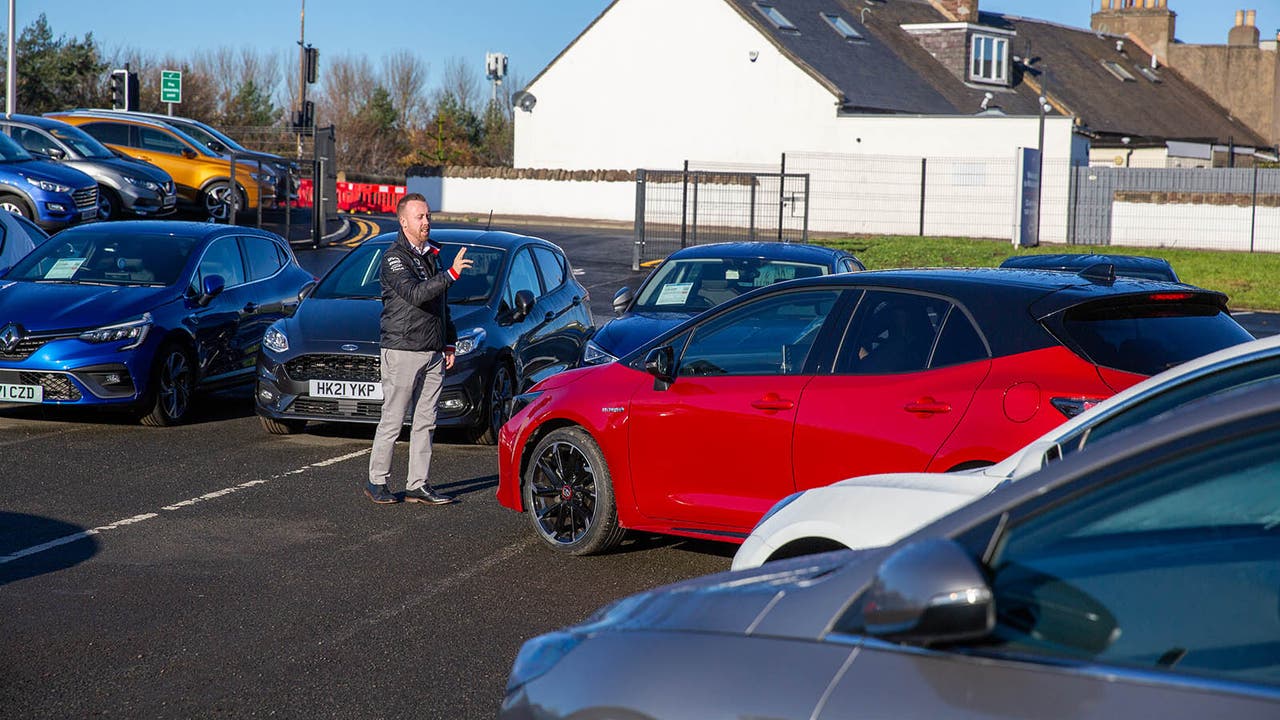 Used car sellers will often be happy to talk you through the choices available to you, but you're likely to feel more comfortable and informed if you go into the used-car-buying process armed with some knowledge of the market and the kind of prices you should be expecting. We think there are three simple questions you should try to answer before shopping for a used car:
What kind of car do I need?
This question asks you to think about the kind of driving tasks you normally need your car for. How many people besides yourself are you likely to need to carry? If you live alone or as a couple, you might be able to get away with a small hatchback or coupe with four or fewer seats but, if you're a family with kids, you might need a car with five or more full-sized seats.
You should also consider what kind of engine will suit you best. Most modern petrols are impressively efficient and a great choice if you drive low-to-medium mileages, whereas drivers who cover lots of motorway miles or who need to tow might want to consider a diesel engine. Hybrid choices are also becoming more common and work well if you cover a lot of city miles or, if you have access to a home charger, you could consider a full EV to significantly cut your fuel costs.
You should also consider if you have any hobbies or interests that might need large amounts of cargo space such as cycling, golfing or musical instruments. If so, you might need to buy a slightly larger car to fit all your gear.
What kind of car do I want?
This question is a little more subjective. What models and brands do you like? Carmakers put a lot of thought into the styling and features on their vehicles, so there's probably something out there that'll float your boat. Do you like the handsome, imposing styling of an Audi or BMW, or do you prefer the friendly face you get on a Fiat 500 or a Mini?
Taking time to think about what models you like and don't like will help narrow down your search. It might also be worth looking into the range of colours and trim levels offered on the models you've got your eye on, so you can start hunting for your ideal version.
What car can I afford?
This question might be the most important of all. All cars on sale will have an outright purchase price but few buyers are able to stump up the entire cost of their car – often many thousands of pounds – in one go. Instead, new and used car shoppers often finance all or part of the vehicle's cost.
That means, when considering what cars are affordable for you, it's often more useful to consider whether you can afford the monthly finance repayments from your budget, rather than the outright cost. Finance deals often start with a lump-sum deposit, so it's also worth making sure that you can afford this one-off payment.
What's the best way to buy a used car?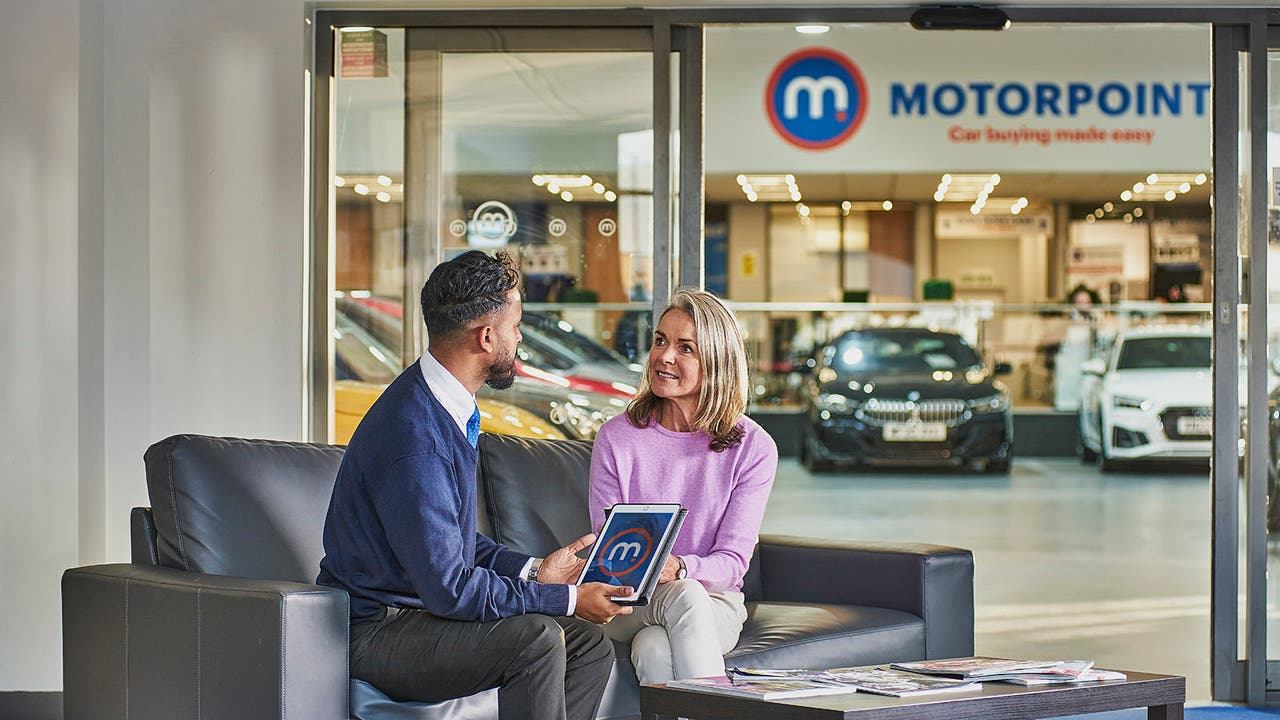 There are several ways you can buy a used car:
Pay the full price up front

Pros – you have no regular finance or interest payments to make, and you own the car immediately and indefinitely. You are free to sell it whenever you want or hold on to it and continue running it as long as you like. You're not bound by any mileage or condition agreements.
Cons – this option is unaffordable for most buyers as you need the entire up-front cost of the vehicle in one go. Most buyers have monthly income and expenditures, so it's much easier to factor in a monthly repayment rather than a huge one-off expense.

Take out PCP finance

Pros – this is often the cheapest option in terms of monthly repayments. Dealers will let you roll any equity you build up over the course of your finance term into your next PCP agreement. That often makes it the most convenient way to buy a used car.
Cons – if you want to own the car at the end of the agreement, you'll need to pay or refinance the optional final balloon payment. If you do this, you'll generally pay more in total interest over the course of the finance deal than you would for a HP deal. You'll be subject to mileage and condition agreements over the course of the finance deal.

Take out HP finance

Pros – no balloon payment to fund at the end of the agreement because you own the car as soon as the finance is paid off. As a result, there are no mileage or condition stipulations you need to adhere to.
Cons – this option will have higher monthly repayments than a PCP deal. You might also have to put more money down up front to make your monthly repayments affordable. You don't own the car until the finance is fully paid off, so you can't sell the car before that point.

Take out a bank loan

Pros – this can be an affordable way of raising enough cash to buy a car outright. Make sure you closely compare the terms of any bank loan against how much you'd pay for a comparable HP finance deal – in some cases, dealers can offer you better value than a bank. You'll own the car immediately, allowing you to use it as you want without mileage or condition constraints.
Cons – secured bank loans can leave you at risk of repossession if you don't keep up with the payments, while unsecured loans often have higher interest rates to compensate. You'll need to pay back the balance of the loan regardless of what you do with the car so, if you sell it, you'll still be on the hook for the money you borrowed.
You should weigh up these options and pick the one that makes the most sense to you. It'll help to consider how large of a monthly repayment your budget can handle, along with how much you might be able to put down as a deposit.
Can you test drive a used car?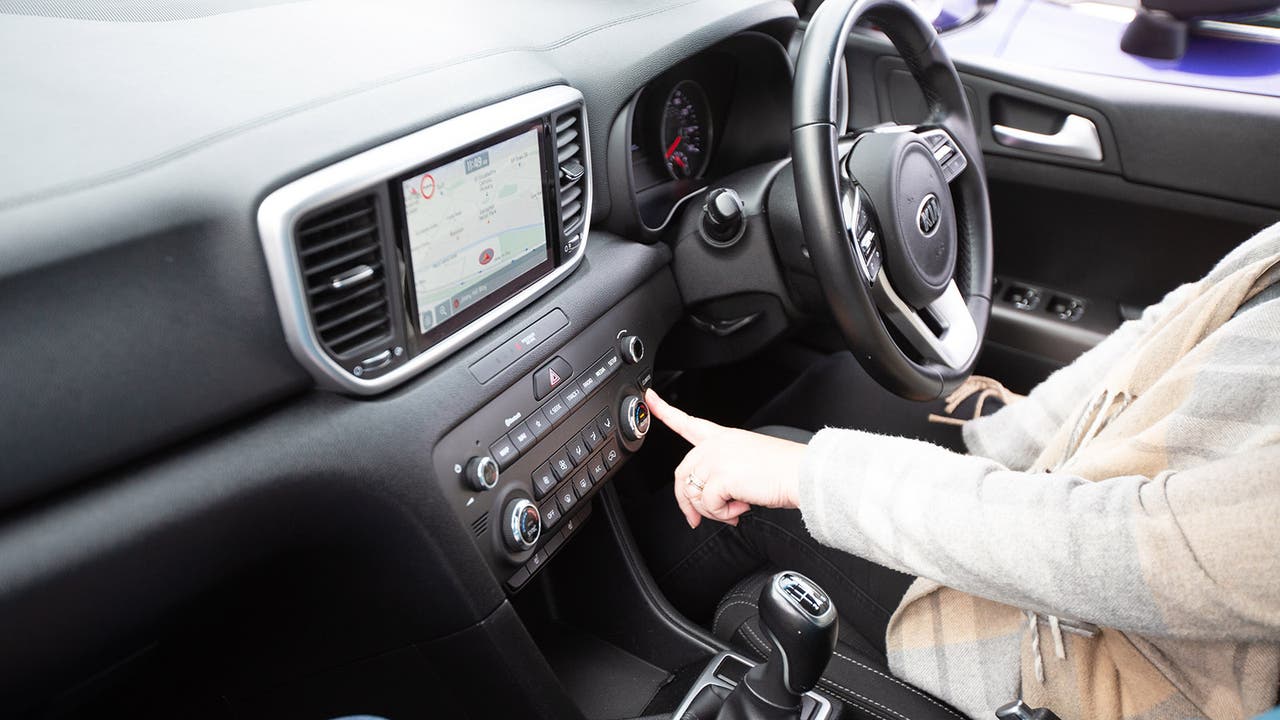 Yes, you can. In fact, we'd strongly advise against buying any car until you've test driven it. A test drive isn't just for checking that everything's working the way it should, it's also an opportunity to see if you like the car, if you fit in it, and if you feel comfortable driving it.
What to check during a test drive
As you're sitting in your potential next car and when you take it for a spin, here are the things you should be checking for to see if it's a match made in heaven.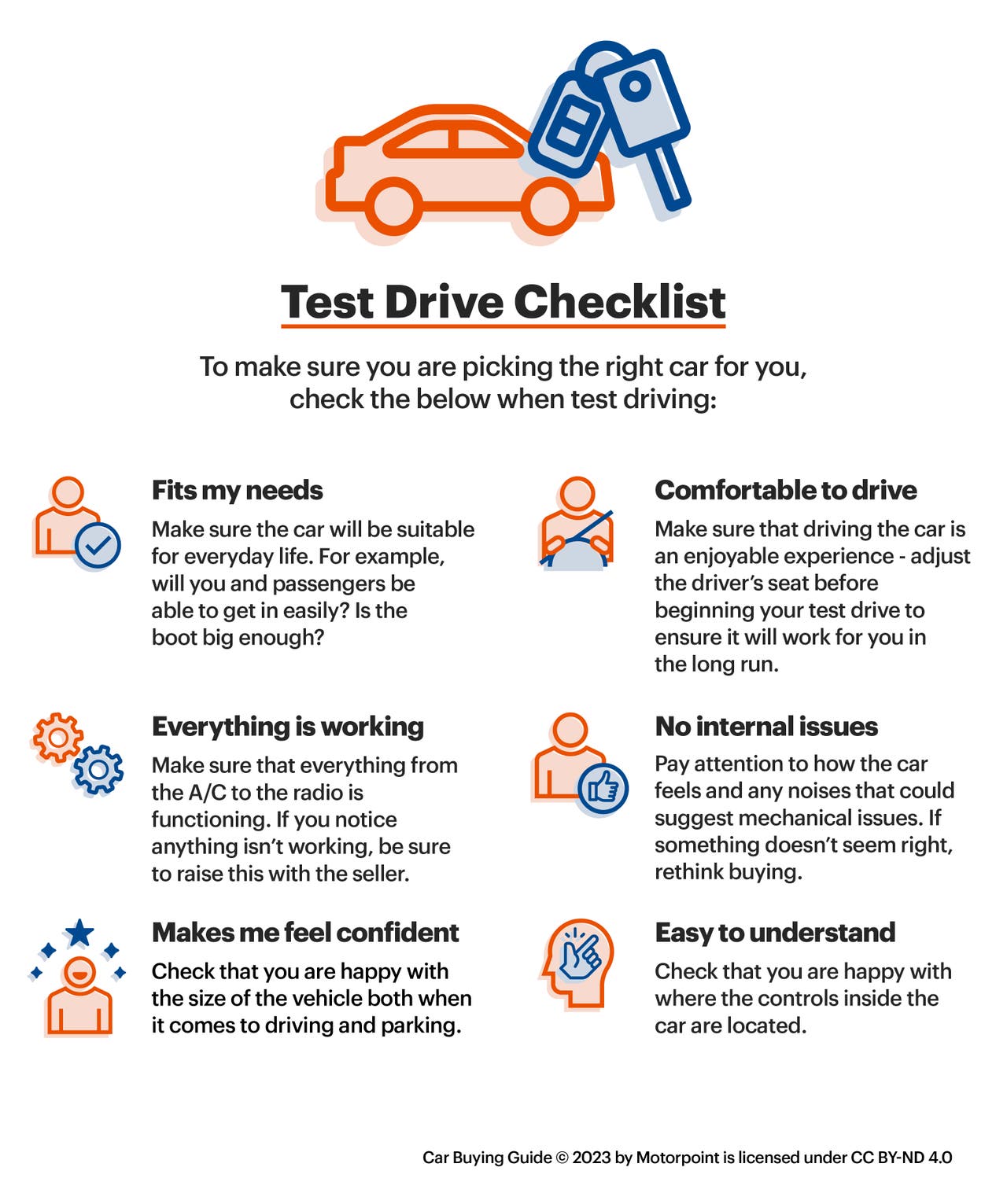 Before setting off
Do you fit in it?

That means can you get into a comfortable driving position, able to reach the steering wheel and pedals without feeling squashed or stretched out?
Are the seats comfortable and do they support you when on the move?
What large things might you need to carry in the boot?

Will your other passengers be able to fit?

If you're a family buyer, will you be able to easily load child seats into the rear row, and will your pushchair fit in the boot? Luckily, a car store will usually let you test these things
If you have older passengers or those with restricted movement, will they be able to get in and out without too much hassle?

Do you know where all the controls on the dashboard are?

Can you work out how you would adjust your climate control or activate cruise control, for example?
Can you see how the wipers and lights work, and how to turn the front and rear demisters on? 
Is the infotainment system easy to use? Can you work out how to bring up maps or music from your phone on the car's built-in system?

Does everything work?

Try all the functions and features such as the stereo, the sunroof, power windows and adjustable seats to make sure they function as intended.
On the road
Do you find the car easy to drive?

Are the controls easy to use?
Is the steering accurate?
On a manual, can you find the clutch's bite point easily?
On an automatic, does the car behave predictably when creeping at low speeds? Are you happy with how the car changes gear?
Can you see out of it well enough to park confidently?

Is it comfortable?

Are you able to drive around without tensing up over potholes?

Does it feel like it's working properly?

Are there any unusual noises when accelerating, steering, going over a bump or changing gear?
Does the car track straight or does it pull to one side?
Does anything in the car or its controls feel like they're wobbling or vibrating on the move?
Does the engine feel as powerful as you'd expect or does it feel sluggish, and are there any unusual noises while it's running?
What to look out for when buying a used car?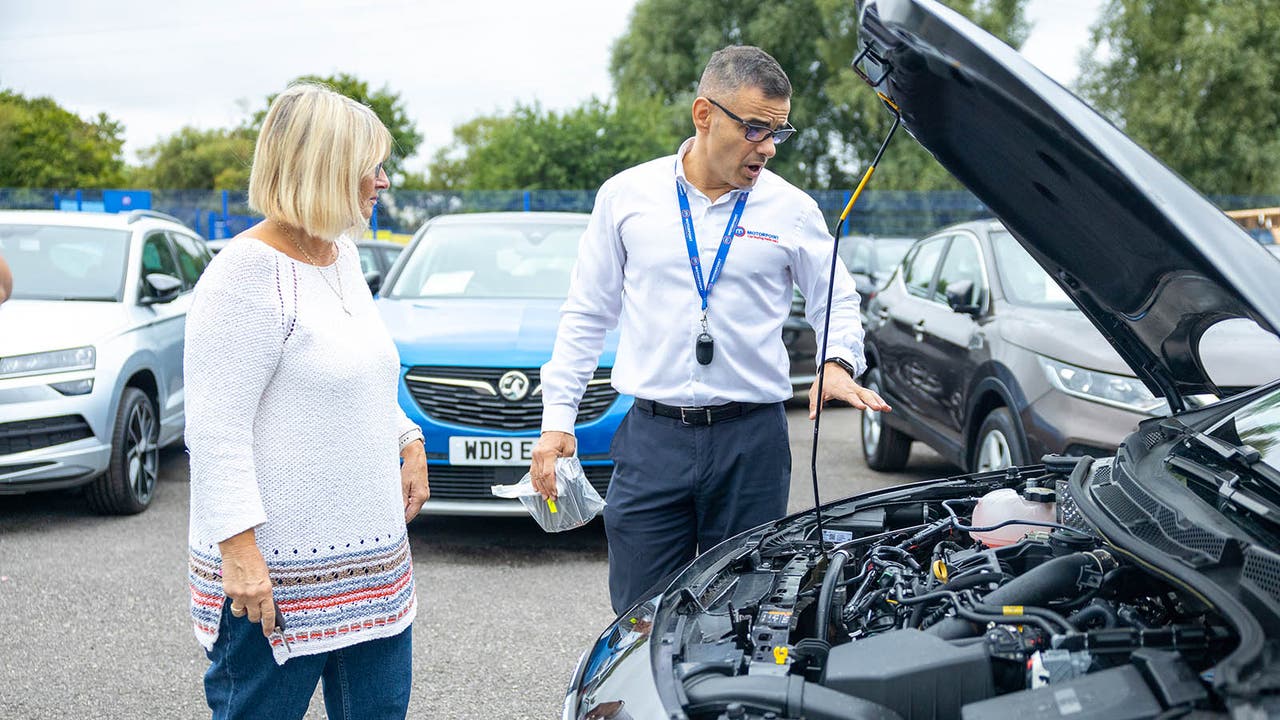 Most used car sellers take the effort to inspect the vehicle to make sure it's in good condition before selling it. However, for ultimate peace of mind, this section will talk you through what to keep an eye out for when shopping for a used car. For even more info, take a look at our explainer for what to look for in a used car.
What physical checks should I carry out on a used car?
Assuming you're not a mechanic yourself, most of the checks you're able to carry out yourself are visual ones to make sure the car's in a safe and sellable condition. Here's a shortlist to get you started:
Tyres

Are they in good condition?
Do they have a good amount of tread left?

Wheels

Are the wheels in good condition or is there damage from kerbs or potholes?
Are they original to the car?
If the wheels use locking nuts, can you find the tool to undo them?

Brakes

Are they in good condition or are there obvious signs of wear?

Bodywork

Are there any dents, dings or scratches that haven't been repaired?
Is there any rust or corrosion showing? Or any bubbling paint that might be hiding it?
Do all the panels line up properly, or are any noticeably out of alignment?
Are all the trim pieces, badges and styling touches present and correct?

Lights

Do they all work as intended?
If powered by LEDs, are all the individual LEDs lighting up?
Are the lenses fogged up?

Interior

Can you get into a comfortable driving position?
Can you work out how to fold and adjust the passenger seats?
Is it clean and undamaged?
Are there any warning lights in the instrument panel?
What car history checks should I carry out?
There are several checks you can carry out before buying a used car to make sure it's being sold as described.
A great place to start is an MOT history check. For cars that are three or more years old, their MOT results are recorded and are freely available via the Government's website. This lets you see the MOT history of a vehicle including any failures it might've recorded and whether those were then rectified. It can also give an indication of the car's mileage over time, allowing you to gauge how the car has been used over the years.
More detailed checks than the MOT history database are also available but these cost a small amount to access. These often cover a range of historical details on a car and can tell you if it was ever reported as stolen, if it was ever written off by an insurer, or if there's any outstanding finance on the car. Motorpoint automatically carries out this check for every car it sells.
You might also want to check what service history a car has. This can help determine what kind of maintenance it has received over its life, and can maximise its value when you come to sell it on.
Do I get a warranty with a used car?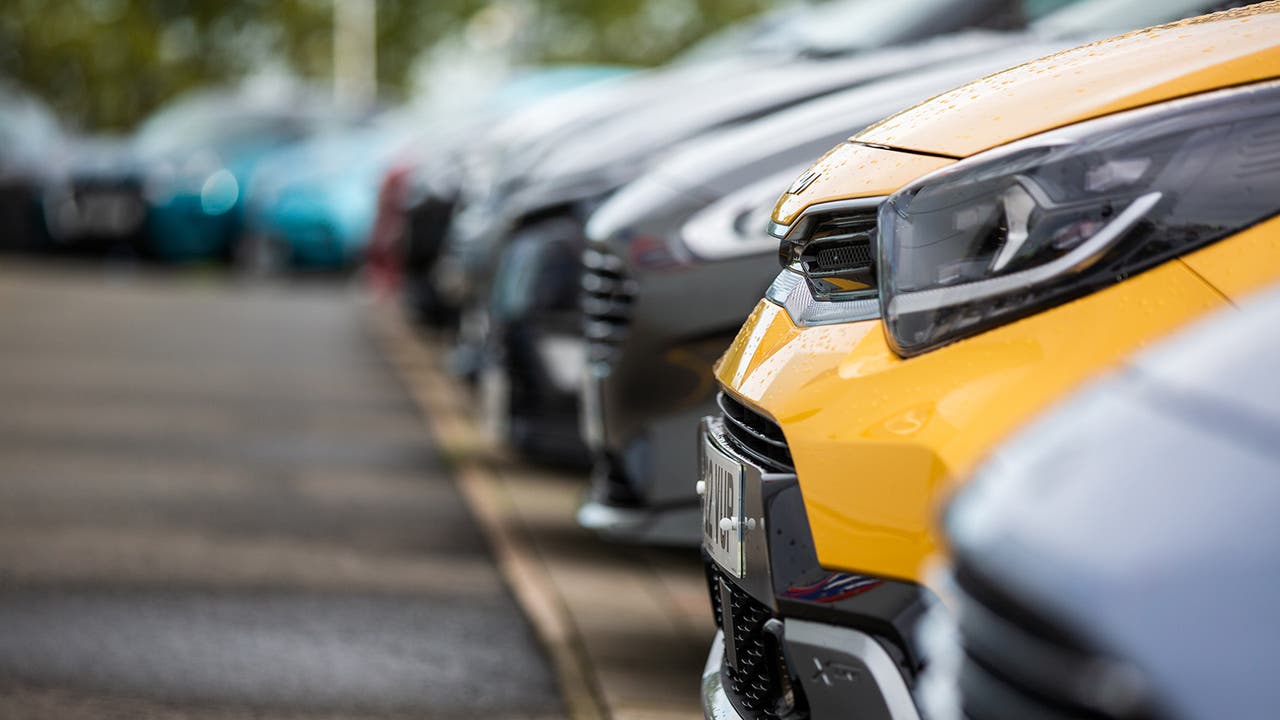 That depends on a number of factors. If you're buying a nearly new used car, there's a chance that a decent chunk of the original manufacturer's warranty still applies to the vehicle you're looking at. If you want the reassurance of a long factory warranty, you might want to look at Kia, MG, Hyundai and Mitsubishi, which all offer an impressive amount of coverage.
For older used cars, many dealers will include a short warranty at the point of sale – usually around three months. At this stage you'll usually be given the opportunity to purchase an extended warranty, which covers the car for up to a year or longer. This might be worth considering if you don't want to risk being hit with unexpected repair bills down the line. There are also third-party extended warranty providers that can offer continued coverage for your car.
What is good mileage on a used car?
Again, this depends on many factors. In many cases, the actual mileage figure matters less than the kind and the consistency of mileage the car has covered. Average annual mileage for UK drivers varies quite a lot with some covering as little as a few hundred miles per year, while others will drive many times as far.
Rather than worrying about the exact mileage figure, you're better off keeping an eye out for outliers – that means cars that have done either an unusually small number of miles compared to their age, or an unusually high number. If you have access to a vehicle's MOT history, you can also check roughly how consistent that mileage was – a car that regularly does 10,000 miles per year might be a safer bet than one that's bounced between high usage and sitting unused for long periods.
What should I ask when buying a used car?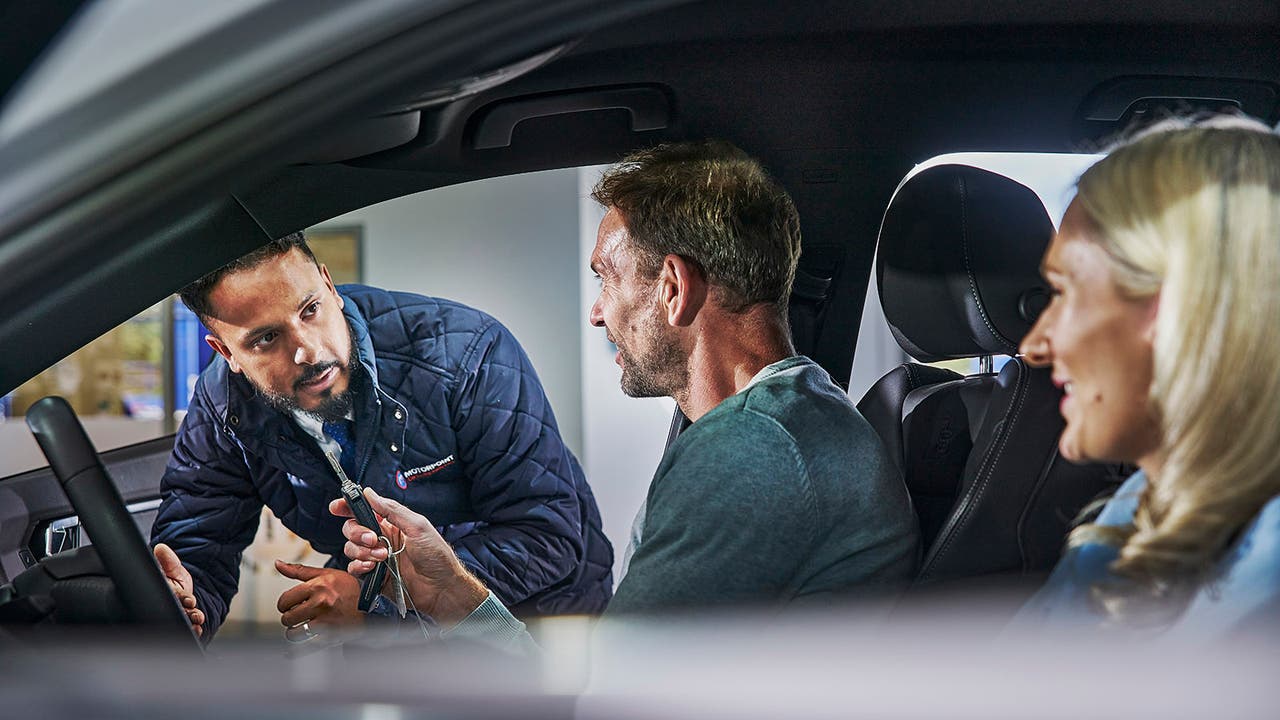 Knowing what to ask when buying a used car can give you more peace of mind because you won't feel like you're missing any key details. Here are the questions you should consider asking:
Is there any damage on the car?
Does everything on the car work properly?
How many previous owners has the car had?
How much life is left on the brakes and tyres?
When is the car due a service?
Have you carried out a history check and can I see the results?
Can I take the car out on a test drive?
Can I see the car's paperwork, including its log book and any service history it has?
What warranty is this vehicle being sold with?
What protection do I have when buying a used car?
There are several schemes in place to offer you a level of protection when buying a used car. You're primarily protected by the 2015 Consumer Rights Act, which entitles you to ask for a refund within 30 days of buying a used car if it fails to meet any of the following three criteria:
It must be of satisfactory quality that can be expected for its age, mileage and price range
It must be fit for purpose – ie. if you're told a car can do something it can't
It must be as described, meaning all the listed equipment should be present and correct
The Consumer Rights Act still applies beyond the 30-day window but, beyond that point, it can be very difficult to prove that any fault that arises was present when the car was sold. If you're buying a used car from a private seller, you have very little protection if there's a problem, so you'll need to be extra diligent when carrying out checks on the car.
Can I return a used car if I'm not satisfied?
If you're buying from a used car store like Motorpoint or a dealership, you'll probably find that many will offer some kind of internal exchange policy. In these cases, there doesn't need to be anything wrong with the car, you can simply have decided you don't like it, and the dealership might agree to take it in and exchange it for a different model.
At Motorpoint, you're protected by our seven-day exchange guarantee that lets you swap out your car for a different one within seven days of your purchase if you decide you don't like the car.
Shop a fantastic range of nearly new cars
If you want to buy a great value car without the hassle, take a look at Motorpoint's huge selection of nearly new cars for sale. Every model is backed by our quality standard and our price promise, plus the reassurance of our seven-day exchange guarantee.