Sell my car
Sell your car with Motorpoint in person or online and get the best valuation for free.
Sell your car in under a minute with our quick and easy calculator.
It's free, and there is no obligation to sell.
New valuations will be guaranteed for 7 days > 17/12/2023
How to sell your car online with Motorpoint
Motorpoint aims to make your car resale process quick and easy. Whether you decide to trade in your vehicle for a better model or sell it to get instant cash, we've got you covered. Motorpoint is one of the leading pioneers of the automobile industry, our experts will help you to make your car valuation and sales process easy.
Registration number:

Input your vehicle registration to identify the vehicle.

Car mileage:

Enter your car mileage to determine the right valuation of your car.

Sale estimate:

Fill in your personal details on the form and obtain a car sale valuation immediately.
You can make an appointment with us online or at any of our stores. Your car sale valuation is valid for 7 days, redeem it or compare your options.
Selling & Part Exchanging Your Vehicle with Motorpoint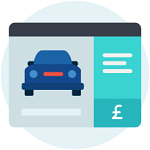 No hidden fees
No third parties are involved when selling your car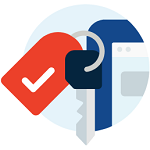 Convenient
Save yourself the time and effort of selling your old car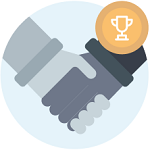 Quick
Part exchange same day, or receive payment in 60 seconds
Listing your car in the UK can be stressful, even more so to do it online. Motorpoint guarantees to make this process effortless. With only a few steps, you will get your car valuation instantly, free of cost and without any obligation. Our experts will help settle existing finance and deal with all the paperwork to complete your car valuation process. Please note, we are unable to help settle finance on vehicles in negative equity. Check out this blog to understand the differences between HP and PCP finance.
Sell Your Car FAQs
Once you have received your valuation, you can book an appointment to sell your car as soon as the next day (subject to appointment availability at your nearest Motorpoint store).
This will depend on a few factors including the age, mileage and condition of your car. Some colours are also more desirable and retain more value. Use our calculator to see how much you can sell your car for.
Payment will be made into your nominated bank account within 60 minutes.
No! You can sell your car to Motorpoint without having to buy another one from us.
There are no additional fees when it comes to selling your car. The valuation you are quoted is the amount that will be paid into your bank account (subject to your car being in the condition it has been described as).
When you come to sell your car, you will need to ensure you have the following documents with you to complete the sale:
Proof of ID (either a photocard driving licence with the address matching that on the V5C or passport and proof of address dated within the last 3 months)
V5C/Log Book (in the name of the person selling the vehicle)
MOT Certificate (with a minimum of 3 months remaining)
Spare Keys (if available)
Service History (if available)
A copy of your finance settlement letter (if you have outstanding finance to be cleared) OR a clearance letter if you have recently paid any finance on the vehicle.
Bank details, so we can make any payment due to you
You will need to ensure that you cancel your car insurance when you sell your car (if it is no longer required), or have it transferred to your new vehicle.
Road tax is non-transferrable, so you will need to contact the DVLA to let them know that you have sold your car. They will then be able to start the process of cancelling and refunding any full months of remaining tax.
You must notify DVLA of any significant changes to your car. If you sold the vehicle, you need to give them the full name and address of the buyer. If the details are not updated, drivers / sellers may incur legal penalties.
Your main responsibility is to accurately describe your car. As a seller, you are not responsible for your car after it is sold. You will need to let DVLA know that you've sold your car, otherwise you will be liable for anything for which the new owner should be paying.