Want your next family car to be electric? Here are 10 of the best battery-powered cars and SUVs to choose from
Electric cars are great for families. An EV is better suited to short trips across town, perhaps to nursery or to football practice, than petrol and diesel cars, as there's no engine that needs warming up. With zero local emissions, you won't be polluting the air outside the primary school, either. Servicing costs should be cheaper, too.
The best electric family cars can travel 200 miles or more on a full charge, and offer fast-charging for long journeys. So whether that's for exciting holidays or the necessary visits to extended family, an electric car should take it all in its stride. And, when you need to wait for the car to charge, there's a science lesson about electricity that you could teach. Or an excuse to go to the restaurant with the Golden Arches…
Best electric cars for families
1. Audi e-tron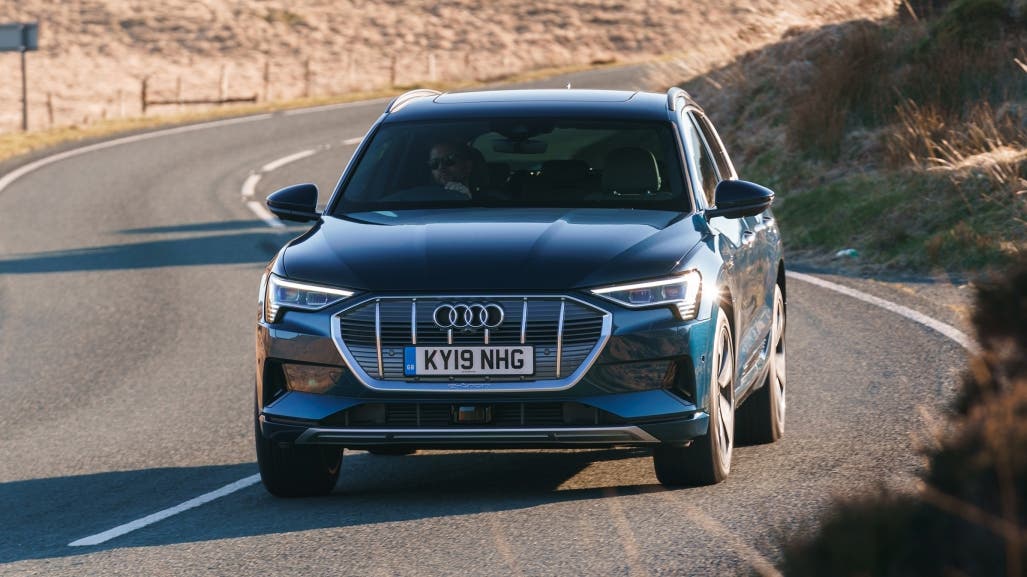 Cheaper versions of the Audi e-tron might not offer the most range or the snazziest wheels but, for the price of a new Volkswagen ID.3, you can get behind the wheel of Audi's flagship electric car. And that means you get a boatload of boot space and a truckload of technology. The e-tron has a supremely spacious cabin and a boot that'll take all the pushchairs and changing bags that you could imagine.
Up front, there's soft leather and a dashboard design borrowed from the imperious Audi A8. There are screens everywhere and all the driver assistance you might need when dealing with squabbling kids.
Check out our used Audi e-tron cars for sale, or consider the smaller Audi Q4 e-tron SUV.
2. Citroen e-C4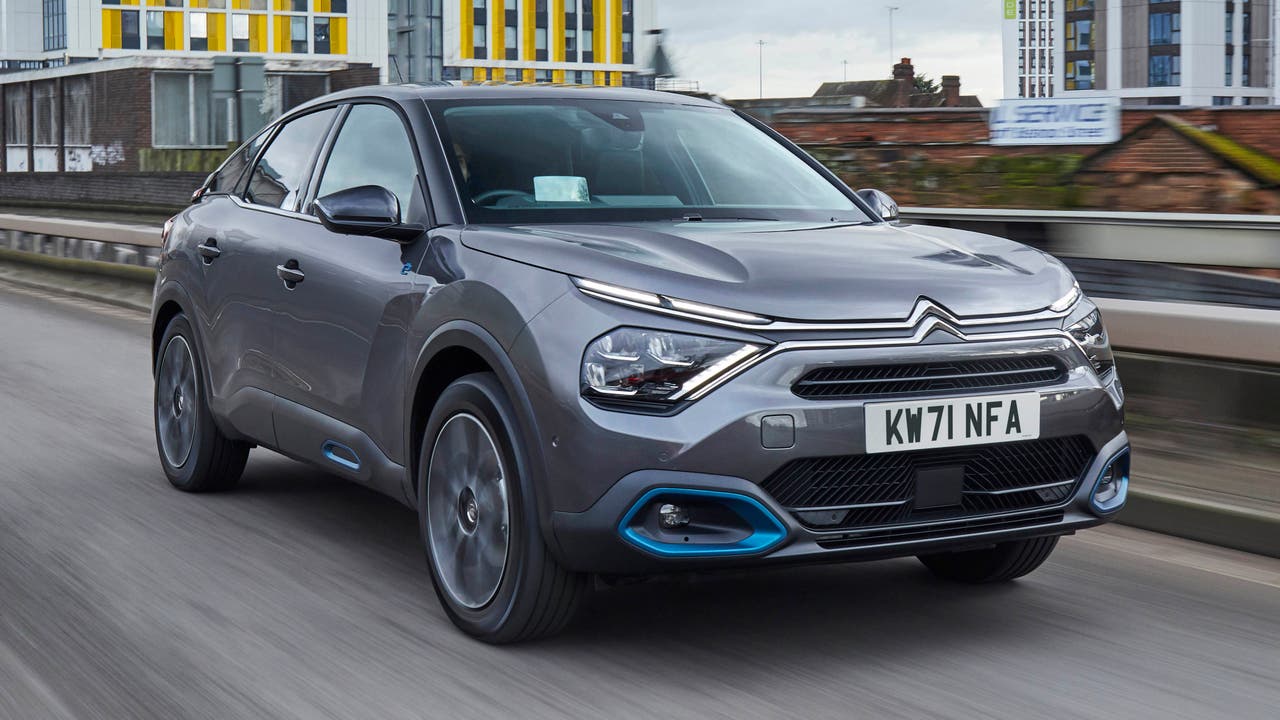 A rival to the Volkswagen Golf and Ford Focus, the latest Citroen C4 comes with a fully electric option. It offers coupe SUV styling and the practicality of a hatchback – the boot is as big as a Golf's – plus a quirky interior with digital dials and a large touchscreen display. There are soft, squishy seats that'll take the ache out of long journeys and all the connectivity you and your kids will expect. Add in a 227-mile range and the e-C4 is a compelling family EV – and a used Citroen e-C4 might cost less than you expect.
Check out our used Citroen e-C4 cars for sale.
3. Ford Mustang Mach-E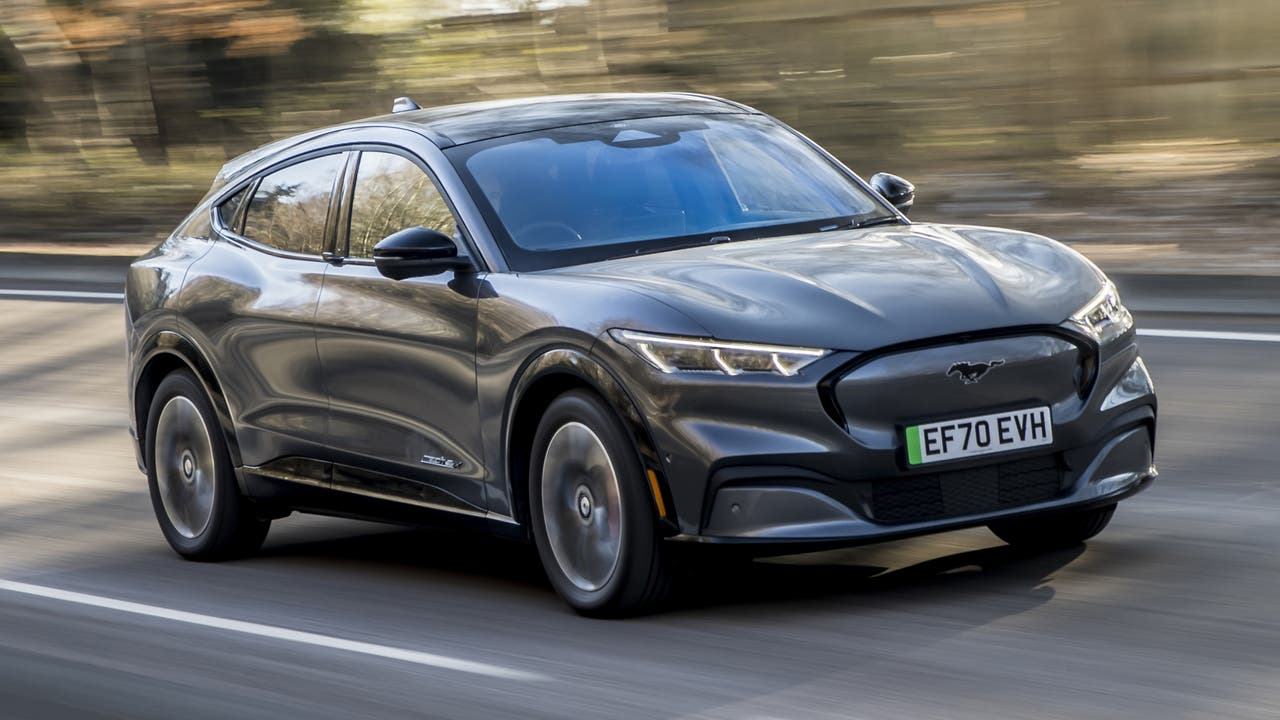 Whatever you think of Ford using the Mustang name for its first electric SUV, there's no doubting that the Mach-E has plenty to like. Whichever version you pick, you'll get a range of more than 250 miles and fast-charging at either 115kW or 150kW. With the latter, you can add over 60 miles of range in just 10 minutes.
Tech fans will adore the 15.5-inch touchscreen with Ford's next-gen infotainment system built in, and there's plenty of other equipment too – WiFi, wireless phone charging, a powered tailgate, adaptive cruise control and a 360-degree parking camera are all thrown in as standard. Oh, and it drives rather nicely as well.
Check out our used Ford Mustang Mach-E cars for sale.
4. Hyundai Ioniq 5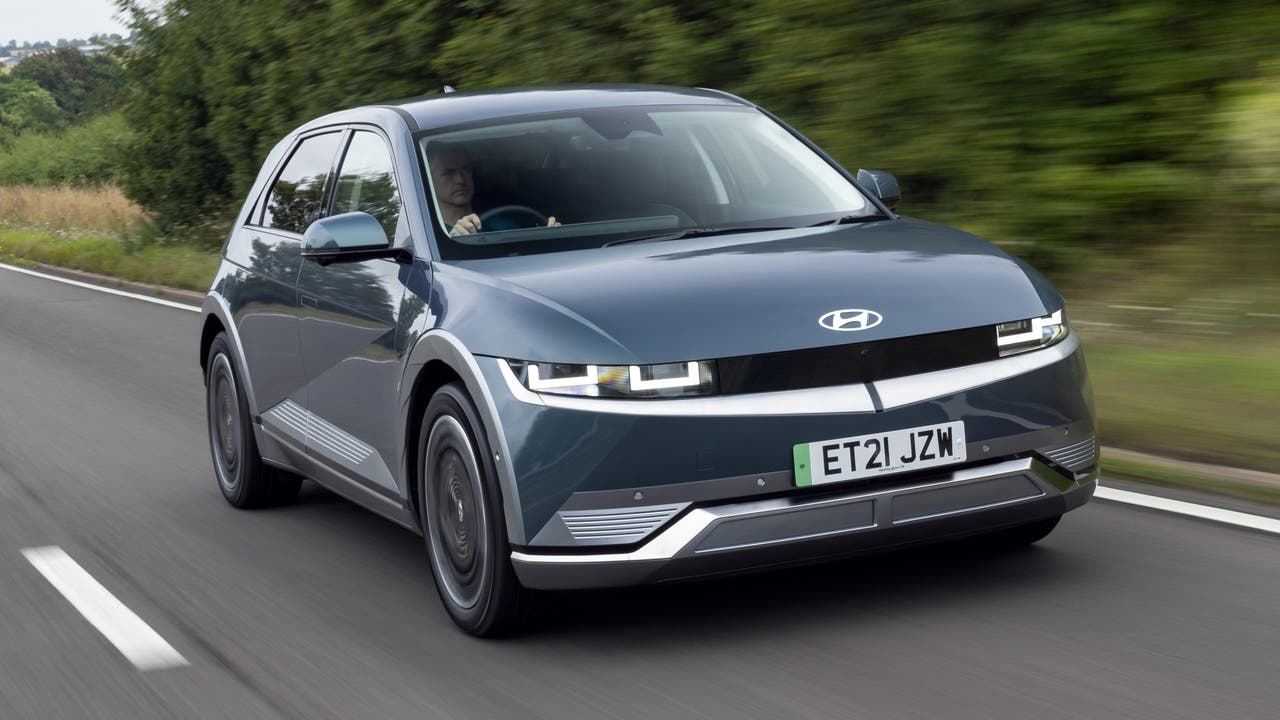 Perhaps the most exciting normal car you can buy, the Hyundai Ioniq 5 is a great family car and an even better EV. It's a lot bigger than it might look in pictures, so there's plenty of space in the lounge-inspired interior. There are studio apartments with less interior space than an Ioniq 5. Actually, there are mansions with less tech than the Ioniq 5. Some versions even allow you to use the car's battery to power electrical devices – perfect for a weekend wild camping trip (or power cuts).
Entry-level versions get a 240-mile range and one electric motor, or there are dual-motor four-wheel drive versions with around 300 miles of range and sports car pace. All get the Ioniq 5's wonderful retro styling and interesting details.
Check out our used Hyundai Ioniq 5 cars for sale.
5. Kia EV6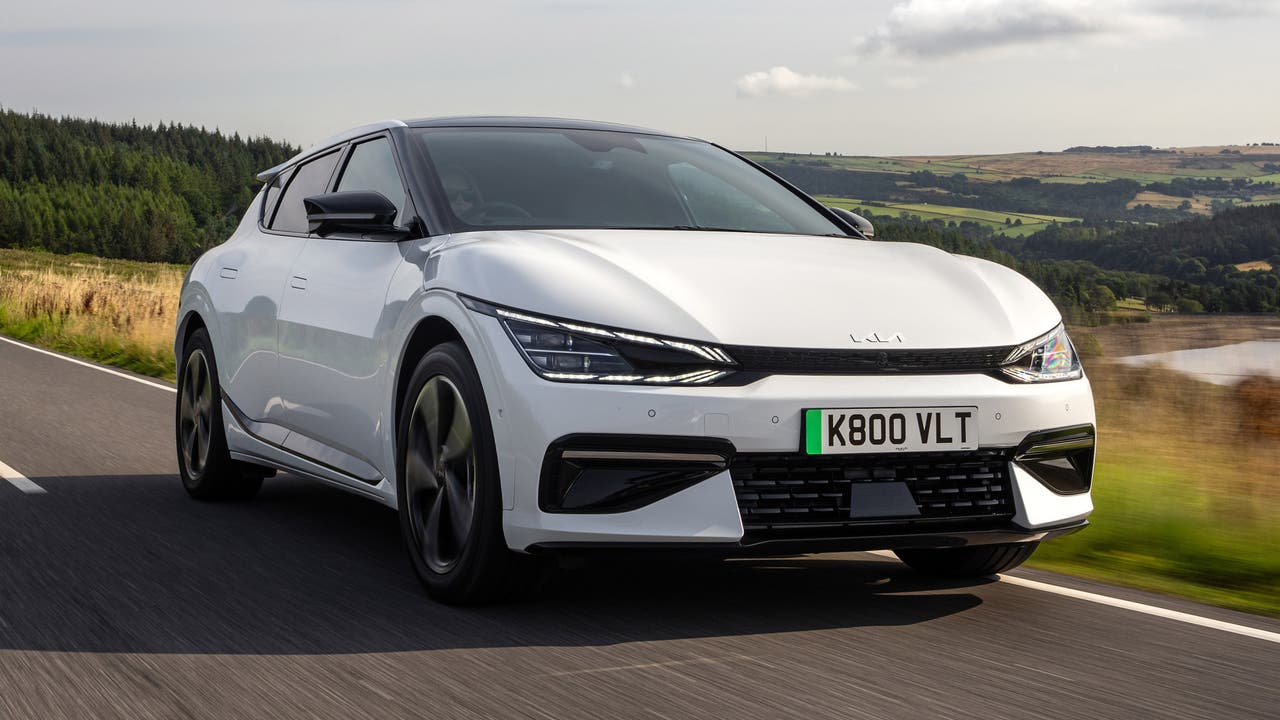 The Kia EV6 shares its platform and powertrains with the Ioniq 5, so it's no wonder that it makes this list as well. Kia's version has a sportier bent and unique styling – with no engine, it doesn't need to look conventional – so the difference might come down to your personal preference. As is often the case with modern Kias, the interior quality and the infotainment system are both really impressive. The EV6 has a higher-quality interior than a Volkswagen ID.4, for instance.
Check out our used Kia EV6 cars for sale.
6. Mercedes EQB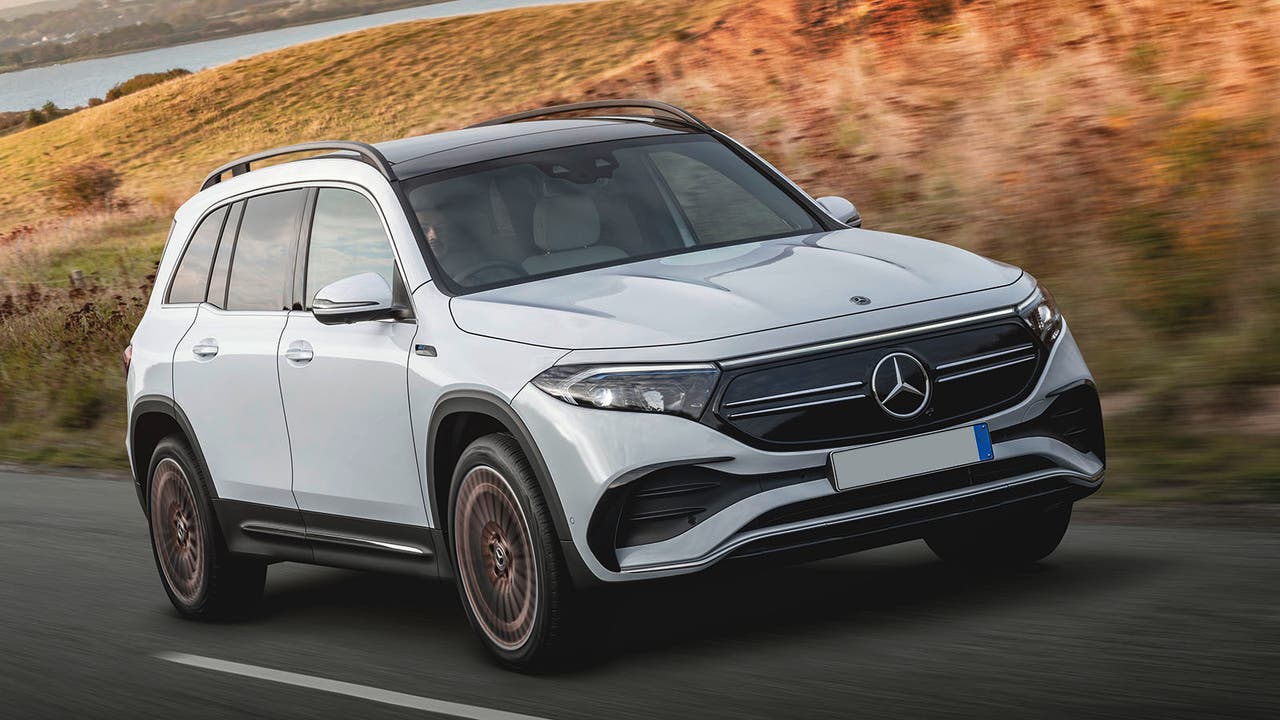 You couldn't accuse the Mercedes EQB of being one of the more affordable cars on this list. It's good thing then, that you get what you pay for with this practical battery-powered SUV, including a plush, upmarket interior and a dashboard stuffed with the latest tech. It shares a platform with the GLB SUV, which means you get a really big cabin with lots of room to wrangle kids into their car seats and the option for a third row in the boot. It won't travel as far as the smaller EQA on a charge but should still manage more than 240 miles if you drive efficiently.
Search nearly new Mercedes EQB cars for sale.
7. Peugeot e-2008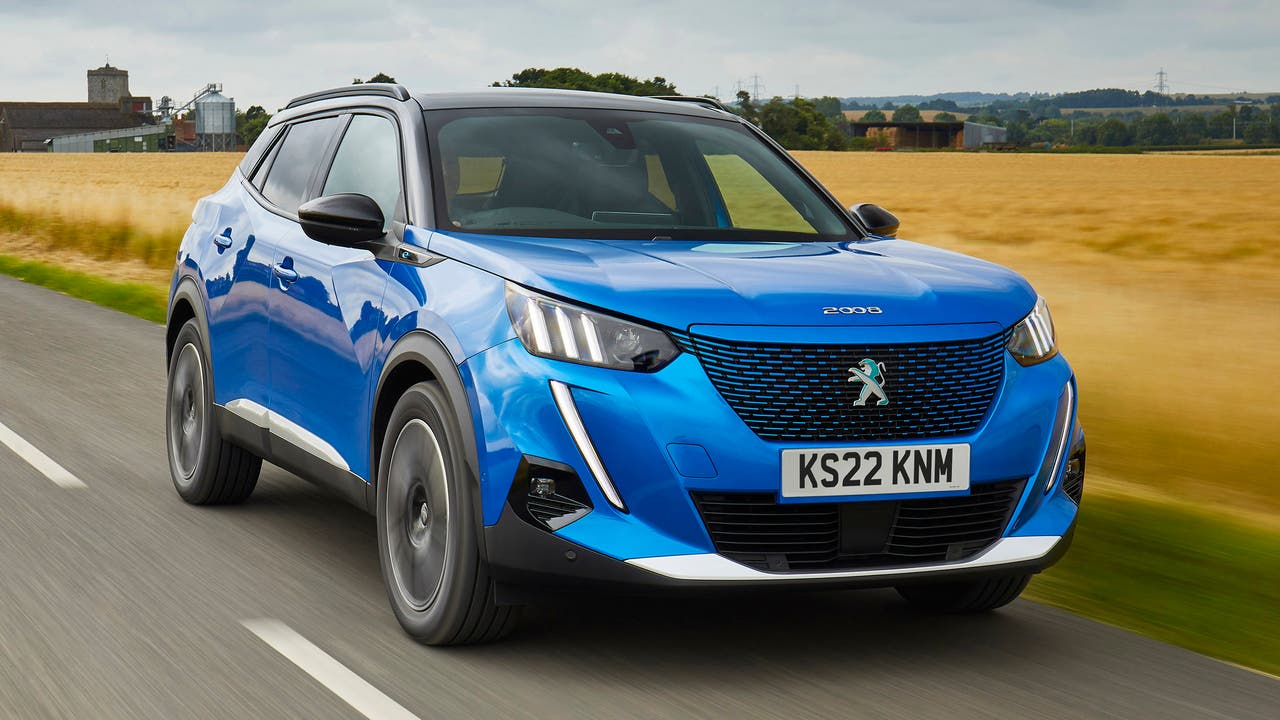 The 50kWh battery and 136hp electric motor that power the Peugeot e-2008 are used in a number of cars, such as the DS 3 E-Tense, Vauxhall Corsa Electric and the Citroen e-C4. But the e-2008 is bigger and more practical than those cars, making it a top choice for anyone who fancies an electric family car. Five adults can squeeze in and there's a 430-litre boot for their stuff – it's no less practical than a petrol 2008.
With a range of over 220 miles, sharp styling and a high-quality interior, the Peugeot e-2008 is a great all-rounder.
Check out our used Peugeot e-2008 cars for sale.
8. Skoda Enyaq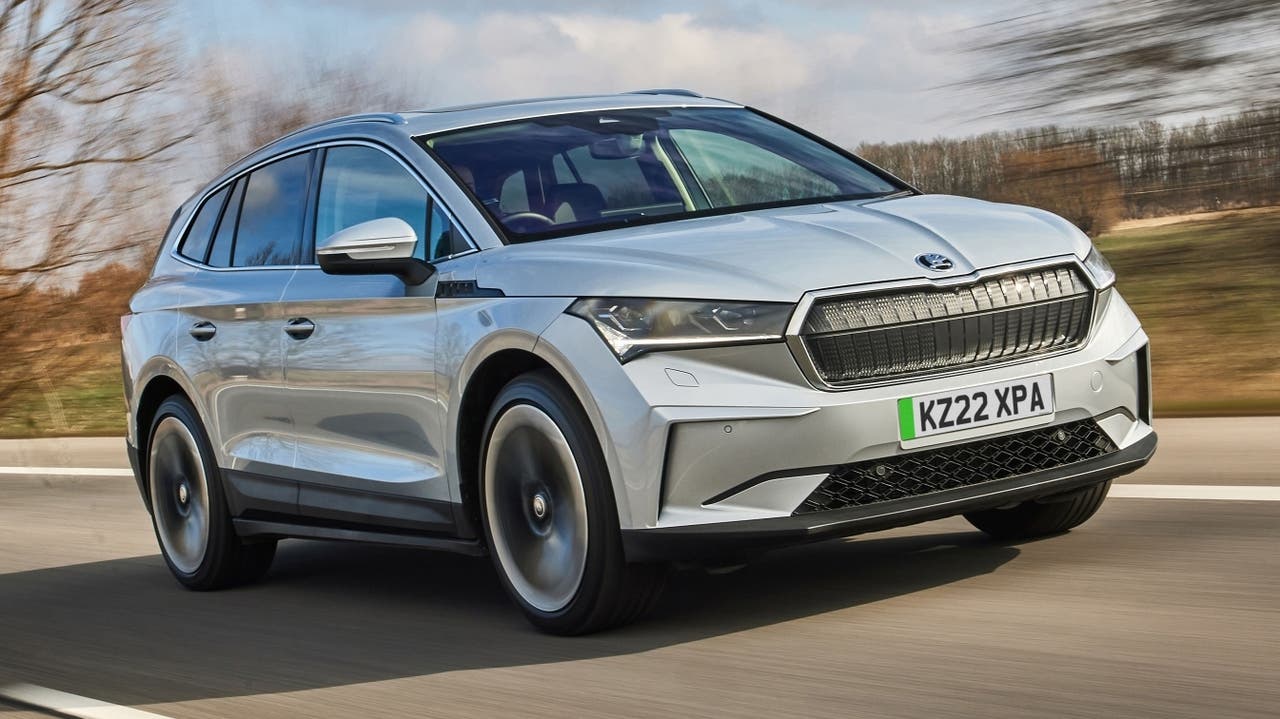 Take one look at the Enyaq and you'd probably think Skoda has been making electric SUVs for decades. Nope, the Enyaq is its first attempt. Skoda's VW Group backing helps, with the Enyaq benefitting from the same batteries and motors as cars like the Volkswagen ID.4 and Audi Q4 e-tron.
About the size of a Skoda Kodiaq but with five seats instead of seven, the Enyaq offers plenty of passenger space and a big boot. The interior is well made and as easy to use as you'd expect from a Skoda, and there's a long list of kit as well. It may be more expensive than other Skodas, but you don't feel like you're being shortchanged. Even the smaller battery option offers around 250 miles on a full charge.
Check out our used Skoda Enyaq cars for sale.
9. Tesla Model 3/Y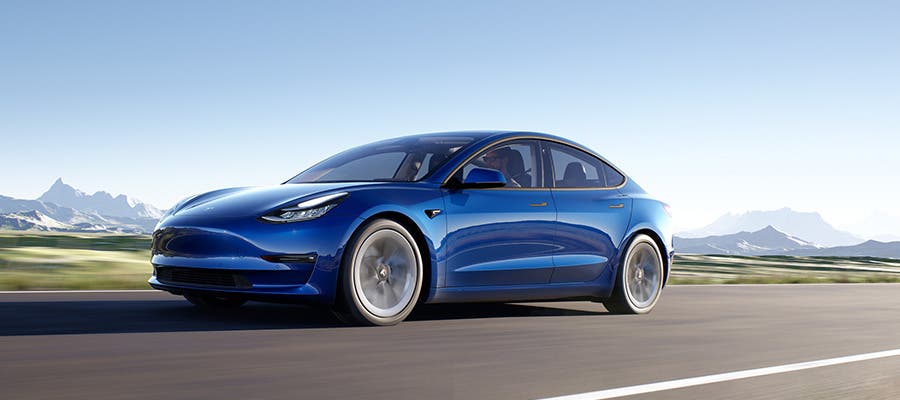 Like it or not, you can't have a best electric cars list without mentioning Tesla. The Tesla Model 3 makes an Audi A4 look prehistoric when it comes to its powertrain and the accompanying statistics. Despite being Tesla's cheapest car, the Model 3 is one of the longest-range electric cars on sale, offering up to 374 miles between top-ups in the Long Range version. But it also drives beautifully and makes light work of long motorway journeys.
Okay, you'll need to factor in high insurance costs and build quality that isn't quite as good as an Audi. But, have a play with the tech, and you'll probably end up smitten. There's space for four adults in the Model 3, or consider the more spacious Model Y.
Check out our used Tesla Model 3 cars for sale.
10. Volkswagen ID.3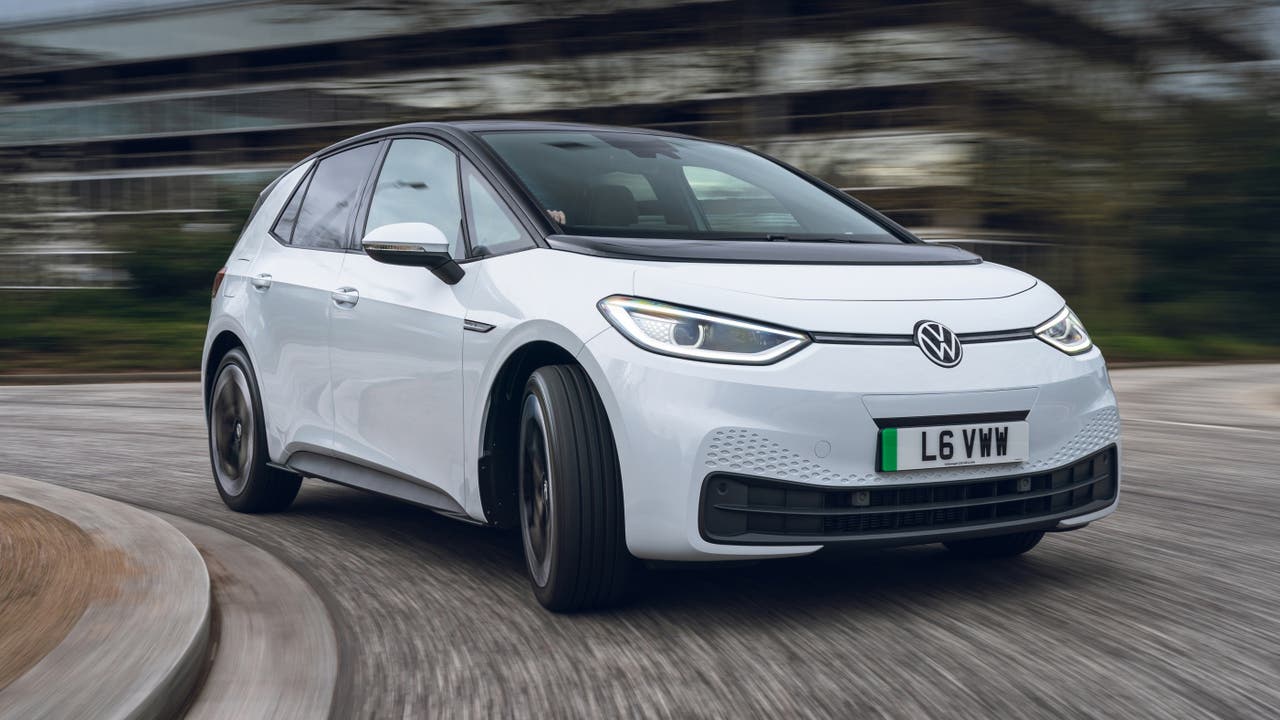 The ID.3 is Volkswagen's Golf for the electric age and certainly has its plus points. Using a platform specifically built for electric cars means the ID.3 has far more interior space than a Golf, without taking up any more space on the road. The mid-range powertrain offers a 260-mile range and acceleration that's almost as quick as a petrol-powered Golf GTI, plus smooth, quiet progress that adds to the serene driving experience.
All ID.3s come with loads of standard equipment. We're talking LED headlights, really fancy ambient lighting, wireless phone charging, keyless start, adaptive cruise control and heated front seats.
Check out our used Volkswagen ID.3 cars for sale.
Your electric family car questions answered