Sadly, cars occasionally go wrong – here are some of the most common failures and how much they're likely to cost to be repaired
If you're in the market for a new car there's a good chance you've started shopping. You may be doubting how reliable your car is now it's getting older, or worst case you're already out of pocket because of the cost of unexpected car repairs.
With so many drivers looking to escape the expense that comes with maintaining and repairing an old car, we take a closer look at the average cost of some of these major repairs.
Some of the common repair costs you are likely to see come in at an average of:
Air Con Compressor – £375-879
Oil Pump – £1,000 upwards
Exhaust Manifold – £300-600
Water Pump – £50-200
Throttle Body – £486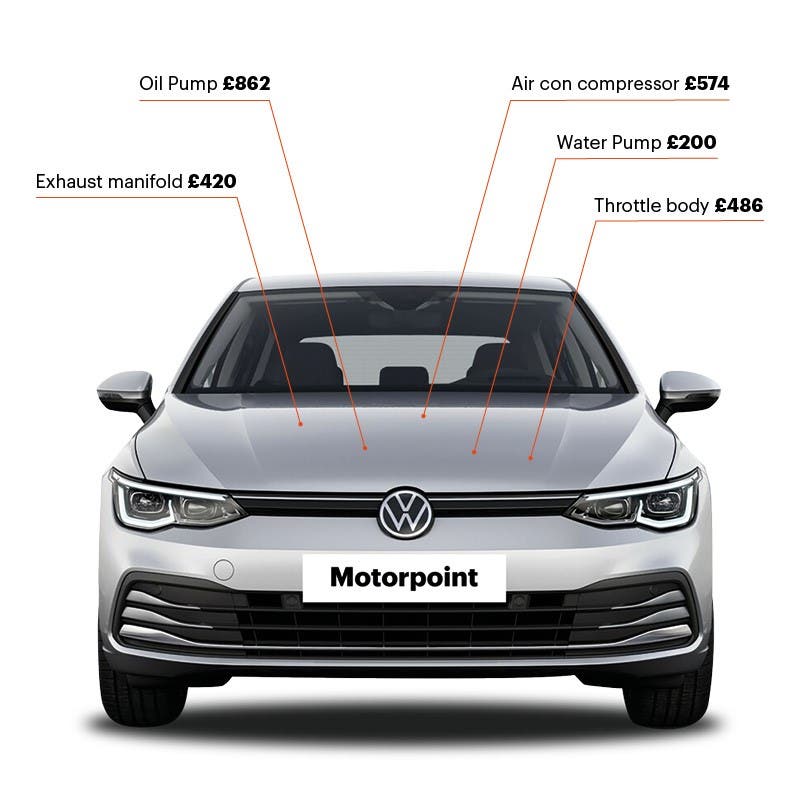 The cost of these may seem scary, but the expense can be avoided by either buying a new or nearly new car, which are backed by a warranty giving you peace of mind as standard or purchasing an extended warranty to keep you covered for an additional 1-2 years.
A warranty is designed to offer protection against unexpected repairs by offering specific coverage to mechanical and electrical components that can be costly to replace in the event of a failure.
Average car air con compressor replacement cost
Average cost – £375-809
One of the mysteries of new car ownership is how an air conditioning system functions. You may have had your air-con refilled with gas during your ownership, but one of the main components that powers the system is the air con compressor. A challenge for even the most skilled technician, the air con system requires draining and recharging whenever the compressor is replaced.
When it comes to the cost of replacing the compressor even a humble Ford Fiesta, known for its affordable running costs, comes in at an average of £375 – that's just for the pump, so labour time needs to be added on top. As you'd expect when looking at more prestige marques the price quickly skyrockets, with a BMW 5 series coming in at a staggering £809.
Car oil pump replacement cost
Average cost – £1,000 upwards
The lifeblood of any engine, oil is the most important thing needed to keep the engine running and performing at its best. To send the oil around the engine each car has an oil pump fitted under the bonnet that is solely designed to keep the fluid flowing. If you're in luck your car will warn you of a failing oil pump with a low oil pressure warning or increased engine temperature.
When replacing an oil pump a large amount of the cost comes from the technical ability needed to complete the change. Often, a main dealer is recommended to perform such a delicate task, but with the expert technicians comes a higher cost. On average a Mercedes CLA comes in at £1041, however, you may be shocked by the cost of some smaller cars.
Due to the size and compact proportions it can often be harder to replace components deep in the engine bay, meaning more labour time is needed. A great example of this is the Mini Clubman, which comes in at an average £1135 to replace the oil pump.
Exhaust manifold
Average cost – £300-600
A common symptom of a failing exhaust manifold is a strange exhaust sound, often referred to as 'blowing' coming from the front end of the car. A combination of poor weather in Britain and constant heat cycles, where the exhaust heats up and cools down, can cause small cracks to appear in the joints of your exhaust.
Whilst affordable brands like Kia come in just a tad over £300, a hulking Range Rover Sport tops the £600 mark including parts and labour, for something that is never seen, it's a hefty price to pay.
Car water pump replacement cost
Average cost – £50-200
Famed for how difficult they can be to replace – a water pump is another of the vital components needed to keep your engine running. Time is the biggest factor involved in replacing a water pump, as so many smaller components need removing to gain access.
A failed water pump can lead to the engine seizing, leaving the car as nothing more than an expensive paper weight. As the water pump relies on the timing belt to perform its common to see both replaced at the same. The average cost of a replacement water pump starts from £50 – however, the total cost comes in at an average of £200 once labour is added in. 
Throttle body replacement
Average cost – £486
Another common fault on older cars can be a feeling of stuttering when pulling away, or no power when trying to accelerate. This is often down to a throttle body needing to be replaced, the throttle body is a valve that opens and closes to allow air into the engine, but over time the valve can begin to stick closed causing all kinds of havoc.
Common symptoms of a worn throttle body are a misfire, frequent stalling or a delay in acceleration when pressing the accelerator.
For an average family car like a Peugeot 3008 the average cost of a replacement comes in at £442 including labour, with some more luxury cars costing hundreds more. The average cost comes in at a wallet-breaking £486.
Avoid the cost of car repairs with an extended warranty
At Motorpoint, our aim is to make car buying easy and that doesn't stop once you have driven away in your nearly new car. We offer the option to purchase an extended warranty that can give you added reassurance for an extra 1-2 years.
Our extended warranty covers you against mechanical and electrical faults, and also gives you the added benefit of breakdown cover in case the unexpected should happen, as well as key cover and MOT cover to offer you unbeatable protection.