Here's a handy guide to everything you need to know about car servicing, including when it needs checking, why it's so important and much more
Although it's hugely important, getting your car serviced regularly is seen as something of a hassle. And, if you're a new driver especially, it might be easy to dismiss just how significant servicing your car really is. However, ignore the proper maintenance at your peril, because you may end up facing some pretty large repair bills if you fail to service your car in line with the manufacturer's recommended schedule.
When does your car need servicing?
To ensure your car stays in optimal condition, most manufacturers recommend getting your car serviced every year or every 12,000 miles, whichever comes first. That said, there are certain factors which affect how often you might need to have your car looked at, including:
How old your car is
What make and model it is
How it's used, such as on rural roads or for motorway driving, etc.
How many miles you do
If you're not sure, take a look at your car's manual, as this will state how often the manufacturer recommends servicing. Newer cars may also have a service reminder on their dashboard, too.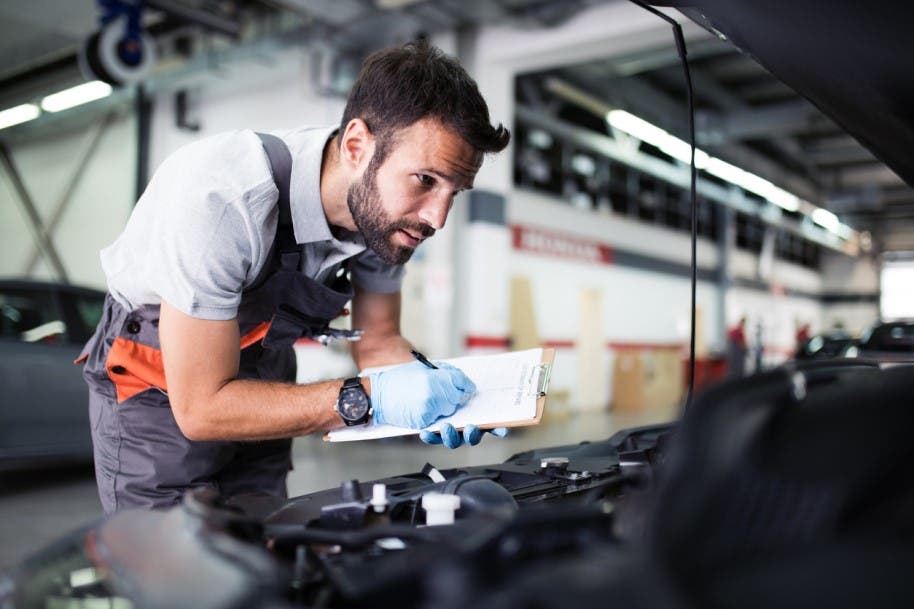 In fact, it's a good idea to familiarise yourself with your car's service manual anyway, as it contains essential information on how often you'll need to get your car serviced, when the car's replaceable parts may need changing, and how often regular maintenance tasks need to be carried out. Using the service manual as a guide to plan for the cost of maintenance and repair bills is a good idea too, especially since many have a schedule you can follow inside.
Why does my car need servicing?
By regularly servicing your car, you're ensuring that it's running as efficiently and safely as possible, whilst also saving you money in the long term. While you will have to pay for your service, if you let any minor issues get worse, it could be much more expensive when it becomes a bigger problem to repair or replace in time.
You'll also save money on fuel; a healthy car tends to be more affordable to run. When a car has had a service, it'll likely be more fuel efficient, which can save you more when topping up the tank. In terms of lifespan, frequent servicing will make your motor last longer, so you can drive happy for longer.
The importance of a full and thorough service history is two-fold as well. If you end up selling your car, details of your service history mean you can ask for a better price. While, in the event of an accident, if your car is a write-off and needs to be replaced, your insurer might use the service history to estimate its pre-accident value.
What's more, many finance deals, including PCP and HP, require you to get your car serviced in line with the manufacturer's service schedule, or face being in breach of contract. This service promise is often included in the policy wording, so read your contract carefully to ensure that everything is above board.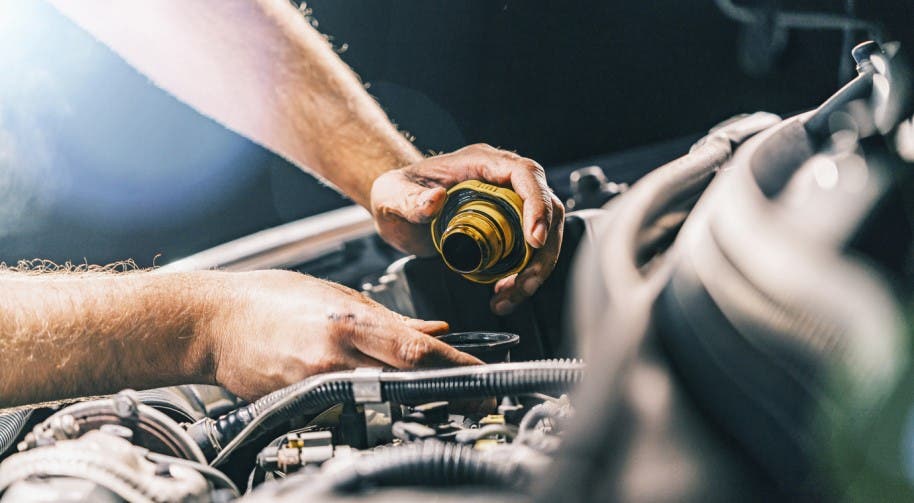 What's the difference between a service and an MOT?
You may assume that a service and an MOT are the same thing, but they aren't. What's more, many motorists think that they don't need to get their car serviced because of a successful MOT.
New drivers take note: an MOT is an annual inspection that checks the safety and environmental impact of a vehicle, and is crucially, a legal requirement for almost every vehicle on the UK's roads.
And while an MOT checks a vehicle's roadworthiness, a service goes beyond such things, ensuring all your car's components are running as safely and efficiently as possible. Additionally, many cars are exempt from their MOT during their first three years on the road, so a service can be a good indicator of a new car's health.
What does a car service include?
A car service can involve up to 50 or more components, system checks and adjustments. Really, it depends on the type of service you choose. Here, we take a look at the most common vehicle services:
Oil and filter change: Included in each type of service, this is a hugely important part of the process since it helps your car run reliably and serves to increase fuel efficiency. Even if your car has been booked in for a basic oil and filter change, your garage will also complete a visual safety inspection. However, they're not liable to check the brakes as part of this, so it's up to you to book in a brake check at least once a year. 
Basic or interim change: This type of service includes an oil and filter change along with a visual inspection, but there'll also be a top-up of all the key fluids in the engine, including washer fluid, brake fluid, antifreeze and steering fluid). Additionally, a check-up of up to 35 key components is also conducted.
A reputable garage will also check your brakes and manufacturer guidelines, recommending any additional work that your car may need.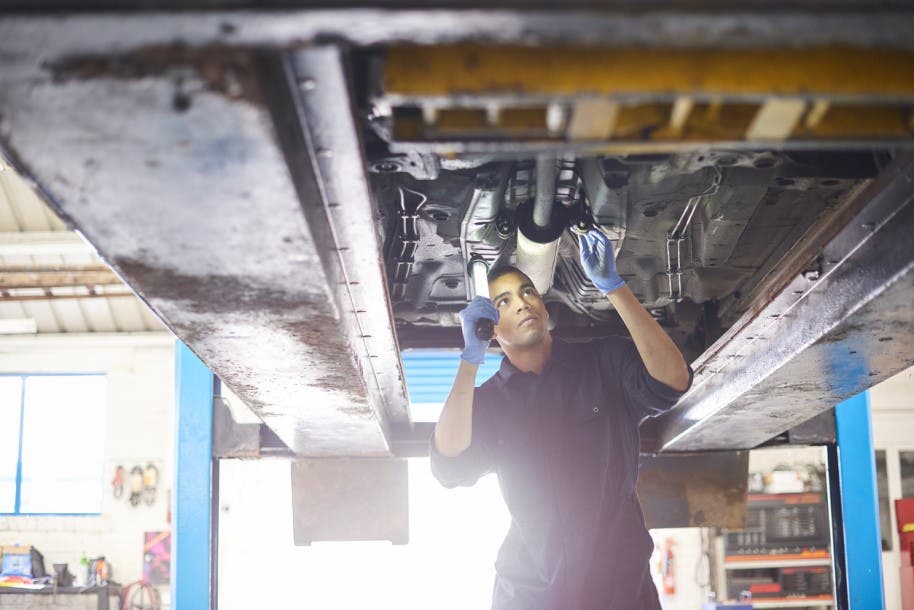 Full service: A full service involves the above, along with an extra 15-30 additional checks on the car's components. Much like a basic service, if the car requires any additional maintenance work, this will be an additional cost.
Major service: A major service includes everything described so far, along with a change of spark plugs, a change of fuel filters and some other service/wear items that are recommended by the manufacturer's schedule. This does not include any additional repair or maintenance work.
Manufacturer's service: The most expensive and comprehensive service available, this level includes all the wear, service and maintenance that your car requires, including:
Oil and oil filter check and replacement
Brake fluid check and top-up
Anti-freeze coolant check and top-up
Windscreen wash check and top-up
Full brake check
Power steering fluid check and top-up
Steering check
Shock absorber check
Suspension check
Light check
Windscreen wiper check
Wheel alignment check
Charging systems check
Exhaust check
Battery check
Charging system check
Tyre tread and pressure check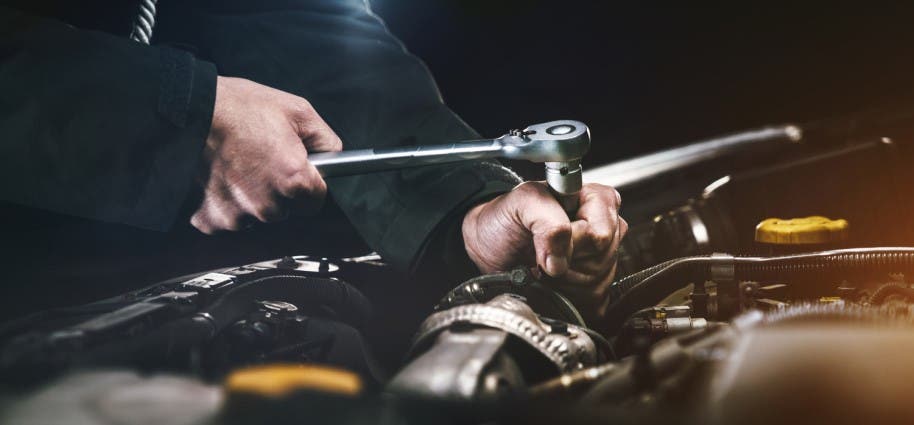 How long does a full car service take?
The time it takes will differ from garage to garage, so it's best to ask them how long they'll need it for.
Roughly, however, an interim service is less extensive and takes around 1.5 hours to complete, while the full service – which is a complete check of the whole car – can take around three hours to complete.
How much does a car service cost?
A full car service could cost upwards of £125, though prices can vary depending on your car. Certain vehicles may require different oil or filters, for example, and these factors can have a big impact on price.
In terms of choosing your service provider, there are a couple of options available to most people. 
Manufacturer dealerships will often provide a servicing option for car owners, and these will usually be carried out to a high standard and use quality replacement components  – however, these may come in at a higher price than a local garage. If your local manufacturer dealership offers a servicing plan, that could be a good option – these often come in at a more affordable price and spread the cost across the year.
The other option is a local garage, which might save you a significant sum but can be less reliable in terms of the servicing standards. The Good Garage Scheme can help you find the garages local to you that offer a quality service at a good price.
Tips for getting a fair price
Look for a garage that provides open and transparent pricing, that you know can carry out work to a high standard, as agreed and on time. Even so, before you contact the garage, check in the service manual about the type of service your car needs, along with the checks and tasks this should include.
From here, the below tips can help you get the work done at a fair price:
Ask the garage for a detailed breakdown and costing of the work that's required so you can see how they reached the total cost. Make sure they include all parts, costing and VAT.
Check if the garage will carry out the service as laid out by the manufacturer, and whether they'll be using original parts or those of equivalent quality.
It's worth getting quotes from several other local garages and use the cheapest quote as a negotiating tool – one of the other garages may be prepared to offer something cheaper.
When looking at different prices, be sure to compare like for like. Make sure you compare the same list of work items (including a break-down of all components used) and either use quotations or estimates rather than a combination of the two – and that all prices include VAT.
Be aware of the differences between a quotation and an estimate. A quotation is a promise to do the work at the price agreed upon, so you'll usually have to pay this quoted price. An estimate, meanwhile, is what the garage thinks the work is going to cost before they start it – the final cost can be more or less than this, depending on what they find when they carry out the work.
Taking care of your car in the meantime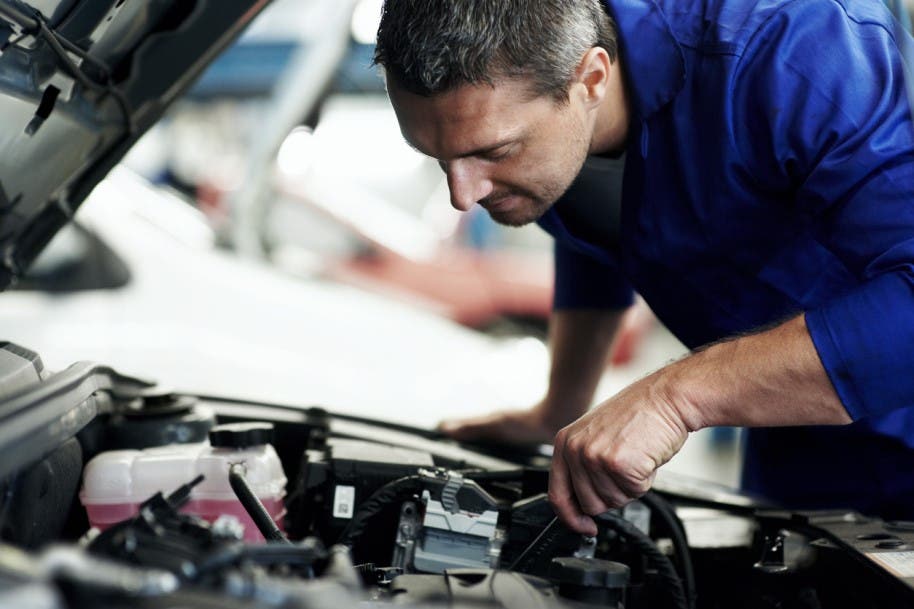 Keep an eye on the cambelt
Check your service manual to find out when your car is next due to have its cambelt (the camshaft driving belt or timing belt) replaced. It can vary from car to car, but it tends to be around every 70,000 to 80,000 miles. Though it'll be expensive to repair (as much as £250), if it fails while you're driving, you could face serious engine damage, costing much more to fix than changing it when recommended.
Check your tyres
Keeping your tyres in good condition will save you money and ensure your car is safe to drive. Badly maintained tyres could lead to a blow out on a busy road, or a loss of traction in poor weather.
Be sure to stick to the recommended tyre pressure listed in the car's manual and check them regularly; tyres that are over or under pressure wear unevenly and will have to be replaced sooner. Additionally, make sure you're sticking to the legal tread depth. You can check this by inserting a 20p piece into the tread – if you can't see the outer tread, then your tyres are fine.
Can I service my own car?
If regular servicing is out of your price range, and you're confident with cars to a certain degree, then it may be worth servicing your car yourself with the same frequency as taking it to a professional.
However, unless you really do know what you're doing, we don't recommend attempting it yourself since a lot can go wrong if you give things a go without the right technical know-how.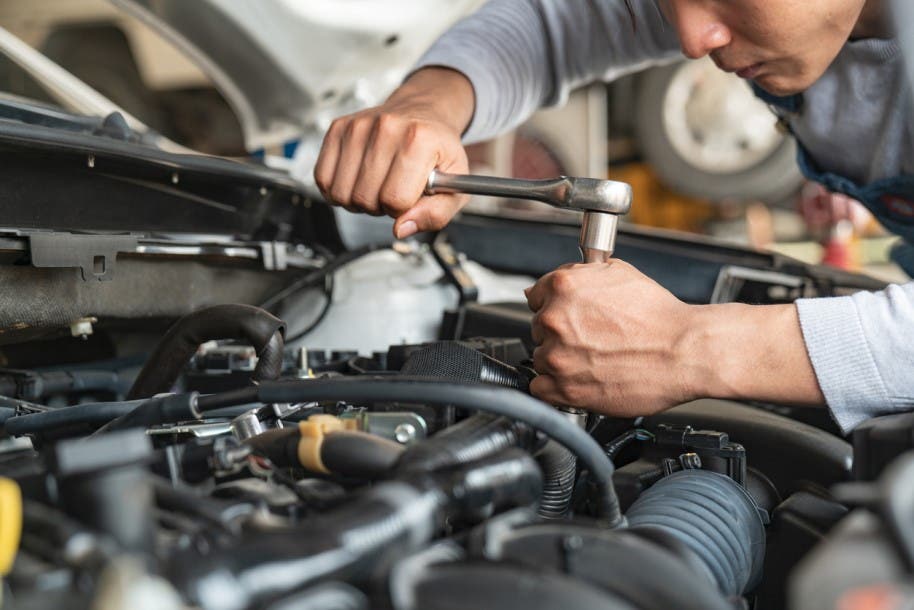 If you decide to service your car yourself, then it's imperative that you have the right tools and equipment so you don't put others at risk when you get back on the road. So, along with the usual tools like spanners and screwdrivers, you'll need the following:
Car jack and axle stands
Funnel
Nitrile gloves
Oil filter remover
Oil drain tray
Torque wrench
Socket set (including a spark plug removal socket)
We hope you've found this article helpful. To take a step closer to your next car, why not visit our website to browse our latest makes and models, or call our team today on 01332 227227.