When cold or wet weather strikes, our handy guide will explain how to drive safely and confidently
Compared to some countries, the UK gets off lightly when it comes to wintry weather. We don't often get three feet of snow or four hurricanes a week. But in a country that floods regularly and usually isn't prepared for even a small snow flurry, you still need to take precautions and consider your driving style. Here are our top winter driving tips, from keeping your car visible to how to control a skid.
Driving in fog, rain, wind and snow
In foggy weather, put your fog lights on if you can't see more than a few car lengths in front. Remember to turn your rear fogs off if there's a car behind you, so you don't dazzle the driver
Read or listen to local travel bulletins and make note of any road closures that might affect your journey
Put your headlights on if your wipers are on constantly. This applies to wet and snowy weather, and if there's a lot of spray on the road
Slow down and stay back from the vehicle ahead. Stopping distances are longer in bad weather, and you can give yourself more time to react to something unpredictable
Give extra room to cyclists in wet and windy weather – and if it's windy, be aware that cyclists, bikers, lorries and caravans can all be affected by crosswinds
In wet or snowy weather, dry your shoes on your floor mats (if you have them) before driving. You don't want your feet to slip off the pedals now, do you?
Read our full guides to driving in heavy rain, driving in snow and driving on ice.
How to control a slide
It looks great when Jeremy Clarkson is gurning in a sideways car shouting 'power!'. But in real life, on real roads with real ditches and really solid steel barriers, realising that your car is sliding is scary. And whether your car is front-wheel drive, rear-wheel drive or four-wheel drive will affect how it reacts. Our video, with racing driver and driving expert Rebecca Jackson, will guide you through what you need to do.
What to keep in your car in winter
In winter, it's best to carry a few extra things so you're prepared for whatever Mother Nature has in store. Make sure you've got a warm coat in the car – one that's warm and waterproof is even better – as well as other cold-weather clothing. Wearing or having a pair of grippy, sturdy shoes is helpful, too.
Even if you've got a new car, it's worth having a breakdown kit in your car. Available from car parts stores, a breakdown kit will include useful things such as a tow rope, jump leads, a hi-vis jacket and a warning triangle. Sometimes even a shovel. After all, even the most reliable car can be stranded by a puncture or by deep water.
Put a few snacks in your car as well. If you're sensible, you'll pick things that have a long shelf life. If you're not, you'll either eat all the snacks or forget they're there until the car starts to smell a bit funky. We definitely haven't done both of those things…
Keep a phone charger in your car. If you're driving outside of towns and cities, we'd recommend keeping your phone charged up while you're in the car.
Winter car check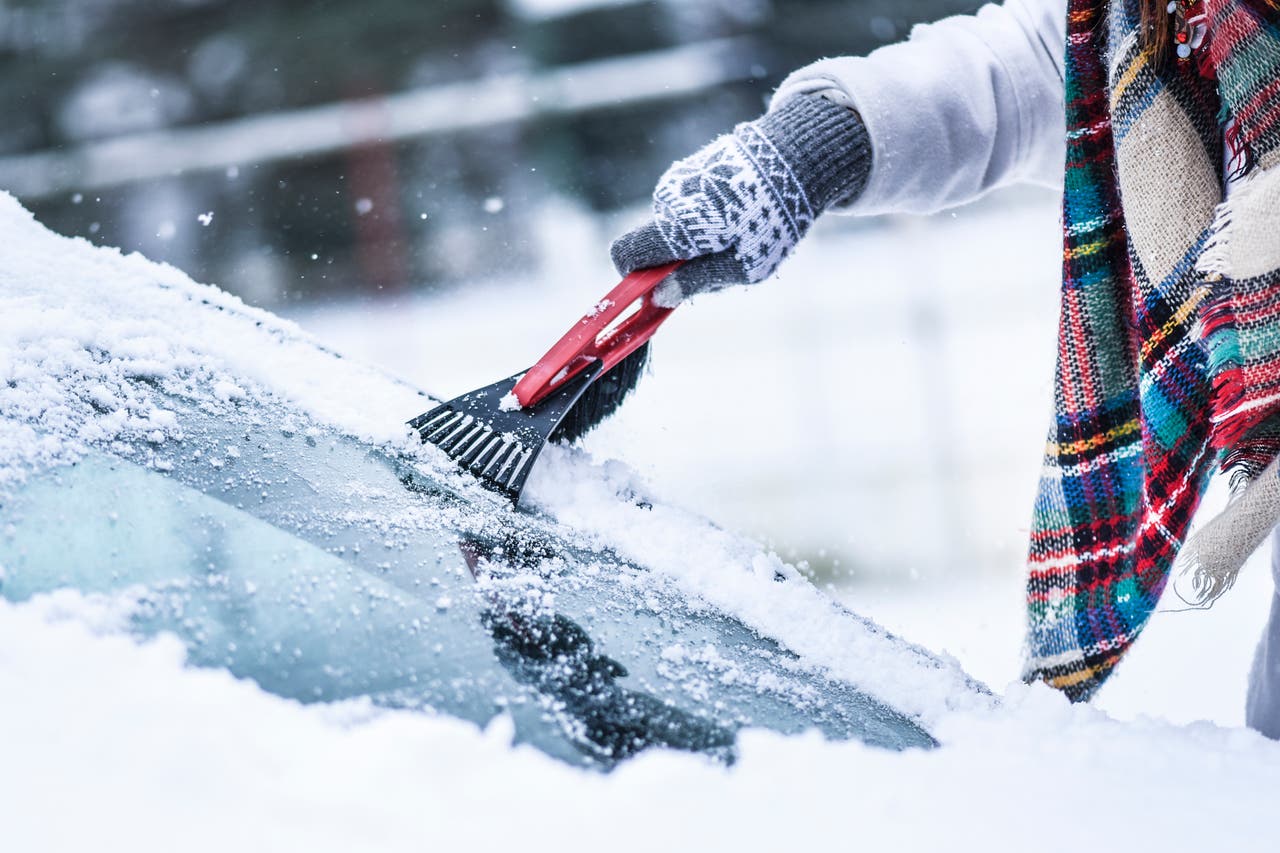 Can you see out of the car? Make sure your windows are free from ice, snow, and grime
Are you visible? Make sure your lights and number plates are clean and clear
Are you illuminating? Regularly check all your lights to make sure they work, and know how to turn them on. And don't just drive with daytime running lights on at night. That's silly
Give your wipers some love. Make sure they clear water effectively, and turn off auto wipers if it's going to be frosty. The scratchy noise of wipers on ice isn't just annoying – it can damage your wipers or the wiper motor
How fluid are you? Keep your screenwash, antifreeze (coolant), water, oil and brake fluid topped up. In really cold weather, keep some screenwash or non-cold water in the car in case your washer jets freeze
Don't go too hard on your battery. Turn off electrical loads like headlights before you turn the engine on and, if the car struggles to start, it might be time for a new battery. Can't afford a new battery? Keep jump leads in the car and always park in a way that another car can get close enough to give you a jump start if necessary
Should I buy winter tyres?
Given that tyres are the only parts of the car that touch the road, we should pay more attention to them than we often do. Of course, you should regularly check the tread depth and condition of your tyres anyway but, in winter, it could be worth investing in a set of winter tyres.
Winter tyres are designed to work in temperatures below 7 degrees Celsius – in other words, most of a normal UK autumn and winter. They're designed with a special blend of rubber that's grippier in, and more suited to, colder weather. A normal car on winter tyres typically performs better in snowy and icy conditions than a 4x4 on summer tyres.
There's an upfront cost involved because you'll have to buy another set of tyres, and make sure you change them in spring – winter tyres aren't very good in summer. But, they'll last several years and also prolong the life of your summer tyres. Some tyre shops will also store your alternate set of tyres when you're not using them.
Or, buy a set of all-season tyres for a largely best-of-both-worlds experience. Winter tyres are generally better than all-seasons in really bad weather, but choosing all-season tyres means you don't need to buy two sets of rubber. Just check that you don't have to declare winter or all-season tyres with your insurance company before you go ahead.