Confused about using fog lights correctly or driving in foggy conditions? Follow our guide!
Driving in fog is one of the most challenging experiences you'll have behind the wheel. Instead of being able to look far ahead, as you normally can, you might be limited to only being able to see a small area in front of you. Familiar roads suddenly feel foreign and even the shortest journey can become a white-knuckle ride. Here are some tips for safe driving when the fog descends.
How to drive in fog
The main change you should make when driving in fog is to drive much slower than you would when visibility is clear. Try to drive at a slow and steady speed whenever possible, even if it's far below the posted speed limit.
You should also substantially increase the distance between you and the vehicle in front. In clear, dry weather, you should keep a two-second gap between you and the vehicle in front – you can measure the distance using a building, bridge or signpost and counting how many seconds it is until you pass the same point – but in fog, it's recommended to increase this gap to at least four seconds.
The same advice applies if you're wondering how to drive in fog at night. It's tempting to put your high beams on to try and see further, but the fog will reflect that light and you'll actually be able to see less.
More tips for driving in fog:
Keep some warm clothes in the car and make sure your phone has plenty of charge
Make sure you have your headlights on and not just daytime running lights
Use your wipers and keep your windscreens demisted
A fog warning in clear weather may indicate foggy patches ahead
Consider stopping (in a safe place) if you feel that visibility is too bad to continue
Dangers of driving in fog
The reduced visibility in fog means it's harder to see what's happening ahead of you, and you've got less time to react to changing situations. For example, if you're on a motorway and the car in front starts braking, you may not see the brake lights until you're very close to the car. Multi-vehicle accidents in fog are common. Similarly, in more built-up areas, it can be very hard to spot pedestrians and cyclists in foggy weather.
How important are fog lights?
Rear fog lights are very important. They're a legal requirement in the UK, so you need to make sure your rear fog light(s) are working. With a similar brightness to brakelights, they're much brighter than normal tail-lights, making it easier to spot your car from a greater distance.
Front fog lights aren't mandatory in the UK, but they are useful. With the light beams much lower down than headlight beams, there's a chance that fog lights will shine underneath the fog patch and  illuminate the road in front of you. Front fog lights have traditionally been separate bulbs, but some modern cars with LED headlights have a fog mode instead.
How to put fog lights on
Depending on your car, there'll be different ways to turn your fog lights on. You may be able to turn the front and rear fog lights on independently, or you might have to turn your front fogs on to be able to turn the rear ones on as well. Some cars have the fog light switch on the indicator stalk, while others have a dial by your knee. If you're not sure, check your car's manual.
The icon with the wavy vertical line and dipped straight lines is for the front fog lights, and the icon with the wavy vertical line and horizontal straight lines is for the rear fogs. These icons are usually displayed on your dashboard when your fog lights are on, and they're often colour-coded – green for front and orange for rear.
Ford, BMW, Mercedes, Vauxhall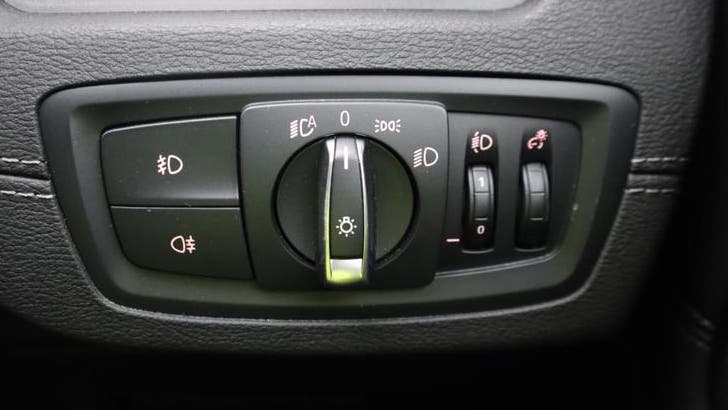 These brands have a dial for the headlight control, with separate buttons to press for the front and rear fog lights.
Skoda, SEAT, VW, Audi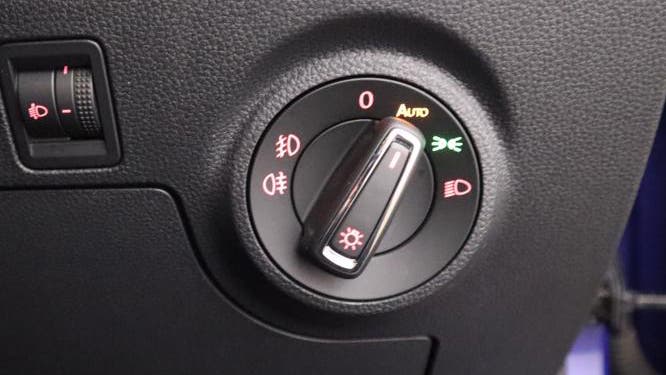 As above, there's a dial for headlight settings, but you pull the switch out towards you to activate the front fog lights. Another pull activates the rear fog lights. To turn the fogs off, simply push the switch back in.
Toyota, Mazda, Peugeot, Nissan, Kia, Hyundai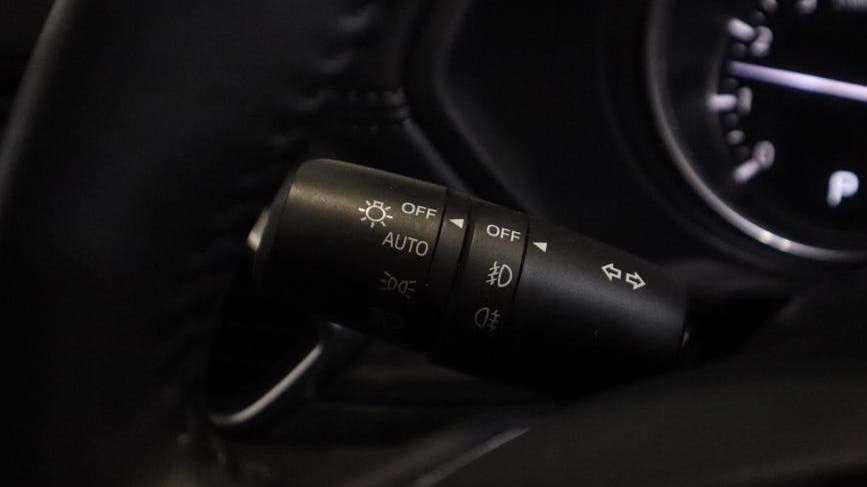 These brands typically have the fog light switch on the indicator stalk, and you'll twist it either forwards or backwards to turn the fog lights on. Often, you'll need to do two twists to turn the rear fog lights on.
Tesla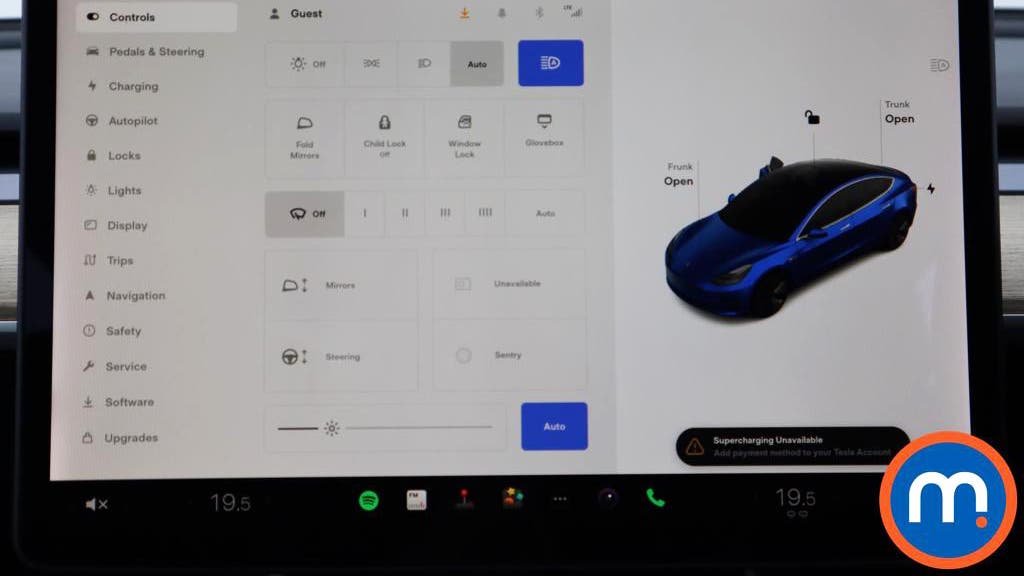 Like nearly every other control, turning on the fog lights is done through the touchscreen in a Tesla. Click the car icon in the bottom corner and go to the 'Lights' submenu to find the fog light buttons – or use the voice control and say "open light settings".
FAQs
Your driving in fog questions answered