What does Android Auto do and which cars have it? Here's all you need to know about connecting your phone to your car
Android Auto allows you to use your Android phone through your car's infotainment screen. That might sound very Tomorrow's World and actually a bit unnecessary, but Android Auto provides tangible benefits to improve your journeys. So much so that, once they've used it, many buyers won't even look at a car that doesn't have it.
In this guide, we'll show you what makes Android Auto great and which cars have it. It provides a lot of the features you get in your smartphone in a way that allows you to use them on the road safely and legally. 
What is Android Auto and what does it do?
Android Auto is a system developed by Google to keep you connected while on the move. If your car has Android Auto – nearly all modern cars do – you simply need to plug your phone into your car's USB port and you'll get access to a selection of your apps on your car's touchscreen. It's instantly intuitive if you've worked out how to use your phone, and is far easier to use than some carmakers' clunky in-house infotainment systems.
As an added benefit, plugging your phone in will also charge it – so you don't need to get to your destination and immediately find a phone charger.
The system uses your phone's data and signal coverage, unless your car is equipped with a WiFi hotspot. But you shouldn't need a massive data plan on your phone contract, as Android Auto doesn't use much data.
What are the main features and apps of Android Auto?
You won't get access to every single one of your phone's apps – no swiping through dating profiles on the way home from work – but Android Auto gives you access to your phone's navigation, music, calendar, news, podcast and audiobook apps, plus phone calls and some messaging apps.
Wait, what? Yes, you can access apps like WhatsApp on the move, but you won't be typing a message on your car's screen. Instead, the car can read out your text messages – not automatically, you have to click on it – and you can reply by speaking your message to the car. Whether it'll accurately write what you've said is another story!
You can use Google Maps or other navigation apps like Waze with Android Auto. Using these apps means you get live traffic alerts and reports of congestion on your route, and you'll never get caught out by new road layouts. In-car sat navs require updates at a dealership, so many users don't bother – and don't need to bother if they're using Android Auto. If you're using Android Auto in an electric car, you can check charging station availability too.
How to use Android Auto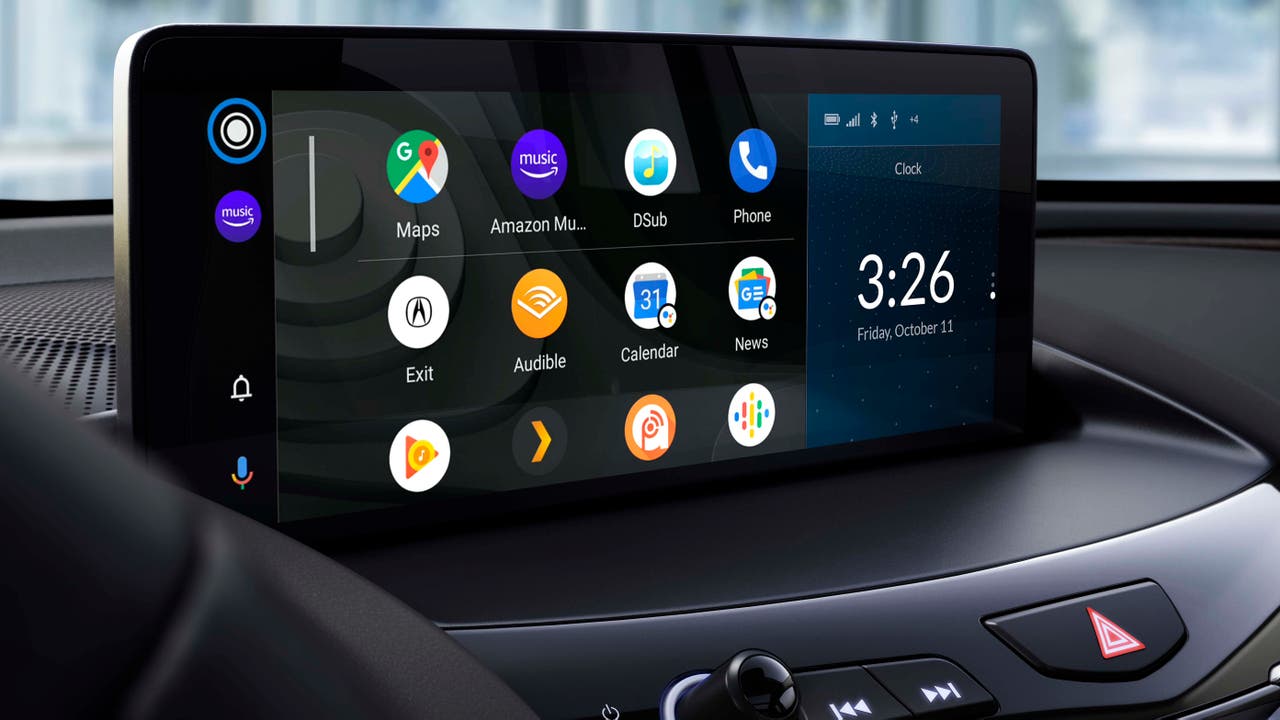 The majority of cars with Android Auto require you to connect the phone to the car with a USB cable, although newer cars may have the option of wireless Android Auto via Bluetooth connectivity. Either way, once your car recognises that a compatible device is connected, you'll get a prompt on the touchscreen. Accept and you'll see a menu of apps that replace your car's standard system – and then simply prod and swipe like you would on your phone.
You can also speak to the system with the voice control function, and then saying 'navigate home' or 'play my road trip playlist' will (hopefully) set the sat nav or play some absolute bangers. To get back to the home screen, press the circle icon in the corner.
Which cars have Android Auto?
So many modern cars come with Android Auto that it's easier to say which ones don't. You won't find Apple CarPlay on Tesla cars, while some Toyota, BMW and Volvo cars don't feature it either. Browse the full list of compatible cars here or ask a Motorpoint staff member if the car you're interested in has Android Auto. Many modern vans have it, as well.
Does my phone support Android Auto?
If you have an iPhone, no – you'll be using Apple CarPlay instead. But, if you have an Android phone, such as a Samsung, Google, Sony, Xiaomi or OnePlus device, you should be supported. If your phone is running Android 10 software or newer, Android Auto is built in. You'll need to download the Android Auto app if you're running older software than that (you can check in the 'about' settings on your phone).
FAQs
Your Android Auto questions answered