10 of the best used cars with big boots
03 March 2022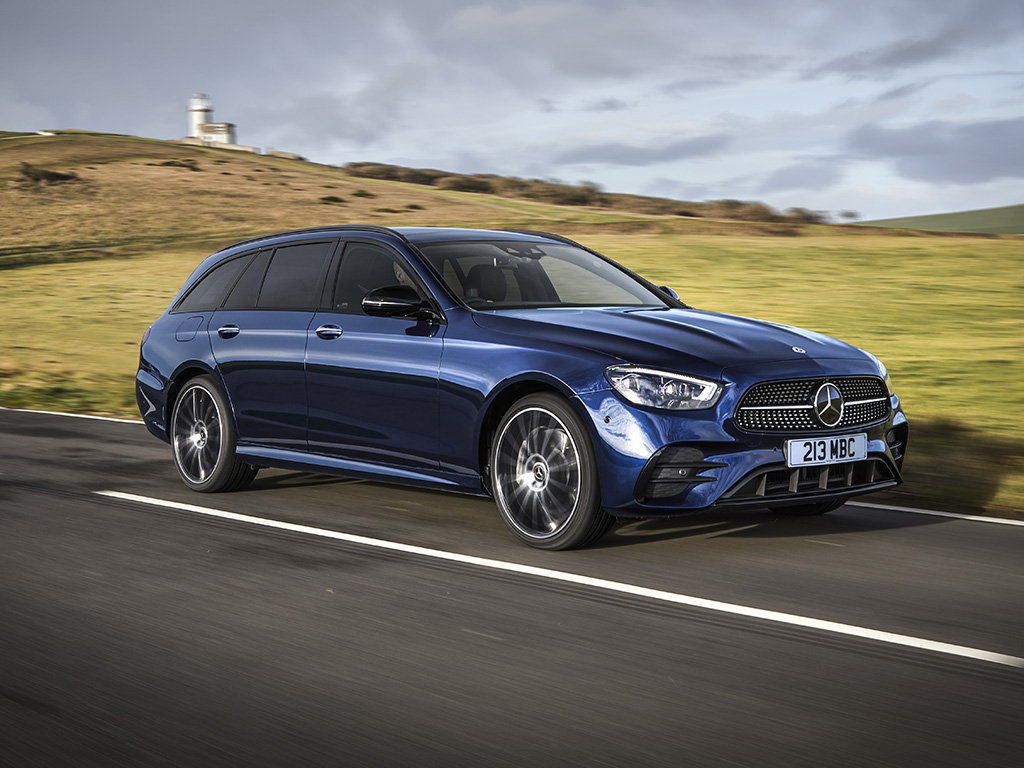 Photos © 2022 Manufacturer photos
Need a used car with lots and lots of boot space? Head right this way…
Pity the humble car boot. Sparser than a monk's wardrobe, dark as the Death Star in a power cut, and only fully emptied when sold – the automobile's premier rear-based storage space is rarely appreciated yet essential for moving things other than people from A-to-B. To give the boot the recognition it deserves, Motorpoint's top-10 guide shines the spotlight into some of the best big boots in the business…
640 litres rear seats up, 1,820 litres rear seats down
Never mind the removals van, you could probably fit a small terraced house in an E-Class estate's boot. The 640-litre loadbay is one of the biggest in class and comes packed with neat touches, including an adjustable rear-seat backrest that can unlock 30 litres more (if rear passengers don't mind sitting upright like the Queen) and folds 40:20:40 as standard for a thrilling 1,820 litres of storage space. Extra bonus points too for a tailgate that closes at the touch of a button as standard. Just remember that space drops a huge 25 per cent (to 480 litres) if you opt for the plug-in hybrid – less than the 540-litre saloon.
610 litres rear seats up, 1,740 litres rear seats down
Considering the Skoda Octavia estate is based on VW Golf underpinnings and somewhat shorter than the latest BMW 3-series, Skoda has pulled a rabbit from the hat with this 610-litre boot, which opens up to 1,740 litres with the rear seats folded down – that's actually larger than the much larger BMW 5-series, and doesn't come at the expense of (very generous) rear legroom either. The boot opening is wide, the loading lip low, and look out for the optional variable-height floor, which is handy for separating potential flashpoints like, say, a rowdy 12-pack of beer from a dozen fragile eggs.
589 litres rear seats up, 1,146 litres rear seats down
The latest Honda CR-V is a cracking car, but there's one big reason you might want the model built up to and including 2018 – its boot is one of the most commodious-in-class at 589 litres with the rear seats in place, and lets you drop the rear seats simply by pulling a handle in the boot. The newer model is better in many ways, including a longer wheelbase for more rear legroom (and you can actually load longer items in it) but boot space drops a smidge to 561 litres, or a lot to 497 litres if you get the Hybrid (because of the batteries). Both are often available at Motorpoint, so take your pick.
927 litres with five-seat layout, 1,857 litres rear seats folded
The obvious way to get a Golf with a bigger boot is to buy a Golf estate, but don't overlook the Volkswagen Touran, an MPV that's based on Golf bits but conjures a huge 927-litre boot from its 10cm shorter body (the Golf estate has a still impressive 611 litres). It gets bonus practicality points too for its standard and hugely versatile seven-seat layout, plus you can fold the front passenger seat forward to carry loads up to 2.7 metres long. SE models and above go full Boeing 737 with extra storage in the roof and centre console, drawers under the seats, plus folding tray tables on the seatbacks
471 litres rear seats up, 1,851 litres seats down
There might be sexier ways to carry lots of stuff, but the Ford C-Max offers fantastic value and represents a great way to maximise your boot space in a compact footprint, simply because it's based on brilliant Ford Focus underpinnings but offers much more storage – 471 litres versus a miserly 316 litres for the equivalent Focus. Look out too for the ingenious if optional 40:20:40 rear seats – flip the centre seat down and they let you slide the outer seats back and inwards to give rear passengers the full Premium Economy vibe.
560 litres rear seats up, 1,526 litres seats down
Most of us have a favourite Volvo estate car memory, whether it's Dad being pulled over by a squadron of Volvo 850 police cars, or watching kids in a 240's rear-facing seats improvise sign language and know EXACTLY what they're saying. Now Volvo's V90 continues its proud history of bountiful boots with 560 litres of space, rising to 1,526 litres with the rear seats folded flat. Handy standard features include a powered tailgate, a low loading lip and a ski hatch to help carry long, thin things – which include but are not limited to skis – without dropping the rear 60:40 rear seats.
580 litres seats up, 1,690 litres rear seats down
The original Toyota RAV4 used to bound playfully down 1990s beaches like David Hasselhoff, but this fifth-gen model looks Call-of-Duty tough. There's extra load-lugging ability to match the muscle too, thanks to 580 litres of fresh air behind the rear seats, but drop them down and that bumps to a whopping 1,690 litres. The flat loadbay is so generously proportioned that Toyota says you can load up a 29-inch mountain bike without removing its wheels (plus you can flip over the floor if you need to carry dirty items). All RAV4s are hybrids, but know that the plug-in hybrid loses 60 litres of luggage space in return for your squeaky clean conscience.
570 litres rear seats up, 1,700 litres rear seats down
Sure, 70 litres of extra space is as tough to visualise as ten gallons of extra time, but that's the difference between the 5-series Touring and its closest rival, the Mercedes E-Class. The E-Class ultimately lugs more stuff, but the 5 Series has the sleeker profile and drives more athletically – it's a little less function, a lot more fashion. BMW's biggest estate is still mighty practical, mind, with a load cover that automatically retracts when you open the tailgate (and can be stored under the floor to maximise space), 40:20:40 split-folding rear seats that drop when you press a button in the boot, and standard rear air suspension to level out the load.
835 litres rear seats up, 2,065 litres rear seats folded
These days Skoda makes high-performance cars and even lets buyers option them with ventilated leather massage seats, but the Czech company hasn't forgotten its utilitarian roots, hence its second entry in this list with the Kodiaq full-size SUV (which, yep, can be had as a punchy vRS, and with the touchy-feely leather). Five-seat models get up to 835 litres of storage, or 2,065 litres with the rear seats folded (seven seaters drop to 765 litres and 2005 respectively). Not only that, but there's enough cabin storage here to keep UK Customs occupied for hours.
775 litres rear seats up, 3,500 litres rear seats folded
Yes, it's easy and kind of true to dismiss the Berlingo as a van with windows, but better to spin it as a funky MPV with van levels of space, because really that's what it does. There's so much room in this thing that some people need a compass to get back out, plus you've got sliding rear doors for easy access, and a huge 775 litres of space that more than quadruples to 3,500 litres when you drop the flexible rear seats. There are 28 extra storage spaces for all the old sweet wrappers your kids can muster, ceiling storage and – because the Berlingo is front-wheel drive – a completely flat floor too.