If you're shopping for your next car and want to slash your monthly fuel costs, here are our picks for the best fuel-efficient cars across a range of categories
Soaring fuel prices are putting ever more pressure on drivers' purse strings. If you're looking to buy a nearly new or used car, picking a more efficient model can make a big difference to your monthly outgoings.
There are loads of impressive high-mpg options available these days, so which should you pick? We're here to help with our favourite economical cars across a range of popular categories, so you can find the perfect fuel-sipping motor to beat those rising costs.
Family SUVs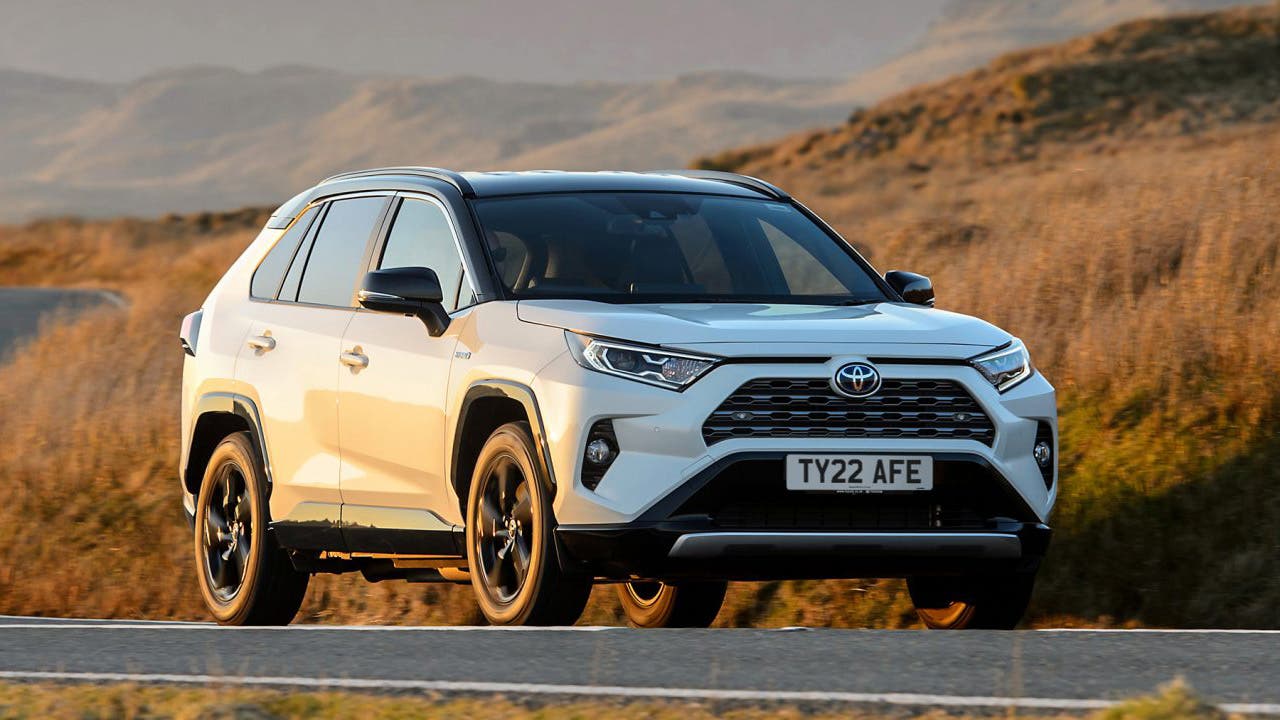 Toyota RAV4 – up to 50.4mpg
Toyota has earned a solid-gold reputation both for its robust build quality and its excellent hybrid engines. The RAV4 combines both strengths into a chunky SUV package, with plenty of passenger space making it easy to fit child seats on the back row, and a boot large enough to swallow pushchairs or suitcases with ease.
To hit those high economy figures, Toyota's equipped the RAV4 with a petrol-hybrid engine that recharges the battery when slowing down, saving you having to mess with any charging cables. This setup is impressively smooth and includes an automatic gearbox as standard, making it fuss-free to scoot through city traffic.
Find a used Toyota Rav4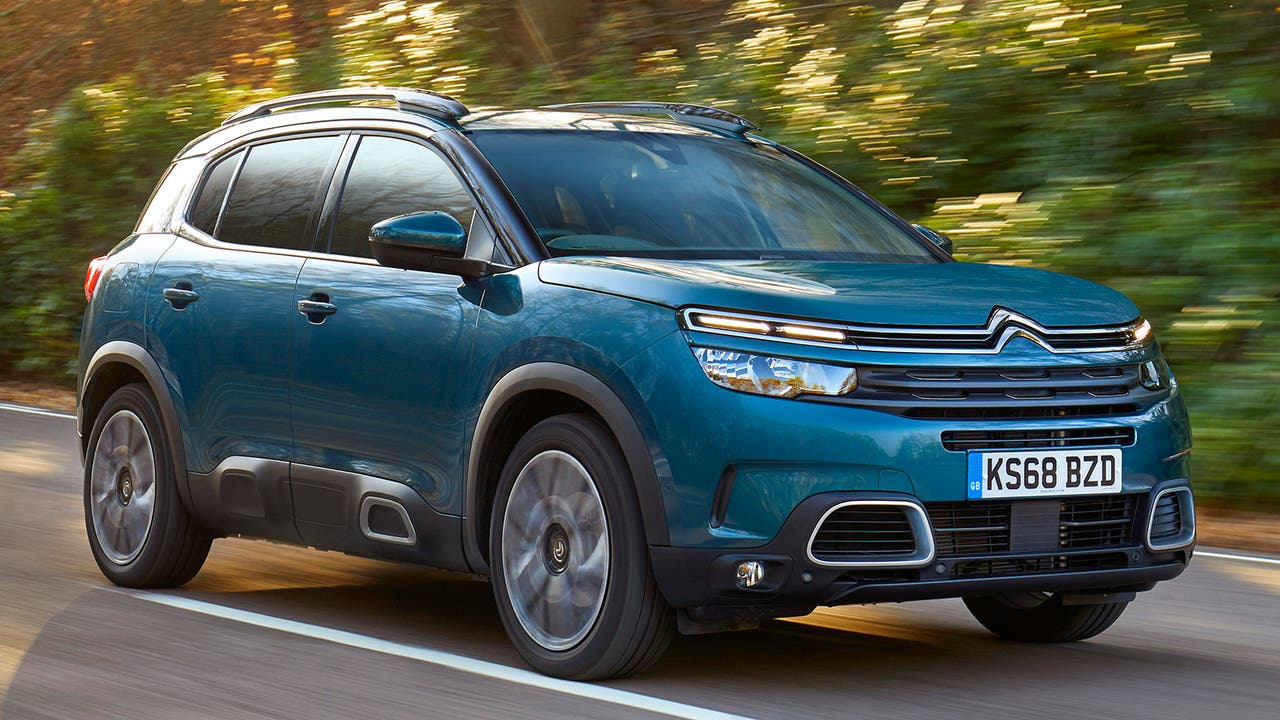 Citroen C5 Aircross – up to 60.8mpg
Citroen has never been afraid to do things a little differently, and the C5 Aircross SUV is another great example. This spacious five-seat SUV has a bold, eye-catching design inside and out, with an elegant dashboard dominated by modern-looking screens. Plus, with three individual rear seats, you can mount three child seats across the rear if needed.
To take advantage of fuel economy that can go above 60mpg, you'll want to consider the C5 Aircross's 1.5-litre diesel engine. Despite its small capacity, this unit makes 130hp and has a decent helping of torque, so it won't feel underpowered at motorway speeds. Citroen's petrol engines are still reasonably efficient and are a better choice for mainly urban drivers, with petrol C5 Aircross models achieving mpg figures in the high 40s. If you have the ability to charge your car at home, Citroen also offers a plug-in hybrid option with mega mpg figures.
Search all Citroen C5 Aircross for sale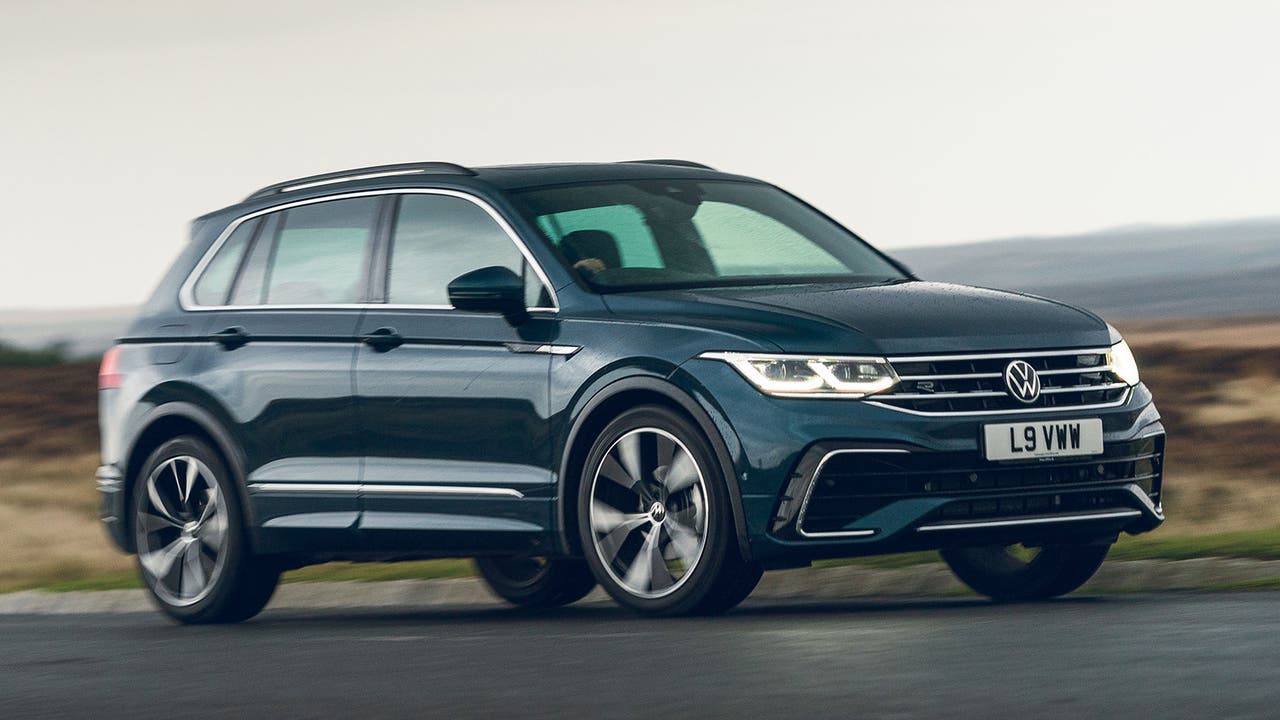 Volkswagen Tiguan – up to 55.4mpg
Volkswagen's Tiguan has proved an enduringly popular choice for family buyers thanks to its broad range of talents. It feels well made with upmarket materials used across the cabin, has an attractive, modern design, and comes loaded with the latest tech. There's lots of room to manoeuvre wriggling kids into their car seats and a usefully square boot to carry all the gear that comes with them. You can also step up to the Tiguan Allspace model, which stretches the wheelbase a little to squeeze a sixth and seventh seat behind the second row.
Under the bonnet, you'll find a choice of smooth, efficient turbocharged engines, but the real economy champions are the diesel engines. Two-wheel-drive Tiguans with the 150hp 2.0-litre diesel engine can achieve up to 55mpg and, thanks to their healthy torque figure, feel strong and relaxed even at higher speeds. Petrol Tiguans are more affordable to buy and still return a decent 45mpg if driven gently.
Buy a used Volkswagen Tiguan
Small SUVs
Ford Puma – up to 52.3mpg
Ford revived the Puma name for the latest addition to its SUV lineup. This compact model makes a great upgrade for buyers coming from a hatchback thanks to its larger cabin and boot space, which makes it easier if you need to use it for occasional family taxi duties. Other benefits include eye-catching styling and handling that cements Ford's reputation for building composed cars that are also great fun to drive.
Despite the Puma's commitment to putting the 'sport' into sports utility vehicle, it can achieve impressive fuel economy thanks to its fuel-sipping 1.0-litre EcoBoost petrol engine paired with a mild-hybrid system. The hybrid reduces strain when accelerating and recaptures energy when slowing down, helping the petrol-powered Puma achieve more than 52mpg.
Check out used Ford Puma cars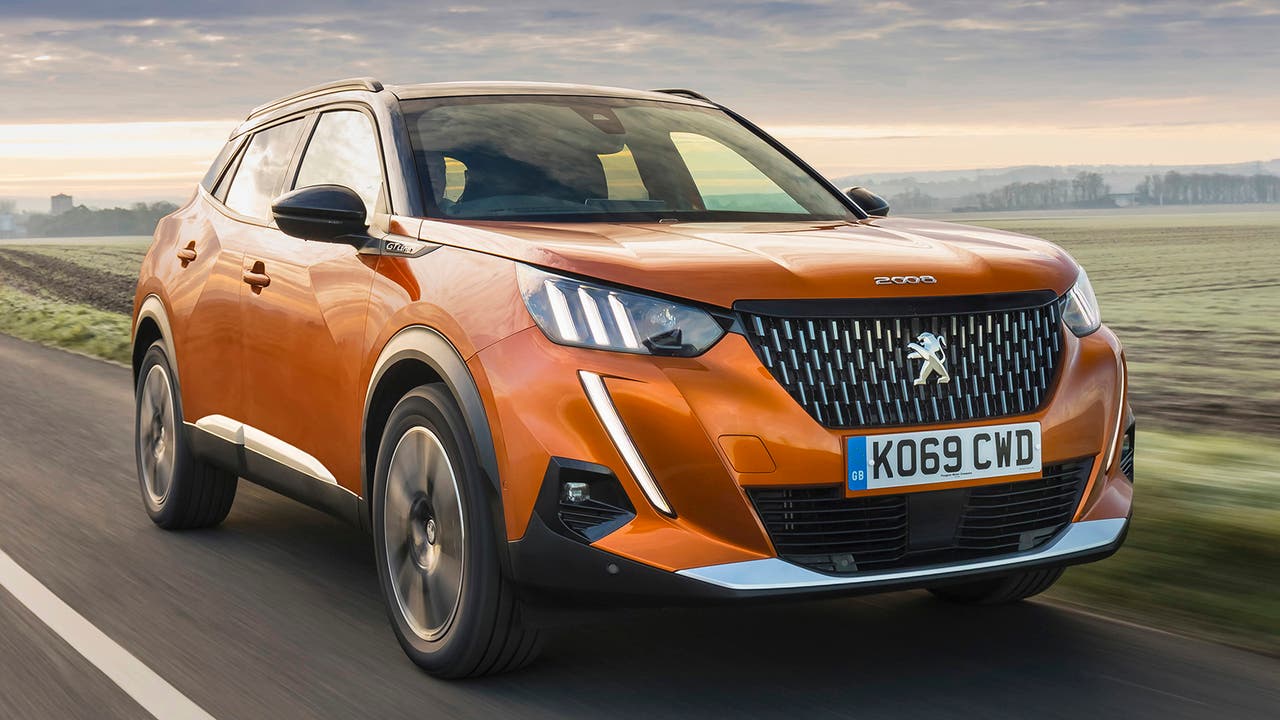 Peugeot 2008 – up to 62.7mpg
If you want a small SUV with more than a dash of style, take a look at the handsome Peugeot 2008. This model features the brand's latest faceted styling in a compact package. There's more room inside than you'll find in a typical hatchback and your eye will immediately be drawn to Peugeot's unusual i-Cockpit design, which uses an especially small steering wheel to make three-point turns and parallel parking a doddle.
This is also one of the shrinking number of small cars that you can still buy with a diesel engine. It's worth hunting down, however, if you want low running costs – the 1.5-litre diesel can hit nearly 63mpg, which makes it a great choice for long-distance drivers. City drivers should consider a petrol 2008, which can achieve more than 50mpg in the right conditions.
Search used Peugeot 2008 cars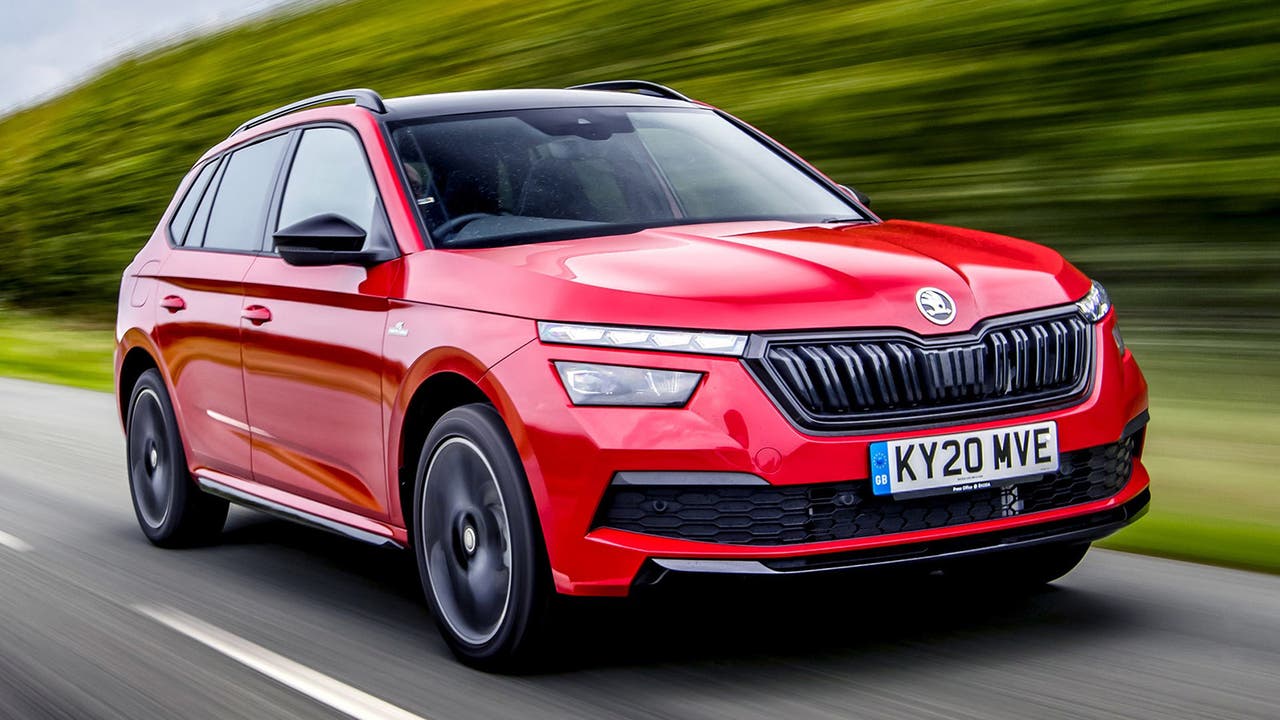 Skoda Kamiq – up to 53.2mpg
If your parking space will only fit a smaller car, but you still need something that majors on practicality, check out the Skoda Kamiq. This dinky SUV is only a foot longer than the Fabia hatchback, but squeezes an impressive amount of passenger space from such a small footprint, allowing adults to fit comfortably in both the front and rear. You also get the tough build quality Skodas have become known for and an ergonomic, easy-to-use dashboard.
While the Kamiq's engine lineup is petrol only, its relatively small size and low weight means you can still achieve economy figures in excess of 50mpg in cars powered by the 1.0-litre TSI engine. Even when stepping up to the mid-range 110hp engine with Skoda's smooth-shifting DSG automatic gearbox, economy only falls to around 49mpg, making the Kamiq a frugal and fuss-free way to navigate congested city centres.
Search all used Skoda Kamiq cars
Family cars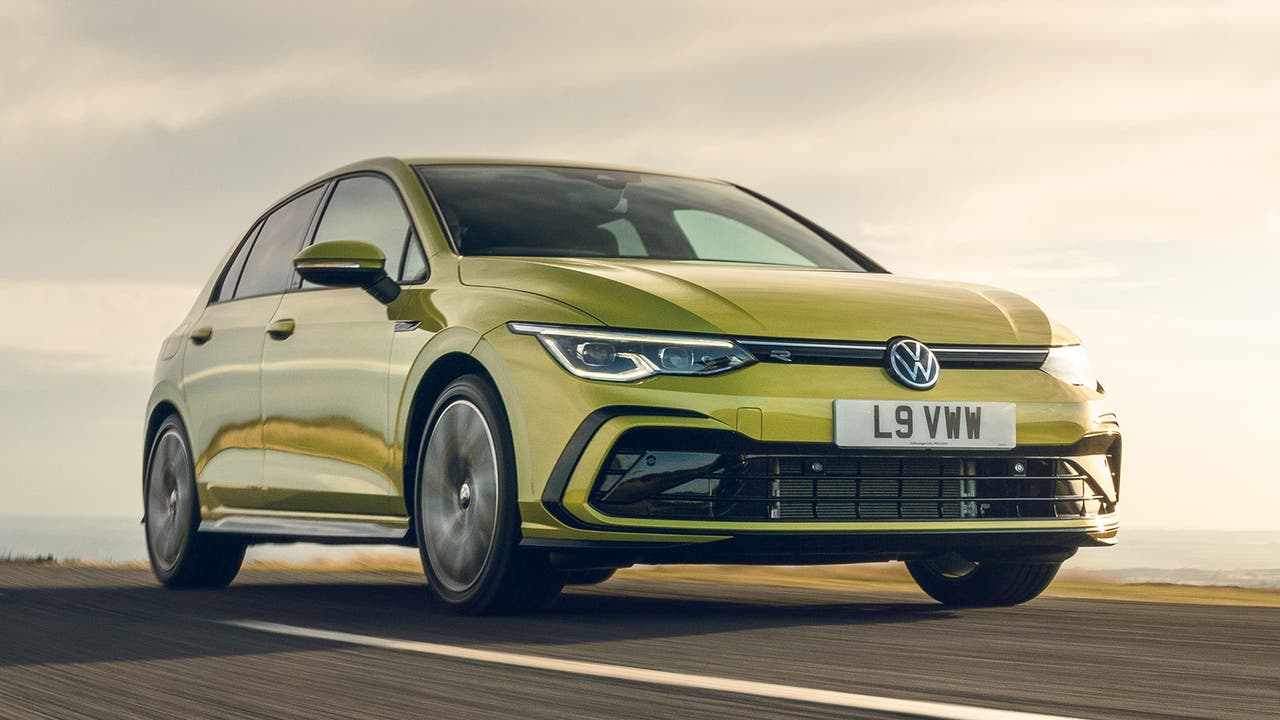 Volkswagen Golf – up to 62.8mpg
The Volkswagen Golf is an icon among family cars and has, for decades, offered a compelling combination of decent practicality, premium features and a comfortable, fuss-free driving experience. Inside, you'll find seating for five adults at a push, with a rear bench comfortably large enough to fit two child seats side-by-side. Hatchback Golfs have a useful square boot that can just about fit a folded pushchair, or go for the Golf Estate if you need even more space.
Like the rest of the Golf, its engine lineup is very sensible. Recent models offer a 2.0-litre diesel with a choice of 115 or 150hp outputs – both can return more than 60mpg with either the manual or automatic gearbox. Petrol Golfs are more common on the used market, however, and these are still decently frugal with most 1.0 and 1.5-litre models returning around 50mpg. You'll also find super-economical plug-in hybrid options further up the range if you have easy access to a charger.
Find a used Volkswagen Golf for sale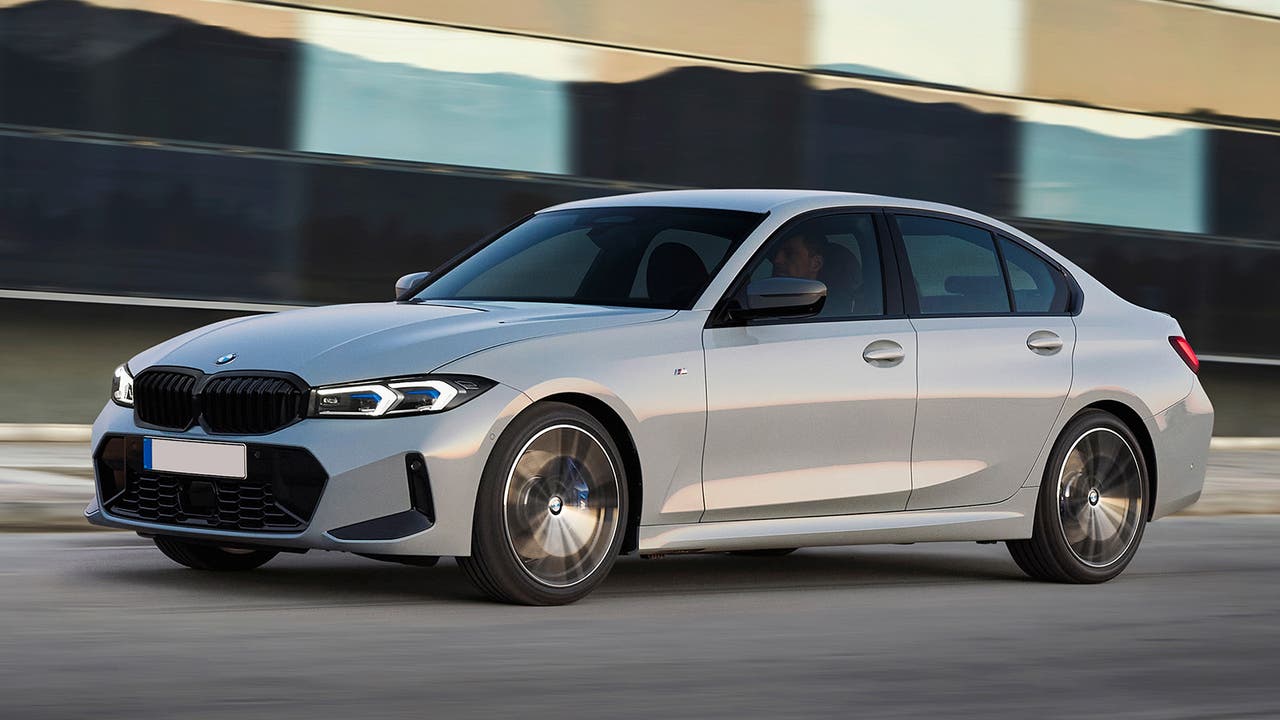 BMW 3 Series – up to 62.8mpg
If you're after a plush family car with a little more room to stretch out, the BMW 3 Series ticks a lot of boxes. You get the premium materials and upmarket styling you'd expect from a BMW, along with fantastically grippy and agile handling. Rear seat passengers have a generous amount of legroom and there's enough space to wrangle child seats into position.
BMW's engines strike an impressive balance between refinement, performance and fuel economy. The efficiency champions are the 318d and 320d diesel models that can average more than 60mpg if you drive gently, while the latter can still sprint from 0-62mph in less than seven seconds. Petrol-powered 318i and 320i models can still return more than 40mpg and might make a better choice if you do mainly urban driving.
Check out used BMW 3-Series cars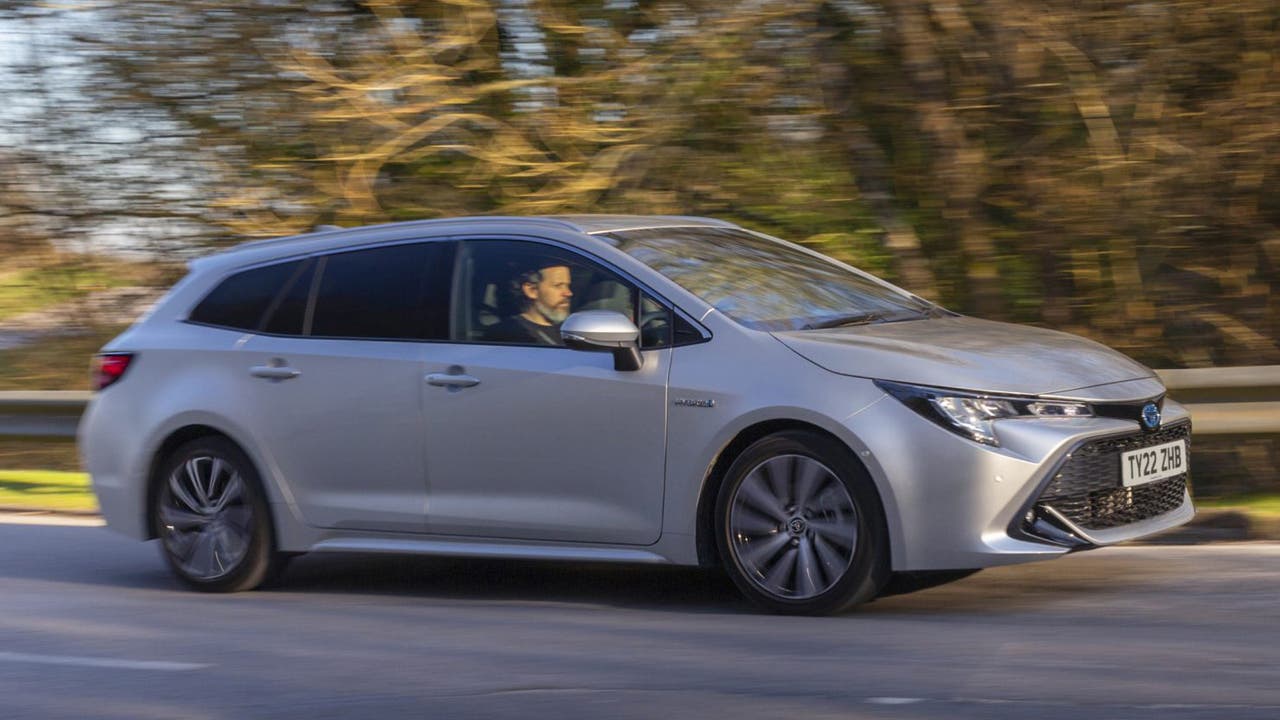 Toyota Corolla Touring Sport – up to 62.7mpg
Toyota scores another spot on our list once again thanks to its great selection of hybrid cars. The Corolla Touring Sport is the estate version of the Corolla hatchback and adds an even larger boot in exchange for a minimal fuel economy penalty. Inside, you'll find a neat dashboard design with an easy-to-use layout, decent passenger space, and a sense of toughness you'd expect from a car wearing a Toyota badge.
The ace up the Corolla's sleeve is its pair of petrol-hybrid engine options. These models only recharge their batteries as the car slows down, saving you the need to fiddle with charging cables. The smaller 1.8-litre hybrid can return more than 62mpg, while the larger and more powerful 2.0-litre version can still muster an impressive 56mpg.
Buy a used Toyota Corolla Touring Sport
Small cars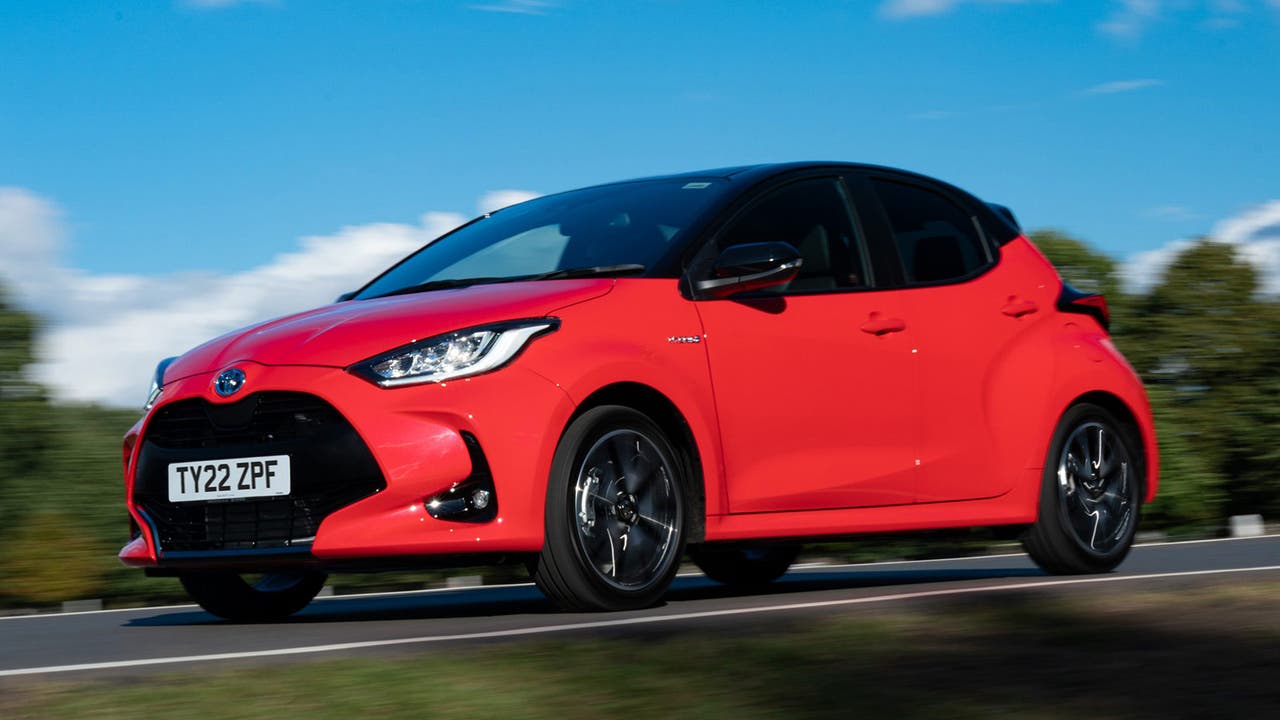 Toyota Yaris – up to 68.9mpg
Yet another Toyota makes our list, with the latest Yaris being a fine addition to the brand's lineup. The most recent version adds some welcome funky styling that previous Yaris models lacked but retains the ultra-frugal hybrid-petrol engine. Unlike many ballooning rivals, the Yaris still measures under four metres long, making it easy to squeeze into tight city parking spots.
Thanks to Toyota's hybrid know-how, the Yaris can average nearly 69mpg. As an added bonus, the hybrid system is even punchier than before and helps the automatic-only Yaris cover the 0-62mph dash in less than 10 seconds – that's hardly sports-car-like pace, but it's substantially faster than the wheezy hybrids of just a few years ago.
Search used Toyota Yaris cars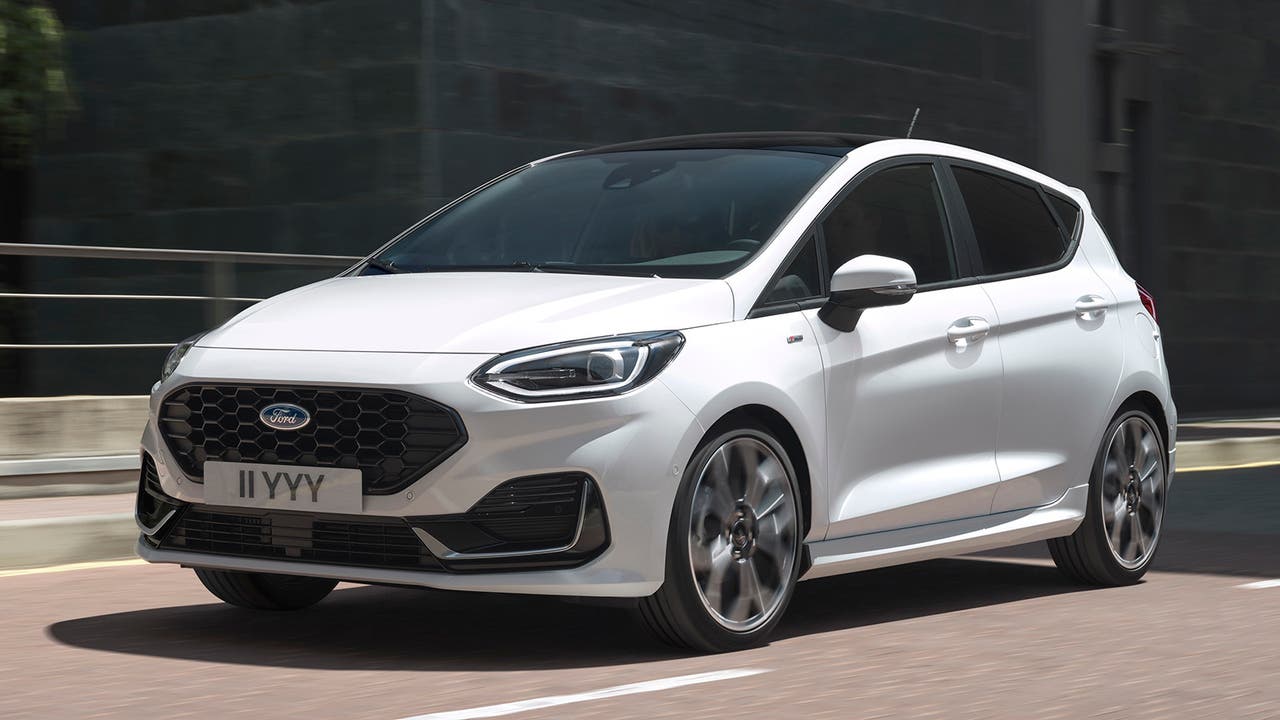 Ford Fiesta – up to 56.5mpg
For many buyers, the Ford Fiesta is the default small car, which has made it a best seller in the UK for years. It's easy to see why – the Fiesta blends neat styling, a relatively practical cabin and a super-sharp driving experience into one well-priced package. What's more, recent Fiestas haven't grown in size as much as some rivals, clocking in at just over four metres long, so they're still very easy to live with in congested city streets.
Ford has been fitting Fiestas with 1.0-litre engines for some time now in the pursuit of improved fuel economy, and the most recent versions are more frugal than ever. Thanks to the addition of a mild-hybrid system to recapture energy under braking and reduce engine strain while accelerating, 125hp 1.0-litre mHEV Fiestas can average as much as 56.5mpg.
Find a used Ford Fiesta for sale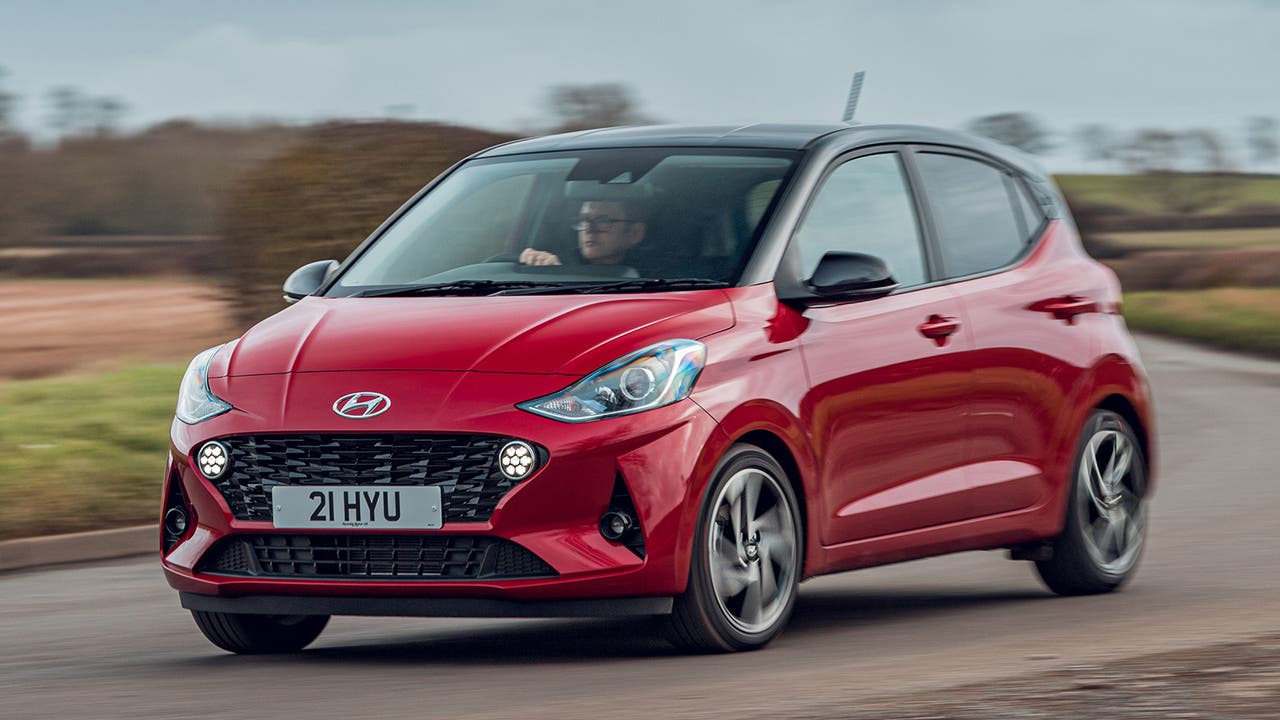 Hyundai i10 – up to 56.5mpg
If the Fiesta and Yaris are still a bit large for your parking space, take a look at the Hyundai i10. This tiny hatchback measures less than 3.7 metres long, meaning it'll squeeze into even the tiniest of parking spaces and through the narrowest of gaps. Yet, despite its diminutive dimensions, you can just about fit five adults in if you're only going on a short drive, and just about get a week's shop in the boot if you pack creatively.
Such a small car only needs a little non-turbo 1.0-litre petrol engine to power it and, in its most efficient form, this setup can average more than 56mpg. Even if you opt for the larger 1.2-litre or more potent 1.0-litre turbo engine, average efficiency remains above 50mpg, so no version of the i10 should prove costly to run.
Buy a used Hyundai i10
Premium cars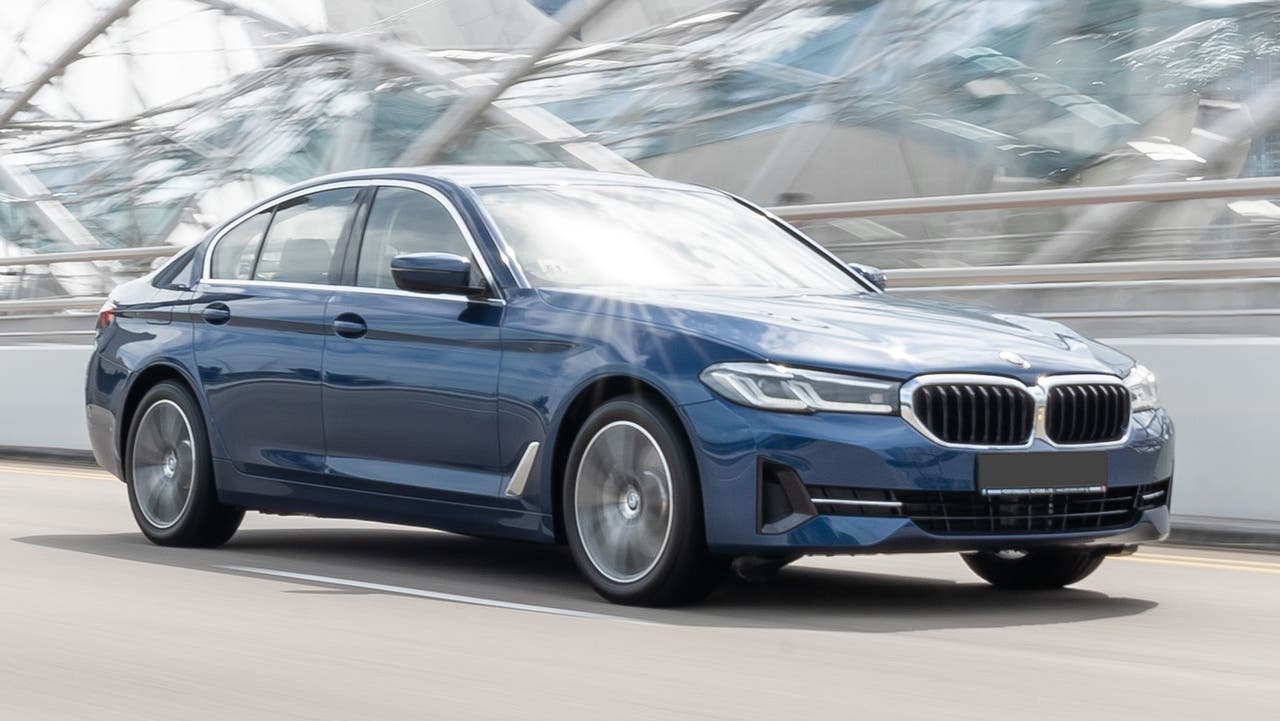 BMW 5 Series – up to 58.9mpg
Thanks to BMW's clever engineers, you can now have a large, comfortable and powerful executive saloon with fantastically low fuel bills. The 5 Series offers acres of interior space for passengers to get comfortable in, along with a stylish and feature-packed dashboard. Plus, you get a driving experience that effortlessly blends mile-munching comfort with limpet-like grip to help you feel in full control.
BMW's 2.0-litre diesel engine in 520d models is the one to choose for low fuel bills, with nearly 59mpg possible if you drive with a light right foot. The diesel is most at home on long motorway journeys but, if you mainly cover your miles in urban environments, don't discount the 520i petrol options, which can still average more than 45mpg. You may want to consider the pricier but incredibly frugal plug-in hybrids at the top of the range if you have access to a charger.
Check out BMW 5 Series cars for sale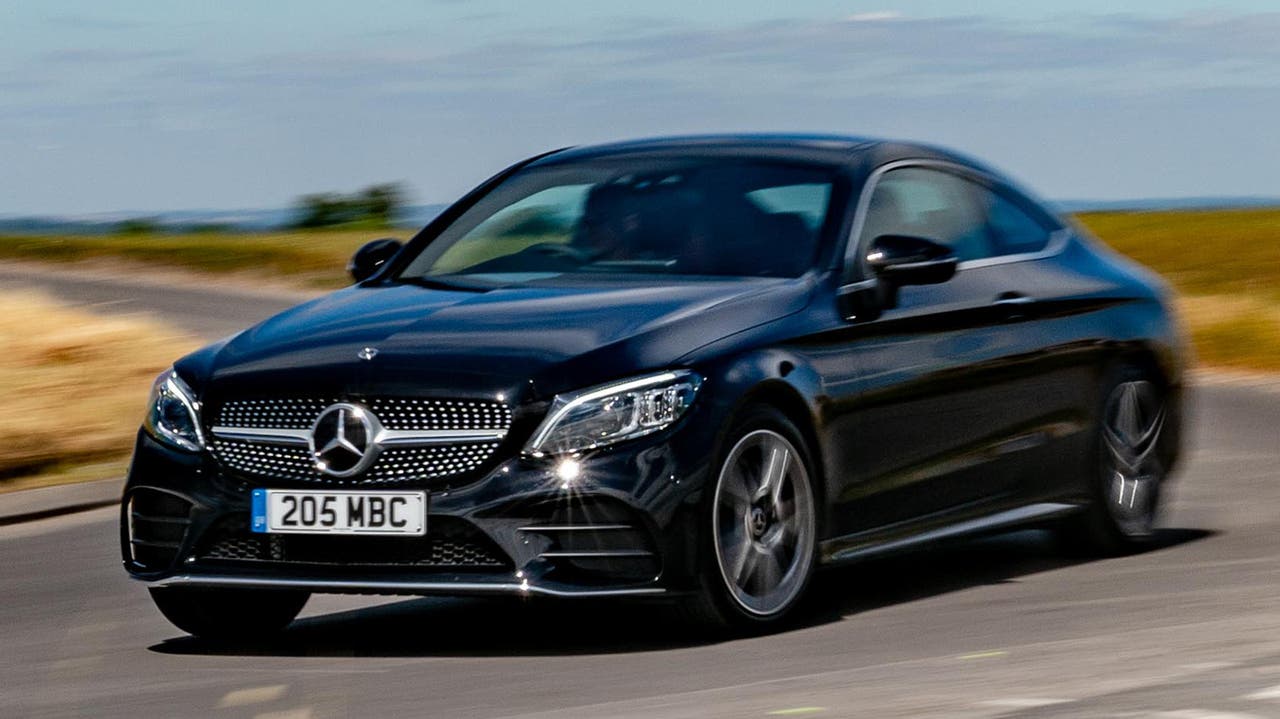 Mercedes C-Class Coupe – up to 55.4mpg
Mercedes' C-Class lineup includes a more practical saloon and estate version, but our favourite is the swoopy C-Class Coupe. This version trades a little of the passenger space found in its siblings in return for an elegant coupe body style that helps it stand out in the car park. All the usual Mercedes premium touches are present and correct, with leather upholstery, a high-tech infotainment system and upmarket materials all standard across the range.
Considering the C-Class Coupe is more focused on delivering slick styling and a premium feel, it's still fairly fuel efficient if you avoid driving with a heavy foot. Diesel-powered C220d models feature Mercedes' 194hp 2.0-litre engine, which gives these models a pleasing turn of speed with the 0-62mph sprint completed in just seven seconds, while also returning upwards of 55mpg if you drive gently.
Find a used Mercedes C-Class Coupe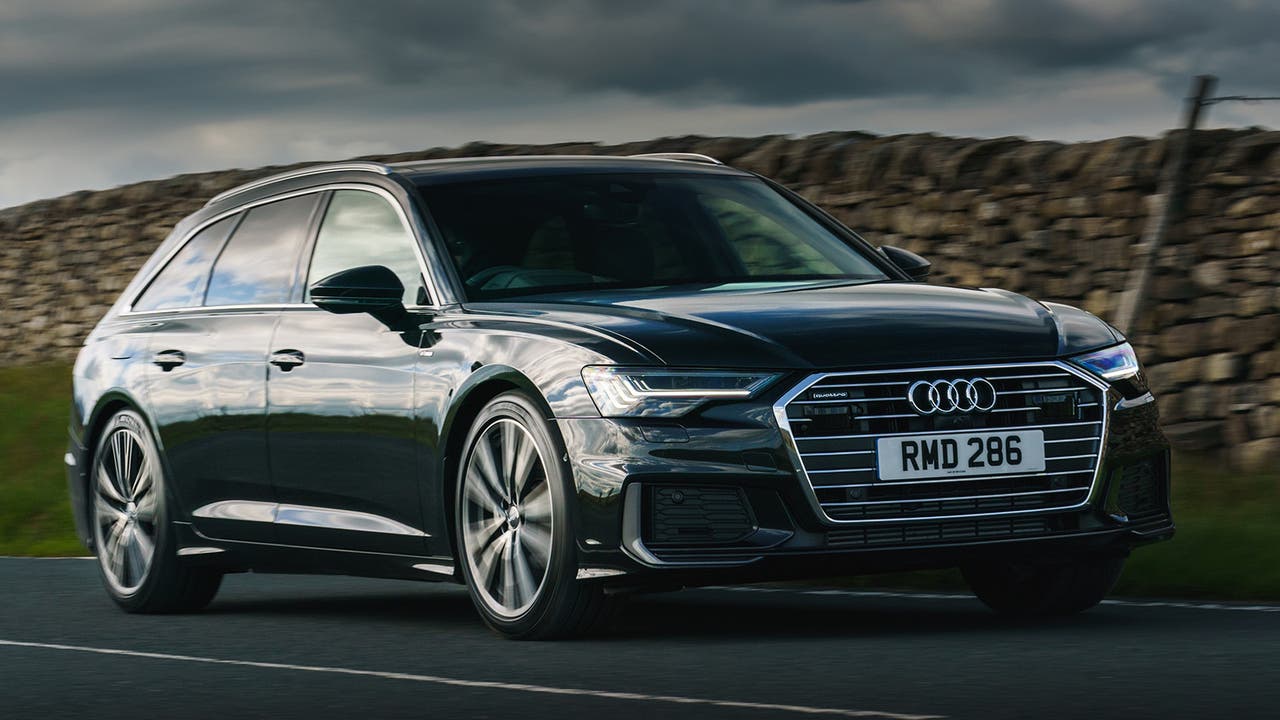 Audi A6 Avant – up to 48.7mpg
Audi has a rich history of building premium-feeling estates, with today's A6 Avant proudly upholding that tradition. As an executive car, there's a vast amount of passenger space available and lots of rear legroom – ideal if you're carrying taller adults. However, it's in the boot where the A6 Avant really shines, with an enormous load area that'll swallow bikes, luggage or furniture with ease.
Smooth and powerful turbocharged engines are ubiquitous across the A6 Avant lineup, with the cryptically named 40 TDI diesel weighing in as the efficiency champion. This automatic-only 2.0-litre unit makes a healthy 204hp, allowing it to complete the 0-62mph run in 7.6 seconds but, when driven as economically as possible, can return nearly 49mpg.
Search all used Audi A6 Avant cars for sale
Keep those fuel costs low
Once you've bought a great fuel-efficient car, you also need to know how to keep your consumption as low as possible to make the most of the savings – check out our top tips for improving your fuel economy.