Is there a big enough improvement to justify the extra cash?
The BMW 4 Series is the German brand's sleeker version of the 3 Series – it's a practical coupe that strikes a balance between sportiness and mile-munching comfort.
And it's fair to say the latest version of the 4 Series divided opinion when it was released in 2020, thanks in no small part to a front grille that looks like two ironing boards stuck onto a BMW. It's hardly subtle.
But looks weren't the only new thing – the 2020 4 Series also brought a new interior, updated technology and a few other tweaks as part of its modernisation. But should you stump up the extra cash for the controversial-looking newbie, or save a tonne of cash and go for the older, more traditional looking 4 Series? 
Here's our guide pitching the new 4 Series against the old one. Remember you can find both cars for sale at Motorpoint, all in warranty and available to drive away today. Check out our range of nearly new BMW 4 Series.
BMW 4 Series new vs old: looks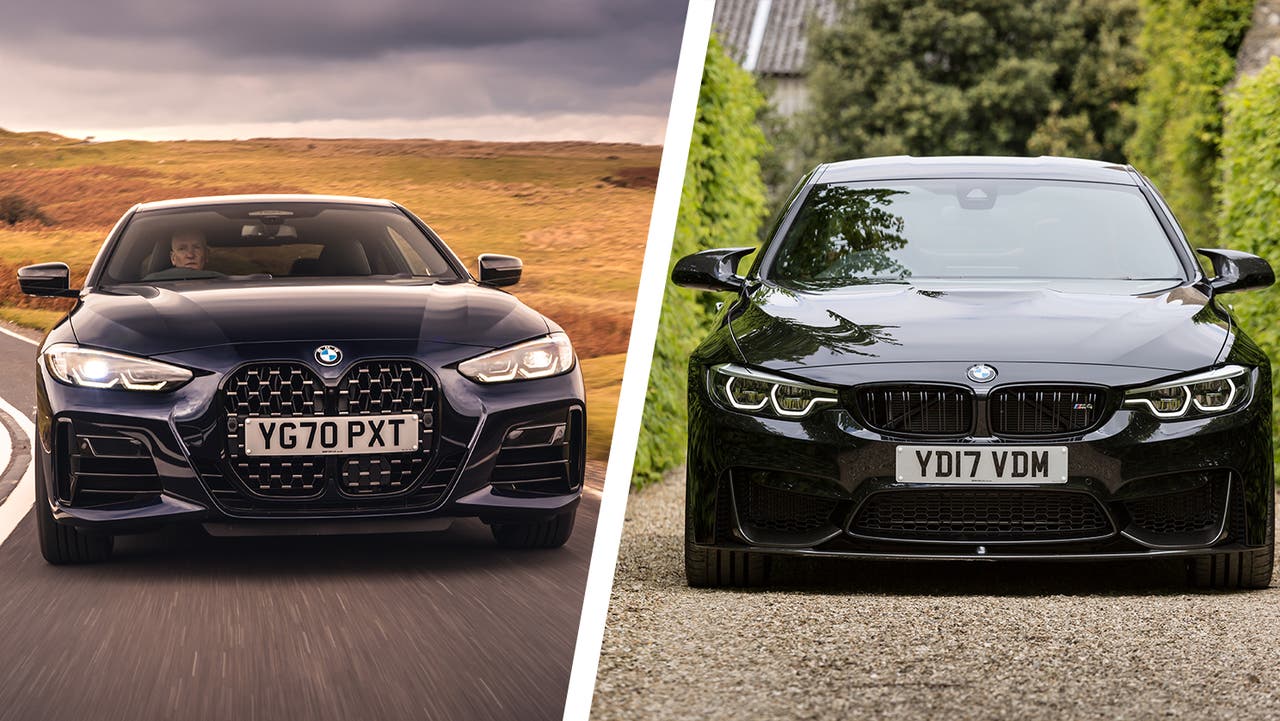 We can't *not* talk about looks. From the front, the new 4 Series is all grille. We've got used to the size of it and it's starting to look normal, and the rear end of the 2020-onwards 4 Series is beautifully crisp and smart looking. 
Park the previous-gen 4 Series next to the new one and there's no doubting it looks more traditional – you could even say it looks a bit old fashioned. Personal taste will dictate which looks best, but you could hardly accuse either of being an uggo.
BMW 4 Series new vs old: interior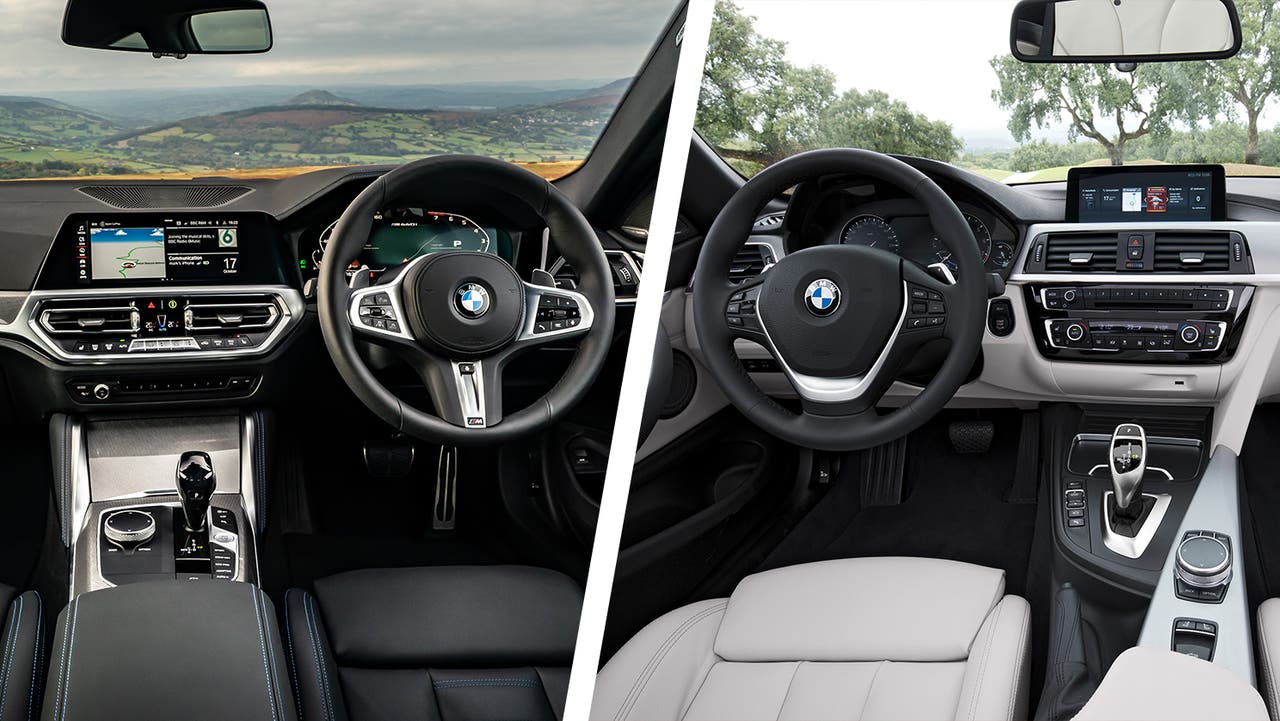 The new 4 Series' interior comes straight from the latest 3 Series, so it gets a super posh feel with a minimalist design – and the only downside is that the previous generation car did much the same thing. Sure, the newer car feels a bit more modern (the steering wheel and digital driver's dashboard feel a lot fancier on the new car, for example), but the previous-generation 4 Series wasn't too shabby inside.
The latest 4 Series has a slightly newer version of BMW iDrive infotainment system, but there's very little it can do that the previous generation (shown above) can't. Wireless Apple CarPlay is included on most new 4 Series models… just like it was on most of the older style 4 Series. 
Which interior is better? We'd plump for the new 4 Series, but the difference really is minimal and comes down to personal preference. 
BMW 4 Series new vs old: driving and engines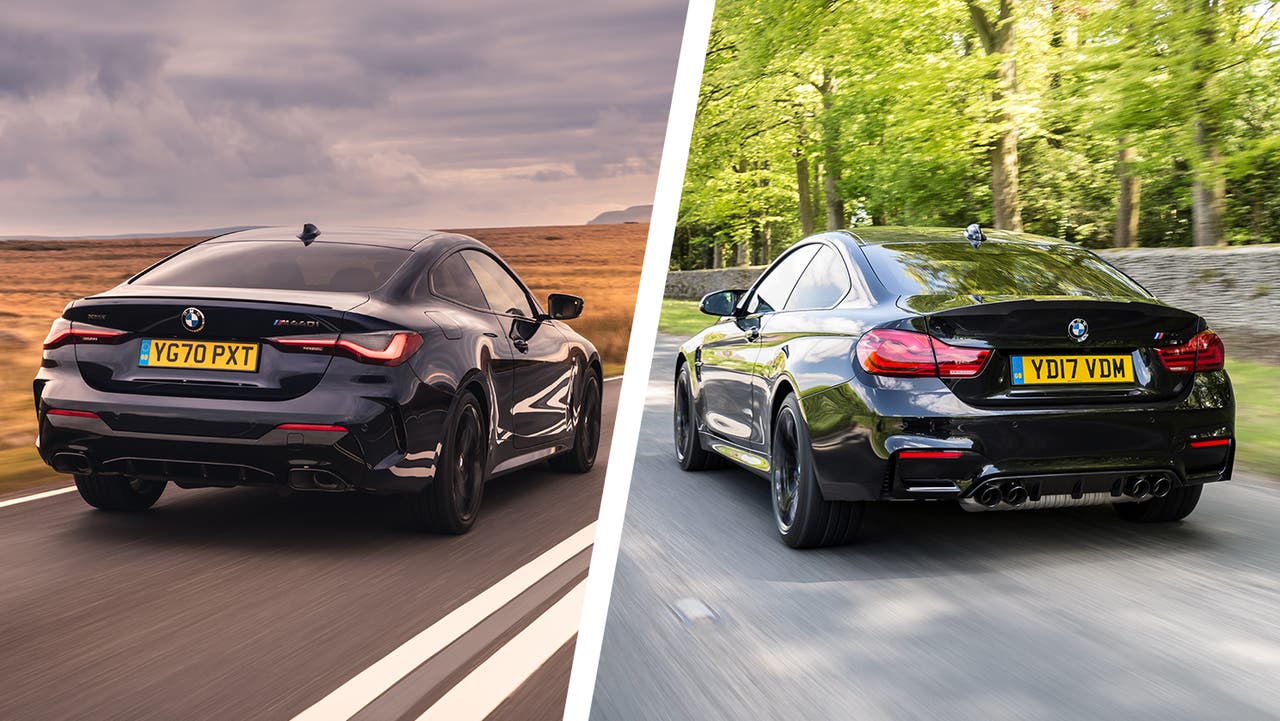 Hop behind the wheel of the new BMW 4 Series and take it down your favourite twisty road and you'll immediately notice how sporty it feels. It darts into corners with little to no body roll, and it feels exciting. The engine line-up is huge, ranging from a 184hp 2.0-litre petrol in the 420i all the way up to a powerful 374hp 3.0-litre in the M440i. Realistically, you're best sticking with the 420i and enjoying decent performance combined with brilliant fuel economy.
As for the old 4 Series… it still feels fantastic. It's lower and stiffer than the 3 Series it was based on, so it still feels special. It's perhaps not as razor-sharp as the latest 4 Series, but we're talking tiny differences here. 
The biggest downside to both the new and old 4 Series is that the suspension can feel firm around town – you'll feel more bumps through your bum than you would in a 3 Series. The same is true of old and new 4 Series, so again… the differences are minimal. 
Which BMW 4 Series should you buy?
If you're the sort of person who loves having the latest and greatest on their driveway then the big-grilled 4 Series is the one for you. It's a touch more modern inside, a bit sharper to drive and you'll never be short of talking points when it comes to looks. 
But the previous-generation 4 Series is still a brilliant car. Time has been kind to its design, and it's available for a good £10,000 less than the equivalent new version of the car – and think of all the things you could do with £10,000…
Check out our range of nearly new BMW 4 Series models, or read our guide to what is a coupe and our best coupes list.