Family SUV buyers need a car that can do it all – it needs to be large enough inside to carry kids and cargo without breaking a sweat, but not so big outside that you can't drive into the city centre. It also needs to be comfortable, efficient and easy to drive, and packed with technology to make life on the road as effortless as possible.
That's exactly why the Kia Sportage and Hyundai Tucson have proven so popular with families because they both excel in these areas. The fact both cars score such high marks isn't just a coincidence – both brands are part of the Hyundai Motor Group, meaning many of the parts and engines under the skin are shared.
Kia Sportage vs Hyundai Tucson compared
Kia Sportage
Hyundai Tucson

Pros:

Slightly sportier handling
A little faster
Even longer warranty

Pros:

Marginally more comfortable
A long warranty
Large touchscreen setup is standard

Cons:

Suspension is a tiny bit firmer
Entry-level touchscreen looks cheap

Cons:

A little slower
Very slightly more expensive
Styling and design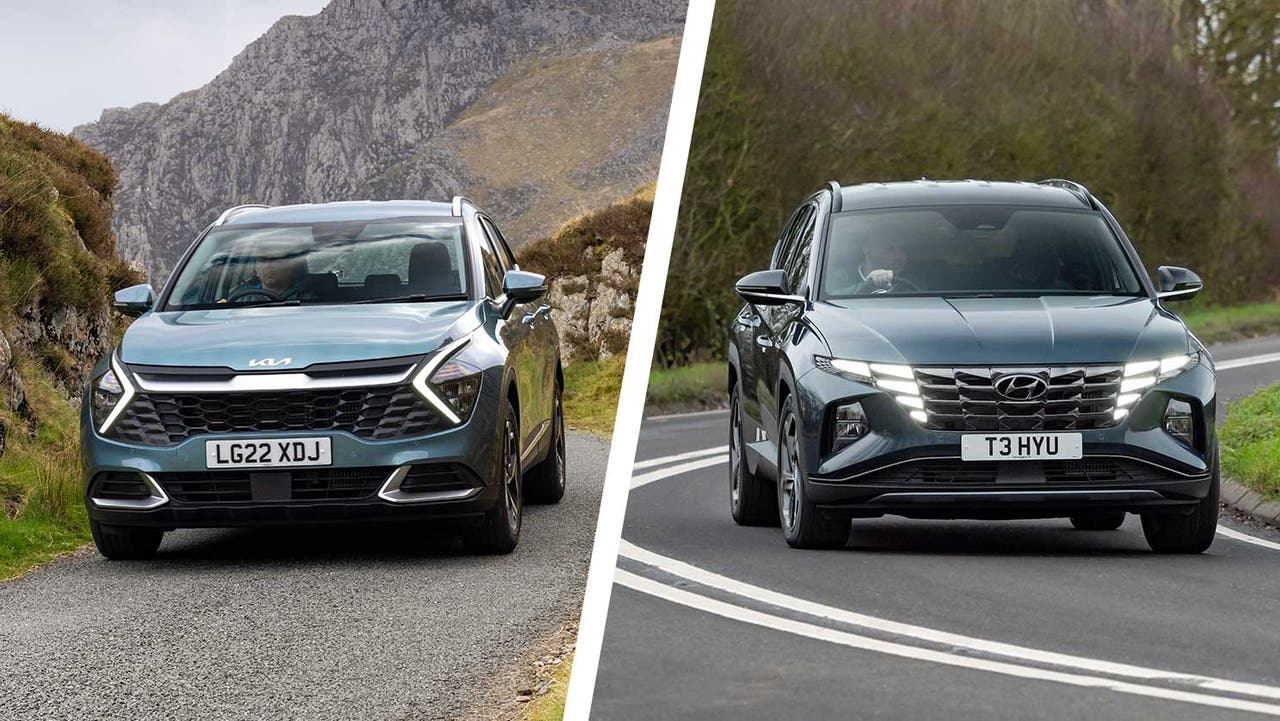 There was a time when both Hyundais and Kias looked dull and conservative. Not anymore, however, because both the Sportage and Tucson have bold, eye-catching styling that helps both cars feel bang up to date.
The Sportage is, somehow, the more restrained of the two, despite its bluff, snout-like front end. There's a graceful rear hip line down the side that rises above the rear wheels, and a styling line on the rear pillar that breaks up the bodywork and gives the impression of a floating roof.
In the metal, the Tucson is even more striking. At the front, there's a large chrome grille made up of triangles that seamlessly blends into the LED headlights, which continue the diamond theme. Down the side, the Tucson has deep creases in the bodywork that help to make it look more athletic and sculpted.
Interior and practicality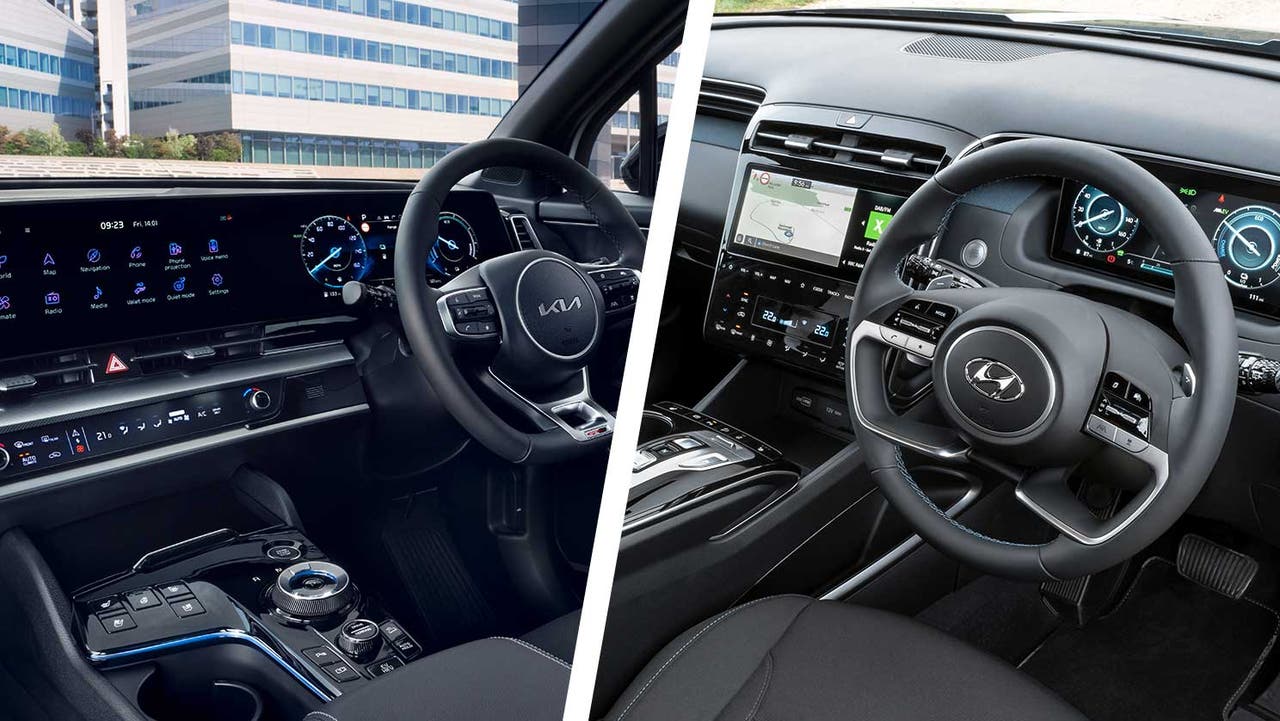 Both Kia and Hyundai have put lots of effort into their interior design, with plush materials, neat contemporary styling and high-tech touches found throughout. The first detail that catches your eye in the Sportage is the large infotainment screen setup, with a central screen housed in the same dash-top unit as the driver's digital dials. This setup looks and feels really slick with fast responses and great graphics, although we should point out that entry-level cars in 2 trim get cheaper-looking screens with fewer functions.
All Tucson models come with the same screen setup regardless of trim level. The centre screen sits in a panel that sits slightly above the rest of the dashboard, with a second screen nestled behind the steering wheel. Like the Sportage, the resolution and responsiveness of the screens is excellent. Several styling touches help the Tucson feel like a more upmarket car than its price tag might suggest, including the wraparound front air vents that echo similar designs seen on Audi and Tesla models.
Neither car will struggle as a family transporter. Both can fit up to five adults in reasonable comfort and the doors open wide enough to make fitting child seats to the rear row mostly painless. The boot on both cars is large and neither should struggle to carry pushchairs or a family's holiday luggage. On paper, the Tucson can carry a few litres more than the Sportage but, in practice, the difference is so small, few owners are likely to notice. Both cars offer more boot space than many SUV rivals, including the Ford Kuga and Peugeot 3008.
Engines and performance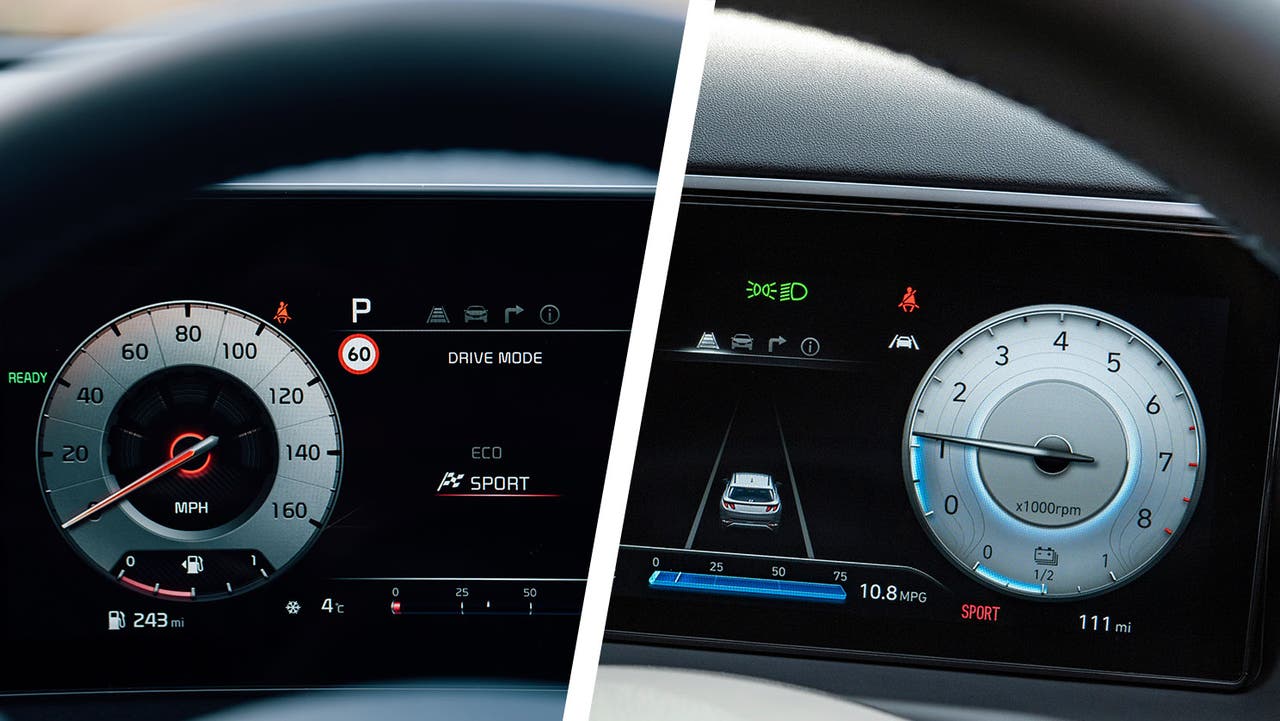 Both SUVs have copied each other's homework under the bonnet, with the exact same engine lineup available in both. Entry-level cars use a 1.6-litre turbo petrol engine with either 150 or 180hp, and available with or without mild-hybrid assistance to improve fuel economy. Then there's the 230hp full-hybrid model that includes a larger battery pack and electric motor, allowing you to crawl through low-speed traffic without starting the engine.
At the top of the range are the plug-in hybrid engines. These again use the 1.6-litre turbo petrol engine but with an even larger battery pack and electric motor. You get a strong 265hp from this setup, giving both cars strong acceleration and more than 35 miles of electric-only running.
Buyers looking at nearly new examples might also be able to locate a Tucson with a 1.6-litre diesel engine. These are much less common than petrol versions and are best suited to high-mileage drivers.
Driving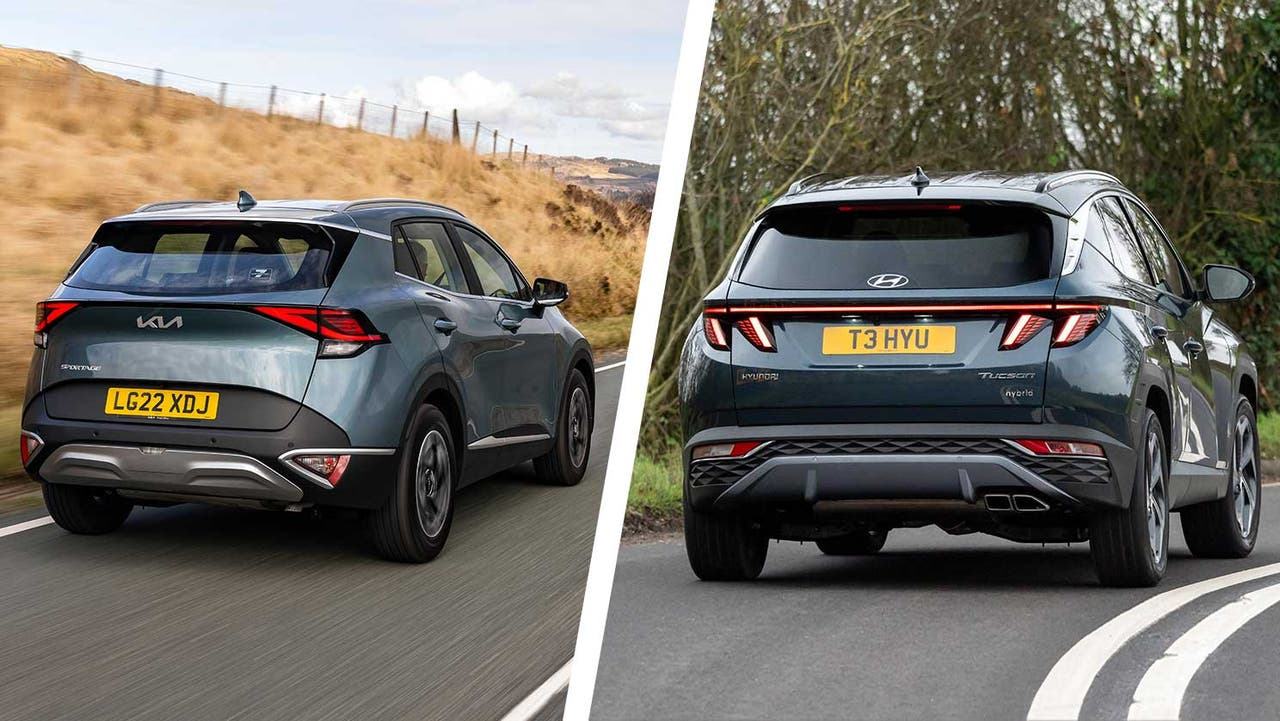 There's very little to split the Sportage and Tucson on the road because both use mostly the exact same parts underneath. Both have light, accurate controls and behave themselves over bumps and undulating roads, never feeling as top-heavy as some SUVs can feel.
To split hairs, the Sportage feels ever so slightly firmer – although you'd probably have to drive them back-to-back to notice – meaning it's fractionally less comfortable when cruising around. The counterpoint here is that it also feels a tiny bit sportier than the Tucson, with very slightly more resistance to body roll when turning into corners.
While it's perhaps marginally less fun on a twisty road, the Tucson makes up for it by being a little more forgiving over bumps and rough road surfaces. For that reason, family buyers might prefer the Hyundai's slightly more laid-back approach, although keener drivers are likely to get a fraction more enjoyment from the Sportage.
Value and reliability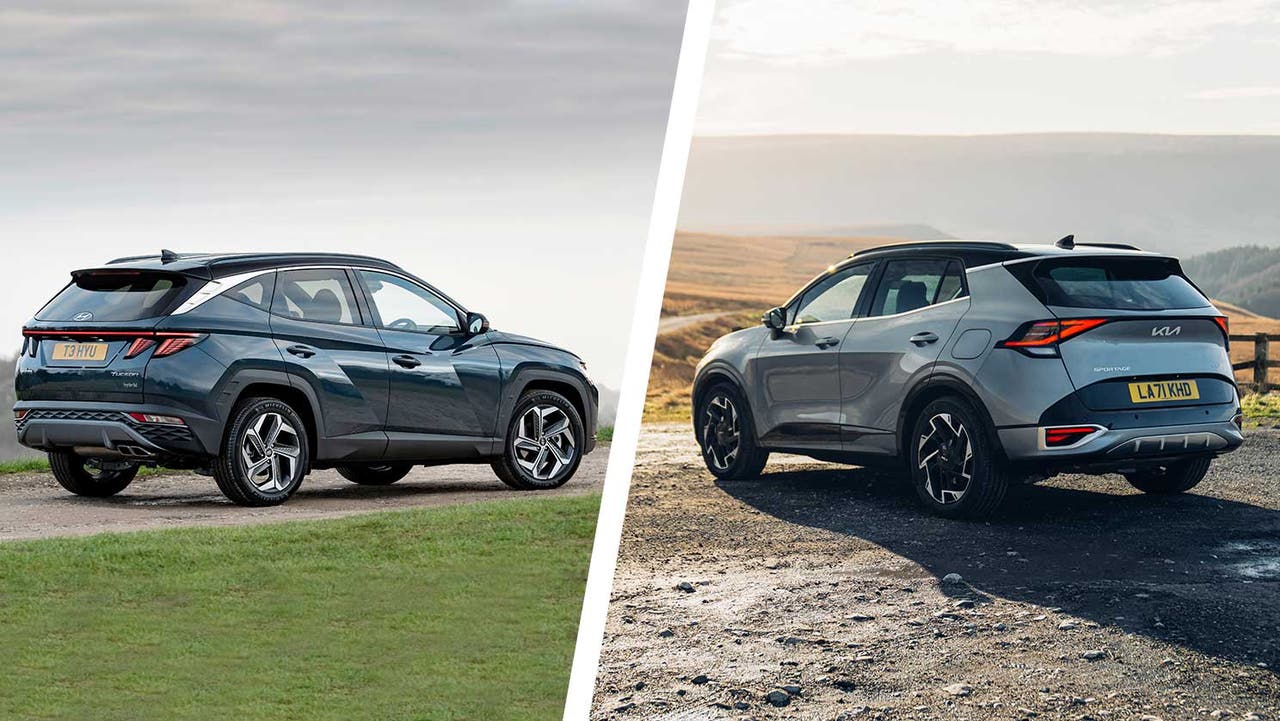 While neither of these Korean contenders would qualify as a budget choice, both the Sportage and Tucson represent excellent value for money. Each has the kind of plush, tech-packed cabin you might expect to find in an upmarket German model, but without the premium price tag.
Lots of little details including the high-tech hybrid engine range, responsive touchscreen infotainment systems, and reassuring active safety aids add up to make both Kia and Hyundai's SUVs compelling choices for family buyers.
Both Kia and Hyundai enjoy strong reputations for reliability. The Tucson comes with a five-year factory warranty, which is two years longer than the majority of its rivals, suggesting Hyundai is confident in the durability of its parts. It's even more impressive, then, that the Kia Sportage comes with a huge seven-year factory warranty, giving you peace of mind for many years of ownership.
Which is best?
There's hardly a poor choice between the Kia Sportage and the Hyundai Tucson, so you won't be going wrong if you opt for either of these models. The Sportage is a hair faster and sportier, and has the backup of that super-long factory warranty, while the Tucson is comfier with a more striking design and still has a longer warranty than the majority of its rivals.
If you've made your mind up, shop Motorpoint's huge selection of nearly new Kia Sportage or Hyundai Tucson models. To see more choices, take a look at our picks for the best nearly new SUVs on sale or, to cut your fuel bills, check out the top 10 hybrid SUVs.