If you need a third row of chairs, here are the best 7-seat cars and SUVs to choose.
Don't fear if you've outgrown five-seater cars, as there are plenty of fantastic used seven-seater cars on the market. Whether you need the sheer space of a van-based MPV or want the slick sheen of a luxury SUV, you'll be able to find a great seven-seat car for you.
If you regularly need to carry adults in the third row, you'll be better off with a more traditional MPV – such as the Volkswagen Sharan or seven-seat versions of the Citroen Berlingo and Peugeot Rifter. Most SUVs with three rows of seats are a little cramped for adults in the third row, but are fine for children and teenagers.
Best seven-seater cars
1. Audi Q7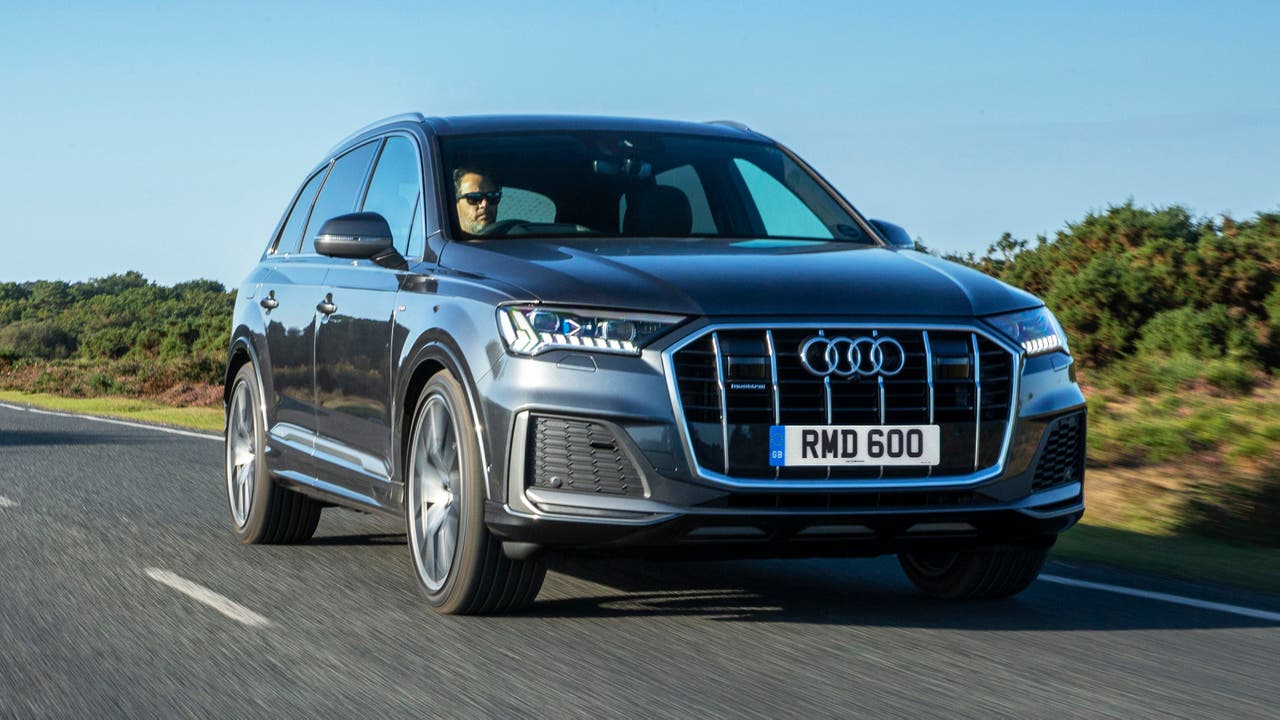 The Audi Q7 might be one of the more expensive options on this list, but it's a really practical option that also gets Audi's flagship tech. Occupants in the front and middle rows can stretch out to their hearts' content. The third row is tighter, and best suited for children, but the second row can slide forward to allow adults to squeeze into the back for short journeys.
What's more, the Q7 has six sets of Isofix points for child seats, so it's a brilliant family bus if you can afford it. Some seven-seaters have a very small boot when all seats are in place, but the Q7 offers as much as a Ford Fiesta – so there's still space for a small weekly shop. With the third row folded, you get a phenomenal 865 litres to fill, and a flat boot floor.
2. BMW 2 Series Gran Tourer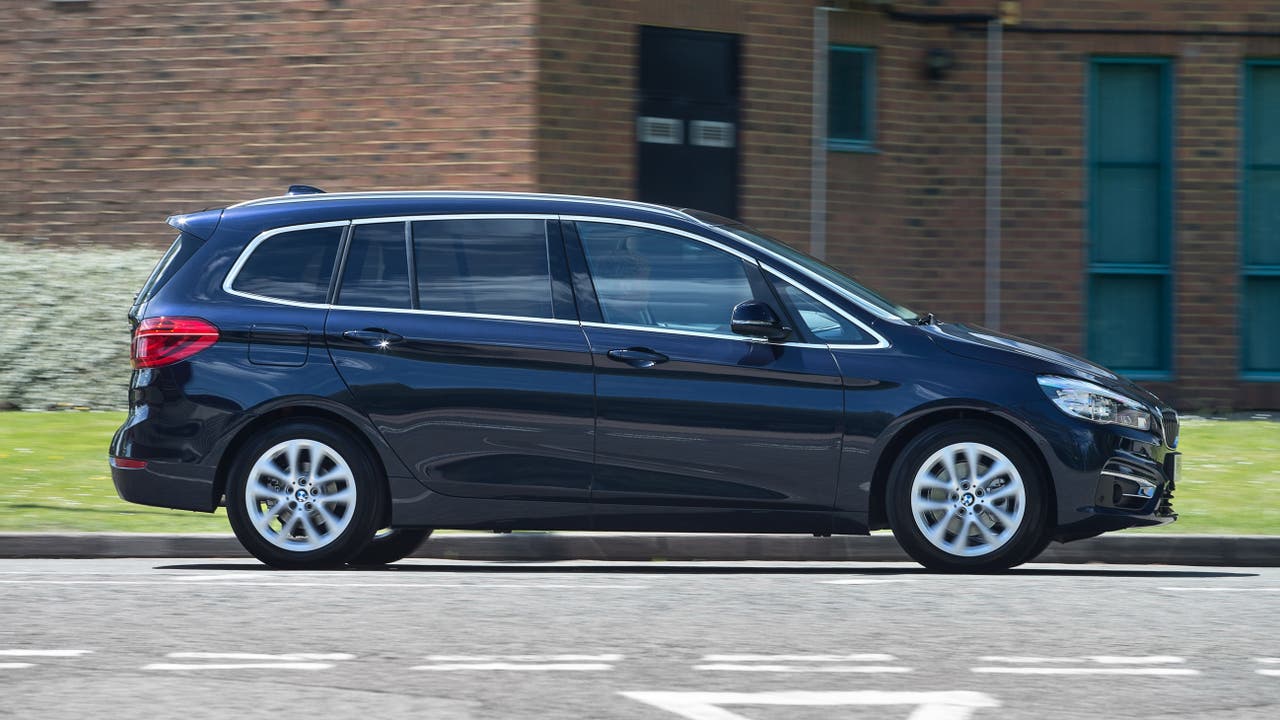 The BMW 2 Series Gran Tourer is a seven-seat version of the 2 Series Active Tourer, but BMW has done much more than just shoehorn two extra seats in. The wheelbase – the distance between the axles – and the overall length are both bigger, and the middle seats are slightly higher up than in the Active Tourer to make sure third-row occupants have room for their feet.
While the second row doesn't have three individual seats, there's room for three adults to sit reasonably comfortably. The outer seats have Isofix points, but BMW says you can also fit a child seat in the middle seat and fix it in with the seatbelt. You get a 560-litre boot with the third row of seats folded, a flat floor and a low load lip.
3. Citroen Grand C4 SpaceTourer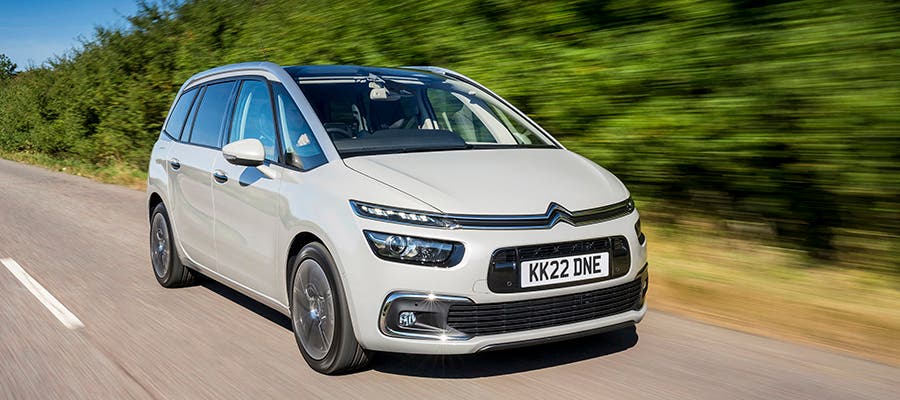 Gone are the days of big seven-seat MPVs being as dull to look at as a freshly painted wall. The Citroen Grand C4 SpaceTourer will turn heads on even the most mundane journeys, and the good news is that it's got even more substance than style. Perhaps the most exciting bit (well, for a practical family hauler) is that the middle row offers three individual seats that are all the same size, and all have Isofix points. If you're carrying three adults instead, they'll be delighted that the floor is flat and that they all get shoulder room.
On most trim levels, the Grand C4 SpaceTourer offers sliding and reclining middle-row seats. That makes access to the third row of seats reasonably easy. Plus, it's easy to fold down the rearmost seats, which you'll want to do when you need a big boot. In five-seat mode with the second row slid forward, the Citroen boasts a whopping 793-litre loadbay.
Fancy another take on a stylish French seven-seater? Check out the Renault Grand Scenic.
4. Dacia Jogger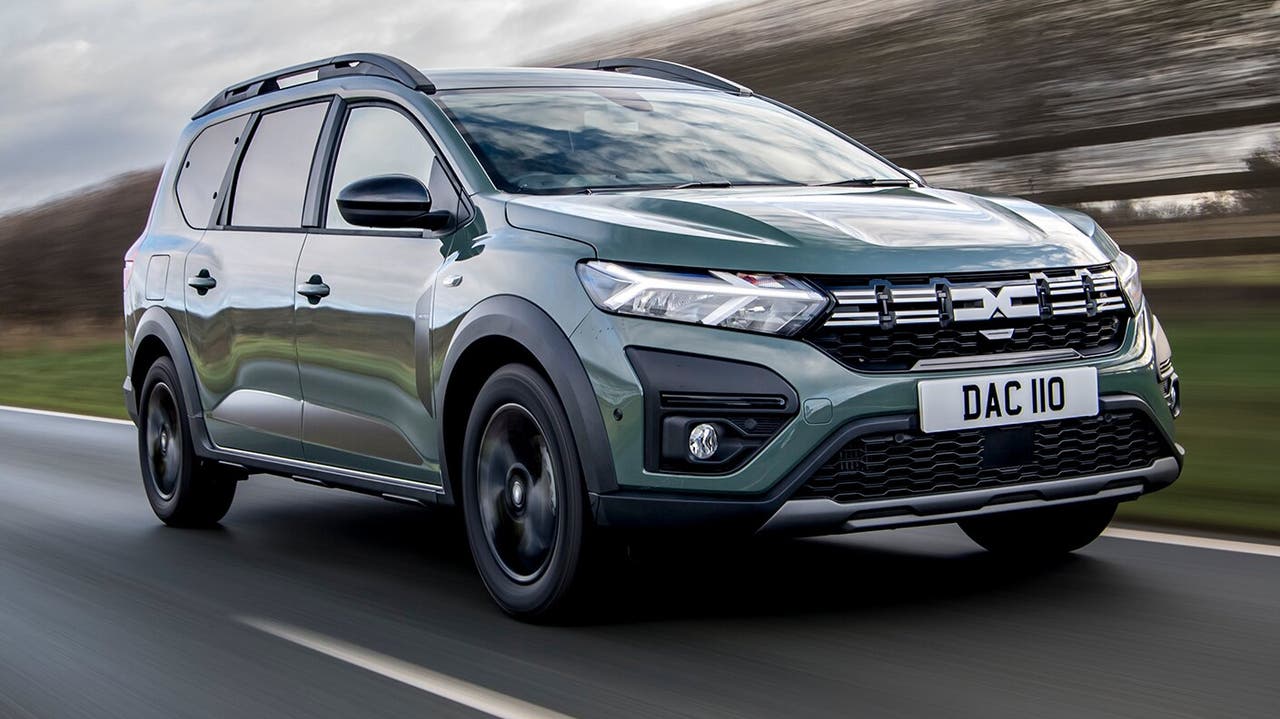 The Dacia Jogger might sound athletic, but this is a seven-seater that's more 't-shirt and trainers' than 'Lycra and Fitbits'. You get everything you need, and nothing you don't. Well, actually, even the base-spec model gets parking sensors, air con and cruise control, and there's a lot more equipment on higher-spec cars.
What's more impressive is the sheer amount of space you get in the middle row. Your kids will have to have legs like an ostrich to kick your seat, and they can enjoy a great view out of the massive windows if you can peel their eyeballs off the tablet they're watching. There's even a decent amount of space in the rear seats for adults, plus a 12V socket, armrests and pop-out windows to make life in the boot bearable.
Speaking of boot space, you can remove the third-row seats – they only weigh 10kg each – to free up over 700 litres of space. We'd like a third Isofix attachment and a sliding middle row, but these would've made the Jogger more expensive. As it is, it costs less than a mid-range Vauxhall Corsa.
5. Ford Galaxy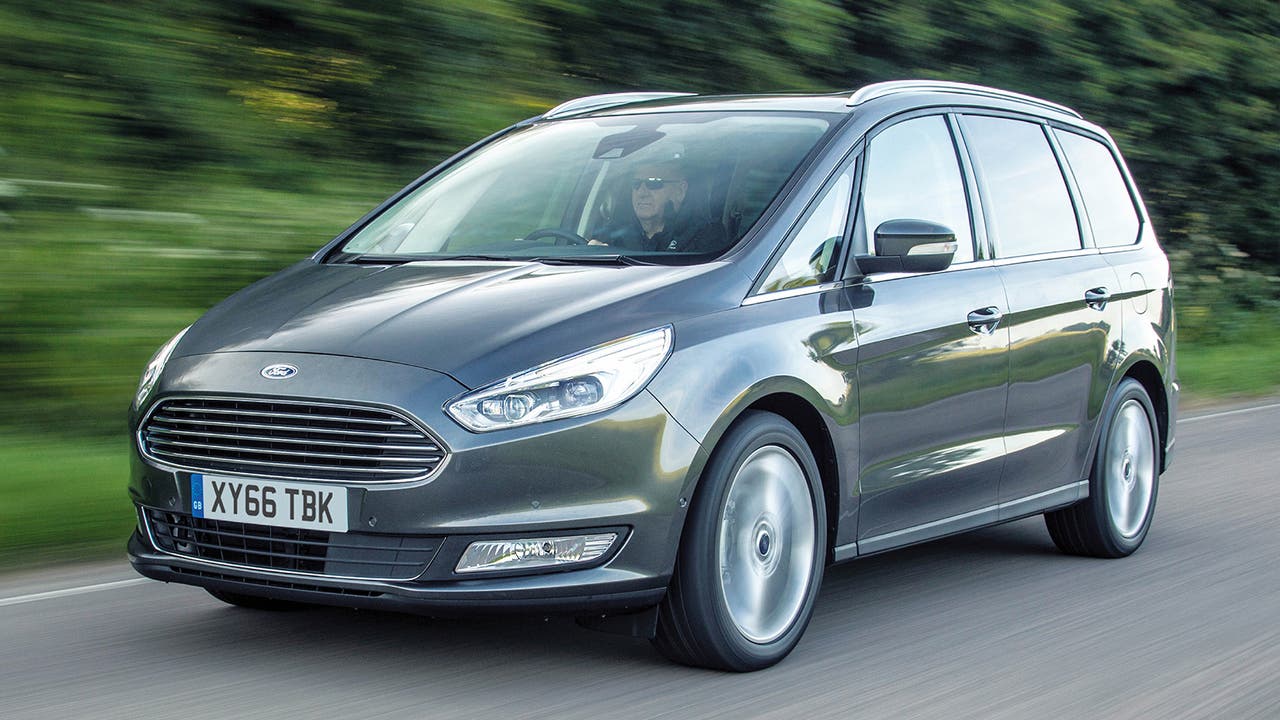 Boxy is good when it comes to seven-seaters and, what the Ford Galaxy lacks in curves, it makes up for with space. Each of the Galaxy's seven seats is big enough for a fully grown adult, and the many seating configurations make the fab Ford one of the most versatile cars on the road. The middle seats slide individually and have a set of Isofix points each, and there's even a three-pin plug for your passengers to fight over. Those in the rear seats get a 12V socket, so make sure you've got a USB adaptor if you want to charge phones up.
There are a lot of similarities with the Ford S-Max, but the Galaxy is the one to go for if you want all the space. With all seats in position, the boot is bigger than that of a Ford Fiesta, and dropping the third row frees up another 1,000 litres of space.
6. Land Rover Discovery Sport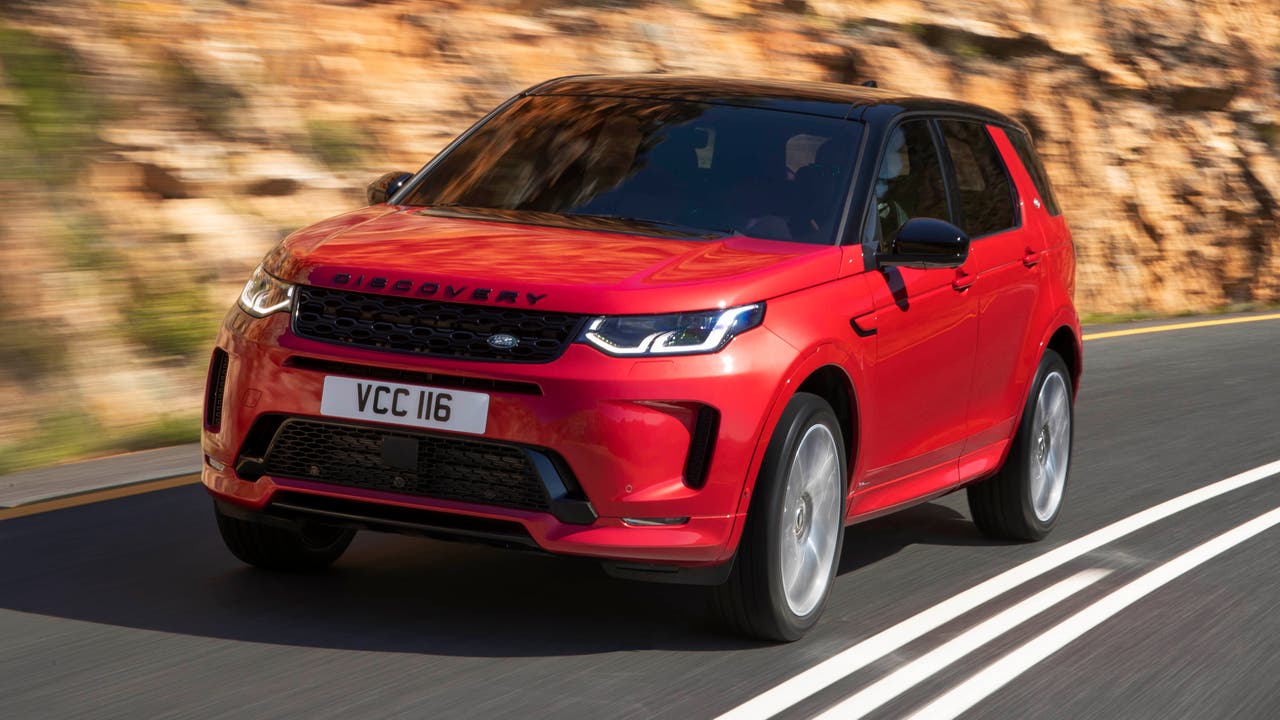 The Land Rover Discovery Sport counts the BMW X3 and Audi Q5 among its rivals, but it's unique in offering an extra two seats. Not all Discovery Sports have the third row and those that do are probably best reserved for kids, but it's certainly a useful addition nonetheless. Cars with seven seats have sliding second-row seats, as well as heating vents and USB ports for the third row.
Storage space throughout the cabin is impressive, as is the amount of boot space you get when the sixth and seventh seats are folded out of the way. If you need seven seats regularly or a larger boot, look at the full-size Land Rover Discovery or cars like the Hyundai Santa Fe and Kia Sorento.
7. Mercedes GLB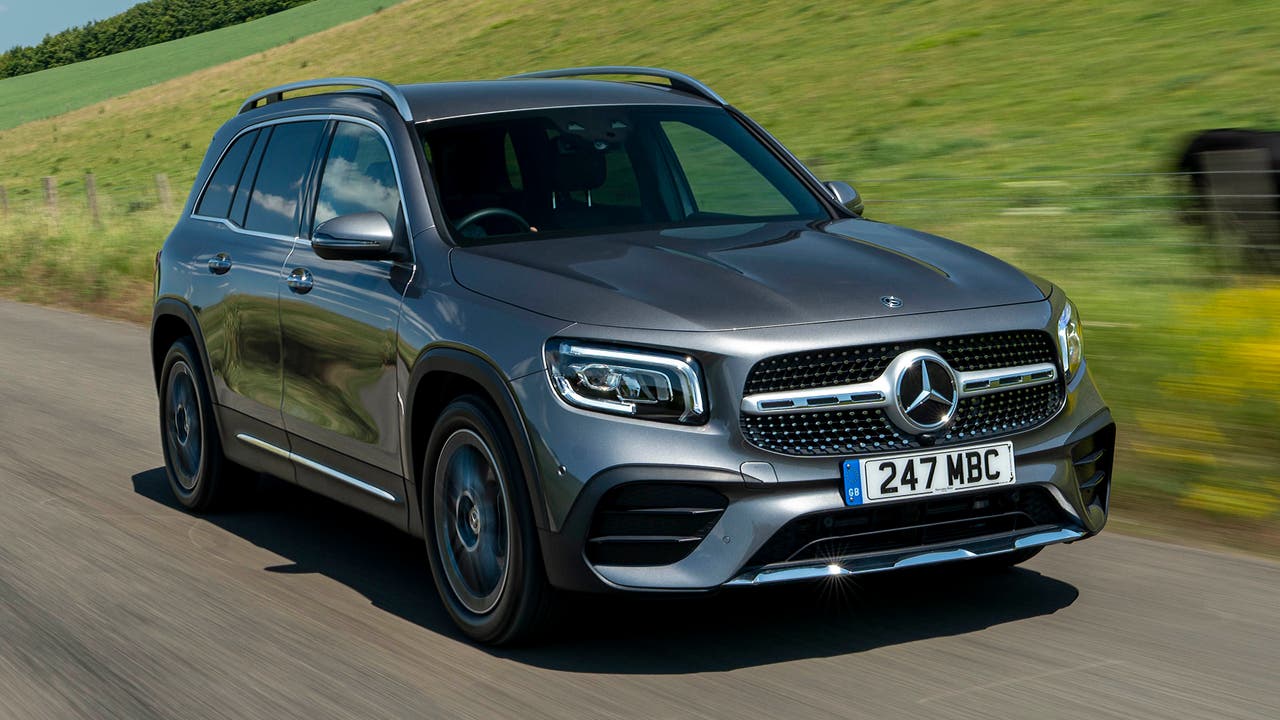 Mercedes' SUV range is pretty easy to decipher – nearly all come with GL badging, with a third letter that roughly equates to its size. So the GLB is one of the smaller SUVs from the brand with the three-pointed star, but is available with a third row of seats. Again, these seats are mainly intended for kids, but adults will be more than happy in the front or middle-row seats. And handily, the third-row seats both get Isofix points, so children who need car seats can go back there.
Like the Discovery Sport, there's very little boot space when all seven chairs are occupied. But, with the third row folded, you get a decent 500-litre boot that should be plenty for a family holiday. And, as it's based on the Mercedes GLA and the A-Class, you get a fantastic interior with plush materials and the latest tech.
8. Peugeot 5008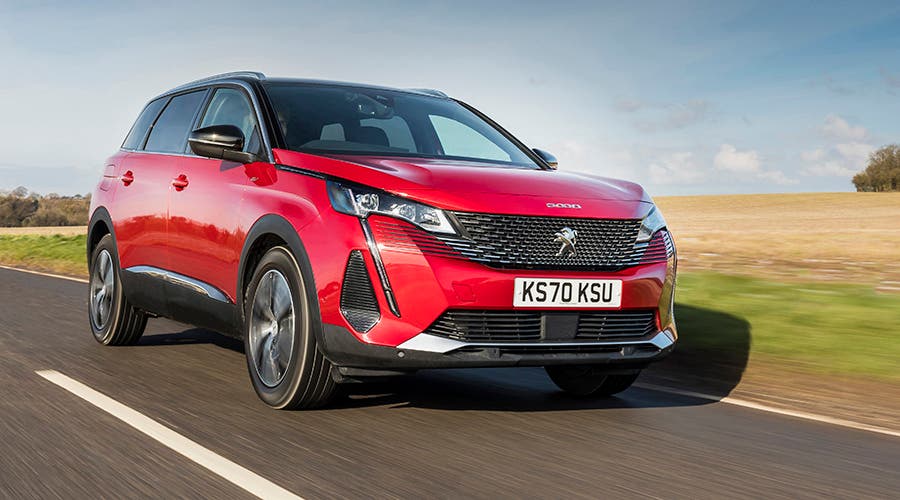 The Peugeot 5008 benefits from everything that makes the 3008 great, but with the extra flexibility of two more seats. You get an eye-catching design inside and out, with lots of tech and a small steering wheel that makes the car feel surprisingly fun to drive.
Where the 3008 gets a standard rear bench that's not quite big enough for three adults, the 5008 gets three individual seats. So you get three Isofix points as standard, while some versions also get handy features like sunblinds for the windows. Like other cars on this list, the 5008 is best considered as a 5+2 seater – the rear seats are a bit too tight for adults to use regularly. The boot isn't the biggest when all seats are up but, as a five-seater, you get 780 litres – that's 260 litres more than the 3008.
9. SEAT Tarraco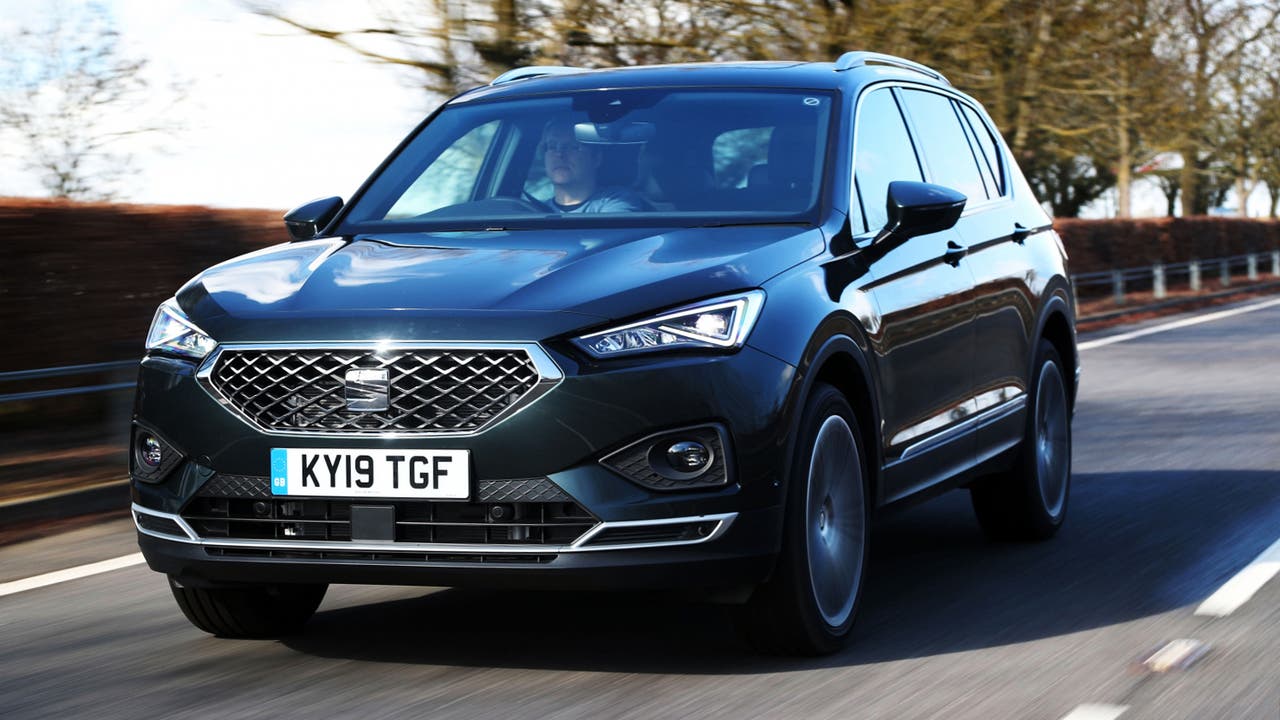 The SEAT Tarraco indirectly replaces the Alhambra as SEAT's seven-seat offering, and shares its underpinnings with the Volkswagen Tiguan Allspace and Skoda Kodiaq – so make sure to check those out as well. The Tarraco arguably provides the most flair and the best driving experience of the three, but it hasn't forgotten the need to be practical.
There's plenty of space in the second row, even if the Tarraco doesn't get three separate seats like the 5008. They do fold individually, though, making the SEAT a versatile car for carrying different loads. Again, the third row is best reserved for children, and there's a massive 700-litre boot with them folded out of sight.
10. Volkswagen Touran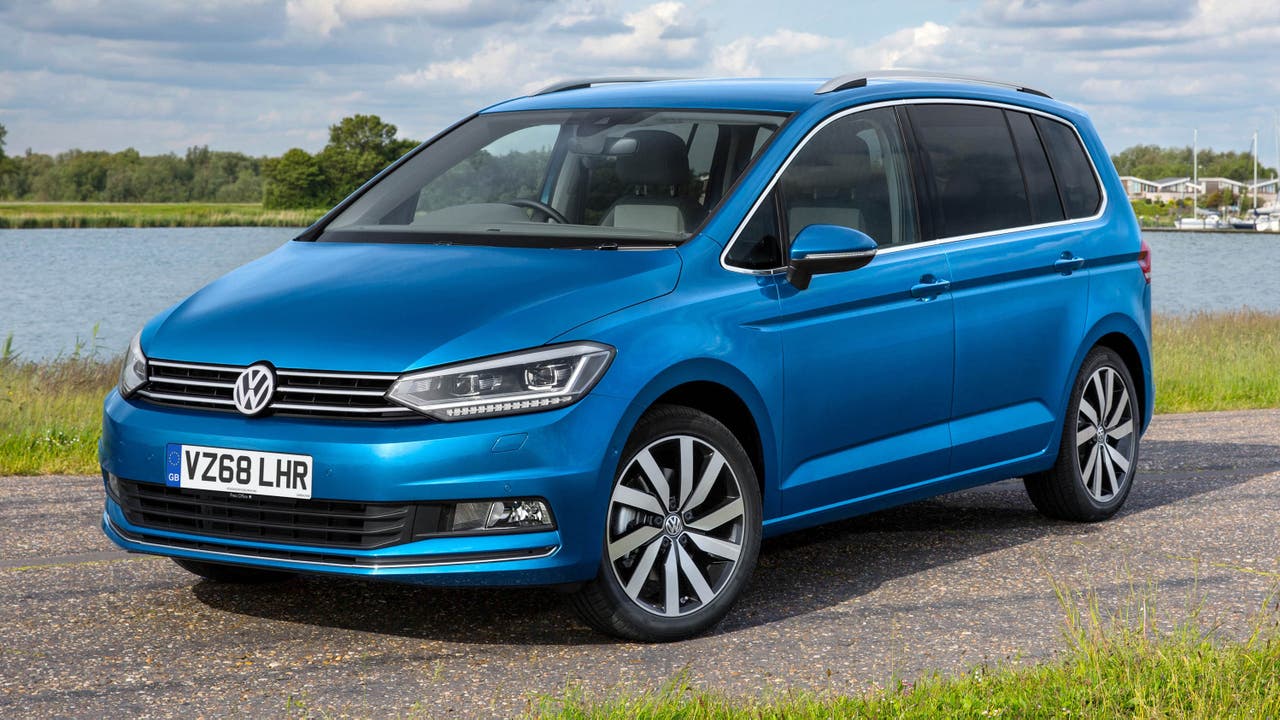 It's never going to be remembered as one of the automotive greats, but the Volkswagen Touran is far cleverer than many people will give it credit for. For one thing, it takes the same amount of space as a Volkswagen Tiguan, but you get seven seats. The middle-row seats offer plenty of legroom and lots of headroom, and big families will be delighted to find out that all five rear seats have Isofix points.
There's actually an SE Family trim level, which shows how focused the Touran is. It gets things like picnic trays for the front seatbacks and a sunroof. There are numerous storage cubbies and a folding front passenger seat, allowing you to carry long loads.