These are two of the best SUVs you can buy, but which is right for you? The Kia Sportage or Ford Kuga? Read on to find out
As the crow flies, Ford's headquarters is 6,600 miles from Kia's. And yet, because the Ford Kuga and Kia Sportage were developed for Europe, the two cars share a number of similarities. Both offer five seats, two glossy screens, two hybrid powertrains and the high seating position that UK buyers love.
The Sportage is often a bit more expensive than an equivalent Kuga, but it's a little more practical and has a longer warranty. If you're still undecided, read on to see which we think you should pick.
Ford Kuga vs Kia Sportage compared
Ford Kuga
Kia Sportage

Pros:

Affordable to buy and run
Great to drive

Pros:

Classy interior
Huge warranty

Cons:

Not the biggest boot
More conservative styling

Cons:

Usually more expensive than Kuga
Big screens not standard
Styling and design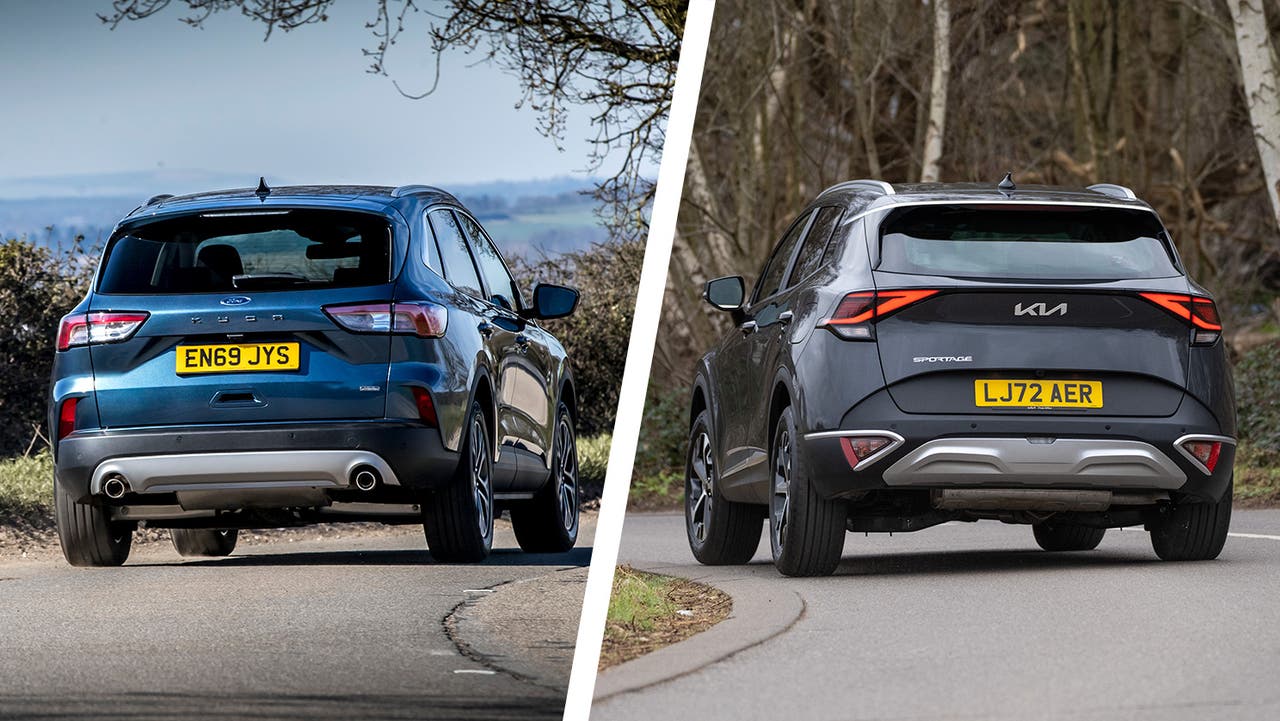 While styling is a subjective er… subject, the Kuga certainly has the more conservative design of these two cars. With its rounded headlights and wide grille, it clearly shares its DNA with the Ford Focus – and, like the hatchback, the Kuga is available with a sporty ST-Line body kit that gives it the looks to back up its slick handling.
There's no chance the Kia Sportage will blend into the background. Its boomerang-shaped LED daytime running lights scythe across the front end of the car, slashing past the hidden headlights that look like they're part of the grille. Its confident, slightly brash styling continues around the back, with tapering tail-lights and a slab of black plastic that stops the Sportage looking too tall and ungainly. However, we appreciate that the Sportage could be too bold for some tastes, in which case the Kuga might be a better pick.
Interior and practicality
Much like their respective exteriors, the Kuga has a fairly safe design inside while the Sportage feels a bit more progressive. Although, the Kuga was praised for its modern interior when it launched in 2020 – the Sportage launched just two years later, showing how fast tech is improving in such a short space of time.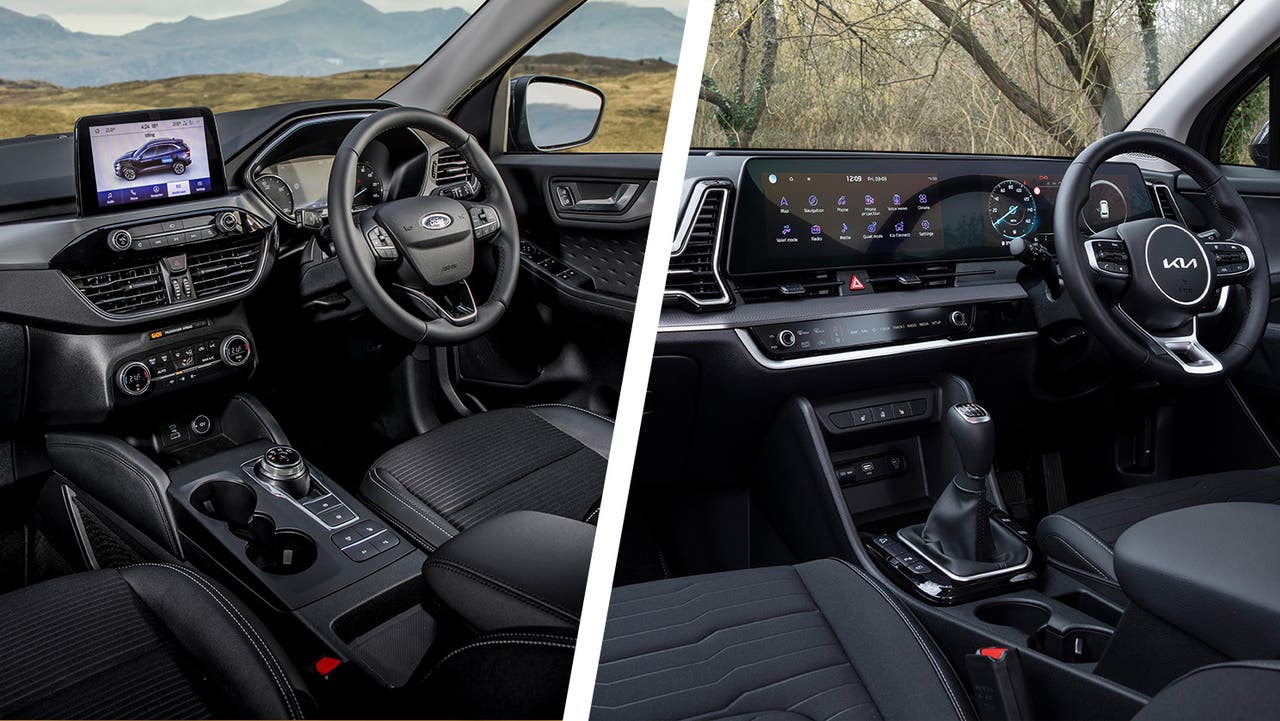 All Kugas get an eight-inch touchscreen sitting on top of a centre console with plenty of buttons and dials. While this switchgear doesn't conform to the minimalism of newer car interiors, everything is fantastically tactile and easy to use. Many cars get swish-looking digital dials – but greater configuration options wouldn't go amiss.
The Sportage puts its two screens side-by-side in one slim panel. There's no cowl over the dials – helping the modern feel – and the displays are pin-sharp. The headline acts are two 12.3-inch screens that perfectly fill their surroundings, but lower-spec cars have an eight-inch touchscreen and more conventional dials. While that's the same as in many Kugas, the Sportage's eight-inch screen doesn't really fill the bezel and looks smaller as a result. Kia's decision to use a horizontal bar for the climate controls – and the touchscreen shortcuts – frees up storage space and looks space-age. The Ford's physical controls are much easier to use, though.
Both cars are really spacious for four adults, and five adults should be fine on short journeys. However, despite the Kuga being marginally longer than the Korean, it's the Sportage that offers the best boot space. Depending on the engine you pick, the Sportage has between 526 and 591 litres of boot space, compared to the Kuga's 411-526 litres. The larger of those two figures is achieved by sliding the rear seats all the way forward, at which point your rear-seat passengers will feel pretty cramped.
Engines and performance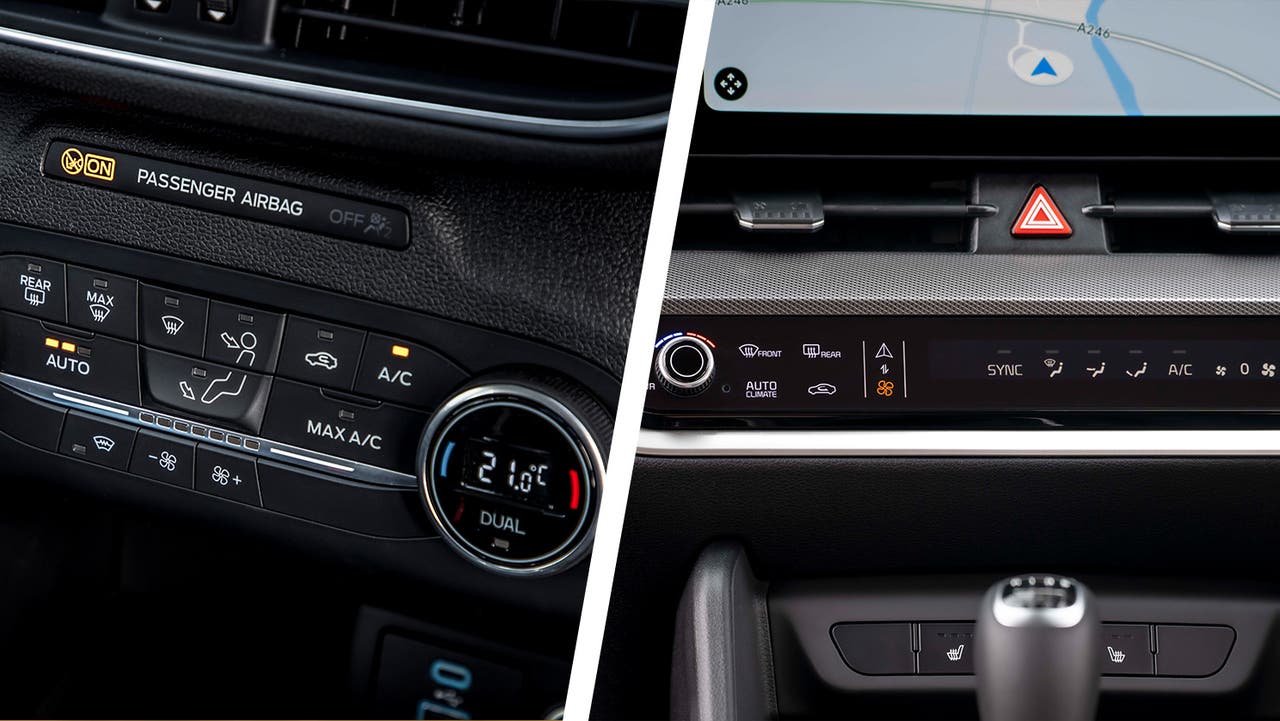 These latest Kuga and Sportage models introduce a wider, more exciting engine range than their predecessors. Both are available with both regular hybrid and plug-in hybrid powertrains, as well as petrol and mild-hybrid engines. Neither offer diesel engines in new versions any more, but you're more likely to find black-pump engines in the Kuga.
The standard petrol engines perform almost identically, achieving just over 40mpg and cracking the 0-62mph sprint in 10 seconds. You'd think the Ford's 2.5-litre hybrid engines would be much more powerful than Kia's 1.6-litre hybrids but, thanks to their turbochargers, the Sportage HEV and PHEVs are slightly quicker off the line than their Kuga counterparts. Economy for the normal hybrid models is similar – the Sportage promises 49mpg, the Kuga 52mpg.
Plug-in hybrid Sportages should be able to manage slightly further on electric power than the Kuga PHEV – Kia quotes a 43-mile electric range, compared to 35 miles for the Ford.
Value and reliability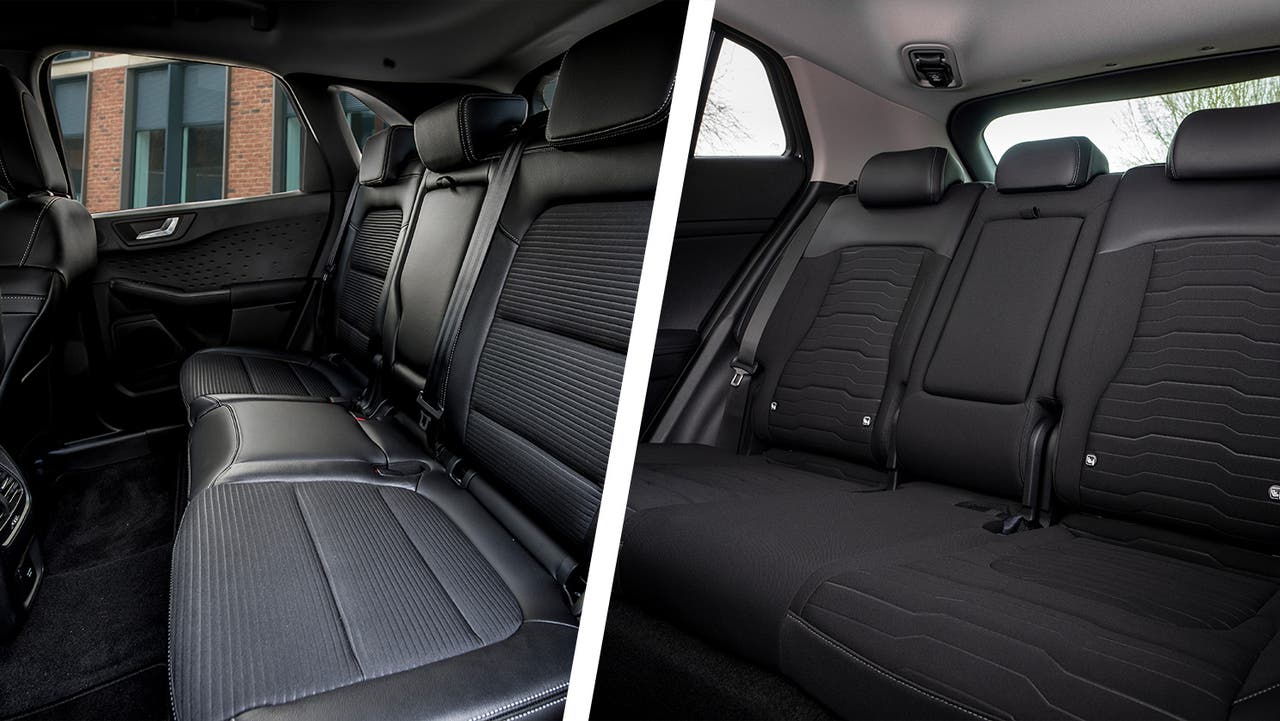 At the time of writing, Ford has dropped the Kuga's entry-level Zetec trim, which pushes the car's starting price up. Titanium Edition, the new opening model, starts from just over £33,000, and the range-topping Vignale with a hybrid engine costs over £41,000. In comparison, the Sportage's Zetec-rivalling '2' trim kicks off at around £29,000, but the most expensive version comes in at nearly £46,000.
Because the Kuga has been around a bit longer, you'll find a wider choice and cheaper examples on the used market than for the latest Sportage.
However, the Sportage seems to perform marginally better in reliability surveys, and is backed up by Kia's nearly unmatched seven-year/100,000-mile warranty. Ford offers a three-year/60,000-mile warranty.
What if budgets are a bit tighter?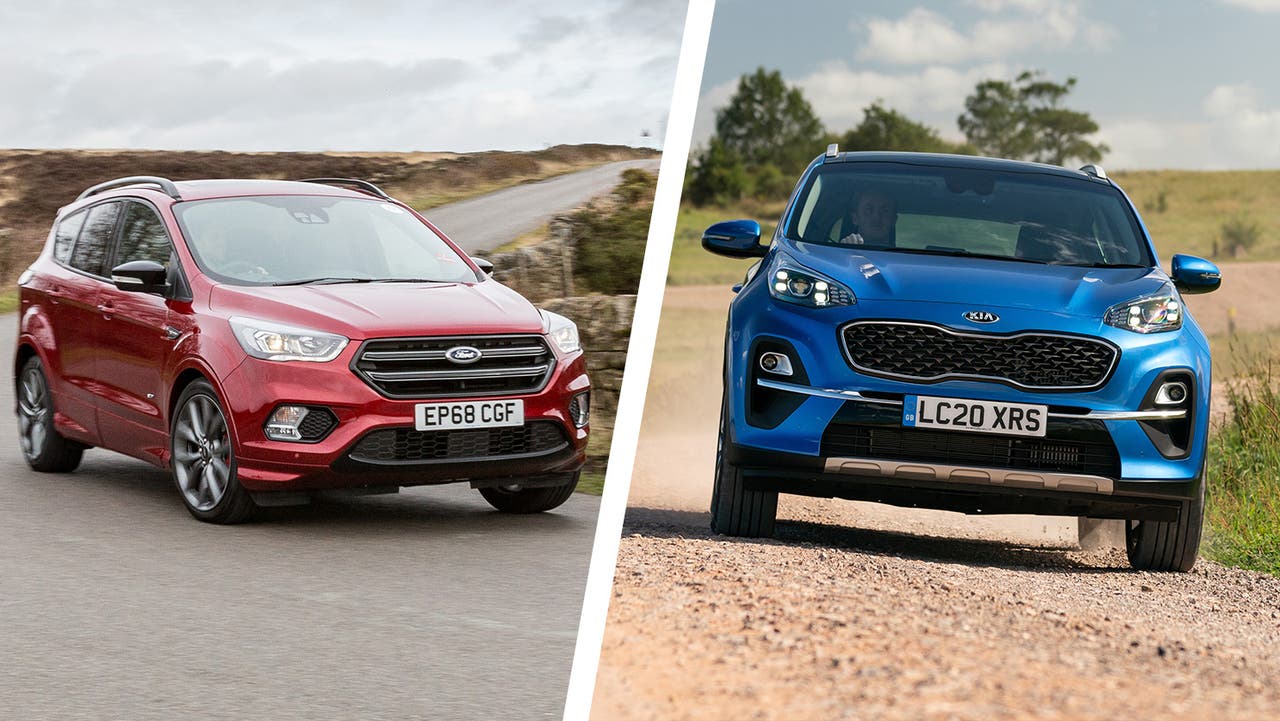 The previous-generation Ford Kuga and Kia Sportage shouldn't be ruled out if you don't want to stretch to a newer model. They're still very capable family haulers with a choice of petrol and diesel engines and most of the latest comfort features. Apple CarPlay and Android Auto are available in both cars if you want to connect your phone, and both have versions with dual-zone climate control, cruise control, auto lights, a reversing camera and heated seats.
Which is best?
The Kuga will be the top choice if you're a keen driver who needs the space of an SUV, and it's a solid all-rounder elsewhere. We'd happily recommend the latest Kuga to anyone looking at a family SUV, but the Sportage is just a fraction better. It feels more modern inside and out, it's more practical and it has a longer warranty – but all that typically means a nearly new Sportage may be more expensive than an equivalent Kuga.
Find your family SUV
These are two of the best family SUVs you can buy, so make sure to check out our selection of used Ford Kuga cars and used Kia Sportage cars. Alternatively, read our guides to the best family SUVs and best hybrid family cars.