There was a time when a Peugeot family car had little chance of raising your heart rate. However, the company has given its lineup a significant 'glow up' over the last few years and now builds some of the best-looking cars in their respective classes. That means both the Peugeot 2008 and 3008 make a strong case for themselves as handsome and handy family transporters, but which should you pick?
This guide will compare the two SUVs side-by-side to highlight the differences and help you decide which you should pick. Of course, the 2008 is cheaper to buy so, if you're limited on budget, that might be the automatic choice. If your budget is more flexible, however, giving you a choice between a 2008 or a 3008, should you splash out for the bigger car, or save money by picking the more compact option?
Peugeot 2008 vs Peugeot 3008 compared
Peugeot 2008
Peugeot 3008

Pros:

More affordable
Quicker with the same engines

Pros:

Cabin rivals those from premium brands
More practical

Cons:

Less passenger and boot space
Posh cabin but the 3008's is slightly nicer

Cons:

More expensive
Slower and less efficient with the same engines
Styling and design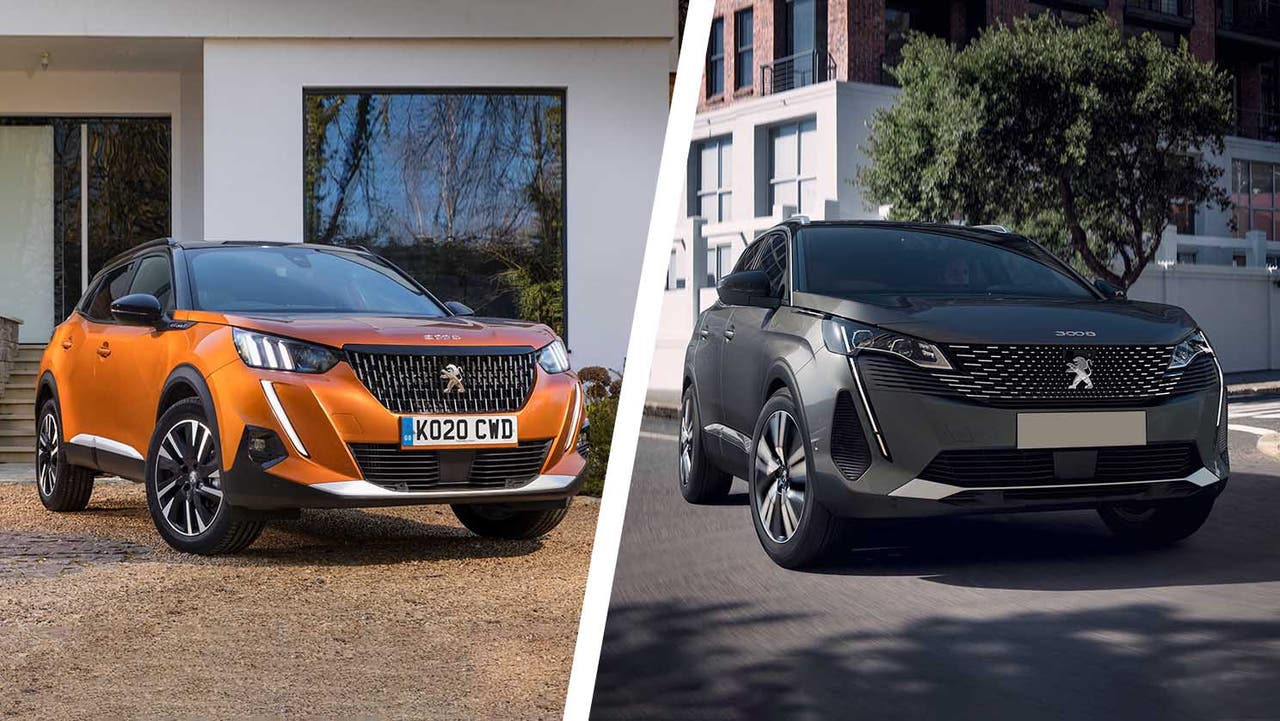 Styling is an area in which Peugeot has taken enormous strides recently, with the French company producing, to our eyes, one of the sharpest-looking lineups of any carmaker. As a result, both the 2008 and 3008 are among the most eye-catching cars in their respective classes. The 3008 carries the most recent iteration of Peugeot styling, with the shield-shaped front grille now blended into the headlights and front bumper, while the 2008 has a more conventional item.
Of course, styling is subjective, but we think the 2008 is slightly the better looking of the two models. Its bodywork features neatly faceted surfaces that hide the 2008's visual bulk and give it a more attractive profile than the slightly more generic-looking 3008. We also prefer the relative simplicity of Peugeot's older shield-shaped grille on the 2008 flanked by its angular headlights, compared with the 3008's slightly busy front end and fussier headlight design. Nevertheless, beauty remains in the eye of the beholder and the 3008 is still more eye catching than most of its conservatively styled rivals, such as the Renault Kadjar and Skoda Karoq.
Interior and practicality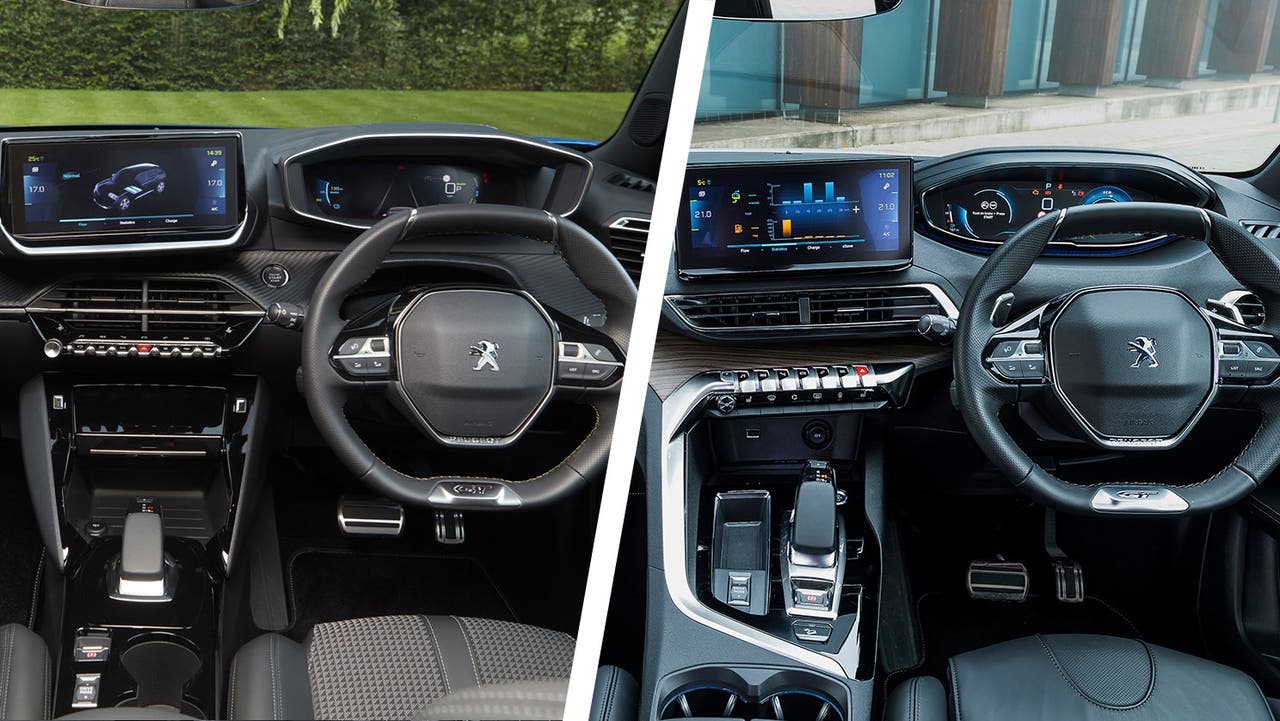 Peugeot's hard work hasn't just gone into the exterior design, however, with both the 2008 and 3008 sporting supremely comfortable and stylish cabins. Like all modern Peugeots, both cars feature the brand's i-Cockpit design philosophy, with an oddly small steering wheel which sits below the driver's dials, rather than in front of them. Compared against cars in their respective classes, both Peugeot SUVs are among the plushest models you can buy but, when compared against each other, the more expensive 3008 narrowly takes the edge – its centre console sweeps into the dashboard more gracefully and the extra contrast cloth details on the doors and dash help lift it fractionally above the 2008.
As for on-board technology, both cars are effectively neck and neck. You'll find a standard-fit infotainment system in both with DAB radio, Bluetooth, Apple CarPlay and Android Auto. Choose a high-spec 2008 or 3008 to upgrade to a larger 10-inch screen with built-in sat nav. While the systems' graphics and menus are fine, they can be a little slow to respond to touches, and it's annoying that heater and air con controls have been relegated to the screen on both cars with no physical controls. Digital driver's dials are available on both and really help the cabins feel bang up to date, although the screen on the 3008's version is fractionally larger and easier to read.
It won't come as a surprise that the larger 3008 is the more practical of the two. That said, the 2008 is still noticeably bigger in the back than the 208 hatchback it's based on – two adults will fit in the back comfortably, while three can squeeze in for shorter journeys. The 3008 still isn't the best choice for carrying three across the rear row, however – try the larger Peugeot 5008 or Citroen C5 Aircross if that's something you do often – but it does give all rear passengers a good helping of extra space to stretch out. Neither car leads their respective classes for cargo room, but there's still enough for a holiday's worth of luggage, with the larger 3008 swallowing just a little more than the 2008.
Engines and performance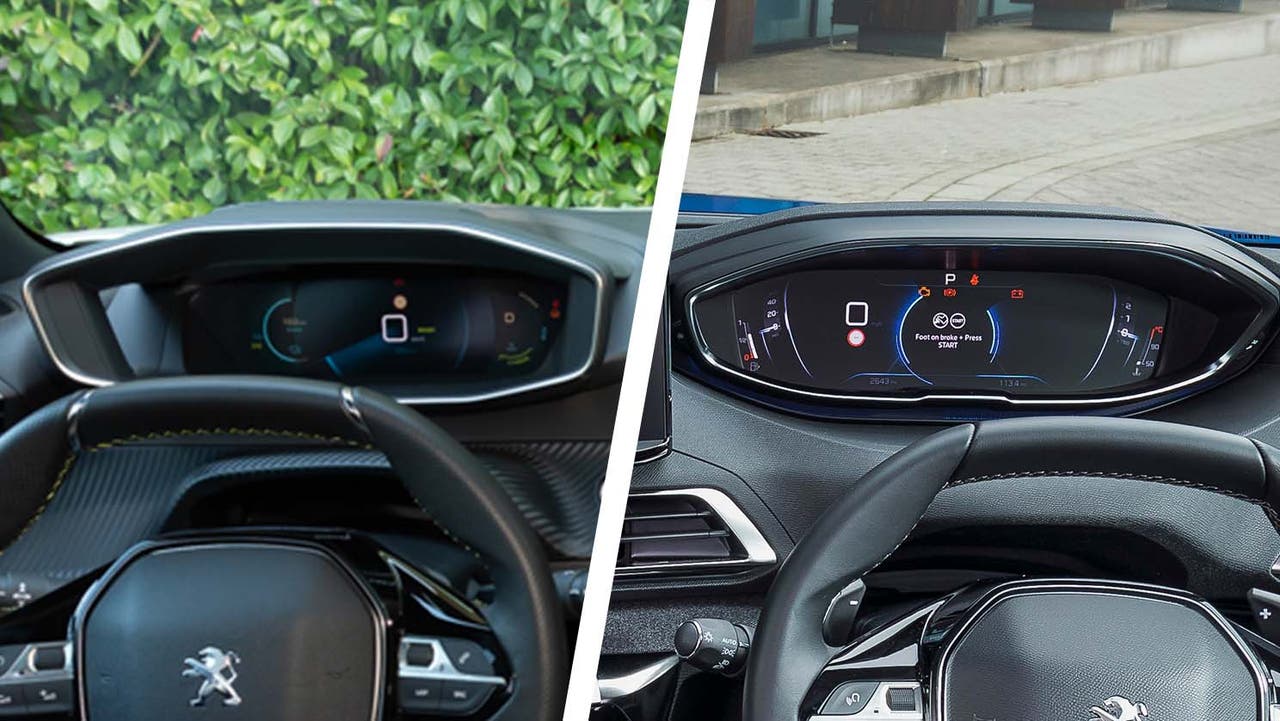 Peugeot has slimmed down the number of different engines it makes, which means many units are shared between the 2008 and 3008. In particular, the 1.2-litre turbo three-cylinder petrol and the 1.5-litre four-cylinder turbodiesel engines feature widely across both models. This is generally a good thing because both units are smooth and punchy although, in both cases, we'd recommend the manual gearbox because it's nicer to use than the slightly hesitant automatic gearbox.
Considering both cars share much of their engine lineup, it's worth bearing in mind that, whichever version you pick, the same unit will be both faster and more efficient in the lighter 2008. For example, with the 130hp 1.2-litre petrol engine – our pick of the range for both cars – you'll find that the 2008 will hit 62mph from a standstill in 8.9 seconds. That's 1.7 seconds faster than the 3008, and there's a similar boost to average fuel economy when you're not testing acceleration times.
The 3008 does, however, have an ace up its sleeve if you're on the hunt for the best performance and efficiency, because it's available with a choice of three potent plug-in-hybrid engines. These come in 180, 225 and 300hp outputs, with the latter able to sprint from 0-62mph in a hot-hatch-baiting 6.1 seconds. Put them in EV-only mode and they'll go for around 30 miles without firing up their engines but, if you make the most of both power sources, average efficiency can soar above 200mpg. The only downside to the 3008's PHEV options, however, is they're much more expensive than non-hybrid engines.
If most of your driving takes place around town and suburban areas, you might want to take a look at the purely battery-powered Peugeot e-2008. This EV is more expensive than its fuel-powered siblings but, if you can charge at home, it'll save you a bundle on your running costs. You get strong acceleration from the electric motor and a range in excess of 200 miles if you avoid motorway speeds.
Driving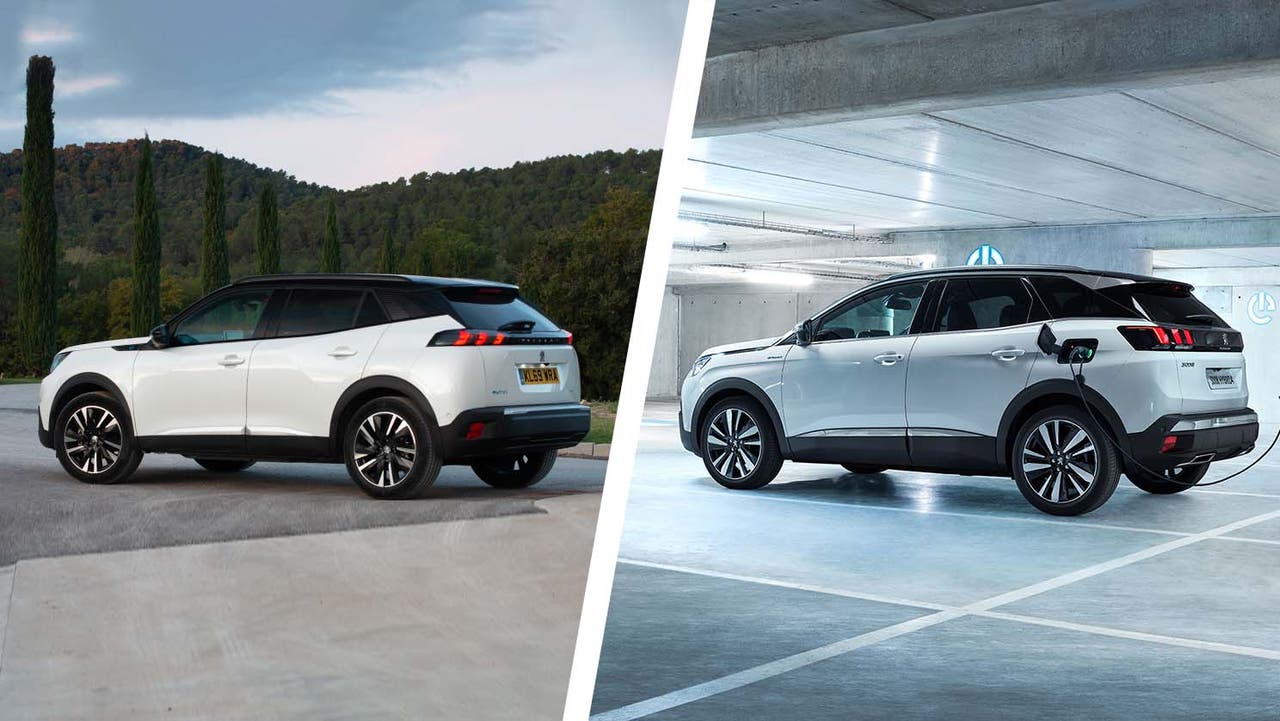 With the 2008 and 3008 scoring nearly top marks for styling and design, their on-road performance is comparatively their weakest area. Neither car drives badly but, at the same time, neither has the kind of handling sparkle or body control you'll find on the best in class. The steering on both, while accurate, has a slightly vague weighting and a brief delay between handling inputs and feeling an output at the front wheels.
There is a payoff to the soft suspension, however, in the form of decent comfort over bumps and rough road surfaces. You do feel the occasional jostle at town speeds but everything settles down as speeds increase, making both of these cars effortless long-distance cruisers. It's almost too close to call, but we think the 2008 is very slightly nicer to drive, with the 3008's extra weight dulling its responses a little more.
If you've not driven a recent Peugeot, it might take a little time to get used to the small steering wheel – especially if you're a very tall driver. However, once you've got your head around it, you'll start to appreciate the benefits it brings, with noticeably less hand flailing needed when performing tight three-point turns, for example.
Value and reliability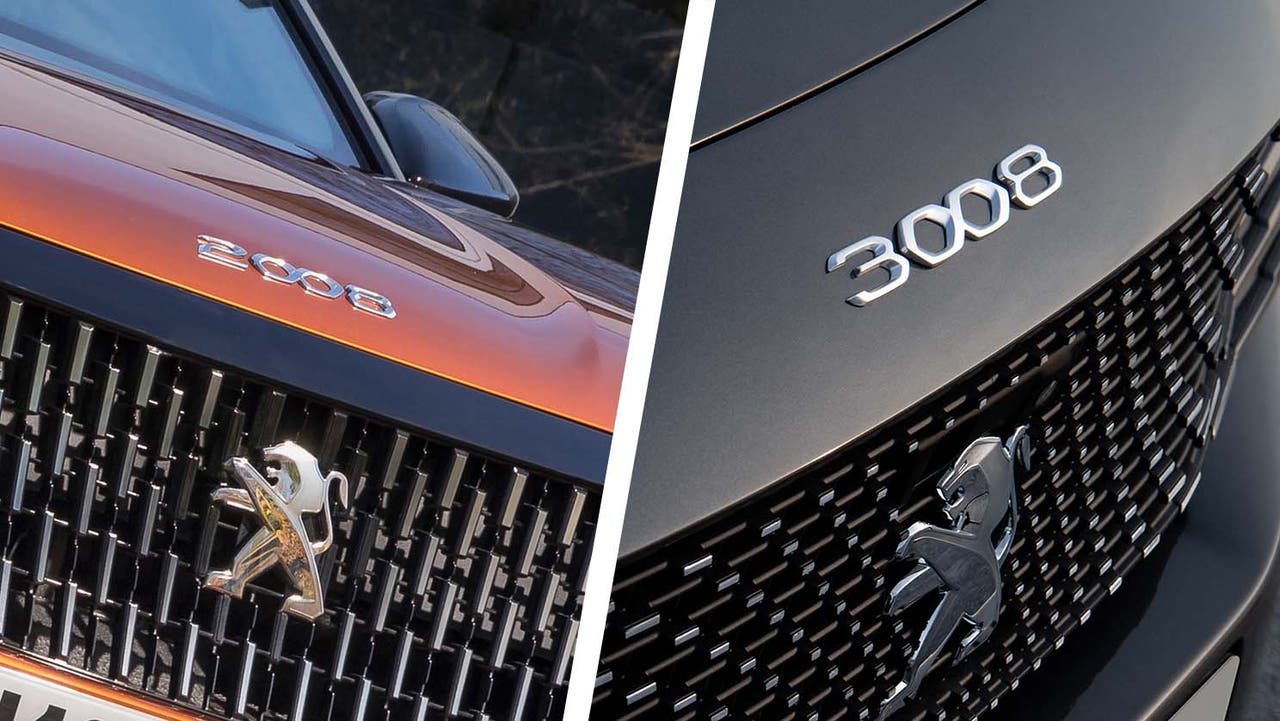 The short answer here is that the 2008 is smaller and cheaper than the 3008, so is a better-value choice. However, for the extra money, the 3008 offers a noticeably larger cabin that's easier to live with if you regularly carry tall rear-seat passengers or want more room to secure kids in their car seats. Plus, the 3008 has a larger boot that makes it a better choice if you need to carry pets or pushchairs. Choosing the right one for you is a question of whether the additional practicality is worth the larger price tag.
Surveys including JD Power and Warranty Wise have both indicated that Peugeot's reliability has improved noticeably in recent years. Both cars use parts and engines shared widely across Peugeot, Citroen and Vauxhall lineups, and replacement costs are comparable to other mass-market brands.
Which is best?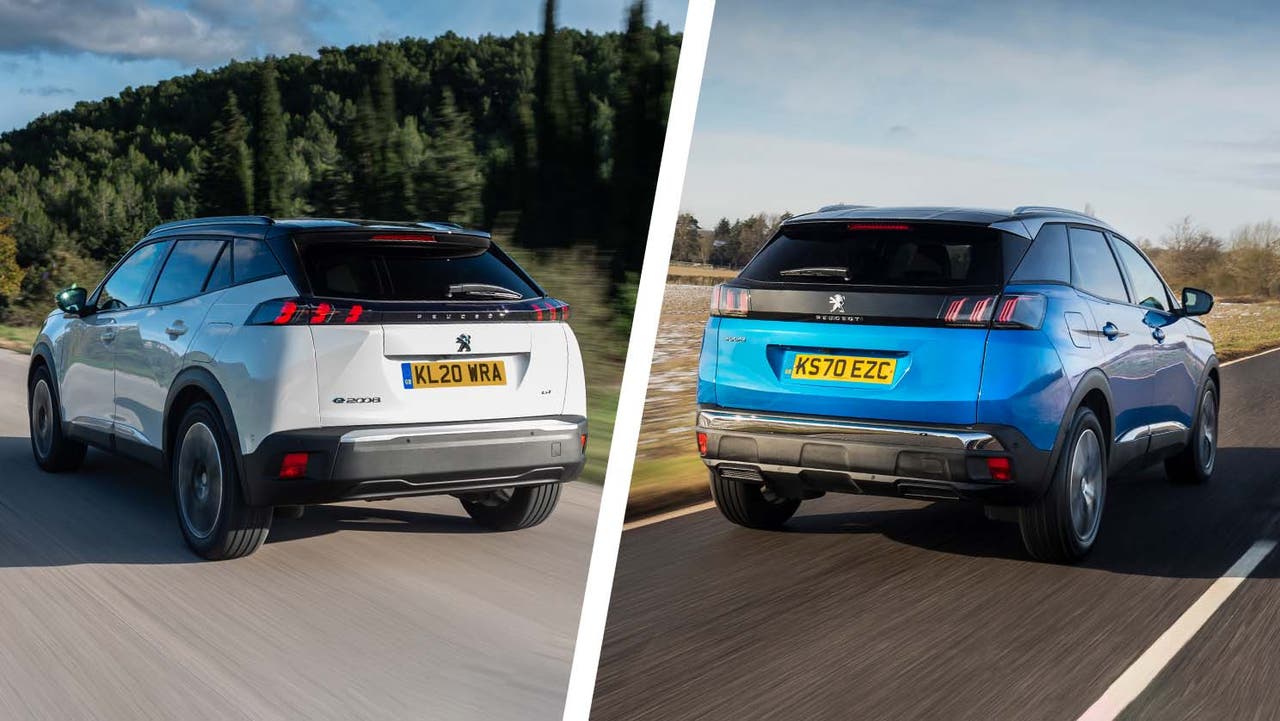 The substantial makeover that's swept the Peugeot lineup means the 2008 and 3008 are both among the most desirable options in their segments. Picking the cheaper 2008 doesn't feel like choosing a cut-price product. It has instant appeal thanks to a stylish design, plush materials, and an admirable focus on driving comfort – especially as every SUV seems obsessed with being 'sporty' these days.
You'll pay more for the 3008 but it has extra space where it counts the most – in the back seats and the boot – making it easier to live with if it's your family transporter. Plus, small details such as the larger digital driver's dials, extra trim in the cabin and larger centre console help the 3008 feel like a slightly more grown up car than the 2008. If your budget is a little larger, the 3008 also has the option of impressive plug-in hybrid engines with substantially better performance and efficiency.
Which Peugeot SUV do you prefer?
If you've made your mind up between these two temping SUVs, take a look at Motorpoint's selection of used Peugeot 2008 and used Peugeot 3008 cars. For more inspiration, check out our picks for the best used SUVs on sale.
Peugeot 2008 vs 3008 FAQs