NISSAN X-TRAIL Car Review
A proper 4x4
The original X-Trail established Nissan as a solid buy in the 4x4 sector but it became overshadowed by the arrival and ensuing success of the Qashqai.
But now, Nissan have brought a new rejuvenated version of the X-Trail out to sit just above the Qashqai. The new X-Trail has borrowed some of the sharper design cues of the Qashqai to replace its old boxy look and bring it bang up-to-date from a design point of view.
They've also made big improvements from a driving point of view with better handling and more refined diesel and petrol engines.
Where the X-Trail tops the Qashqai is better interior space for passengers and more luggage space, with 550 litres of boot. It comes with the option of front wheel drive and all wheel drive (I would expect most buyers to go for the full 4x4 option). The original X-Trail was a very competent if uninspiring machine, the new version is a much more stylish and accomplished all-rounder.
* Strong and stylish design * Bags of interior space * Economical diesel engines * A proper 4x4 *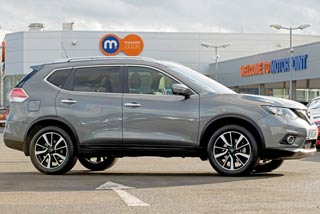 ---