KIA SPORTAGE Car Review
Kia Sportage
For me, the Kia Sportage was the model that signalled Korean cars had grown up and that Kia were a brand to be taken seriously.
The Kia Sportage's ace was its sleek premium styling. This was a crossover that would not have looked out of place with an Audi badge on the grille, making it one of the stand-out models in the marketplace.
Not only does the Kia Sportage have eye-catching exterior styling, it was just as big a breakthrough on the interior - where it had a much higher level of quality trim and fabrics than had been experienced from Korean car brands. The cabin is also smartly laid out with user friendly controls that add to the Sportage's feel good factor.
The drive package is competitive making it a crossover that's easy to drive. You also have the welcome option of two or four wheel drive.
* Top marks for style * Nice cabin*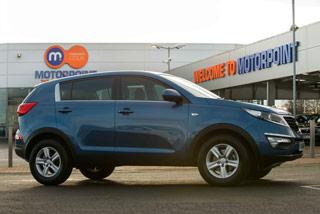 ---