Pride drives motorists to wash their cars reveals new Motorpoint poll
22 March 2019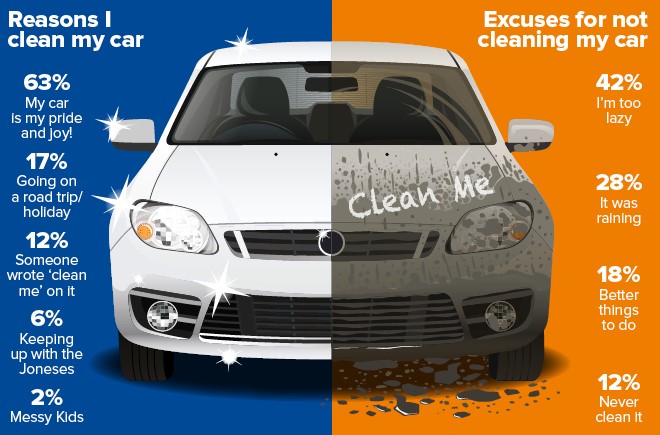 Photos © 2022 Motorpoint
One in ten Brits regularly wash their car because someone writes 'clean me' on them according to a new poll from Motorpoint
"Although many of us try to avoid it, the truth of the matter is cleaning our cars is an integral part of maintenance, helping to retain their looks as well as value"
A new online survey of 4,745 motorists by the UK's leading independent car retailer found 12.2 per cent of people got out their bucket and sponge as a result of a less than subtle hint written on the car by passers-by.
Overall, the main motivator for people washing their cars was their car itself, with 63.5 per cent of people keen to keep their 'pride and joy' clean at all times, followed by a desire for their car to look its best because they were 'going on a trip' (16.9 per cent), the aforementioned 'clean me' and making sure they are 'keeping up appearances' with their neighbours (5.6 per cent).
Top 5 Reasons for Cleaning a Car
• It's My Pride And Joy
• Going On A Trip
• People Wrote 'Clean Me' On My Car
• Keeping Up With the Jones'
• Messy Kids
And, when it comes to excuses for not cleaning their cars, the clear favourite among Brits was laziness (42 per cent) followed by the equally dubious 'it was raining' (28 per cent), 'I had something better to do' (18 per cent) and the one you can't argue with, which was 'I never clean it' (12 per cent).
Eleanor Shakespeare, Marketing Director at Motorpoint, explained: "It was fascinating to understand what motivates people to clean (or not) their cars. For many Brits their cars, like their homes, are their pride and joy and it is all about making them look good at all times while for others it was about keeping up appearances and making sure their cars look as clean as their neighbour's. What was really interesting was the number of people who were inspired to wash their cars after someone wrote 'clean me' on their boot. Although many of us try to avoid it, the truth of the matter is cleaning our cars is an integral part of maintenance, helping to retain their looks as well as value."
Founded in 1998 Motorpoint has a network of 12 branches across England, Scotland and Wales which stock over 7,000 low mileage nearly new cars from over 30 different manufacturers – all available to drive away same day – and backed by Motorpoint's Price Pledge. Launched in November 2018, Motorpoint will refund the difference to any customer within seven days of their order if they find a like for like car from a competitor. As an added bonus, it will also give the customer £50 worth of Amazon vouchers to spend.