Not sure how to clean the inside of your car? From the windscreen to the seats, we're here to help you brush up on the best car interior cleaning tips
Chances are, you spend a lot more time inside your car than looking at its outside. So unless you like wallowing in dirt, make sure to clean your car's interior as often as you can. It can seem like a daunting or pointless task – especially if you know the car's going to get dirty again soon – but a bit of car care goes a long way. Keeping on top of it makes it easier to clean in the future and can even help keep your car's residual value because dirt can cause interior materials to degrade over time.
In this guide, we'll go through the best way to clean a car dashboard, how to clean car seats – whether they're cloth, suede or leather – and the best way to clean the inside windows. With a few inexpensive products and a spare hour, you can get a clean car interior without having to resort to an expensive hand car wash or valet service.
Browse our used car selection, all with low mileage and warranty cover included.
Quick six-step guide to cleaning your car interior
Declutter and remove any rubbish
Remove and clean floor mats
Vacuum upholstery with a soft brush attachment and then move on to carpets and boot
Clean interior glass including windows and rear-view mirror
Clean dashboard and interior trim
Clean car upholstery
How to clean floor mats
Once you've decluttered and taken all the chocolate bar wrappers out of the door bins, you can start cleaning. Clean the floor mats – if you have them, of course – before doing anything else so the mats have time to dry. Start by pulling them out and vacuuming them to remove crumbs and dust.
Rubber mats can be hosed down or, for a more thorough clean, scrubbed with warm soapy water. With carpet floor mats, use a carpet or upholstery cleaner to scrub the dirt off. Once you've scrubbed and rinsed the soap off, the mats can be hung up or placed on a clean tarpaulin to dry.
Best way to clean inside car windscreen and windows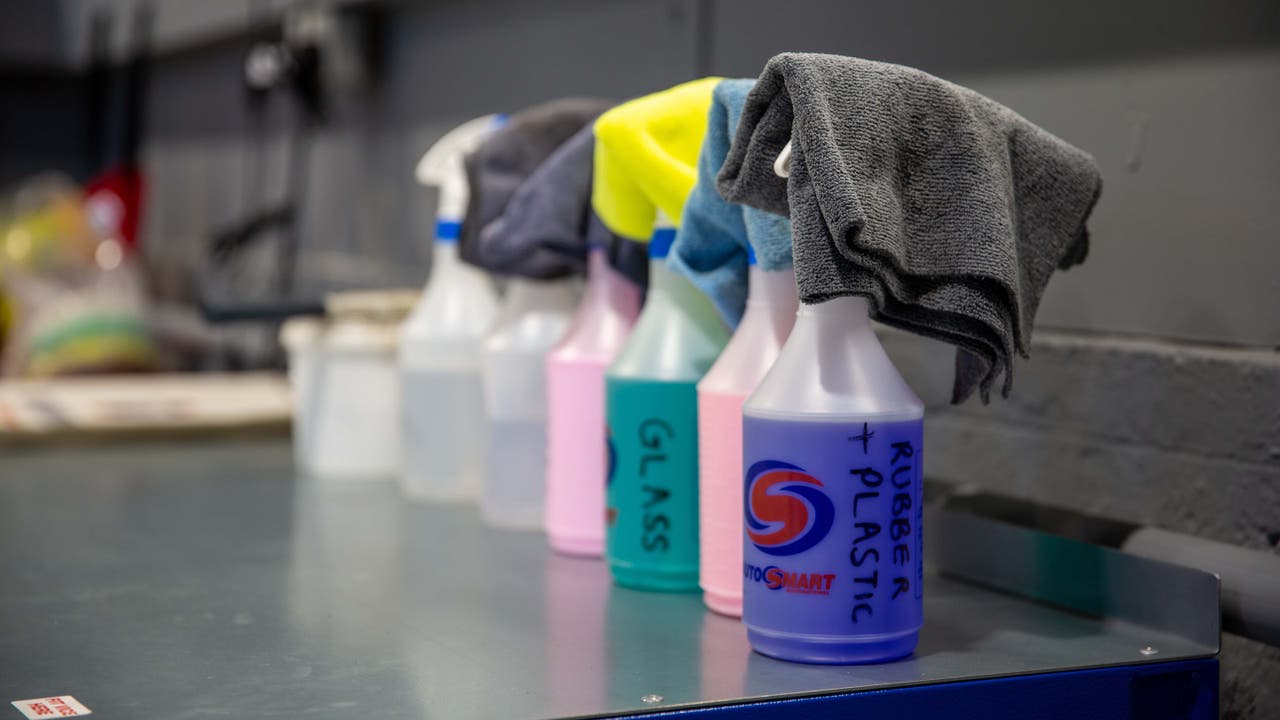 Car interior glass can get surprisingly dirty. In sunny weather, a smeary windscreen can be hazardous, but a quick wipe with a microfibre cloth and some glass cleaner will give you clarity again. To avoid overspray, spray the glass cleaner directly onto the cloth. Wipe in small areas at a time to make sure you don't miss any of the glass. A second application may be required if the glass is really dirty. Then do the same on the interior windows and the rear-view mirror.
Glass cleaner can also be used for touchscreens, instrument cluster displays, head-up displays and even gloss black trim.
How to clean a car dashboard
To clean car interior plastic and vinyl trim, all you'll need is an interior cleaner and another clean cloth. If the dashboard is dusty, wipe it with a duster or a cloth before applying the interior cleaning product. At this point, you might also want to run disinfectant wipes over interior trim.
You'll need to check the instructions to see if you can use your interior cleaner on major control points like the steering wheel – some products aren't suitable for these areas as they may leave a slippery sheen. You need to use products aimed at the automotive market, as some household cleaners contain harsh chemicals that can damage in-car surfaces.
Don't forget to clean all your interior trim, including buttons and dials, door trim, the plastics by your feet, around the handbrake and gear lever, in cupholders and storage cubbies, and between the seats and the doors. Car interior cleaner can usually be used on the areas around your rear seats and boot as well. Take care not to scratch or damage delicate areas like dashboard buttons.
How to clean car seats
Once you've vacuumed the seats to remove crumbs and loose dirt, you can clean the upholstery. You need to consider what material(s) are used in the upholstery, as leather, suede and fabric all need particular products and methods.
How to clean fabric car seats
Fabric seats are hardy but can stain, so you need to have a suitable upholstery cleaner in your car cleaning collection. Apply as per the instructions on the product, but we'd advise you to clean the whole seat, not just the stained area – otherwise it can make the area you've cleaned even more noticeable. Dip a microfibre cloth in water and wipe down the upholstery. Don't use too much water, though, as soaking wet seats can lead to mould appearing.
How to clean leather car seats
Leather seats need a specific leather cleaner, and it must be formulated for use in cars. Often, leather seats are easier to clean than fabric seats, usually requiring no more than a wipe over with a suitable cleaning product. After cleaning the leather, you should use a leather conditioner to keep it supple and in good condition. You're not looking for a shiny finish on leather seats – clean, protected leather should have a duller sheen instead.
How to clean suede car seats
Suede and suede-like upholstery is now quite common in sporty cars, and you might see it referred to as Alcantara, Microsuede or several other brand names. It's hard-wearing but needs gentle and regular cleaning to keep it at its best – neglected suede upholstery can feel hard and grainy rather than soft, and it won't look very pleasant either.
To clean suede and suede-style upholstery, use a suitable fabric cleaner and a soft brush. Spray a little cleaner on the brush and a little on the fabric, and brush in small areas until you get a uniform lather. Wipe off with a clean microfibre cloth and let it air dry.
How to clean vegan leather and leather-effect car seats
In a growing number of new cars, including Tesla, Mercedes and Polestar, leather is out and a vegan alternative is in. While these materials usually feel like leather, they're synthetic and man-made. The good news is that they're often very easy to clean – simply use warm water and a cloth. But, like real leather, vegan leather can crack if it dries out too much.
Read about the Motorpoint Quality Standard and consider our Williams Paint Protection to protect the exterior and interior of your car.