Fancy a practical, great-value Skoda SUV? Well, that might be a bit of a problem…
You see, every SUV in Skoda's lineup is incredibly spacious and competitively priced – so how do you know which one you should choose?
Assuming you don't need the Skoda Kodiaq's seven seats or extra cost, which of the brand's two five-seat SUVs should you splash your cash on? The slick and compact Skoda Kamiq is easily spacious enough for most family buyers, but is it worth stretching further for the Skoda Karoq's even more spacious interior? Let's find out.
Skoda Kamiq vs Skoda Karoq compared
Skoda Kamiq
Skoda Karoq

Pros:

Less expensive
Feels smaller and more car-like
Quicker and more efficient like-for-like

Pros:

Huge, tall boot
Loads of rear headroom
Calmer and more grown up behind the wheel

Cons:

Can't quite match Karoq's enormous boot
Less rear headroom
Ride quality is a touch firmer

Cons:

Costs more to buy and run
Larger size make it a bit harder to park
Less performance from the same engines
Styling and design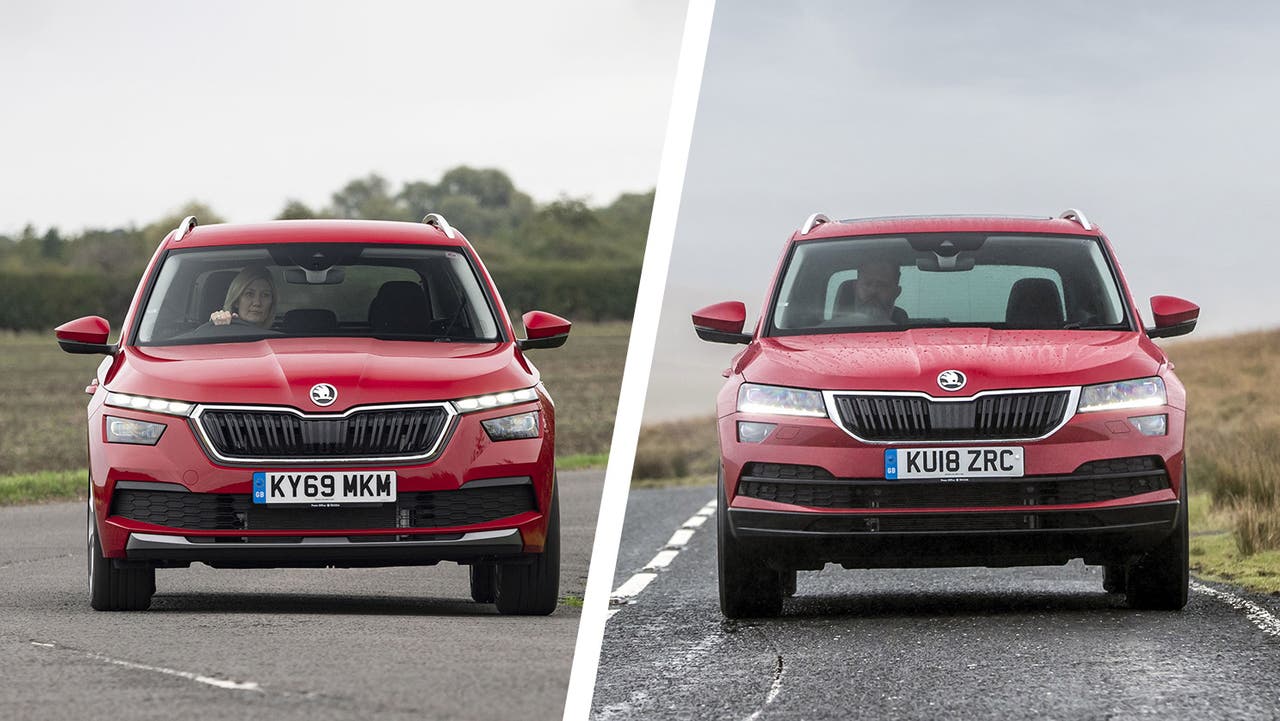 Skoda lineup has a clear family resemblance, so there's a good chance you'll spot the size difference between the Kamiq and the Karoq before the subtle styling changes. Both cars have a moustache-like front grille with distinctive twin-bar headlights either side. A fun detail exclusive to the Kamiq is crystal-like lines etched into its headlight and brakelight units – these catch the light when the car's on, giving it a little extra sparkle.
Looking at the two cars in profile makes the size difference more obvious. The Karoq is noticeably taller in the metal and has a more upright rear end than the Kamiq, which has a more slanted rear windscreen similar to a hatchback. Otherwise, both stick strongly to Skoda's function-over-form philosophy, with simple, understated styling that isn't as flash as their mechanically related siblings from SEAT and Volkswagen.
The Karoq received a subtle facelift for 2022. Updates include slightly restyled head and brakelights, and a handful of minor changes to infotainment equipment, with top-spec cars gaining larger digital driver's dials as standard.
Interior and practicality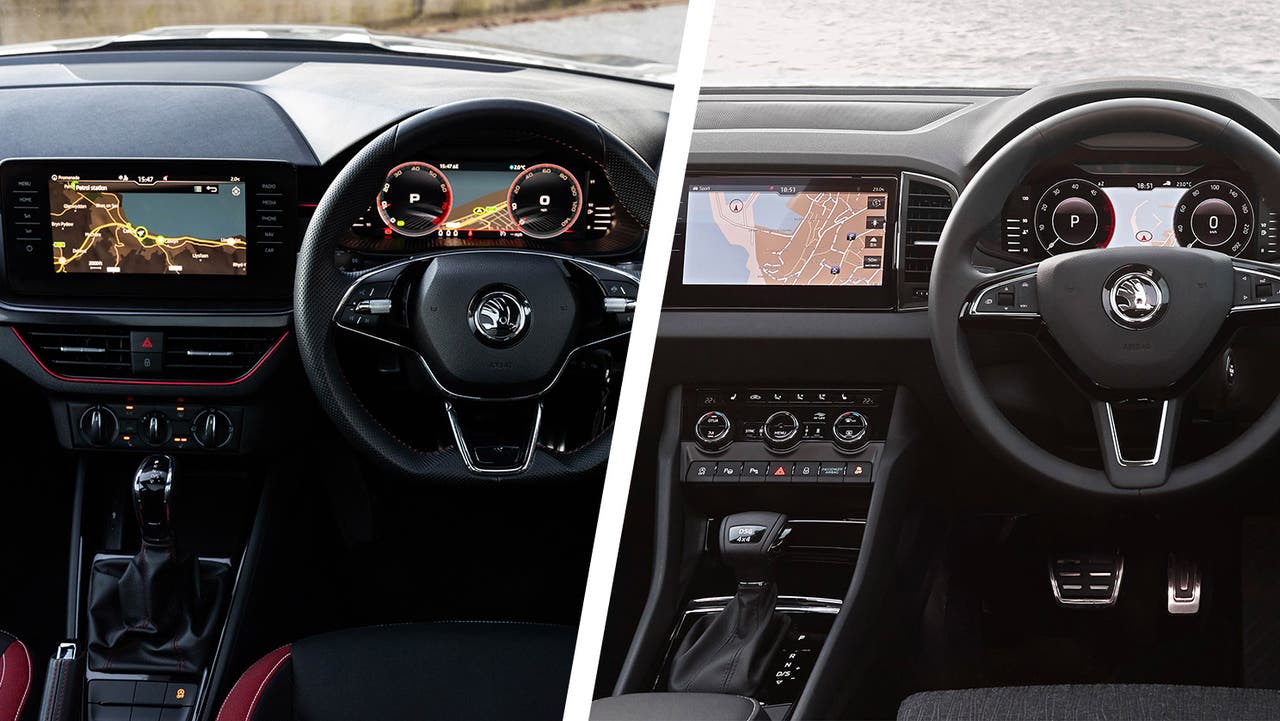 Skoda's interiors have few frills but lots of space, and that's the lasting impression both the Kamiq and Karoq leave. As the slightly newer car, the Kamiq's dashboard is a little more sculpted, with a pod mounted on top for the infotainment system against the Karoq's traditional dash-mounted screen. We also like the way the Kamiq's 'floating' door handles feel in the hand, recalling cars that are several times more expensive. Otherwise, the cabins of both cars are simple, solid and ergonomic, with physical knobs and switches for the climate controls.
The infotainment systems are also fairly easy to use, without some of the graphical clutter you get in rivals systems. Skoda also scores points for including obvious shortcut buttons to quickly jump between key functions. All Kamiq and Karoq models from SE trim and up include Apple CarPlay and Android Auto as standard, letting you use your smartphone's mapping and entertainment apps on the move.
To declare either car the winner when it comes to practicality would be missing the point. In their respective classes, both the Kamiq and Karoq are pretty much the most practical cars you can buy. The Kamiq's footprint is within a few millimetres of a Volkswagen Golf but there's space for six-footers to sit comfortably in both the front and back rows – and this also translates to easy access if you're securing kids into their car seats. All this space is backed up by a 400-litre boot that's taller, deeper and wider than almost all rivals in this class.
With such a strong score from its smaller sibling, what does the Karoq offer that the Kamiq doesn't? Somehow, Skoda's managed to squeeze even more space into the bigger SUV, despite its footprint being only millimetres larger than a Ford Focus. Rear passengers get even more legroom and elbowroom, making it less of a chore to seat three across the back seats, and there's a noticeable increase in rear headroom that makes the Karoq feel more SUV-like. The 521-litre boot obviously outstrips the Kamiq's cargo bay, and has noticeably more height available thanks to the Karoq's boxier body shape – making it a better choice if you're ferrying a canine companion.
Engines and performance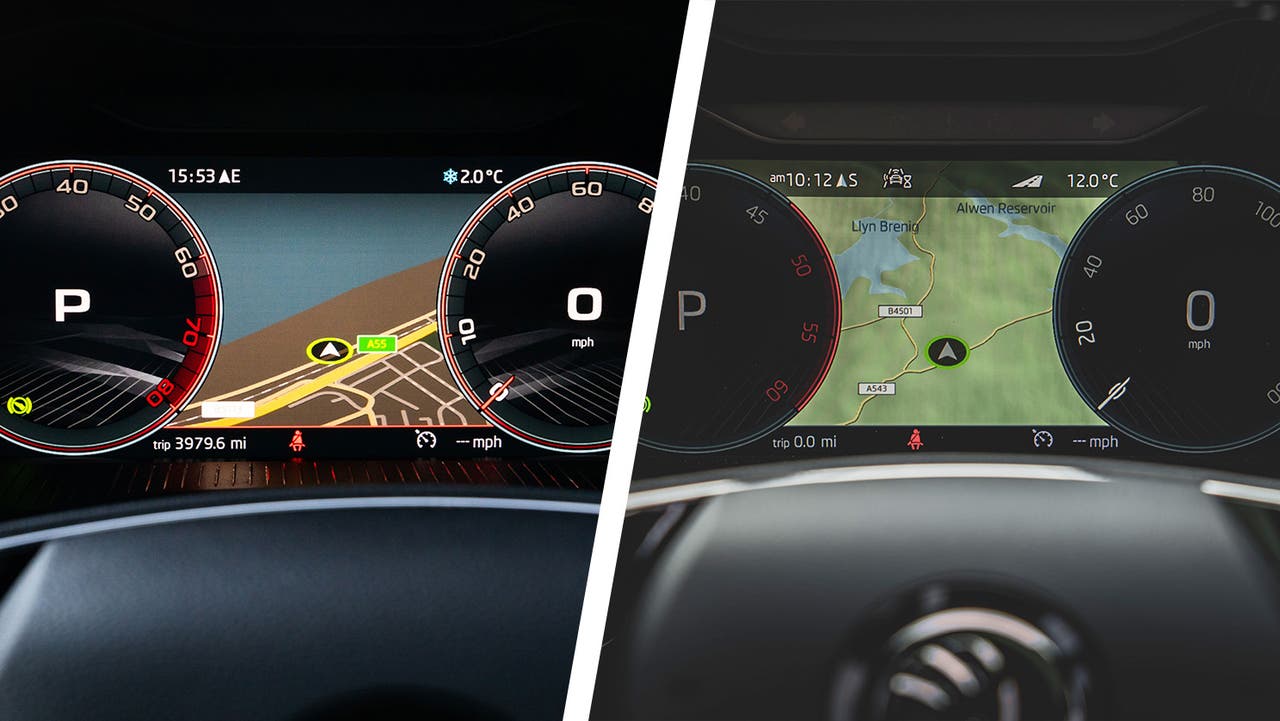 Evidently, both cars appeal strongly to the head rather than the heart with easy usability and class-leading practicality. This sensible approach continues under the bonnet, so drivers after a little excitement when they put their foot down might want to look elsewhere.
The good news, however, is that none of the engines are bad choices. You might think just one litre and three cylinders isn't enough for these sizeable family cars but, thanks to some turbo wizardry, the entry-level 1.0 TSI in either the Kamiq or the Karoq has enough grunt to get you up to motorway speeds without a fuss. It also remains hushed even if you accelerate hard, helping make the cabin more relaxing.
Head further up the range and more power is available, which allows either car to zip up to 70mph with even less fuss. Considering the more powerful 1.5 TSI still isn't extremely fast in either car, however, we're not convinced it's worth the upgrade over the basic 1.0 TSI. Diesel power is available in both but is far more common among Karoq models, with the majority of Kamiqs powered by petrol.
Driving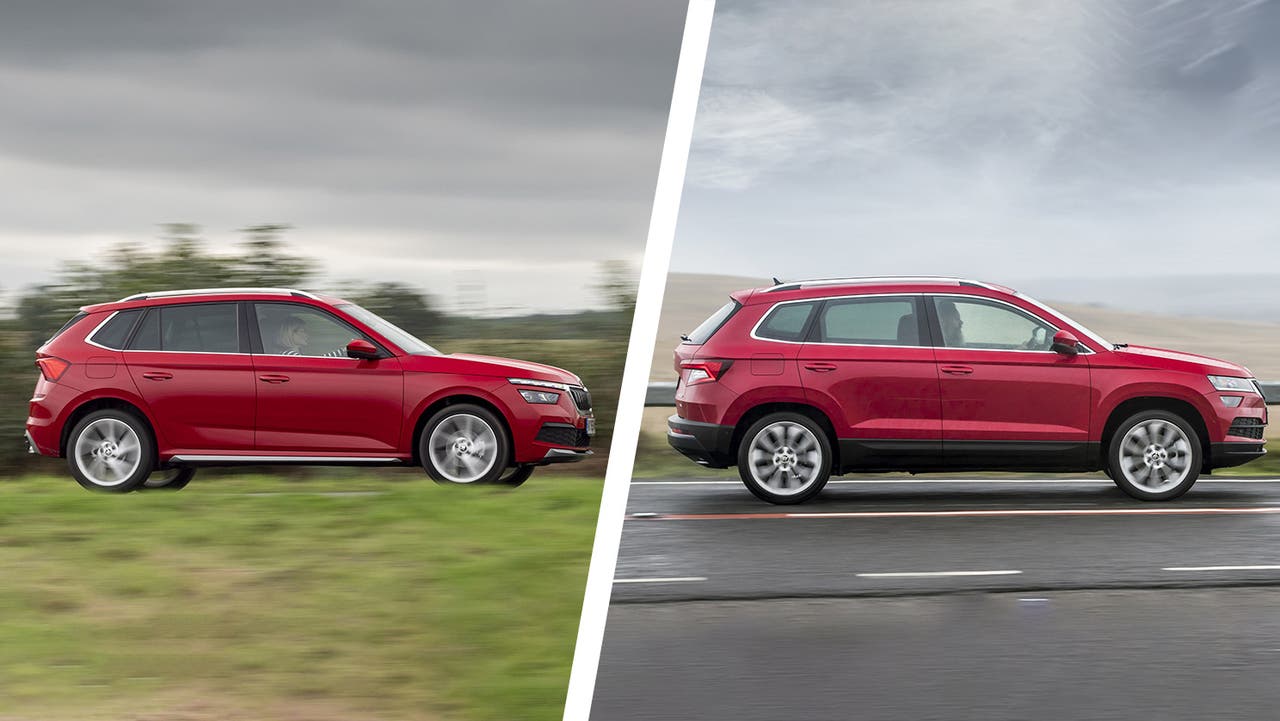 Just like the engine range, the driving experience in these cars is designed to chill rather than thrill. The controls are light and accurate, making it easy to pull off smoothly and stay centred in your lane without lots of small corrections. Excellent visibility from their boxy bodies and large windows also contributes to the sense of confidence you feel in both cars.
If you were to drive the Kamiq blindfolded – which isn't something we'd suggest – you could easily think it was a normal hatchback like the Skoda Fabia or Skoda Scala. There's minimal body roll and a surprisingly agile front end that makes it easy to place the car on the road. The suspension is a little firm but absorbs bumps with lots of sophistication so the experience is never uncomfortable – it also avoids the undulations you'll find in more softly sprung rivals like the Citroen C3 Aircross.
In many ways, the Karoq behaves similarly behind the wheel. It's always composed, even over rough road surfaces, and is extremely easy to drive. As a result, you'd only notice in a side-by-side comparison that the Karoq is a little softer than the Kamiq, which does means it rolls a little more in corners. However, the trade off is even greater comfort, with the Karoq gliding over speed bumps and potholes, and transmitting far less of the impact to the passengers on board.
Value and reliability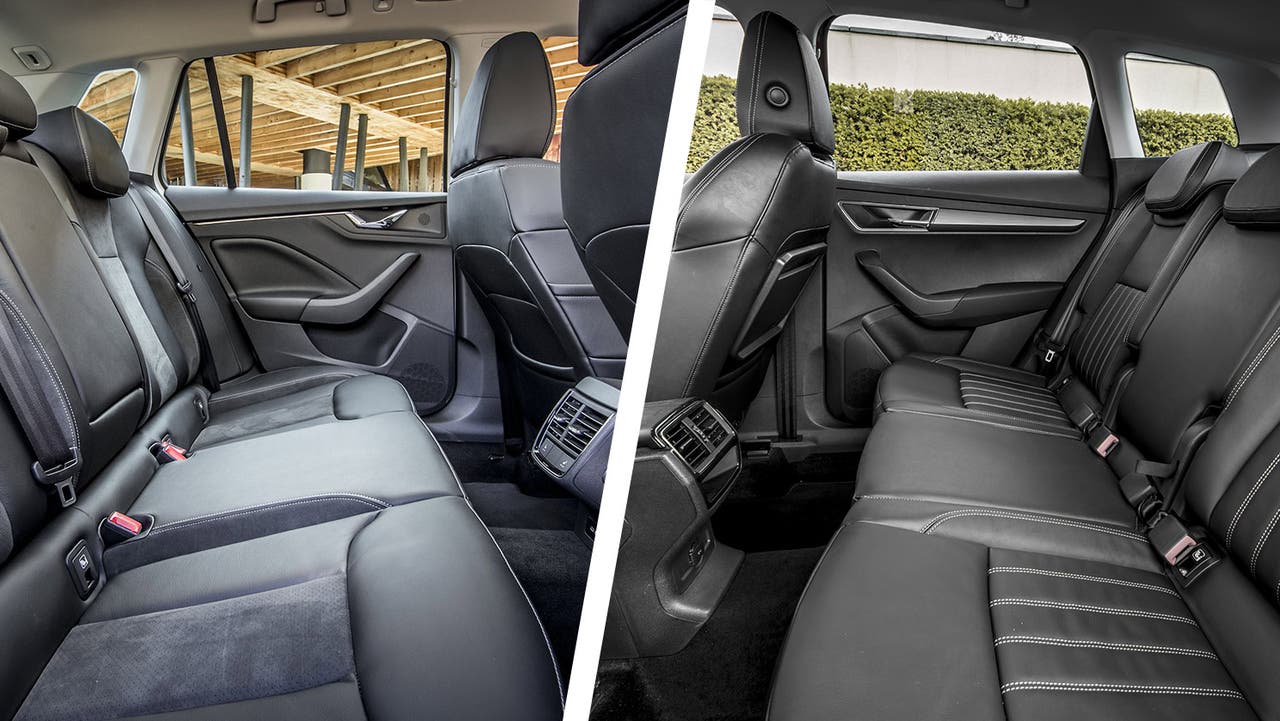 If you're looking at used examples of either car from the last few years, a budget between £15,000 and £20,000 means you'll have lots of choice available. However, the same money will almost always buy you a newer or higher-spec Kamiq than it will for a Karoq. On finance, the difference can often come down to just a few tens of pounds per month either way, so it's worth comparing the two closely on paper.
Thankfully, buying either car is easy to justify because both represent excellent value for money when compared to most of their rivals. Your priorities might mean you'd rather buy a slightly older or higher mileage Karoq in exchange for its better practicality, or you might prefer a newer Kamiq with more equipment for the same money because you don't need the extra space.
Of all the brands under the Volkswagen Group umbrella, Skoda tends to score the highest in reliability surveys. This is partially because, as the Group's budget-focused lineup, Skodas often have fewer on-board features, which means there are fewer things that could go wrong. Like all cars, regular servicing and picking up an extended warranty are easy ways to calm your reliability worries.
Which is best?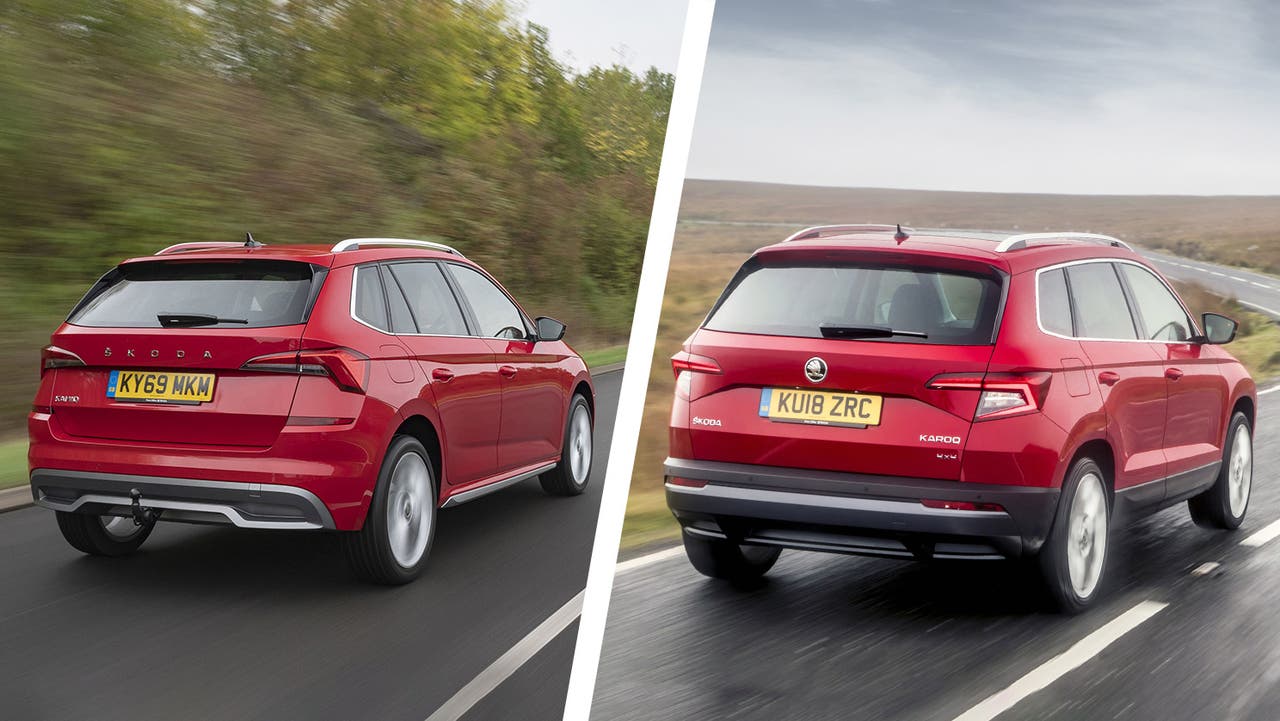 This is a really tough choice because both the Kamiq and Karoq are excellent cars in their own right. You're unlikely to be disappointed with either of these practicality family wagons parked outside your house.
The Kamiq is smaller and, thus, easier to live with in the city. And your budget will buy a newer or better-specced Kamiq than it will for a Karoq. Assuming you don't need the outright space advantage the Karoq brings, the Kamiq is more than enough family car for almost any owner.
By the same measure, however, the Karoq is a full step up in terms of space. If your family is very tall, you have bulky hobbies or have a family pet who's coming along for the ride, having that extra practicality can prove invaluable. You might not get quite as much equipment as a similarly priced Kamiq, and may have to cope with an older numberplate but, for some buyers, the trade off is worth it.
Browse Motorpoint's selection of used Skoda Kamiq and used Skoda Karoq cars for sale. To see some choices beyond the Skoda stable, check out our picks for the best used SUVs on sale.