Audi now makes SUVs in several sizes, and that's before you even start looking at its coupe-SUV lineup. At the compact end of the range, you'll find the Q2 and Q3 SUVs. Both models aim to distil the Audi ownership experience – top-notch tech, a posh cabin and an effortless drive – into a small, city-friendly package that's still practical enough to haul extra passengers or luggage if the need arises.
With the Q2 opening the Audi SUV lineup and the Q3 following it, it's no surprise that the Q3 is both larger and more expensive on a like-for-like basis. So the question becomes, should you stretch to buy the larger Q3, or can you save money with the Q2 and get mostly the same experience? Keep reading to find out.
Audi Q2 vs Audi Q3 compared
Audi Q2
Audi Q3

Pros:

Cheaper to buy
Slightly quicker and more efficient
A little more fun to drive

Pros:

Larger cabin and rear seats
Bigger boot
More comfortable

Cons:

Not as comfortable
Less rear-seat and boot space
Older infotainment system

Cons:

Not as fast or efficient
Feels like a taller, heavier car
More expensive to buy
Styling and design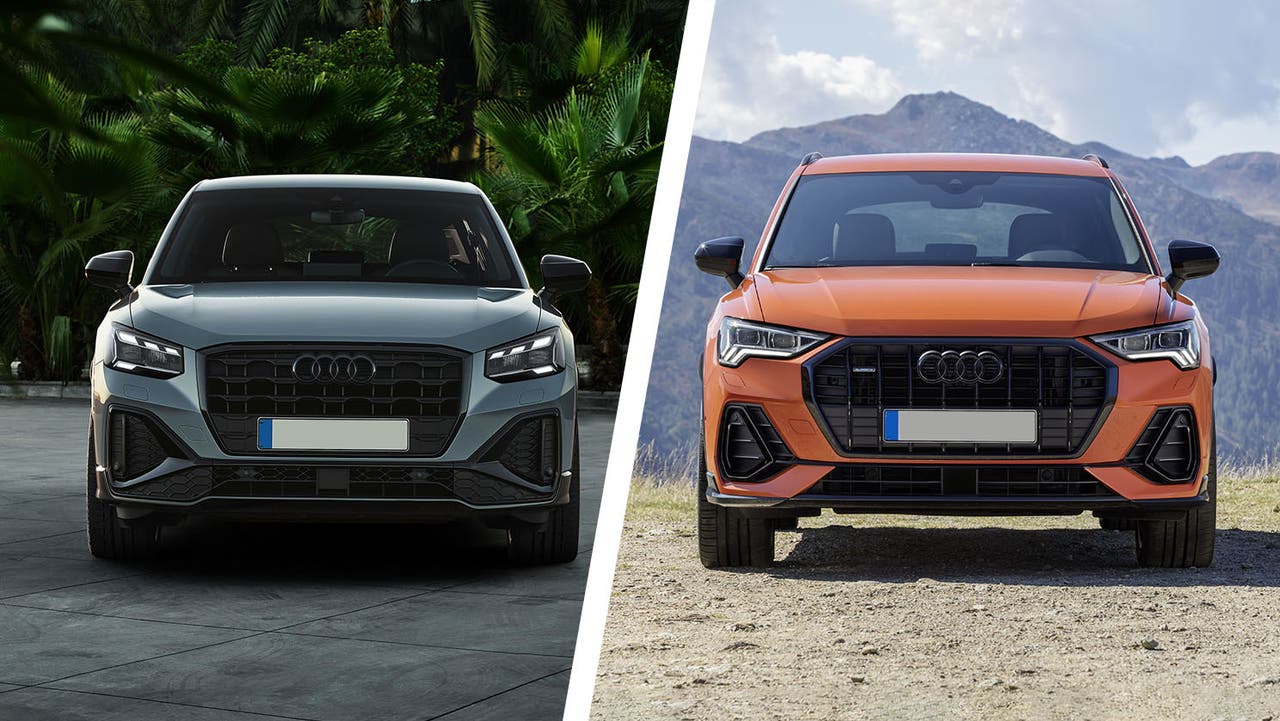 Comparing the Q2 and Q3 next to one another, there are more similarities than differences. Both feature Audi's brash front grille flanked by mean-looking headlights ahead of muscular, faceted bodywork. Each also has flared haunches over the wheels and deep styling lines down the side to help disguise the extra bulk these models carry over their hatchback siblings.
Based on styling alone, if we had to pick a favourite, it'd probably be the Q2 by a hair. Its more sculpted body and contrasting colour panel behind the side windows makes it look a little more athletic in person, while the Q3 looks more like a traditional SUV. The Q3 is hardly unattractive, however, with all the hallmarks of Audi design, and is the only one of the two that comes with the option of a Sportback body style, which gives the Q3 a more dramatic coupe roofline without giving up practicality.
Interior and practicality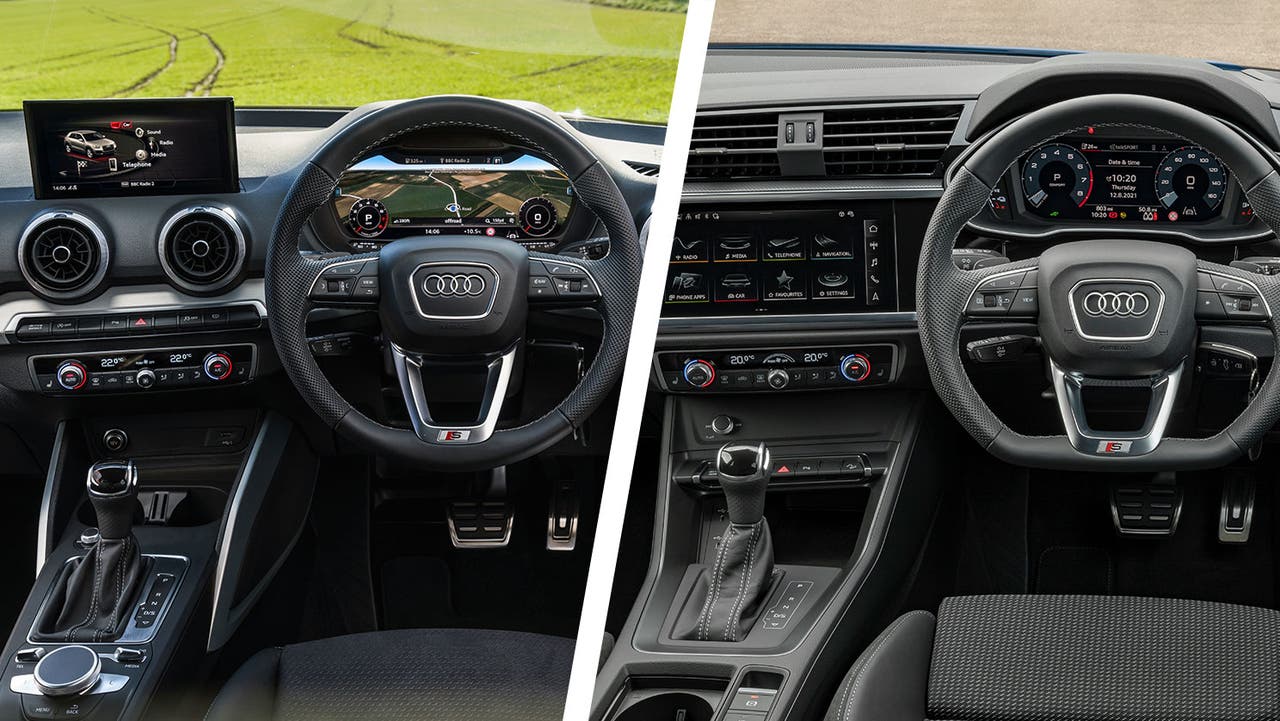 Audi has become known for near-flawless interior quality and both the Q2 and Q3 demonstrate this to great effect. The quality of materials used throughout the cabin is extremely high, with special attention paid to the surfaces and controls you touch most often. On-board technology is impressive, too, with both cars featuring responsive infotainment systems and Apple CarPlay/Android Auto fitment becoming standard on both from around 2019 onwards.
The Q2 has a slightly smaller cabin than the Q3 thanks to its less bulky body, but four adults should still be able to fit in relative comfort. Squeezing three passengers across the Q2's rear row is possible for shorter journeys – and certainly easier than a comparable A3 hatchback – but the Q3 is a better choice if you regularly use the rear seats. Q3 rear passengers get more space to stretch out and there's more room for the middle-rear passenger's feet. Boot space is decent in both cars but, again, the Q3 bests the Q2 with storage to spare, even after swallowing two large suitcases.
While styling is subjective, we think the Q2 has a slightly more attractive interior and dashboard design than the Q3 – especially on facelifted models from 2021 onwards. High-spec Q2s get the option of cool ambient lighting hidden behind dashboard panels, and we prefer the placement of the Q2's central infotainment screen, which sits higher up and closer to your field of view than the Q3's less prominent screen. However, the Q2 has an older infotainment system which isn't touch-operated, so the Q3 feels slightly more up-to-date in this regard. You'll find Audi's high-tech Virtual Cockpit digital dashboard available on both cars.
Engines and performance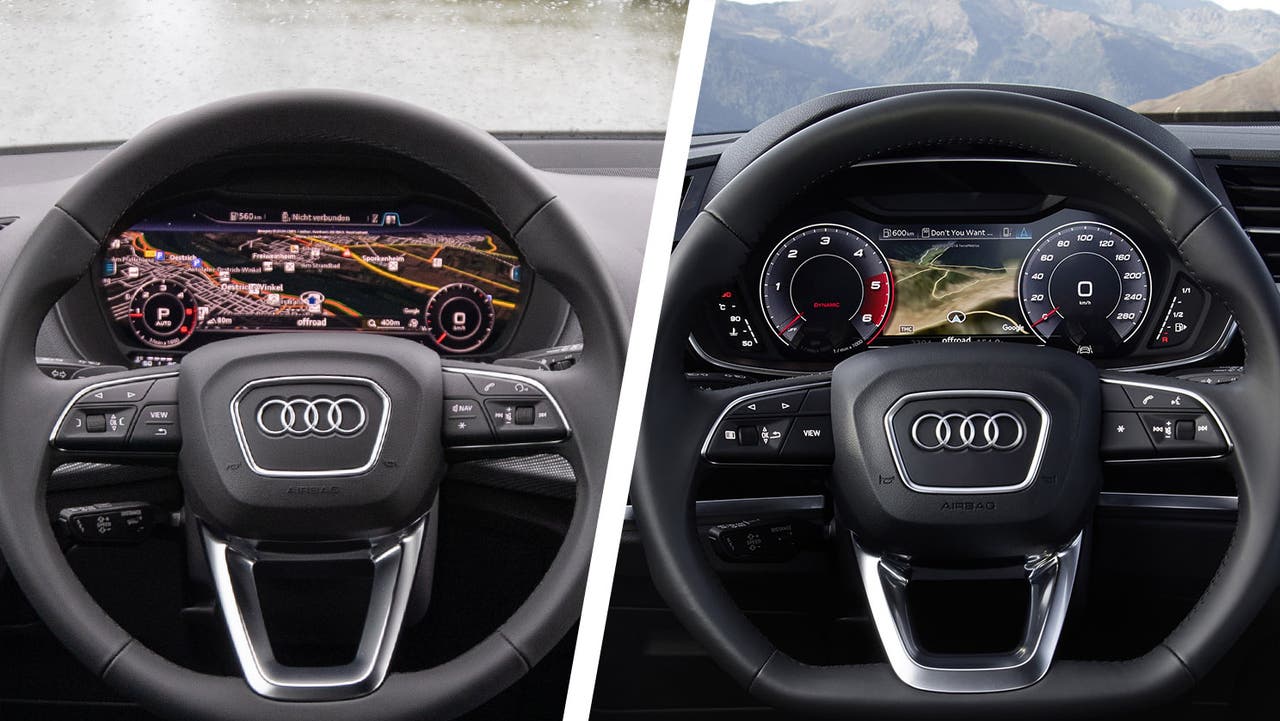 Because the Q2 and Q3 hail from the same family, they actually offer many of the same engine choices. Both can be specced with 1.5 or 2.0-litre turbo petrols, or a 2.0-litre diesel. The smaller, more affordable Q2 also has the option of a 1.0-litre turbo petrol or a 1.6-litre diesel, which offer the lowest prices in the lineup. Conversely, the larger, more expensive Q3 gains the option of a more powerful 2.0-litre petrol with 230hp for near-hot-hatch performance.
All engine options for the Q2 and Q3 are smooth and reasonably powerful, although we'd avoid the entry-level Q2 engines if you do a lot of motorway miles. On a like-for-like basis – for example, when both cars are fitted with the 150hp 1.5-litre petrol – the Q2 is a little faster and more responsive because it's noticeably lighter than the Q3. Whichever model you pick, we'd suggest selecting the optional S Tronic automatic gearbox, which suits the easygoing driving experience in both cars.
Performance fans also get an option across both lineups, with both making use of Audi's grippy quattro all-wheel-drive system. The SQ2 borrows the 300hp 2.0-litre turbo petrol from the Volkswagen Golf R and can blast from 0-62mph in just 4.9 seconds. However, ultimate bragging rights go to the RS Q3, which uses the Audi RS3's 2.5-litre five-cylinder turbo petrol engine, giving a mighty 400hp and completing the 0-62mph sprint in just 4.5 seconds.
Driving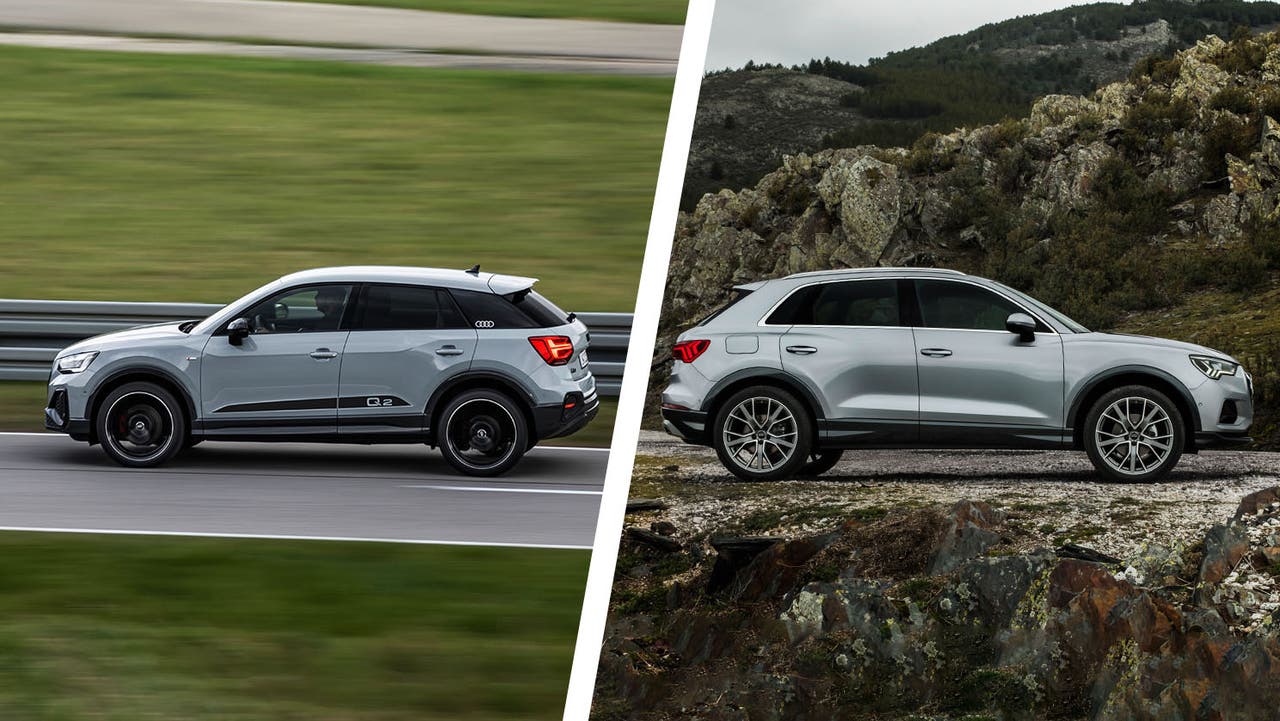 On the move, the Q2 slightly edges the Q3 for driving pleasure. It's a little more agile and stays more flat through corners, almost enough to fool you into thinking you're driving a lower, lighter hatchback. However, with the Q2's extra athleticism comes a slightly firmer ride than the Q3 – it's never jarring or uncomfortable, but it doesn't quite waft with the same grace as the larger car.
The Q3's slightly greater comfort makes it a little more relaxing to travel long distances in, with more isolation from the road surface beneath you. However, keen drivers will notice that the ride quality comes at the expense of handling poise, with the Q3 feeling taller in corners and exhibiting more body roll.
These differences are pretty marginal, however, and both are impressively easy to drive, with light, accurate controls and good forward visibility thanks to the raised driving position.
Value and reliability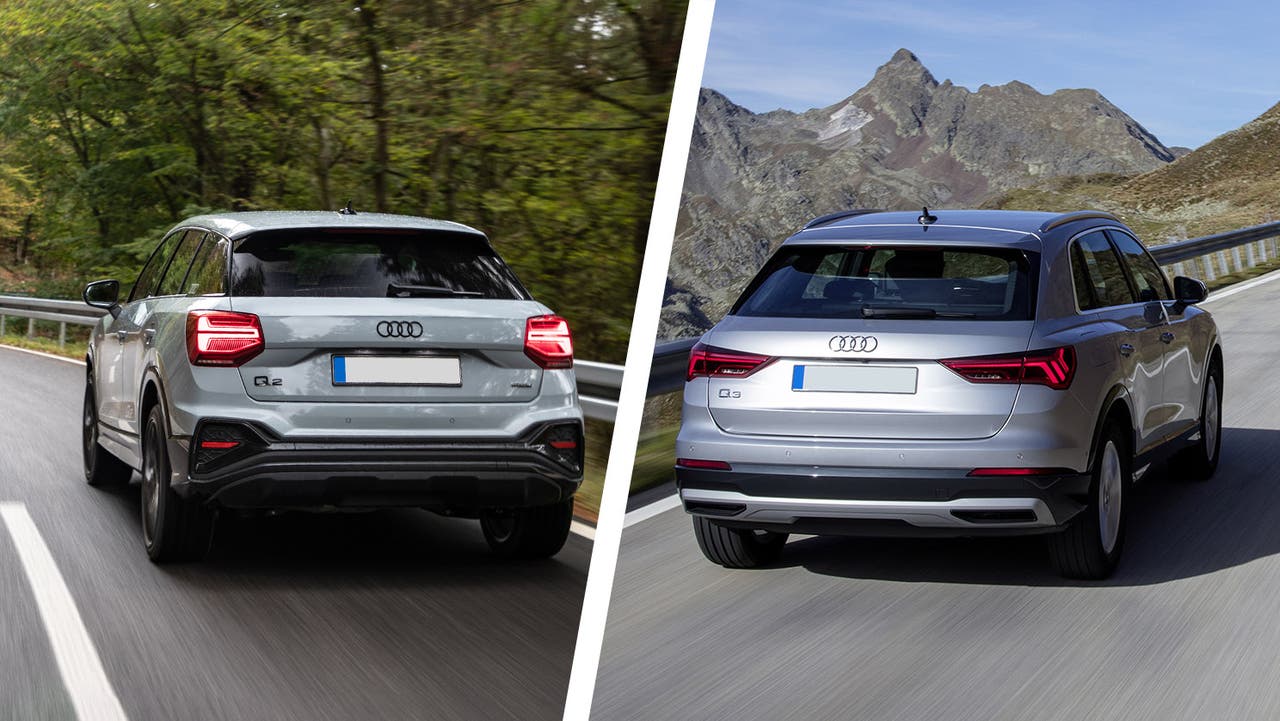 Thanks to Audi's desirable image and strong residuals, both the Q2 and Q3 represent reasonably good value for money. The Q2 is the more affordable of the two which means, if it's large enough for your needs, it's probably the more sensible pick, with lower fuel and finance costs. However, if you'd benefit from the extra space in the Q3, it's still a strong contender and is competitively priced against rivals like the BMW X1.
Like many premium brands, Audi's reliability performance is something of a mixed bag. General build quality and material quality is excellent – among the best in the industry – but both the Q2 and Q3, along with their direct rivals, feature a laundry list of on-board tech, which means they have more potential things that could go wrong compared to cheaper models. If you're concerned about the long-term dependability of your car, why not add an extended warranty?
Audi Q2 vs Q3 - which is best?
The good news for both Q2 and Q3 shoppers is that there's no poor option here. Both cars are easy to drive, attractive, practical and decked out with the latest on-board technology. Your choice should be guided by how much cabin space you're likely to need on a regular basis.
Buyers that only make occasional use of the rear seats can save thousands of pounds by going for the Q2. You get a more exciting driving experience and a cabin that feels as luxurious as more expensive Audi models.
If you're looking for a slightly more grown up car, however, and expect to carry rear passengers on a more regular basis, the Q3 will be easier to live with. Plus, thanks to its softer ride quality, the Q3 is a marginally better long-distance cruiser.
Choose the Audi SUV for you
If you've made your mind up, take a look a Motorpoint's selection of used and nearly new Audi Q2 models, or its big sibling, the Audi Q3. For more options, check out our picks for the best nearly new SUVs, or see the best hybrid SUVs to cut your fuel costs.