Don't know your A4 from your Q8? Step right this way!
Life was simpler in 2002. There was no Facebook, no iPhone and people only wore masks for special occasions or to rob banks. Getting your head around Audi's line-up was easier back then too, because the German premium maker offered just six model lines to UK customers. Two decades on that easily remembered six has exploded to a mind-boggling 17, partly thanks to a new generation of Q-badged SUVs and a fast-growing 'e-tron' electric line-up. But fear not, Motorpoint is here to help with our miniature guide to Audi's gargantuan car range…
Hatchbacks, estates, saloons
Audi A1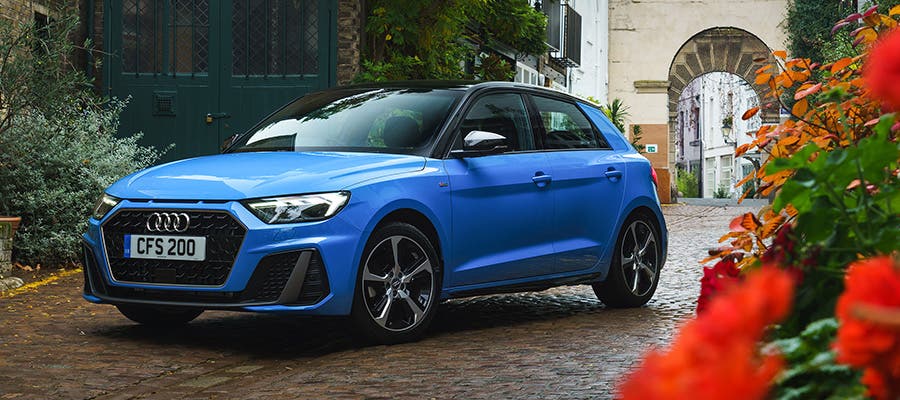 The second generation of Audi's smallest car is bigger than before, and now five-door only. Petrol line-up spans 1.0, 1.5 and 2.0-litre flavours with manual or dual-clutch auto gearboxes, all front-wheel drive – the A1 is the only Audi not offered with quattro all-wheel drive. Funky options can get pricey, but even an entry-level A1 has a full digital instrument cluster. Citycarver models rock crossover looks with a slightly raised ride height. 
Find a nearly new Audi A1 at Motorpoint
Audi A3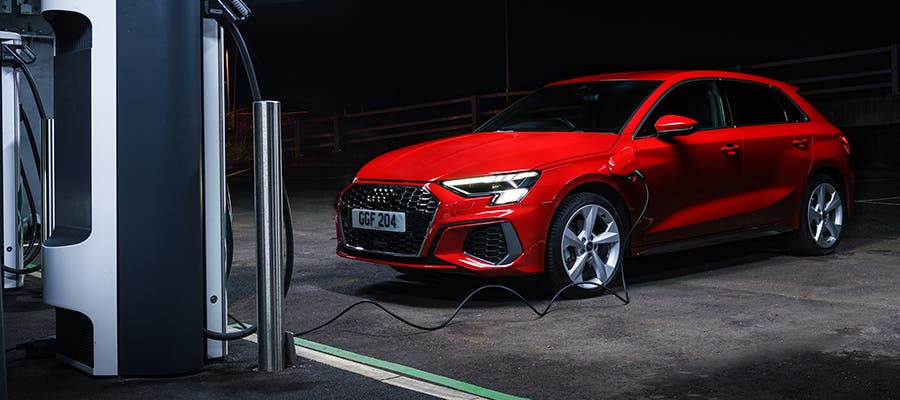 Audi's answer to the related VW Golf, but only Audi offers a saloon alongside the five-door hatchback (Sportback in Audi-speak). Choose from 1.0 or 1.5-litre petrols (latter also as a mild hybrid), a plug-in hybrid for up to 37 miles on electricity, plus this is your entry-point to turbodiesel power and quattro all-wheel drive as options. Quick S3 and scorching RS3 add hot-hatch oomph. Virtual Cockpit and touchscreen infotainment/sat-nav is standard across the range.
Find a nearly new Audi A3 at Motorpoint
Audi A4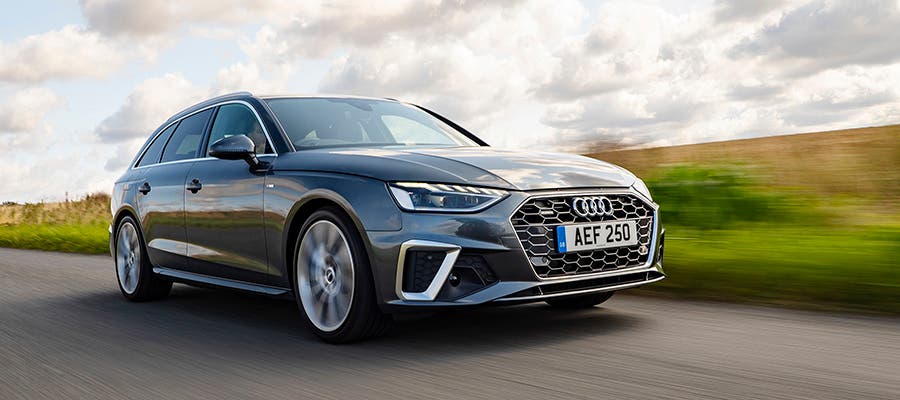 Audi's BMW 3 Series rival comes with either TFSI petrol or TDI diesel engines, both 2.0 litres, and while there's no plug-in hybrid, mild-hybrid tech does boost mpg. Saloons or Avant estates are available, but only the Avant is offered as the Allroad (raised suspension, underbody protection) and the range-topping RS4 with a twin-turbo V6 engine. S4 is an unusual (but excellent) high-performance 3.0-litre TDI diesel.
Find a nearly new Audi A4 at Motorpoint
Audi A5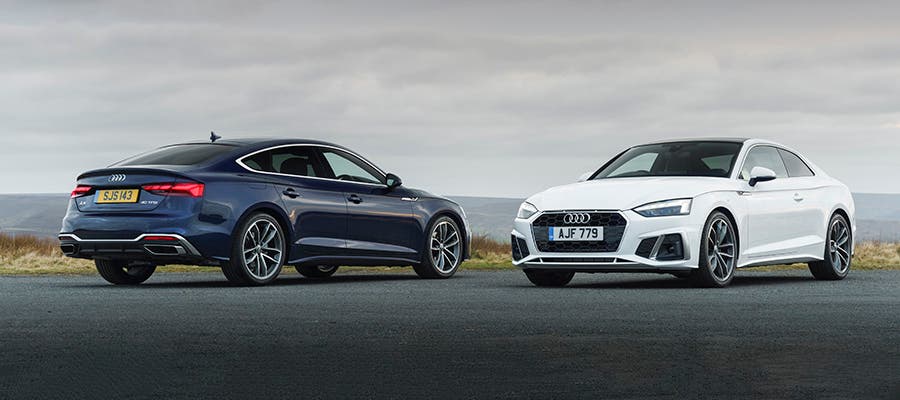 An A4 in evening dress, the A5 comes in Coupe, Cabriolet or five-door coupe body styles, the latter marketed under the Sportback name. A5 variants share 2.0-litre TDI/TFSI mild-hybrid engines with A4, but all skip A4's entry-level Technik trim and go straight to Sport. High-performance S5 (turbodiesel) and RS5 (petrol) still offered, but only for Coupe and Sportback. 
Find a nearly new Audi A5 at Motorpoint
Audi A6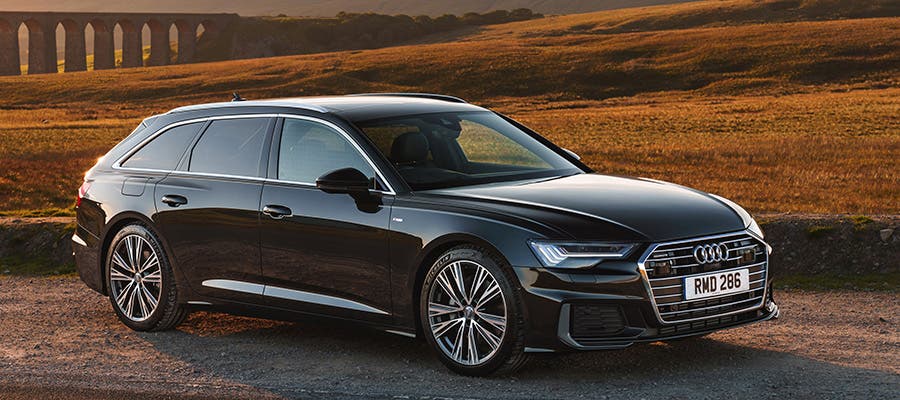 A luxurious, spacious, high-tech cruiser with twin infotainment screens and a digital instrument cluster as standard, the A6 is more downsized A8 than upsized A4, but available in saloon, Avant estate or Allroad (raised ride height, wheelarch extensions) body styles. Pick from entry-level 2.0-litre TDI or 3.0-litre petrol or diesel engines, all mild hybrid with quattro all-wheel drive, or go plug-in hybrid with a 50 or 55 TFSI e. The S6 uses the S4/S5'S 3.0 TDI engine; incredible RS6 upgrades to a twin-turbo petrol V8 engine that's actually made by Porsche. Good pub fact.
Find a nearly new Audi A6 at Motorpoint
Audi A7 Sportback
A posher five-door coupe version of the A6, complete with the same engine line-up (see above), the Sportback trades a little rear headroom for a curvier roofline, but still easily accommodates four adults. Perhaps surprisingly, the A7's boot is a fraction larger than its A6 saloon sibling, and a liftback tailgate makes loading and unloading easier. It's rarer too.
Find a nearly new Audi A7 at Motorpoint
Audi A8
Audi's luxurious limo has been around since 1994, with the fourth-generation now refreshed for 2022. Pick from petrols, diesels or plug-in hybrids, all 3.0 litres, all quattro. There's technology galore, including Car-to-X that checks for hazards with other cars and infrastructure, and so many driver-assistance features that even Audi says 'around 40'. Already very long at 5.2 metres, there's an extended wheelbase A8 for rear-seat residents with very long legs. S8 goes twin-turbo V8 for full Ronin car-chase vibes.
Find a nearly new Audi A8 at Motorpoint
SUVs
Audi Q2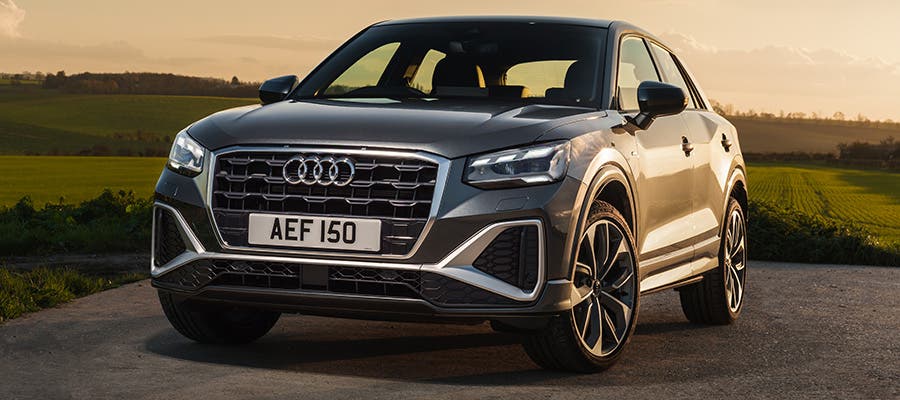 Audi's smallest SUV, and arguably cooler than its more conservative larger models. Refreshed in 2020 with sharper headlights (LEDs as standard), also gets rear parking sensors, cruise control and electric tailgate across range. Now only 1.0 and 1.5 TFSI petrol engines for core models, but turbodiesels can be found used. Quattro all-wheel drive and S-tronic auto available. High-performance SQ2 crowns range with rapid 2.0 turbo power using the same engine as the S3 (or VW Golf R… or Cupra Leon).
Find a nearly new Audi Q2 at Motorpoint
Audi Q3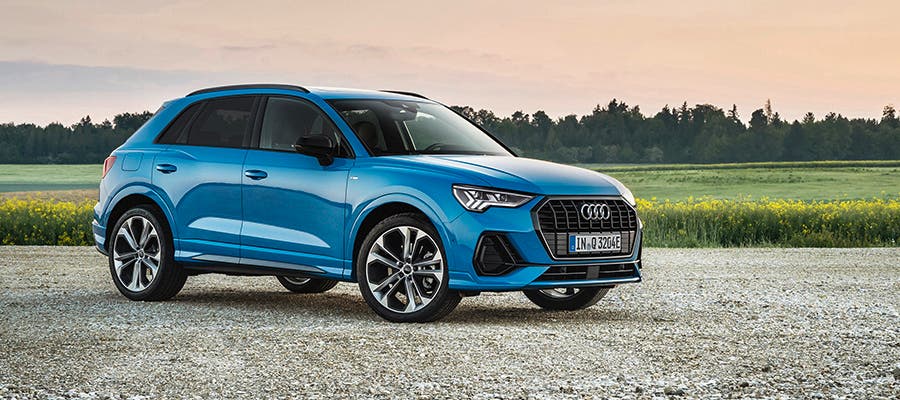 Available in either a regular SUV bodystyle or Sportback (still a five-door, but with a more rakish silhouette), all Q3s can be had with either 1.5 or 2.0 petrols, a plug-in hybrid, or a 2.0 TDI diesel. Quicker Q3s skip the usual S warm-up act and proceed directly to red-hot RS Q3, complete with incredible five-cylinder turbo engine. Regular range has Technik, Sport, S Line and Black Edition trim levels; Sportback kicks off with Sport.
Find a nearly new Audi Q3 at Motorpoint
Audi Q5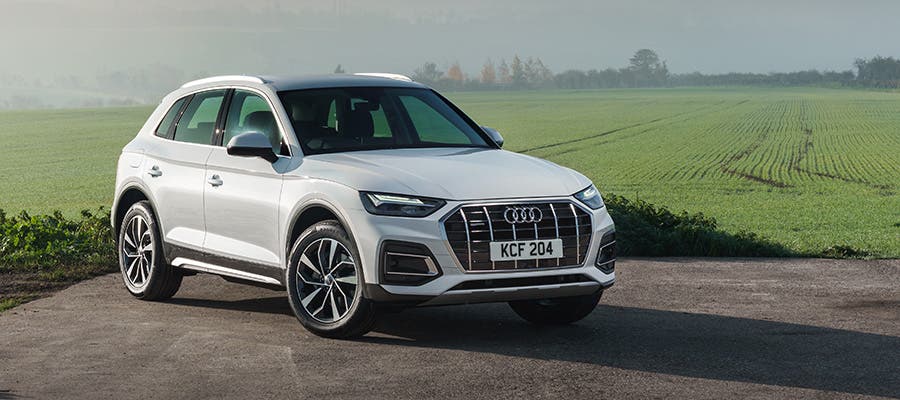 Audi's rival to the BMW X3 and Mercedes-Benz GLC, the Q5 is available with 2.0 TFSI petrol or TDI turbodiesel engines, or an even more frugal plug-in hybrid. SQ5 upgrades to 3.0-litre TDI for excellent mix of performance and with fuel economy. All models get quattro with S-tronic dual-clutch gearbox as standard. Swoopier Sportback also available. No RS here.
Find a nearly new Audi Q5 at Motorpoint
Audi Q7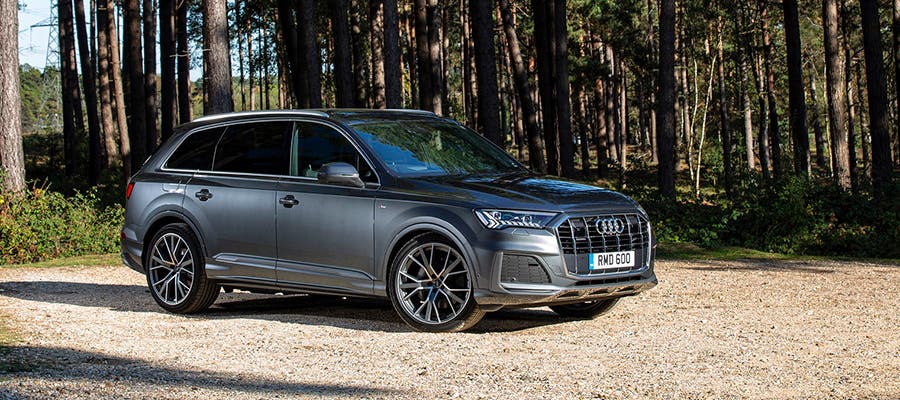 Audi's biggest and most practical SUV, if not its most expensive, the Q7 gets seven seats as standard, with space for adults in row three. Mild hybrids introduced in 2019 for petrols and diesels, plug-in hybrid is petrol only and comes with five seats, but all get a sweet 3.0-litre six-cylinder engine. SQ7 bucks Audi trend of switching high-performance S-badged petrols to diesels, by dropping previous TDI for 4.0-litre V8 petrol. All auto with quattro all-wheel drive.
Find a nearly new Audi Q7 at Motorpoint
Audi Q8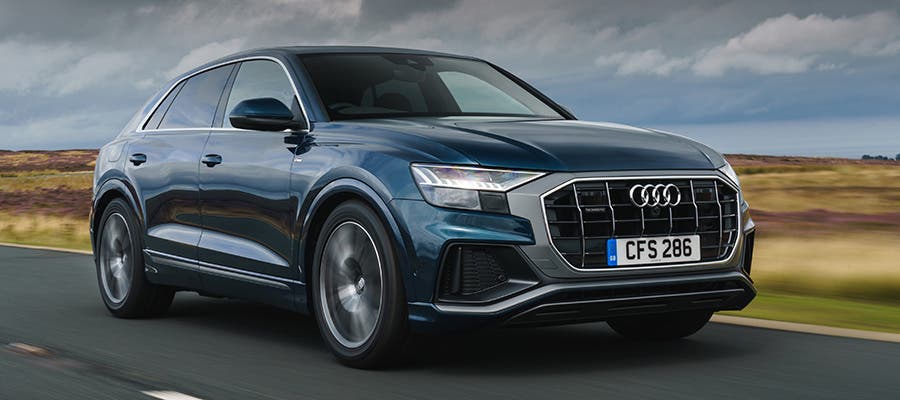 There's no Sportback version of the Q7 because the Q8 takes the concept a step further with a curvier, shorter and wider body than its more sensible sibling. Frameless doors add extra class, it's a five-seater only, and the more luxurious spec starts with S Line. SQ8 follows SQ7's V8 petrol recipe, but there's also an RS Q8 for ultimate V8 performance and a direct bloodline to the Lamborghini Urus SUV.
Find a nearly new Audi Q8 at Motorpoint
Sports cars and supercars
Audi TT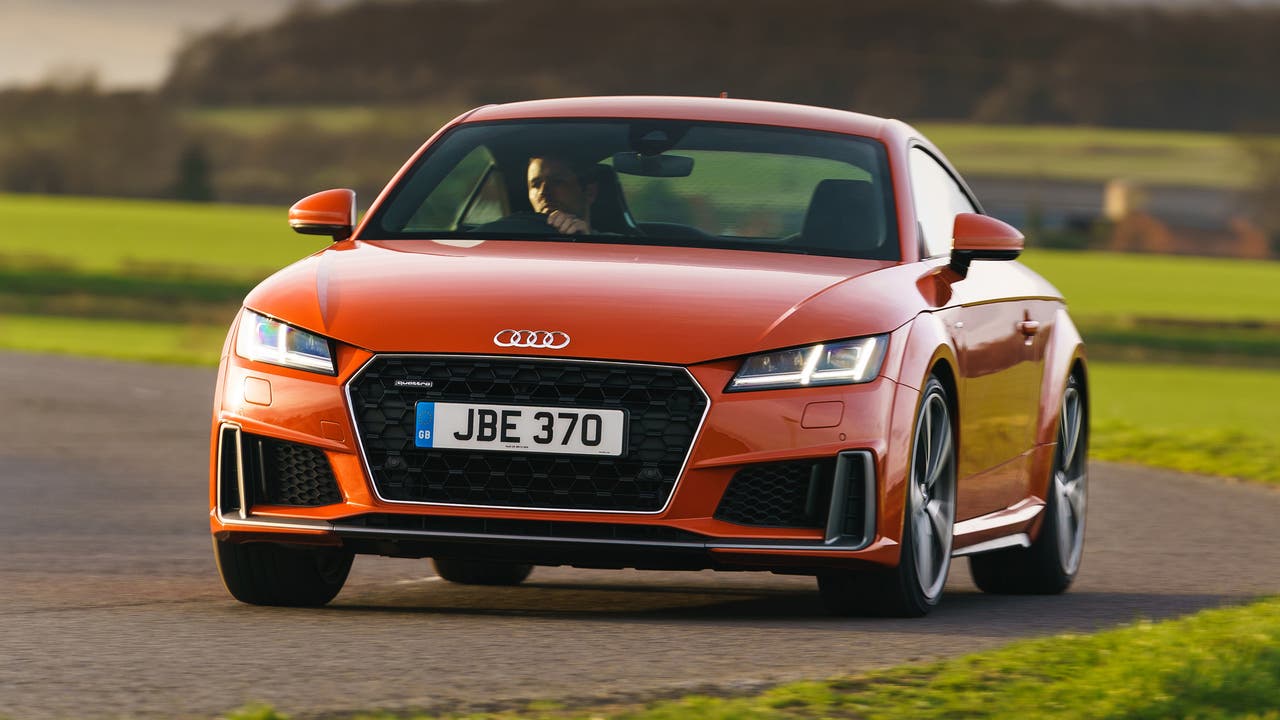 The TT reinvented the affordable sports car in 1998, and it remains a cracking cut-price alternative to Audi's R8 supercar. Coupes are four-seaters (with pretty small rear seats), convertibles are two-seat only. Diesels died a while ago, and now core models get a 2.0-litre petrol, option of all-wheel drive and S-tronic dual-clutch auto. TTS is a fab all-round high-performance package with hotter 2.0-litre engine; TT RS goes all out with punchy five-cylinder power.
Find a nearly new Audi TT at Motorpoint
Audi R8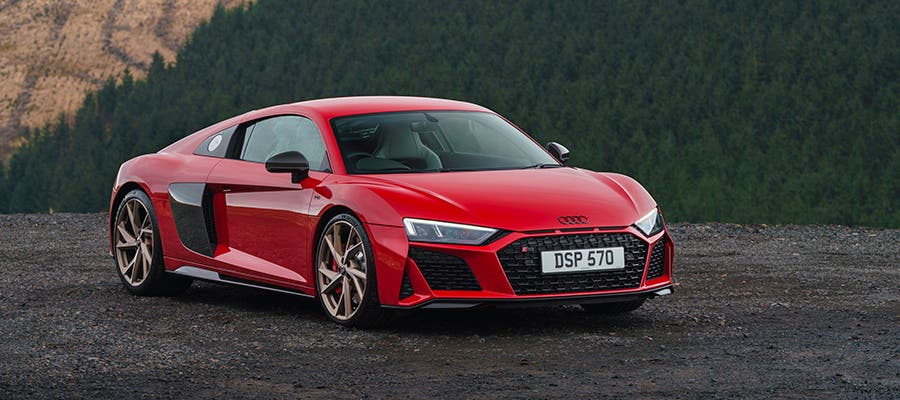 Audi's take on a Lamborghini – literally. The R8 supercar shares its foundations with the incredible Huracan, including a fabulous 5.2-litre V10 engine. All get the S-tronic dual-clutch gearbox, most use quattro all-wheel drive, but V10 Performance RWD (previously RWS) rips up Audi's own rulebook with rear-wheel drive. Coupe and Spyder versions available, and all sound biblical.
Electric cars
Audi Q4 e-tron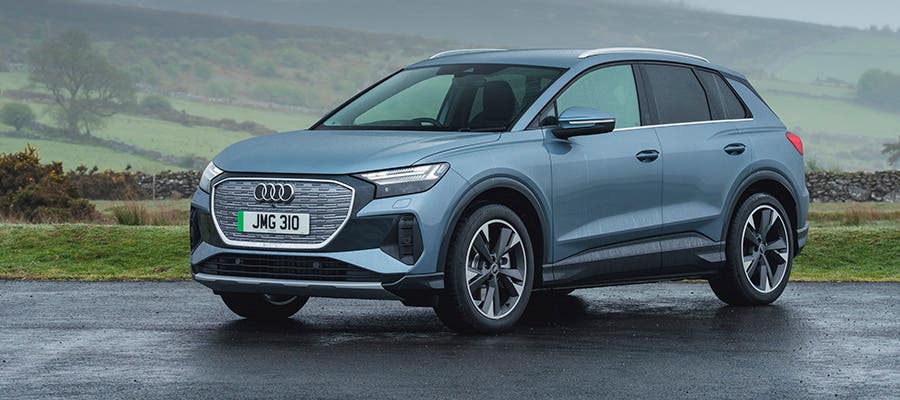 The Q4 e-tron is a Tardis on wheels, with more space inside than the longer Q5. Why? Because the Q4 is fully electric and its battery and electric motors are more space-efficient than engines and gearboxes. Entry-level models are rear-wheel drive with 55kWh battery; extra cash bags quattro and a long-lasting 82kWh battery. Regular SUV body style offered alongside Sportback with curvier body. Sportback's obvious trade-off is a little less rear headroom; the unexpected bonus is a slightly larger boot with the parcel shelf in place.
Find a nearly new Audi Q4 e-tron at Motorpoint
Audi e-tron
No Q-plus-number badging on this Audi SUV (until it was facelifted in late 2022 and renamed the Q8 e-tron) but the e-tron was Audi's first all-electric car and remains a great choice. Larger than a Q4, every e-tron gets all-wheel drive courtesy of at least two electric motors, but check out the e-tron S with triple electric motors, two of which power the rear wheels individually for more power and sharper handling. Sportback bodystyle also available.
Find a nearly new Audi e-tron at Motorpoint 
Audi e-tron GT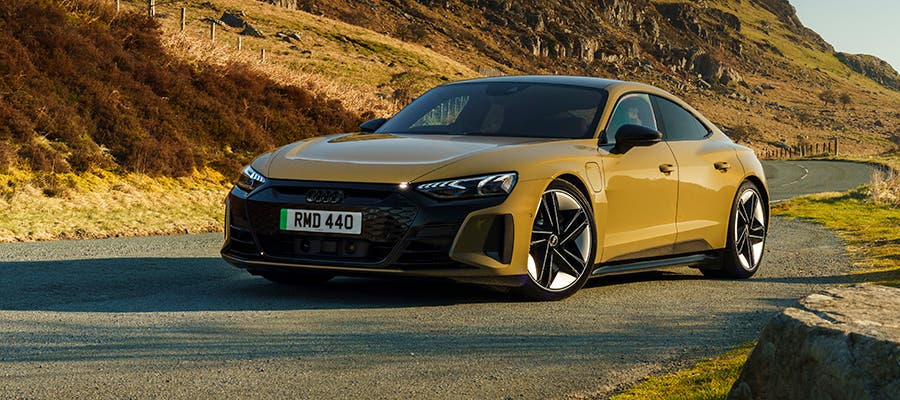 A Porsche Taycan in a sharp Audi suit, the e-tron GT is an awesome all-electric four-door coupe built alongside Audi's R8 supercar. It's comfy, super-fast, and sharp as you like even as standard, but the RS e-tron GT takes it to the next level – it's Audi's first ever high-performance RS model to go zero emissions. All models are quattro and there's just the one body style at the minute.
Audi Terminology Guide
Black Edition 
The Black Edition range is a set of special edition Audi models that feature unique alloy wheels, black trim around the windows and black grille surrounds at the front of the car.  
quattro 
For those old enough to remember the 80s, the term Quattro probably brings back memories of Audi's famous Quattro rally car, one of the first cars to feature four wheel drive.
The Quattro name is no longer reserved for the rally car heritage, instead it represents Audi's four-wheel-drive system and you can find quattro models across the range wherever, such as A3 and A4 models. You'll also find it on some of the high performance range, like the RS4 and the RS6.
S Line 
As with all manufacturers, Audi has a set name for each trim level in their range. S Line is the most popular choice of trim when buying an Audi and often comes with sporty touches such as larger alloy wheels, chrome trim and S Line badging.
S, RS  
Famous for their prestige, Audi is also well versed in creating high performance variants of their range.
Available across almost all models an S variant is a finely tuned, high performance version of their base production car.
An RS variant takes this a step further, with blistering performance and visual upgrades that allude to the staggering performance under the bonnet. 
S-Tronic 
S-Tronic is Audi speak for an automatic gearbox, more commonly referred to in the industry as DSG, or dual clutch, direct shift gearbox.  
TDI
TDI stands for Turbocharged Direct Injection and is the diesel equivalent in the Audi engine range. This is the second most common term you'll hear when looking at the range of engines Audi offers and is a term widely used across the industry to describe diesel engines.
TFSI 
TFSI is Audi code for Turbocharged Fuel Stratified injection. When shopping for an Audi, this is one of the most common terms you'll hear when choosing which engine is right for you. The TFSI engine is a petrol engine and one of the most common engines in the range.
We hope that has given you a starter for ten whilst shopping for your next Audi. You can browse our entire used Audi range online, or visit your local store to take one out for a test drive. Our friendly team is on-hand to help you narrow down your options and help you find the perfect model for you. We only sell nearly new, with all cars checked by experts and sold with a warranty, ensuring you drive away satisfied.