Best Cars With The Biggest Boot Space
25 November 2021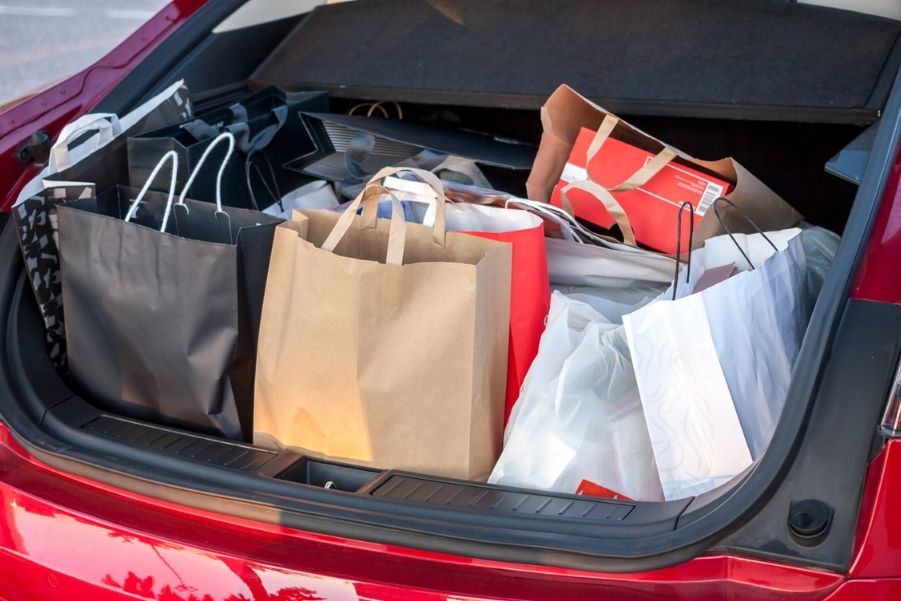 Photos © 2022 Motorpoint
With the holiday season fast approaching and an increased volume of food and other shopping being purchased, space in the car becomes more and more precious. So we thought we'd take the time to share the best cars available with the biggest boot space!
You would expect the bigger the car the bigger the boot, however that is not always the case and there are plenty of small hatchbacks that have surprisingly ample boot space.
We have selected a variety of makes and models, to hopefully provide you with a greater understanding of what car is going to suit your boot space needs, as well as your budget.
How Is Boot Space Defined?
Boot space is generally measured in litres. The reason for this being that boot spaces are not considered a 'perfect' shape for measuring, so measuring in litres will give an accurate reading of these irregular shapes and sizes.
A 300-litre boot space is considered to be average amongst the majority of cars – so sometimes it pays to look at other details, such as how level the boot floor is for loading larger items, and how odd the boot opening shape is.
Cars With The Biggest Boots By Body Type
Choosing a car is not a one style fits all approach, so we have picked out the best boots by car body type, so you can shop based on your preferences.
SUVs With Large Boots
The standout for boot space in the SUV category has to be the Land Rover Discovery Sport with a whopping 963 litres!
The Land Rover range all boast similarly impressive numbers whether you look at the 'Evoque' or the 'Velar'. If a Land Rover isn't quite your style, Audi, VW and BMW all offer SUVs with similarly impressive trunks:
Best Hatchbacks For Trunk Space
You would typically expect the Ford Focus to have a bigger boot than the Fiesta and a Vauxhall Astra to have a bigger boot than the Corsa as they are deemed to be a 'bigger' vehicle. However, that is surprisingly not the case. Both the Fiesta and the Corsa both boast bigger boot space than their counterparts & represent fantastic value for money in terms of practicality.
With the larger siblings, its often a case that boot space is sacrificed for larger cabin space. As they're family cars they're expected to carry more passengers. This means it can often be easier to find a large boot in a smaller hatchback.
Our top picks when it comes to hatchbacks are:
Estates With The Biggest Boot Space
Estate cars are synonymous with space, so you know you will be getting a decent-sized trunk regardless of what you buy.
Our top picks in terms of volume of space would have to be:

Family Cars With Big Boots
Family cars need to hit the double whammy of fitting in your whole household, their essentials as well as anything extra you pick up whilst out and about!
The Kia Sportage offers an impressive 439 litre boot, closely followed by the Nissan Qashqai with 430. We would recommend the following cars to fit in all you holiday shopping:

Best Premium Cars For Boot Space
The Mercedes GLE comes out on top in terms of boot space when it comes to premium cars, but it is difficult to look past the Land Rover Range due to their sheer luxury.
However, as you can see from the Audi A7, it's not always the SUV models that offer the best space. Often, with Audi and BMW their Gran Coupe and Saloon models can pack impressive space under their rear hatch.
Affordable Cars With The Best Boot Space

Our top pick goes to the Citroen C3 Aircross. If the boot space alone is not impressive enough already, did you know the Aircross also comes with a movable rear bench that slides forward to increase boot space further?!
Looking For More Space This Holiday Season?
We have a fantastic choice of nearly new cars, all available at unbeatable prices. Browse our great choice of vehicles online, or why not visit us in store and get a visualisation of how big those boots really are!