8 of the best cars for motorway driving
31 May 2022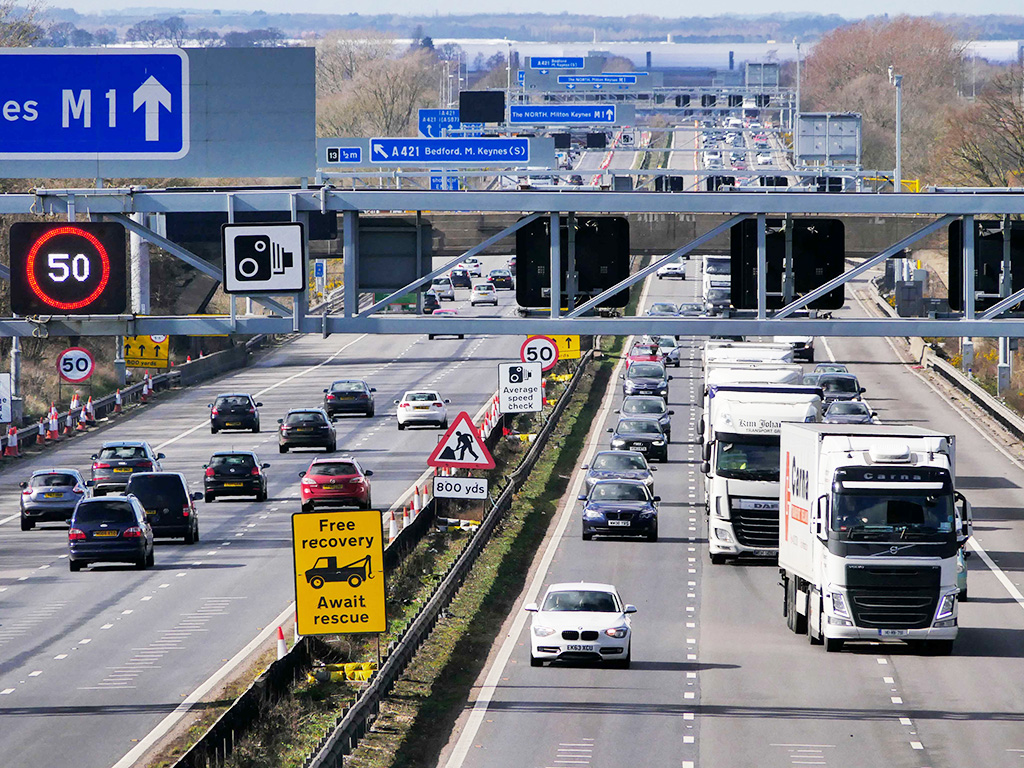 Photos © 2022 Manufacturer photos
Spend more time than you'd like on the UK's motorway network? Here are 8 of the best cars for soothing the pain…
Motorways are the crown jewels of Britain's road network – a 70mph limit, three lanes (sometimes more!), central reservations that can never be crossed, and service stations with prices from the future. Unique blue road signs separate motorways from mere byways and highways too.
You cannot appreciate a motorway on foot or even bicycle, however, which is where this car-based guide steps in. We've prioritised cars with comfort, refinement and space to suit long journeys, and we've made sure all our choices have a decent range between fuel fills or charges. There's also a cursory glance at performance – everything can cruise at 70mph these days, but you don't want to be wheezing up hills or down slip roads – and a double-check that progress is smooth if you get stuck in stop-start traffic.
Got everything? Gone to the toilet? Then let's motorway!
Mercedes-Benz S-class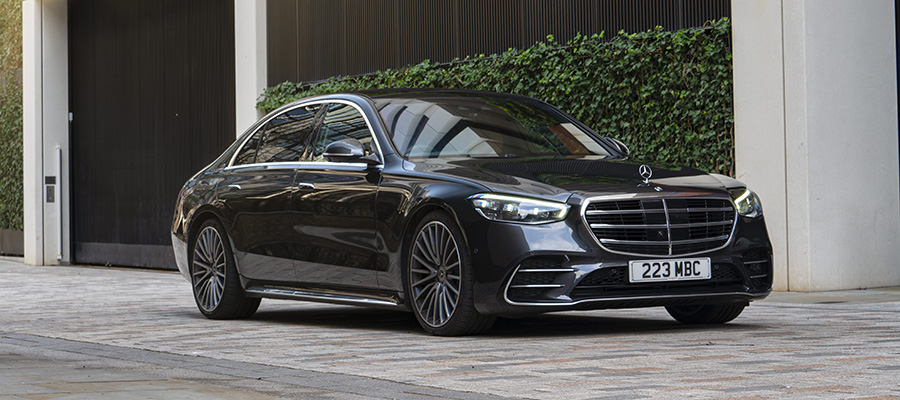 The S-class isn't just the biggest Mercedes saloon you can buy, it's been the benchmark for comfort, luxury and technology among really big saloons for decades now. The 2020-on model gets a choice of thrusty turbodiesels, lusty petrols and even a plug-in hybrid (the S 580 e), and you're spoilt with a plush interior and cutting-edge MBUX infotainment whichever you pick. Long-wheelbase models get stiltwalker-spec rear legroom, the Mercedes-Maybach version takes luxury supernova, or why not try the Mercedes-Benz EQS for a similar recipe with an all-electric twist?
Range Rover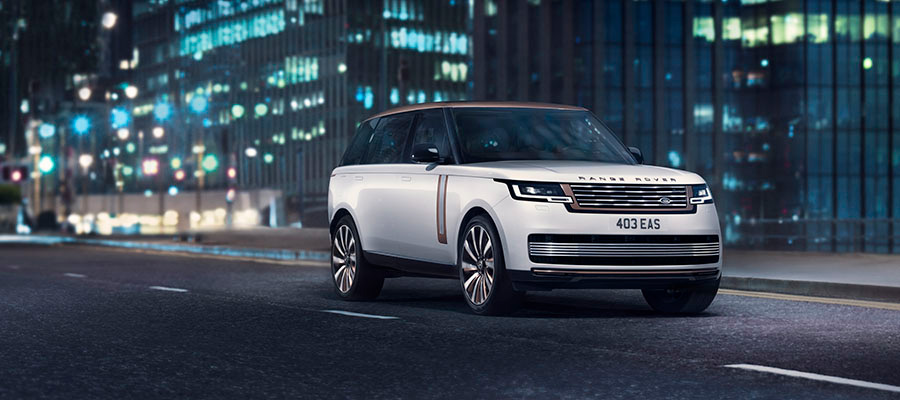 If the S-class is the ultimate luxury saloon, the Range Rover is the ultimate luxury SUV – and so definitive it doesn't even have a proper name, like it's The Rock of off-roading or something. Set cruise control to a steady 70mph and the Rangie's quieter than a library after kicking out time and comfy as a giant beanbag (especially in long-wheelbase guise), but it can monster off-road routes courtesy of air suspension, all-wheel drive and locking diffs. There's tech that can even distinguish between snow and sand too. Literally no other car covers more bases. The 2012-on generation Range Rover still sets the standard, but boy does the new 2022 model raise the bar.
Citroën C3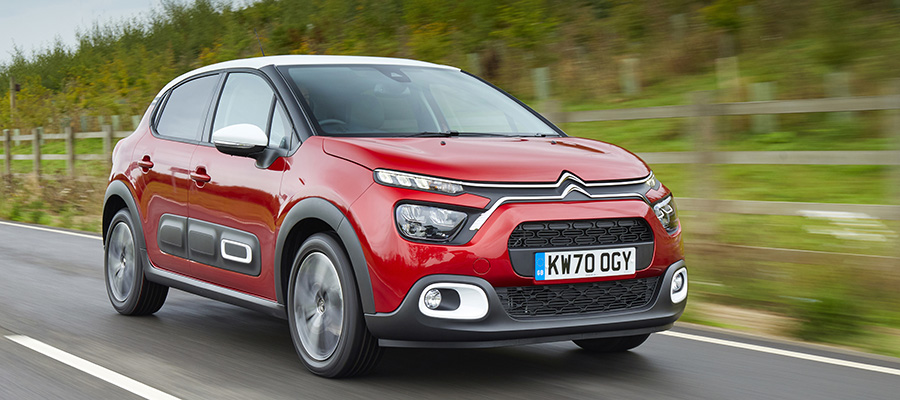 You don't have to drive a car as big and pricey as a house to enjoy motorway cruising - just have a squiz at the Citroën C3. The French supermini rocks a funky crossover-lite design with two-tone paint and clever Airbumps to fend off parking dings, plus its marshmallow squishy seats and long-travel suspension give big-car comfort in a cutesy footprint. Diddy fuel-sipping petrols (and larger diesels for older models) keep on running past all those over-priced service stations, and because the C3's so light, performance fizzes like champagne.
Find a used Citroen C3 at Motorpoint
Tesla Model S Long Range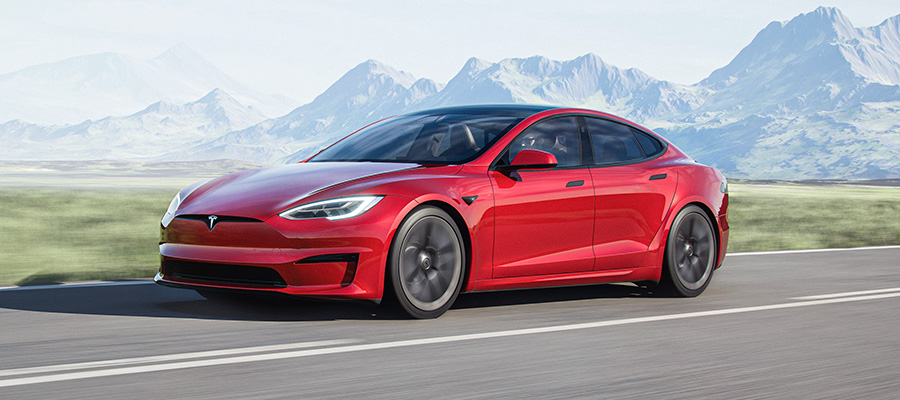 Electric cars are almost perfect for motorway driving – elastic-band acceleration squirts down slip roads, there's tranquillity like noise-cancelling headphones, and you'll usually enjoy more space to spread out inside than petrol and diesel equivalents too. The fly in the ointment is often driving range, which is where the Tesla Model S Long Range comes to the rescue. With around 400 miles of zero-emissions potential, the Californian saloon can stretch from Land's End to Lancashire on a charge, while adaptive air suspension, all-wheel drive and optional AutoPilot semi-autonomous driving are your long-distance, totally legal masseuses.
Find a used Tesla at Motorpoint
Skoda Superb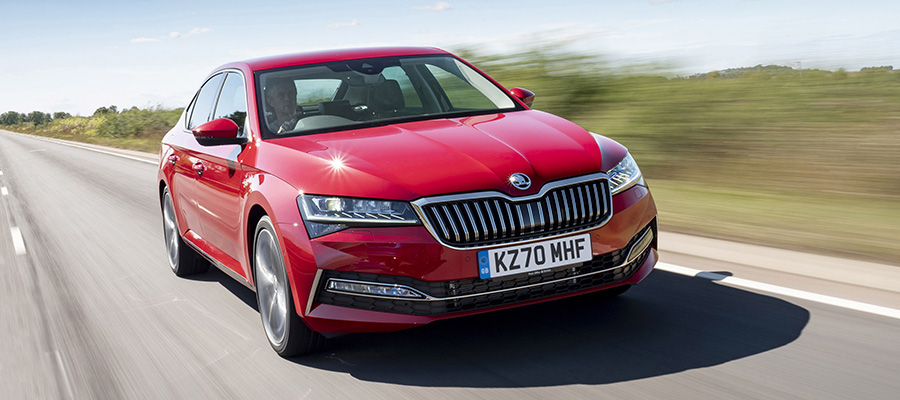 The Superb is a luxury limo for peanuts. Not only is it cavernous inside, there's a huge boot too ('liftback' hatchbacks and Combi estates available), so you can take luggage and kids on a road trip rather than agonising between the two. Other reasons to buy include lulling comfort and refinement, long-striding petrols and diesels, and handy features like an umbrella hidden in each front door (for use outdoors – Skodas don't leak these days). Even the latest entry-level trims get leather seats, sat-nav and adaptive cruise control, but the Laurin & Klement range-topper is pick of the motorway pops with a full trolley dash down the options list.
Find a nearly new Skoda Superb at Motorpoint
BMW 5 Series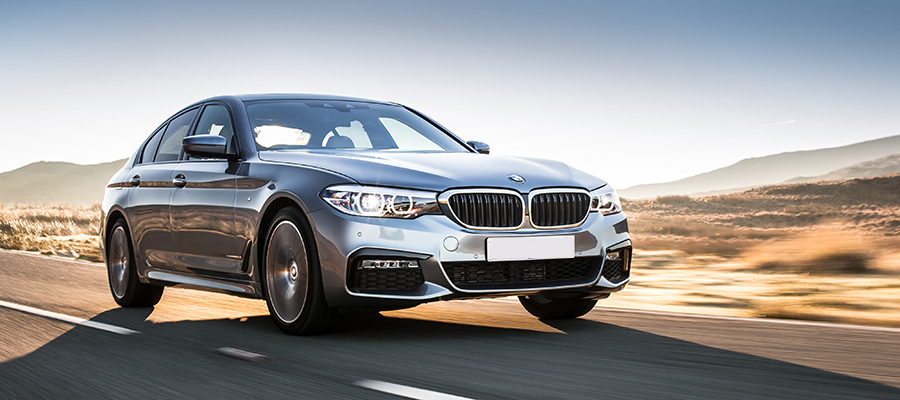 The 2017-on BMW 5 Series feels more downsized 7 Series than upsized 3 Series, which means a loungey interior, soothing suspension and a fondness for the outside lane at all times. Good news, though, because the big 5 still has that Ultimate Driving Machine magic when you take the long way home. Engines span everything from tiny petrols to mammoth V8s via plug-in hybrids, but nothing munches motorway miles as effortlessly as a big six-cylinder diesel like the 530d. All go large on technology, but the mid-2020 facelift upgrades to BMW Live Cockpit Professional with twin 12.3-inch infotainment screens and 'hey BMW!' Personal Assistant. Grab one of those if you can.
Find a used BMW 5 Series at Motorpoint
Volkswagen Golf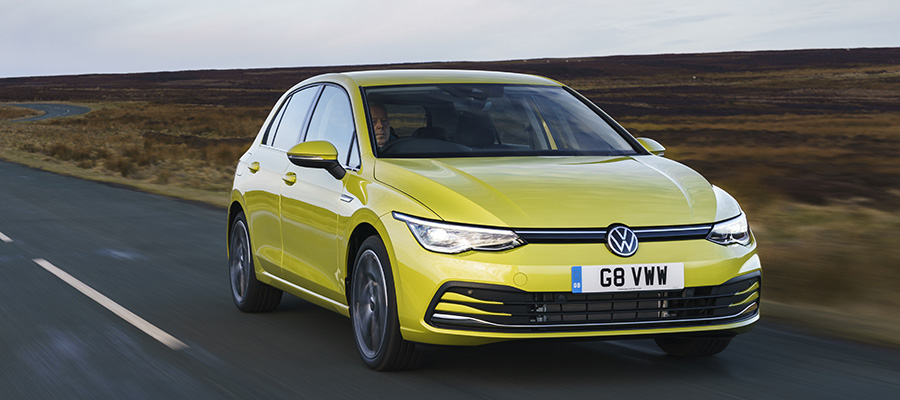 Never mind motorways, the latest Mk8 Golf could speed down a de-restricted Autobahn without breaking sweat. You sink into gorgeously cushy seats like water into a sponge, it's quiet and spacious inside, and the ride quality is dreamier than a '90s Cadbury's Flake ad – especially if you get one with the DCC adaptive dampers. Diesels are still the long-distance champions, but the 1.5 TSI Evo mild hybrid is the sweet spot between refinement, fuel economy and letting your hair down just a little. The latest infotainment system can baffle, though, so check the previous Mk7.5 generation if you can't tell your iPhone from your elbow.
Find a nearly new VW Golf at Motorpoint
Peugeot 508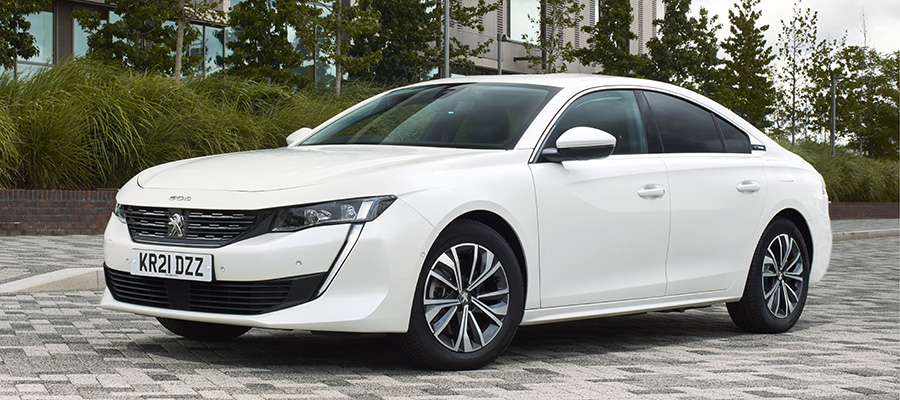 The 508 makes a brilliant alternative to the ubiquitous BMW 3 Series, not just because you literally get more for your money (it's cheaper, more spacious and more generously equipped like-for-like), but because the big French saloon is a more relaxing thing to drive and way more stylish too. Four-cylinder petrols and diesels are as big as it gets, but they're punchy enough and sip fuel lightly. Besides, if you crave more performance, you could always try the PSE – a plug-in hybrid that goes like a TGV high-speed train. Just make sure you get on with the iCockpit infotainment and très petit steering wheel.
Find a used Peugeot 508 at Motorpoint