These good-value family cars provide the space you need without costing a fortune to buy or run
Family life can be horribly expensive – you might have childcare or extra-curricular activities to pay for, and that's before we get on to kids seemingly growing out of the clothes you've only just bought them. And the toys. So many toys. And why are they always in the kitchen?
Whether budgets are tight or you simply don't want to pay too much for a spacious family car, we've put together a list of our favourite cheap family cars. All are affordable to buy used and are inexpensive to run, while providing the space and features that'll make chaotic family life easier. We've listed them alphabetically.
1. Citroen C3 Aircross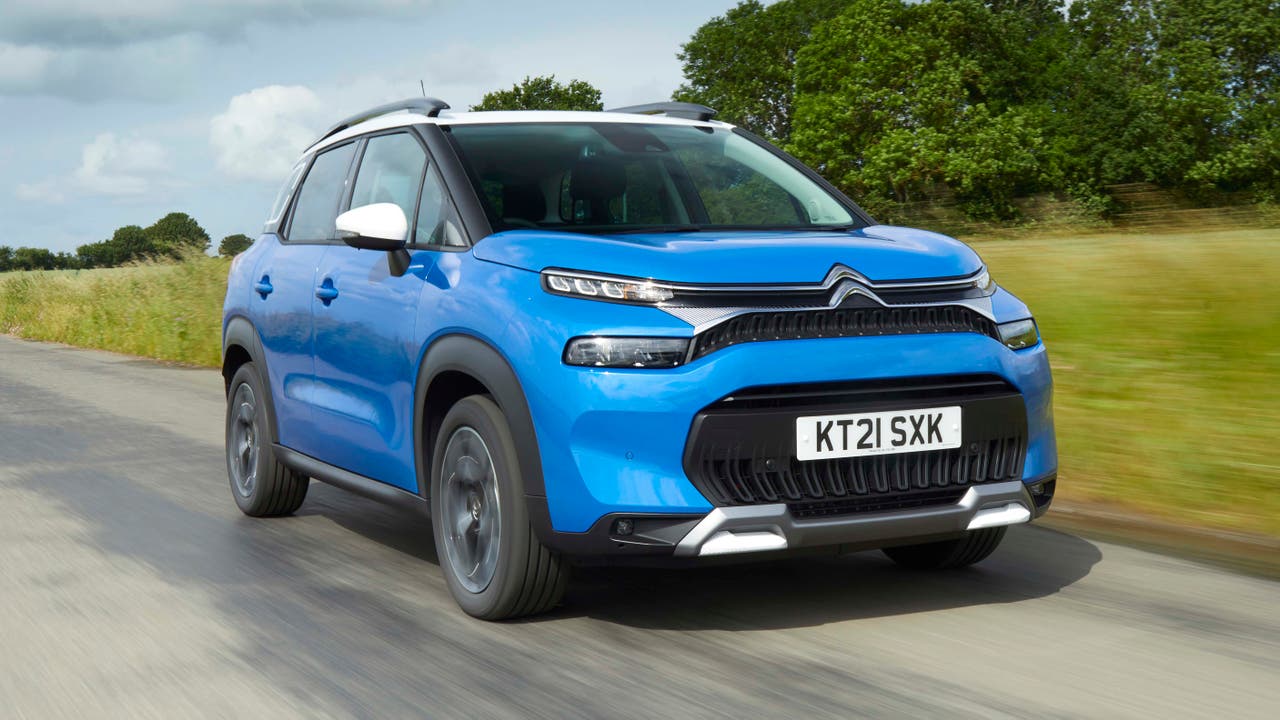 The Citroen C3 Aircross is the shortest car on this list, but it packs a lot into its easy-to-park footprint. Its sliding rear bench is a fantastically thoughtful addition so, if you've got young kids with little legs, you can slide the rear seats forward to free up more boot space. Or, if you have lanky-legged teenagers, sliding the seats back gives them plenty of room – and you still get a boot that's competitive with rivals.
Somewhat unusually, the C3 Aircross focuses on comfort rather than sportiness, which is absolutely ideal for a family car. You're not going to be driving like a Formula 1 driver on your way to nursery, after all. It's also funky inside and out, and economical too – the petrols can manage 45mpg or more and the diesel can return 60mpg on long journeys.
Shop used Citroen C3 Aircross cars for sale at Motorpoint
2. Dacia Duster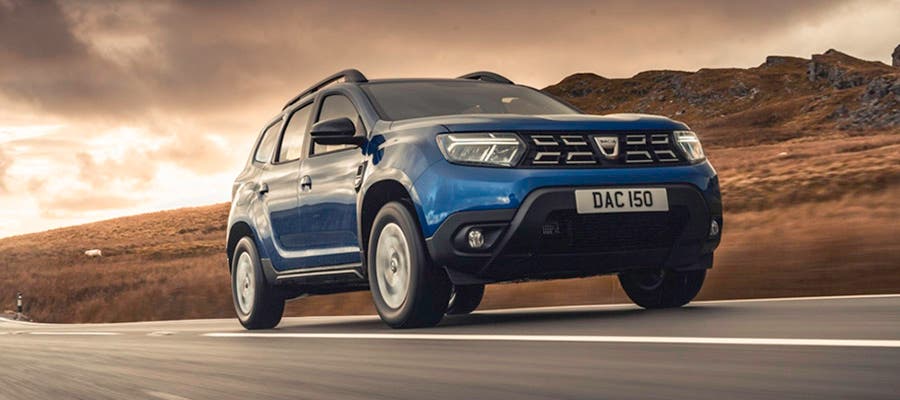 The Dacia Duster has a no-nonsense feel in all the right ways. You get the essentials – cruise control, air-con and DAB radio – as standard, while higher-spec models come with creature comforts such as a reversing camera and sat nav. The Duster has a large, deep boot and a real feeling of spaciousness inside, and better materials than you might expect.
Dacia might sell cheap cars but they're owned by Renault and the Duster uses a lot of the same switchgear as the Renault Clio and Captur – cars we've praised for their interior quality. The Duster's interior layout is simple, functional and joyfully easy to use, and the sat nav screen is clear and easy to follow.
Shop used Dacia Duster cars for sale at Motorpoint
3. Ford Focus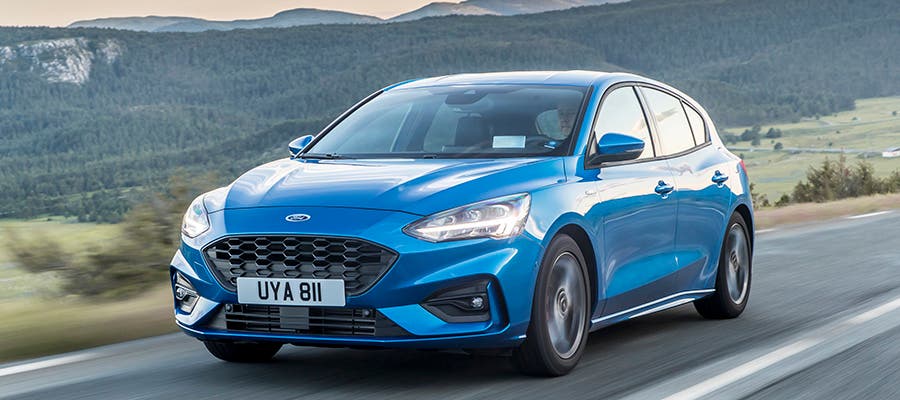 Read our Ford Focus review
You might've looked past the Focus towards Ford's Kuga and Puma SUVs, but the iconic Focus is still a top choice for a family car. Its interior is well laid out and logical, the driving position is spot on – as is the driving experience itself – and it has a spacious back row. The boot is a decent size for a family car, or there's the supremely capacious Ford Focus Estate.
There's a Focus for every taste, with ST-Line catering for buyers who like sporty styling, Vignale for a more luxury focus and Active for SUV-esque ruggedness. The petrol engine is perky and capable of 50mpg, while the frugal diesel is perfect for higher-mileage drivers and returns well over 60mpg.
Shop used Ford Focus cars for sale at Motorpoint
4. Hyundai Tucson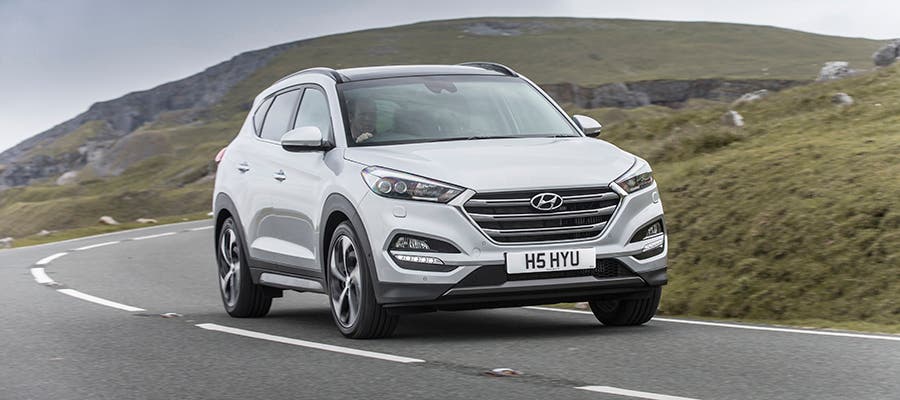 Read our Hyundai Tucson review
If you can, just ignore the existence of the latest Hyundai Tucson. It rightly deserves all the plaudits it gets, but the previous-generation Tucson is a quietly brilliant family SUV and is much, much cheaper than the latest version. It has handsome, restrained styling, the balance of a five-year unlimited-mileage warranty and a boot that's still competitive with rivals.
Inside, the Tucson represents that small slice of time when interiors were simple and intuitive. It still looks fairly modern, uses proper physical controls for the heating functions and comes with a lot of standard equipment. The popular SE Nav spec, for example, gets a rear-view camera, phone mirroring and lane-keep assist.
Shop used Hyundai Tucson cars for sale at Motorpoint
5. Kia Sportage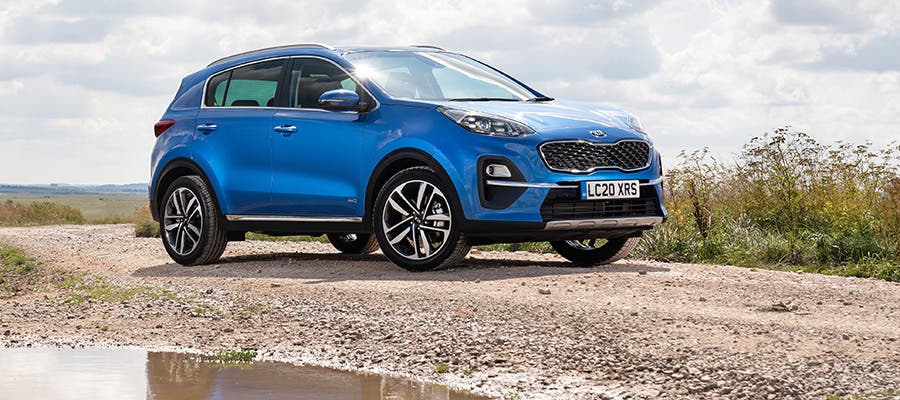 Read our Kia Sportage review
The Kia Sportage and Hyundai Tucson are pretty much identical under the skin, so pick whichever you like the look of and you'll get a solid-feeling and capable SUV. Kia's warranty cover is a little better – a Sportage comes with the balance of a seven-year/100,000-mile warranty – and so is its equipment list. Impressively, even the nearly entry-level '2' trim gets heated front and rear seats.
According to the numbers, the Tucson has a marginally bigger boot than the Sportage, but you're not going to notice a difference when you're trying to wrestle a bulky pushchair into the boot. Both cars have wide-opening doors that make it easy to extract sulky toddlers.
Shop used Kia Sportage cars for sale at Motorpoint
6. MG HS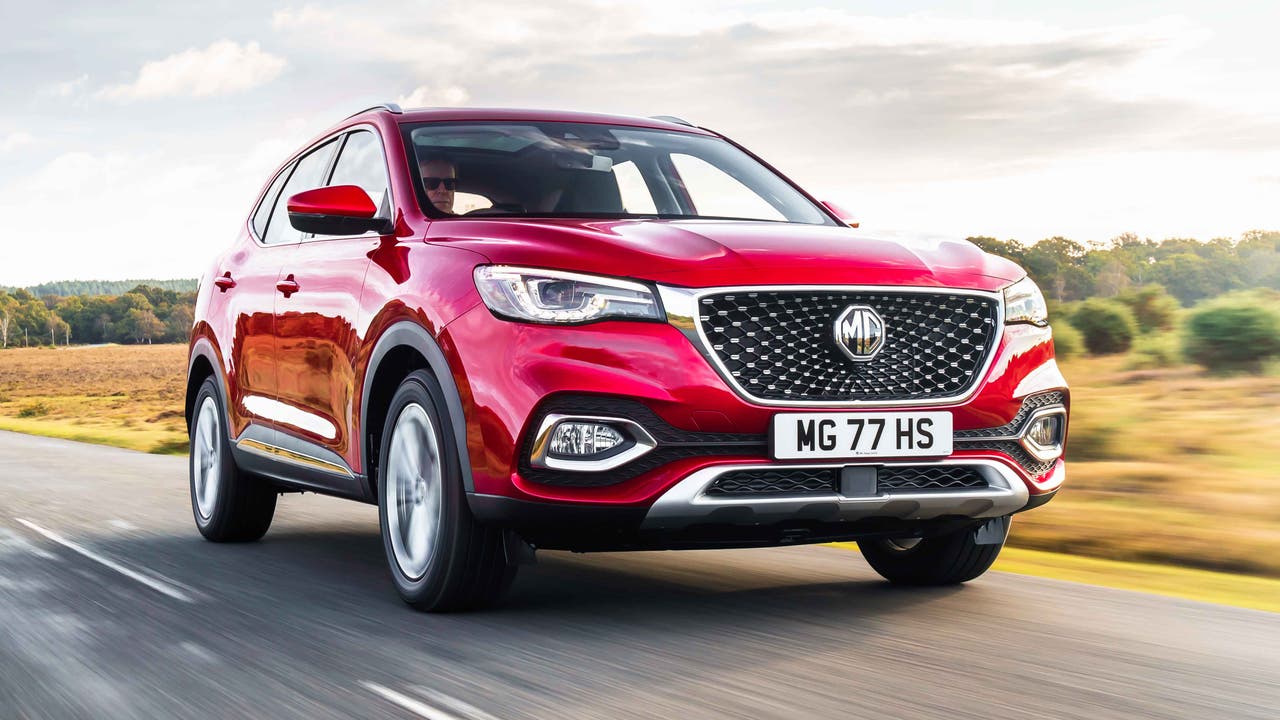 MG's largest SUV makes a lot of sense for family buyers, especially if you want to get the most for your money. Its smart styling hides a practical interior with plenty of space for a growing family, and there's even room for three adults to sit side-by-side on the rear bench. You get a bigger boot than the Ford Kuga, even in the plug-in hybrid.
Oh yeah, let's talk about the MG HS PHEV. It's one of the only cars on this list to feature a hybrid option, and offers a 30-mile electric driving range from a full battery. Depending on your driving habits, keeping the battery topped up and using electric power as much as possible could save you heaps of money on fuel. The battery is covered under MG's generous seven-year/80,000-mile vehicle warranty.
Shop used MG HS cars for sale at Motorpoint, or check out the smaller MG ZS
7. Nissan Qashqai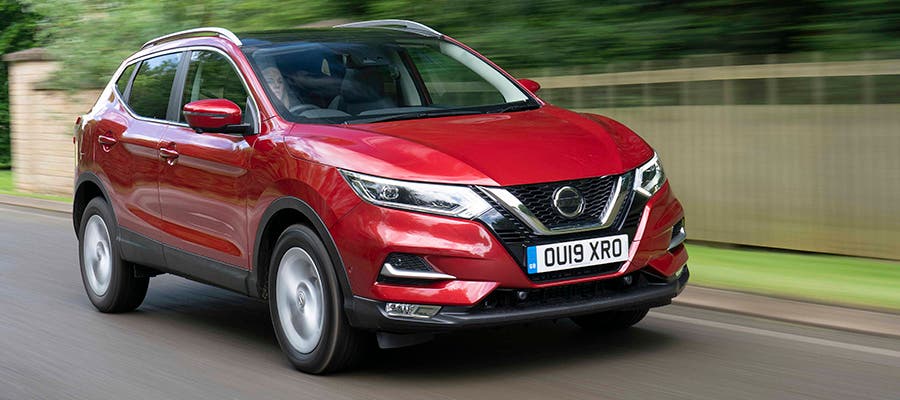 Read our Nissan Qashqai review
The Nissan Qashqai is the ubiquitous family SUV, and it's popular for a number of reasons. It offers a comfortable ride that's perfect for family transport and all the must-have equipment to make trips to the in-laws' bearable. Given its popularity when new, the used Qashqai market is huge, and Qashqais in all specs and colours are widely available.
And affordable, too – expect to pay under £200 per month for a low-mileage three-year-old car. Running costs aren't extortionate, either, with over 40mpg possible for the petrol engines and 60mpg achievable if you pick the 1.5-litre diesel engine.
Shop used Nissan Qashqai cars for sale at Motorpoint, or check out the related Renault Kadjar
8. SEAT Leon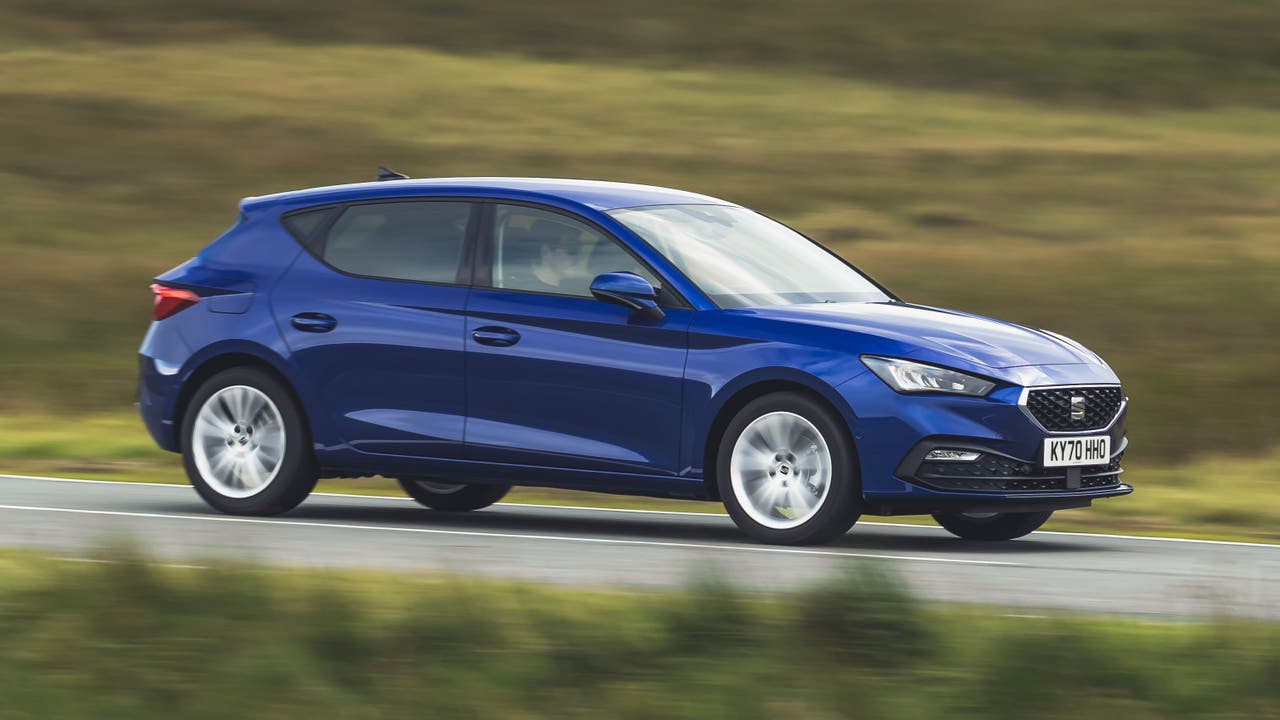 Read our SEAT Leon review
A Volkswagen Golf in a tracksuit, the SEAT Leon is a bit sharper and a bit sportier than VW's effort – and much better value, too. Less than £200 per month buys you a two-year-old Leon hatchback in SE Dynamic trim, which gets a host of features including front and rear parking sensors, a fantastic digital instrument cluster, sat nav and cruise control.
Two generations of Leon are available at Motorpoint. The previous-generation car has a more intuitive infotainment system, but the new Leon is more spacious, slightly better equipped and, well, not as old.
Shop used SEAT Leon cars for sale at Motorpoint
9. Skoda Kamiq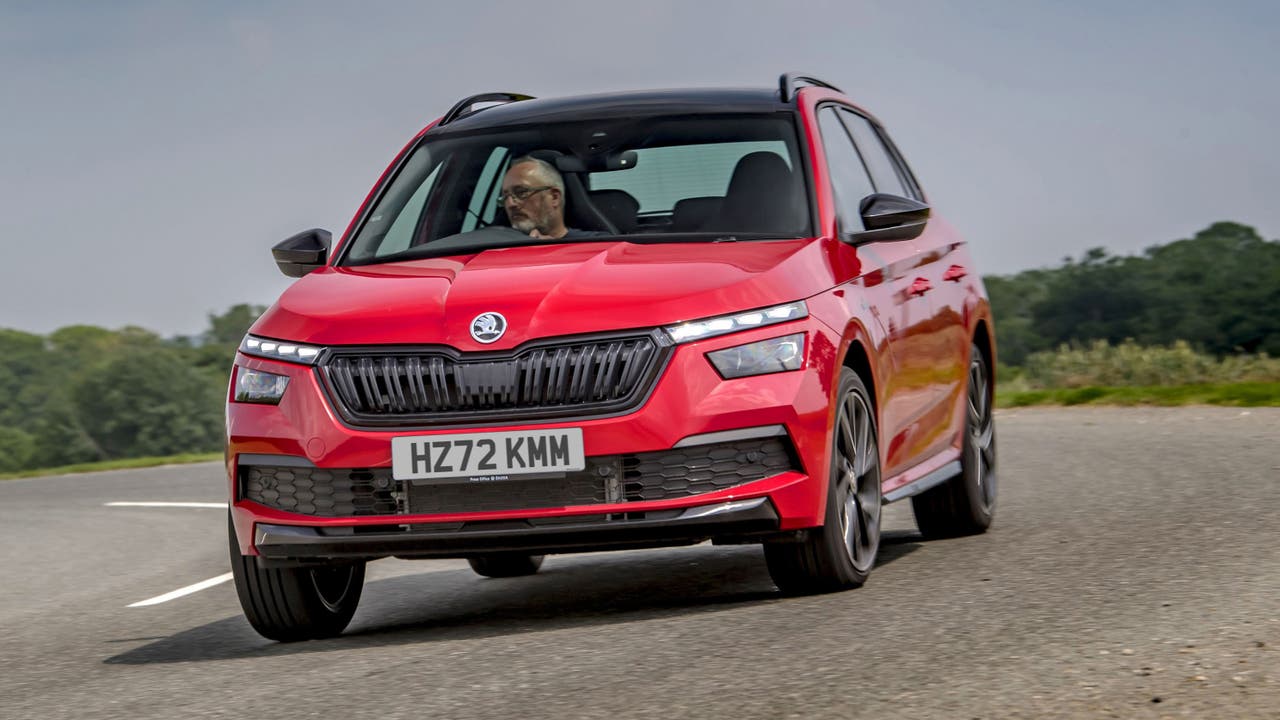 The Skoda Kamiq is the Czech brand's smallest and most affordable SUV, but it's certainly not lacking the practicality and build quality that we've come to expect. The 400-litre boot is fractionally bigger than a VW Golf's boot, and it's easily big enough for a buggy and a couple of fully stocked changing bags. If your sprogs are older and bigger, they'll have space to stretch out in the Kamiq's impressively roomy rear seats.
The Kamiq has a composed, capable driving experience. You could almost call it sporty if it was a bit more engaging. Speed bumps are barely noticeable, there's barely any body roll – snacks won't fly side-to-side in fast corners – and it's refined at motorway speeds.
Shop used Skoda Kamiq cars for sale at Motorpoint, or check out the related SEAT Arona
10. Vauxhall Grandland X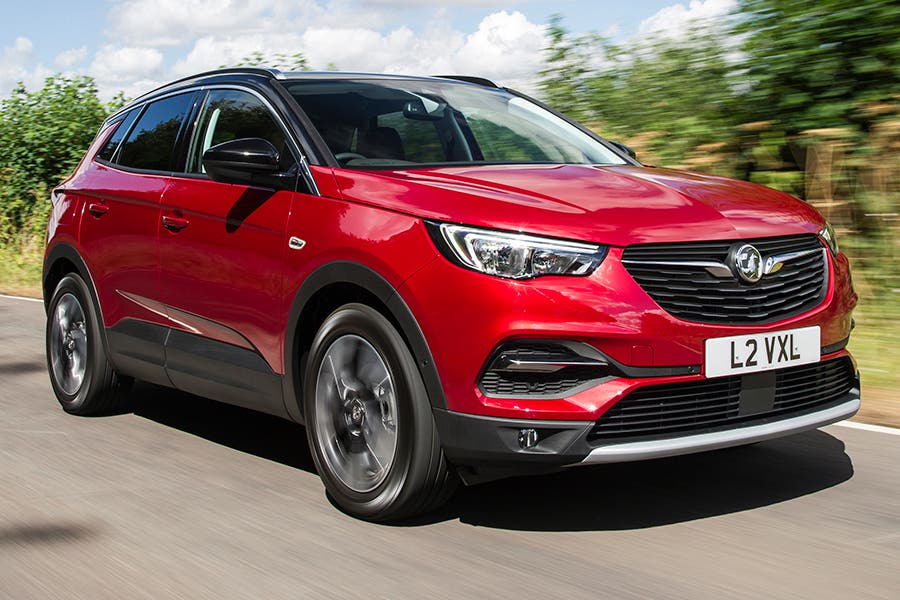 Put simply, the Vauxhall Grandland X is a very sensible SUV. We mean that in the best possible way, because it'll simply get you to where you need to go in a sophisticated and fuss-free way. It's really spacious inside, it feels like it'll last years of toddler tantrums and cries of 'are we there yet?', and the adults up front get plenty of gadgets to enjoy. We're talking about the likes of cruise control, speed limit recognition, DAB radio – if you get to listen to something other than Frozen – and climate control.
Its engines are sensibly powered and sensibly frugal until, that is, you get to the range-topping plug-in hybrid. Called the Hybrid4, it packs a hot-hatch-beating 300hp and four-wheel drive for a very unsensible 0-62mph time of 5.9 seconds – that's as quick as an old V8-engined Audi S4.
Shop used Vauxhall Grandland X cars for sale at Motorpoint