Used Vauxhall Astra cars for sale
We currently have 3 in stock
One of the most stylish family hatchbacks on the road
There are 2 trims of Astra manufactured by Vauxhall in our current stock
*Savings shown against new list price.
Our stock of used Vauxhall Astra come in a range of gearbox and fuel type options and are currently located at the below sites
Fuel Type
Browse Motorpoint's selection of used Vauxhall Astras and find out for yourself what this spacious vehicle can offer you.
The Astra is often seen on the UK's roads, and such popularity really pays testament to how much this great value car has to offer. With a number of body options including the smaller hatchback and bigger estates, as well as the nifty three-door Coupe versions, you are spoilt for choice.
Each model still manages to maintain the refined and attractive shape that makes the Astra so recognisable, but there are 10 trim levels available to help you set the range apart. The bigger estates can offer the most room for passengers and there is more than enough space to seat a family of five. However, the hatchbacks still have plenty of space and generous boots.
Along with the high number of trim levels, there is an equally large range of engine sizes, offering something for every driver. From smaller, economical petrol and diesels, to bigger, turbocharged engines with the VXR hatchback being particularly fast. Incredibly reliable and with a top safety rating, this car is a superb choice.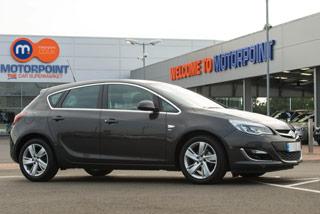 Watch Ken Gibson's video review of the Vauxhall Astra above or read the full review here.