We all know new drivers struggle to scrape enough cash together for a car, what with the latest smartphones, fashionable threads and totally epic nights out, but Motorpoint isn't here to judge – it's here to get you rolling as stylishly and cost-effectively as possible. So read on for 10 top cars for first-timers or watch the video to see some of our favourite first cars.
1. Ford Fiesta
British as chicken korma, the German-built Fiesta's been easing drivers into driving since some of your grandparents were sticking on L plates (1976!), but it's been brought bang up-to-date for its seventh-generation with smartphone-friendly tech, an altogether slicker style and even mild-hybrid technology. Much as things have changed, the Fiesta's still cheap as chips to run, fun to drive, and rarely out of the UK's top-ten best-sellers. The ST hot hatch is pick of the pops, but ST-Line trim gets the look for less (and for all-important lower insurance premiums).
Find a used Fiesta to suit your budget
2. VW Up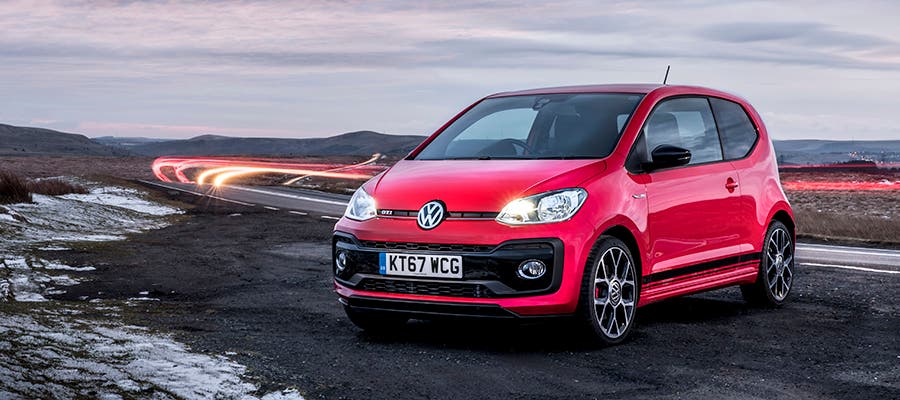 Want a smaller Volkswagen hatchback than a Golf? Can't face the absolute tedium of a Polo? Then the Up is your only choice! Thankfully the German supermini is brilliant, with a functional but stylish charm (think original Beetle given a 21st century twist) and more deft touches than a Premiership football final. A Lego-like design means the Up's surprisingly spacious inside, plus it's a reasonably energetic car to drive and costs peanuts to tax, insure and run. The ultimate Up is the GTI, a cut-price alternative to the Golf GTI that's both a bundle of fun and a sure-fire future classic.
Check out our range of used Volkswagen Ups
3. Nissan Juke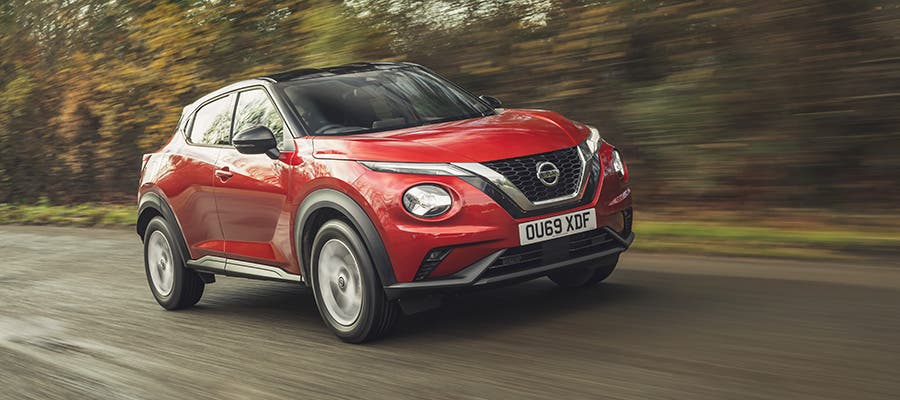 Nissan's Juke hasn't literally got My First Crossover written all over it, but hopefully you know what we mean. The compact SUV looks funky as a baby hippo, charges about just as enthusiastically, and offers decent enough space for mates to come too. Downsized engines offer big economy with decent punch, plus there's affordable insurance and tax, and decent hourly rates from main dealers too. Not to mention an affordable price tag in the first place. 
Find a nearly new Nissan Juke to drive away today
4. Fiat 500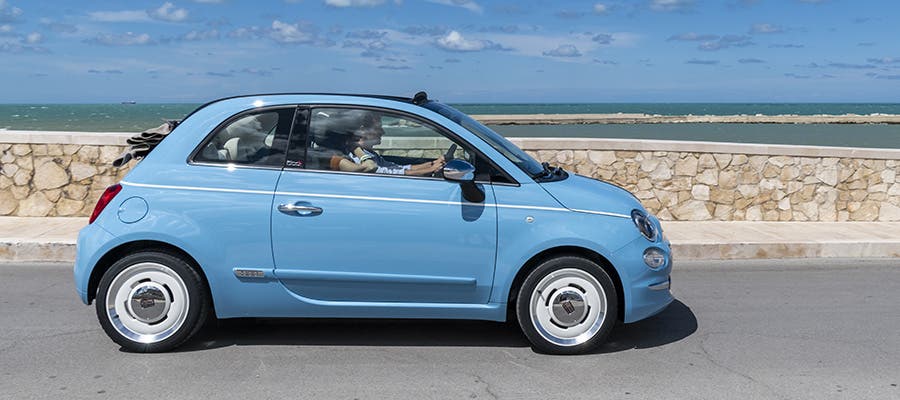 It's tempting to tickle the Fiat 500 under the chin so cute is its mousey-little face and dinky rollerskate proportions, but there's so much more to the Italian supermini than adorable looks. Pick from fun-loving convertibles to fashionable hatchbacks, no-frills entry-level trims to feature-packed special editions, and everything from the angry little Abarth 595 hot hatch to the zero-emissions 500 Electric. We're struggling to think of one car that covers more bases at such competitive prices… oh, except the one below.
Have we got a nearly new Fiat 500 for you?
5. Mini Hatchback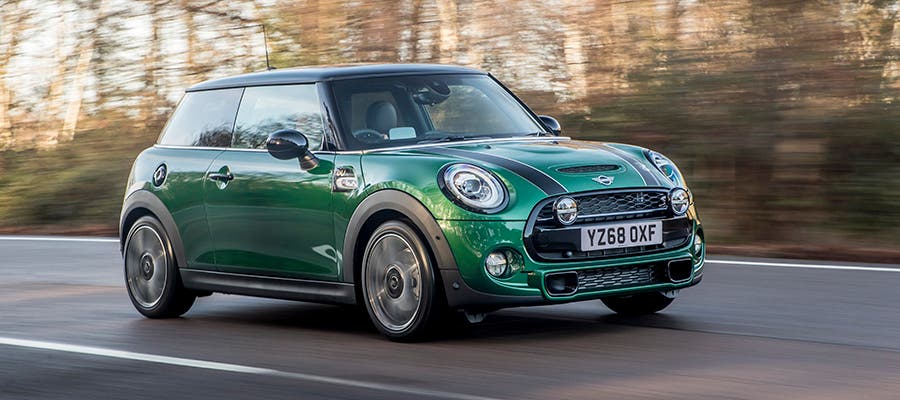 Anything the Fiat 500 can do, the Mini can do at least equally well. Like its Italian rival, there's a retro-cool design, everything from a feisty hot hatch (the John Cooper Works) to the Mini Electric, and more options than a straight-A student, but the Oxford-built Brit trumps the 500 by offering a five-door hatch, plus there's a full convertible, not just a sardine-tin lid like the 500C's glorified sunroof. No, it's not the cheapest to buy, but bag a 1.5 Cooper petrol and there's a side order of mid-50s mpg to go with your go-kart handling and perky performance.
There's a used Mini Hatchback with your name on it…
6. Vauxhall Corsa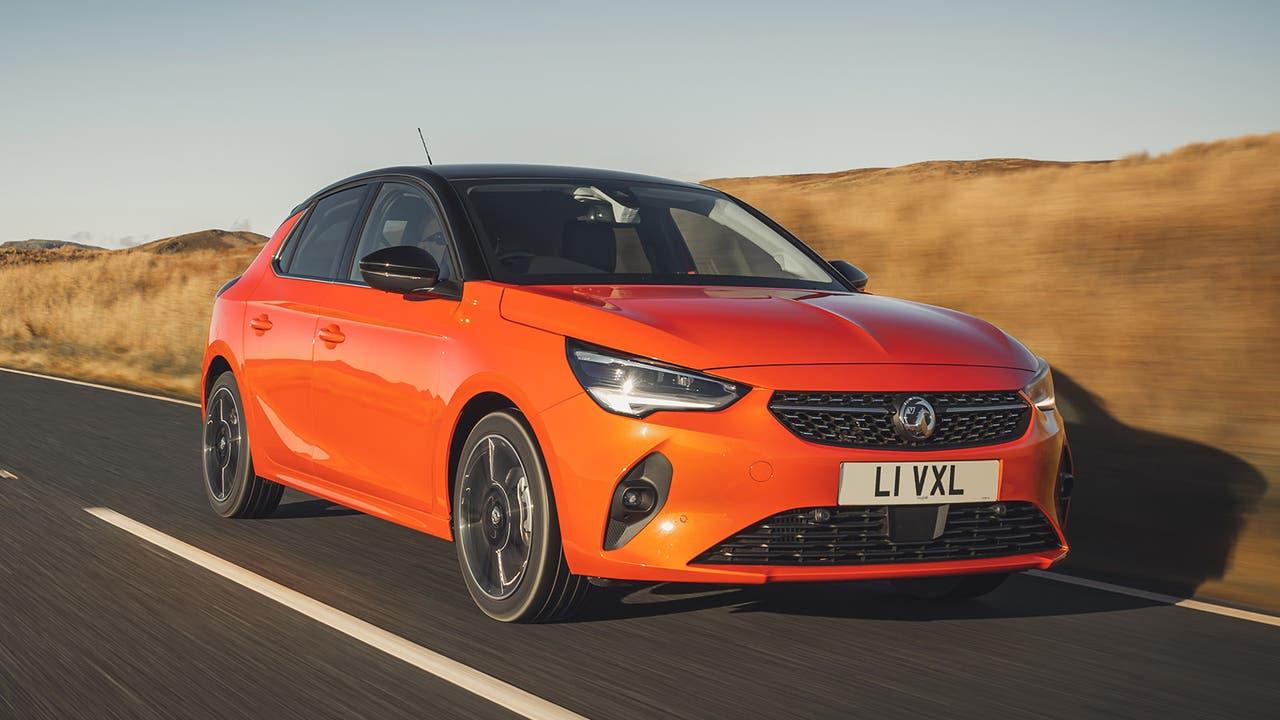 The Vauxhall Corsa might not have the retro charm of the Mini or Fiat 500, but it's still an icon in its own right – especially among young drivers. Corsas come with reassuringly low insurance groups to keep your coverage affordable, plus a full suite of safety gear to keep you safe on the move. Young drivers will be best off with the entry-level 1.2-litre 75hp engine but, if you can stomach slightly higher insurance costs, the 100hp turbocharged version of the same engine is much punchier with a negligible fuel economy impact.
Find your used Vauxhall Corsa at Motorpoint
7. Toyota Aygo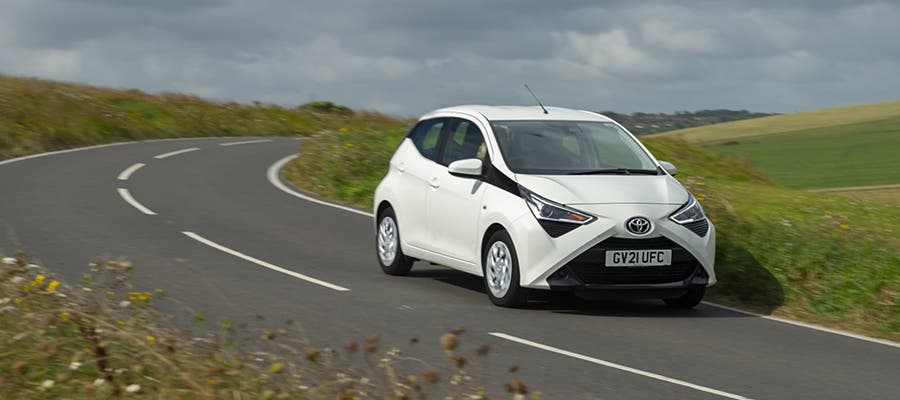 If it's all about VFM, the Aygo's one of the best value cars you can buy at Motorpoint, with prices firmly in the four-figure bracket. You'll probably brake for a corner before you crack the 0-62mph 'sprint' (14.2sec FYI), but why worry when you can eke almost 70 miles from every gallon? The Aygo even looks cool, especially in funkier colours and trims. The Citroën C1 and Peugeot 108 are basically the same underneath, but only the Aygo gets a five-year/100,000-mile warranty. No-frills motoring at its finest.
See our range of used Toyota Aygos
8. Audi A1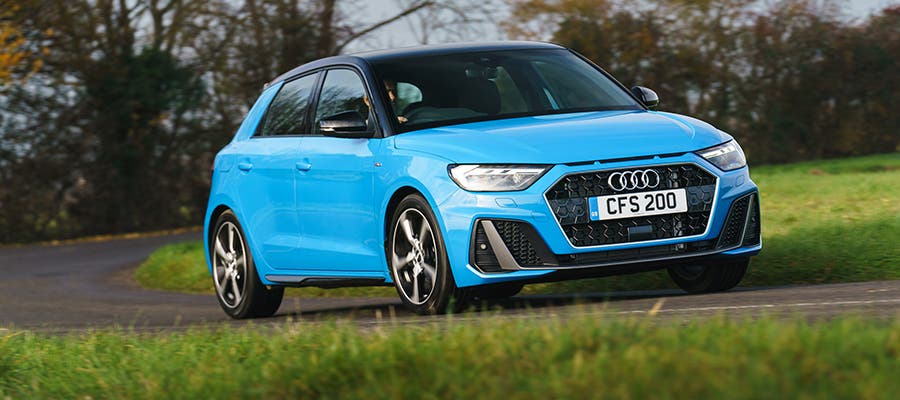 If the Mini and Fiat 500's cuteness make you physically ill, try the Audi A1. While those rivals could've been designed by primary schoolers from the 1960s, Audi's most affordable car is much more grown-up and modern – the young professional's choice. It can still let its hair down with funky colours and personalisation options, but no way will your boss think you're commuting in a ride-on toy, plus the running costs are equally sensible. The A1 isn't as sharp to drive as a Mini, and the minimalist interior is a bit, well, minimalist, but if you want purity with your premium posh, the A1 is the one for you.
See if a used Audi A1 is right for you
9. Peugeot 208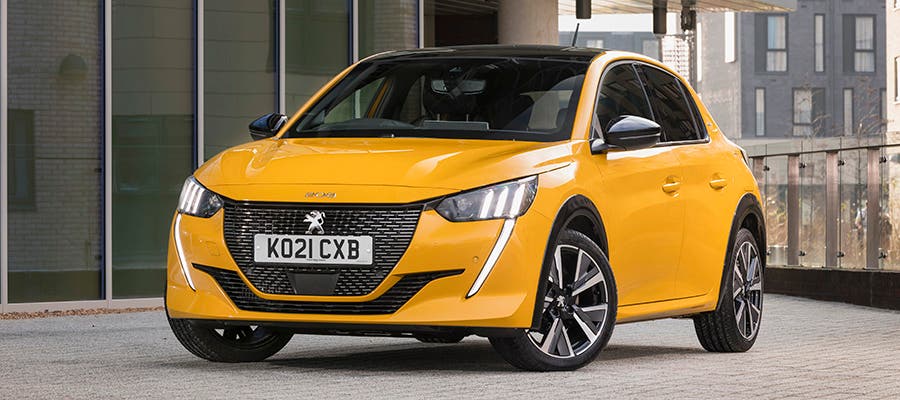 The French are absolute masters of everything from eating baguettes to drinking fine wine, but to this list of Gallic achievements we must add making fun and affordable hatchbacks. Peugeot's 1980s 205 is still a benchmark, and the 208 recaptures the old-timer's magic with fashionable looks, agile handling and seriously low running costs. Previous-generation models start from under £10k and very decent they are too, but step up the exceptional latest 208 with its 'three-claw' headlights if you can – quality and style is on another level.
Get some French charm in your life with a used Peugeot 208
10. Toyota C-HR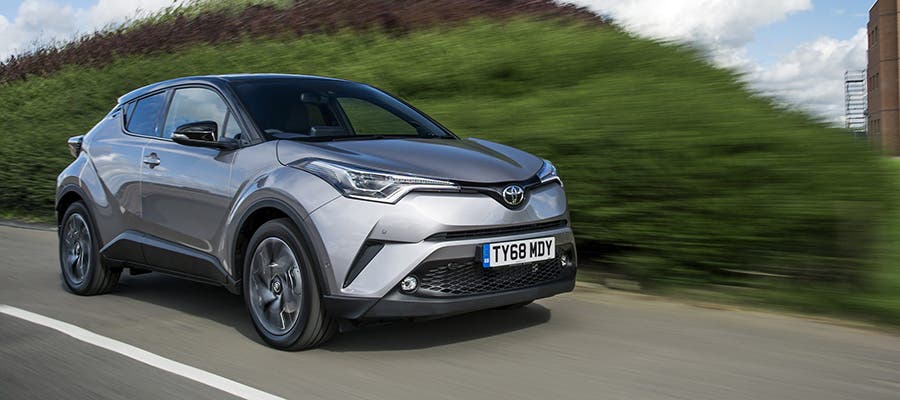 If it sounds like an instruction from the boss when you've been inappropriate, the Toyota C-HR is actually one of the most affordable and stylish crossovers money can buy. Not only does it look cool as a moon buggy, it's nimble through the bends here on Earth, spacious enough for mates and kit, and blessed with Toyota's built-tough durability. 1.2-litre models are the cheapest and crack 47.1mpg, but step up to the 1.8 Hybrid with its diesel-bashing 74.3mpg and there's a decent chance you'll recoup the extra outlay. Okay, so the CH-R's stark interior can't match the exterior wow factor, but you'll be too busy enjoying the drive to care.
Look the part with a nearly new Toyota C-HR.