SEAT IBIZA Car Review
An easy on the eye super mini!
The Seat Ibiza is a bit like a motoring equivalent of the Spanish island of the same name…good value.
And the Spanish super-mini is one of the more attractive and easy on the eye super minis, with a choice of three or five door versions.
On the inside you get a smart well screwed together cabin, although a splash of Spanish colour would do wonders. The Seat Ibiza is a shrewd combination of Spanish flair with German practicality, because it gets its engines and technology from owners Volkswagen.
That means the Seat Ibiza handles well as is a perfect city car, but also quite capable of long motorway journeys. There's a range of 1.2 and 1.4 petrol engines at the entry price level, but I'd go for the latest TSI petrol's that return between 50 and 60 mpg, or go for the diesel engines that push the economy up to 65/70 mpg plus.
If you are looking for a sound buy and value for money the Seat Ibiza is definitely worth a test drive.
* Looks good * Sound all-round buy * Good fuel economy *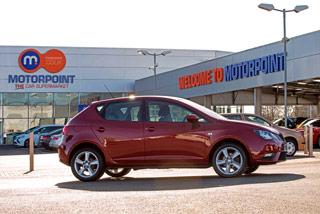 ---