AUDI A6 Car Review
Pamper yourself in style
Quality and style is what premium car buyers are looking for and the Audi A6 has it in spades.
The A6 is probably the most understated Audi, but unlike models like the TT and A5, it's aimed at business/family buyers looking for practicality and comfort as well as style.
The Audi A6 is all about refinement with a spacious and beautifully plush interior that's a pleasure to drive long or short distances. This is a car that pampers driver and passengers, with a big boot to complete the job.
It boasts a strong range of diesel and petrol engines. The Audi A6 may not quite match the Jaguar XF or BMW 5 Series for pure handling but most drivers will never push the car hard enough to experience the difference. It drives beautifully for most - trust me.
The Audi badge is one of the most desirable in the world and the A6, with all of its understated charm, is the perfect illustration of that.
* Understated but classy styling * Top range of engines * Among the best interiors on any cars on the road *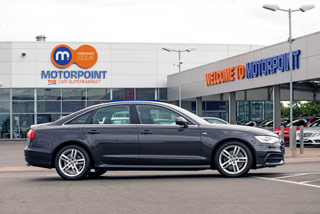 ---