We explain the rules about travelling with dogs in the car, and how to prepare for driving with a dog
When you adopt or buy a dog, you're probably dreaming of sunny road trips with your new best mate. And, while that blissful feeling might happen occasionally if you're lucky, the reality can often be rather more stressful. There are also a few laws to abide by when you're driving with your dog in the car, so we've put together this guide to make sure everyone – whether you have hands or paws – is happy and safe on the road.
What is the law on travelling with your dog in the car?
UK law doesn't specifically cover dogs in cars, but you could be pulled over if you're driving without due care and attention as a result of your pet's antics. If that happens, you'll get a fine and/or penalty points.
The Highway Code states that, when you're in a vehicle, you should "make sure dogs or other animals are suitably restrained so they cannot distract you while you are driving or injure you, or themselves, if you stop quickly".
What's the best way to transport your dog in a car?
There are several ways to restrain your dog while you're driving. All dogs are different, so some may prefer to ride in the boot or in the cabin, and some may prefer a harness while others might prefer to be in a cage. Here are some of the best ways to transport a dog in a car, with pros and cons:
Dog guard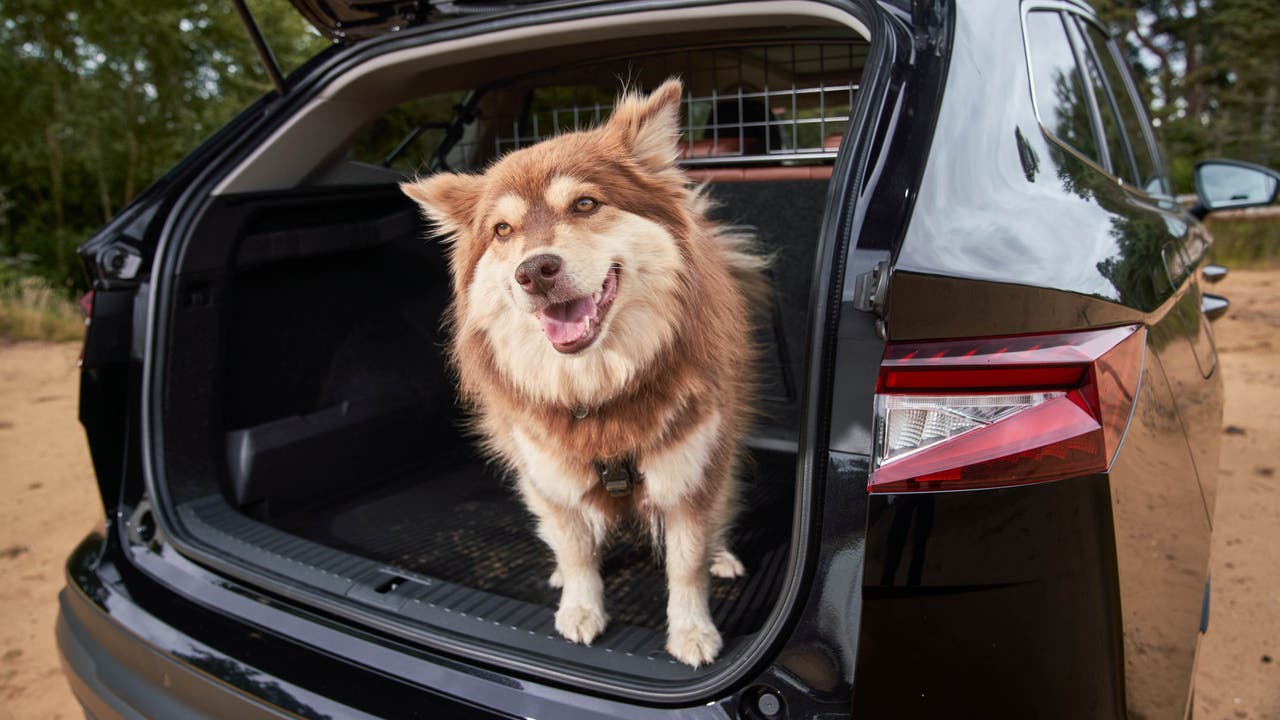 Pros
Keeps your dog restrained in the boot
Good for all sizes and breeds
Cons
Loss of luggage space
Not all dogs like going in the boot
May be difficult for dogs to jump into the boot
Crate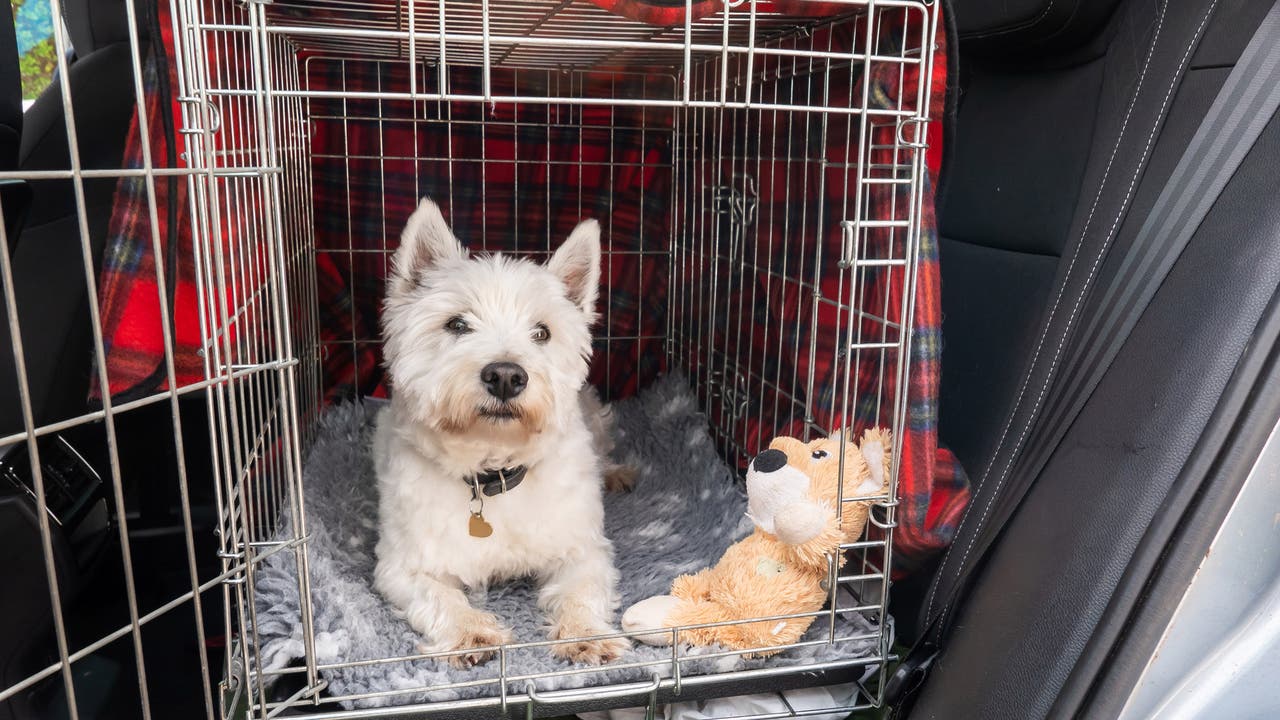 Pros
Your dog will be very safe
You'll still have some boot space
Cons
Only works if your dog is crate trained and happy to be contained for longer periods
Dogs can get carsick if facing backwards
Seatbelt harness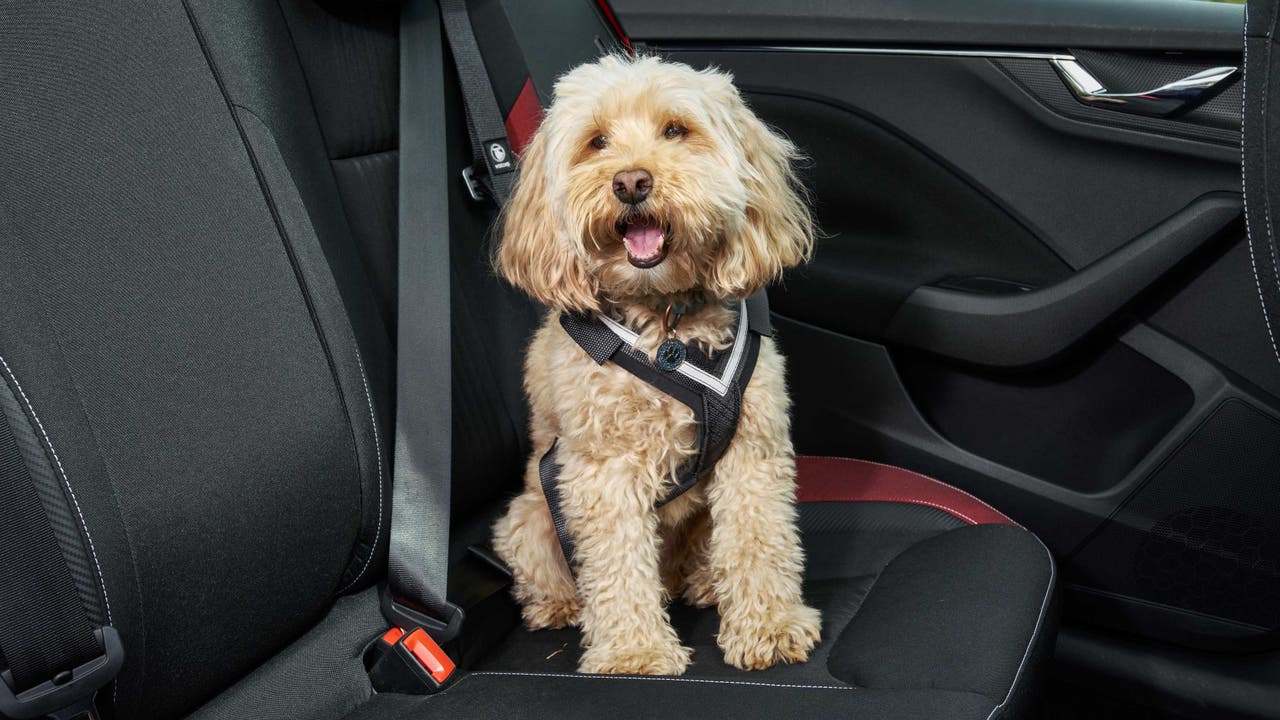 Pros
Your dog travels in the car with you – you can keep them entertained and easily check their wellbeing
No loss of boot space
Cons
Big dogs may become unruly
Potential for dirt and mess on upholstery
Dog car beds, hammocks and seat covers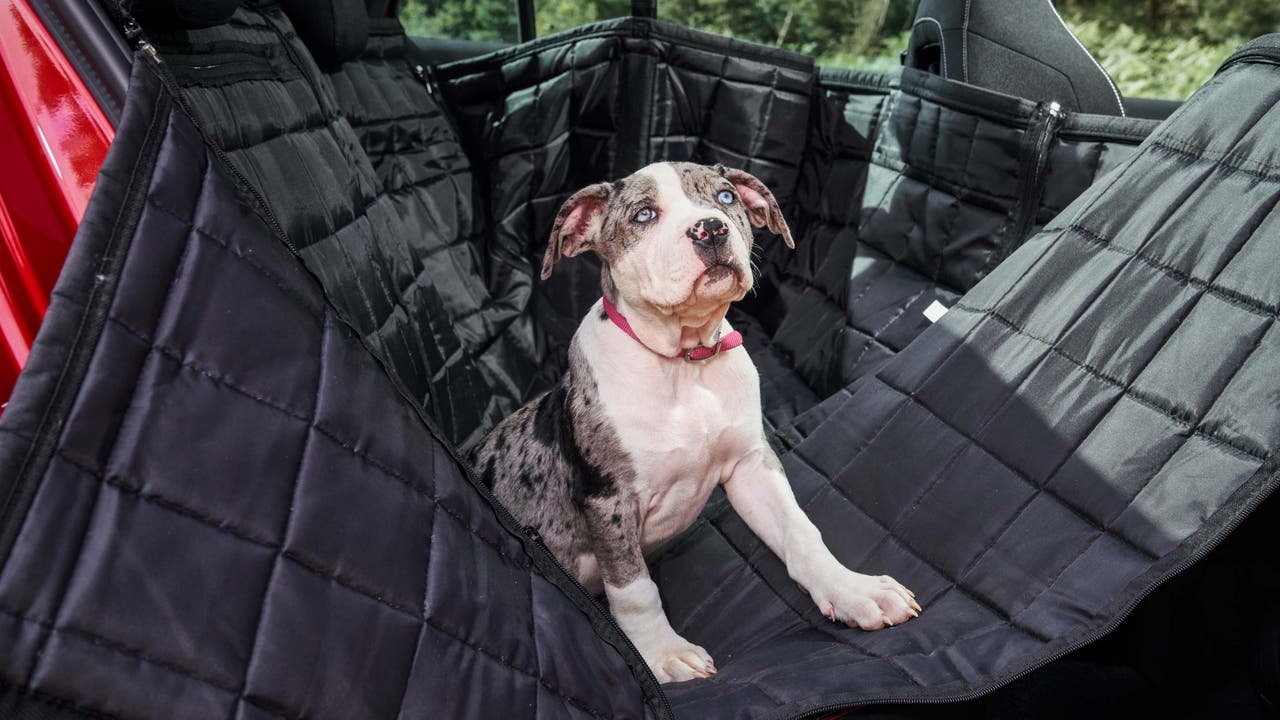 Pros
Keeps your dog contained
Great for dogs who love their beds
Less mess
No loss of boot space
Cons
Loss of rear-seat space
Bulky
Need to be paired with a seatbelt harness
Pet carrier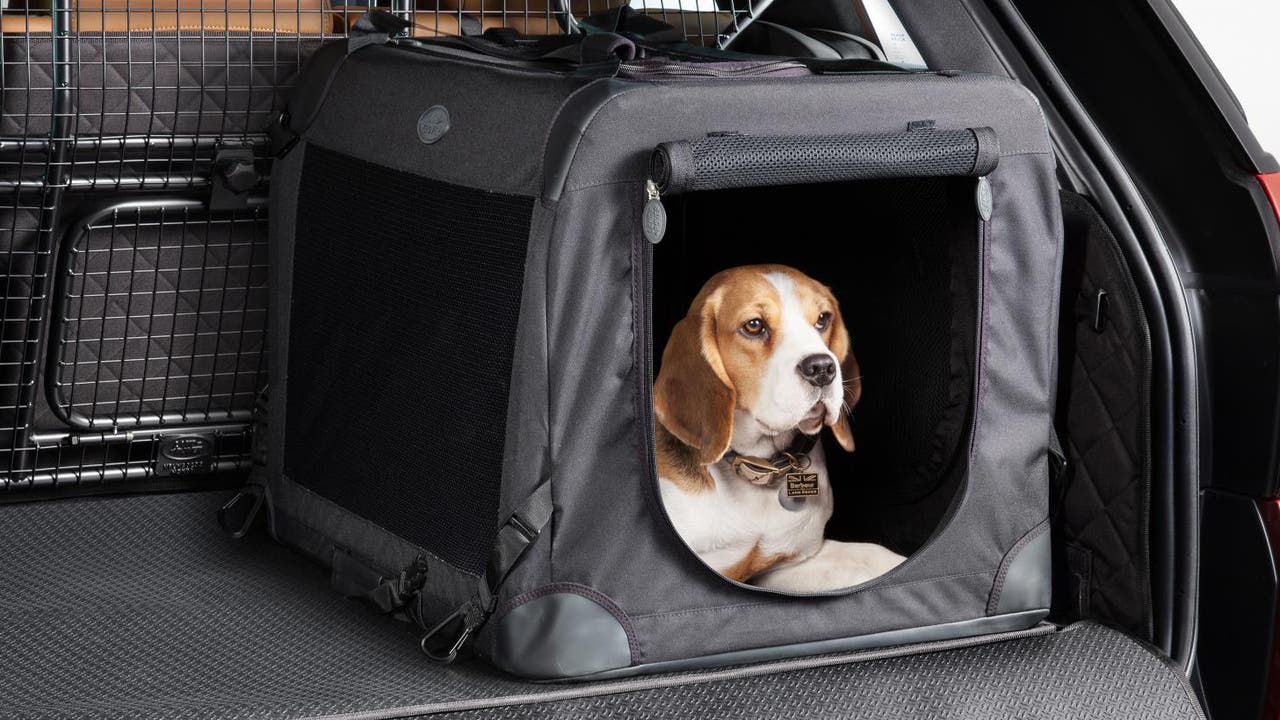 Pros
Lightweight and easy to carry
More portable than a large crate
Keeps your dog contained
Cons
Only suitable for small dogs
Your dog may feel uneasy in such a small space
Tips for travelling with dogs
To make it as easy as possible out on the road with your pooch, make sure you have plenty of water and snacks. Try not to feed your dog less than two hours before you drive, as it can cause discomfort and bring on motion sickness. Water is especially important in warmer weather, as the temperature inside the car can quickly heat up in the sun.
Your dog should be getting some ventilation, too – either via air con (not blowing directly at them) or by opening windows. Don't open your windows so far that your dog might try and get out, and don't let your dog hang out of the window.
On long journeys, take regular breaks so your dog can exercise, drink or do their business. Regardless of the length of journey, we'd recommend putting in their favourite toy or blanket so they've got familiarity.
Dogs can suffer from car sickness, which can be treated with medication prescribed by your vet. Many dogs don't like going in the car, so start with small journeys and take them to places they like to help them get used to travelling. If they only go in the car to go to the vets, they may associate going in the car with bad things.
FAQs
Your driving with dogs questions answered