AUDI A5 Car Review
A class leading coupe
If you are looking for a car with image and desirability but without being too flash check out the Audi A5..
The Audi A5 is an elegant coupe that oozes class, it looks like a premium car from whichever angle you look at it. And when you step inside the premium feel is underlined with a plush cabin that manages to combine quality in an understated way.
Audi have led the way for upgrading car interiors and the Audi A5 is a perfect example, beautifully laid out and full of top quality materials. They use aluminium trim expertly to highlight areas like the air vents. It delivers a smooth and comfortable ride upfront, the two rear seats are tight for tall adults because of the sloping roof but it's a cosy place to travel for children and its got a good sized boot.
The engines are equally smooth with the option of turbo petrol and diesels that deliver a nice mix of performance and economy. I'd go for the two-litre diesel - between 50 and 50 mpg - as the best combination.
There's always a debate as to whether the Audi A5 can match the handling of a BMW 4 Series, but in truth unless you want to drive on the limit the Audi offers more than enough driving enjoyment to satisfy any driver.
Even though the Audi A5 has been around for a while with only one minor face-lift, it still looks a class act thanks to the timeless design and the ongoinge the lure of the Audi badge.
* Elegant and stylish * Classy cabin * Strong range of petrol and diesel engines *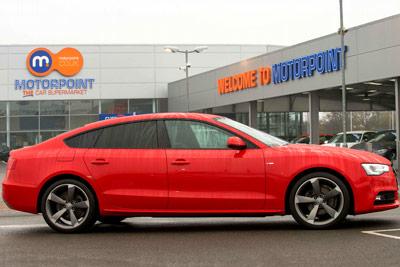 ---