Two premium German hatchbacks, but which should you buy? We compare the Audi A3 and Mercedes A-Class
The Mercedes A-Class is a behemoth. It's a constant among the UK's best-selling cars, thanks to its premium interior and desirable three-pointed star badge – among other qualities that we'll cover in more detail below. But it's not the only choice if you're after a luxury hatchback, with the BMW 1 Series and Audi A3 its main competitors. Both have a similarly plush and high-tech interior, economical engines and appealing badges.
Here, we're comparing the A-Class to the A3 but, if you're undecided, check out our comparisons of the A-Class vs 1 Series and A3 vs 1 Series.
Mercedes A-Class vs Audi A3 compared
Mercedes A-Class
Audi A3

Pros:

Theatrical interior
Very comfortable

Pros:

More practical
Slightly better build quality

Cons:

Not quite as spacious
Some models have small screens

Cons:

Some models look a bit dull
Not quite as comfortable
Styling and design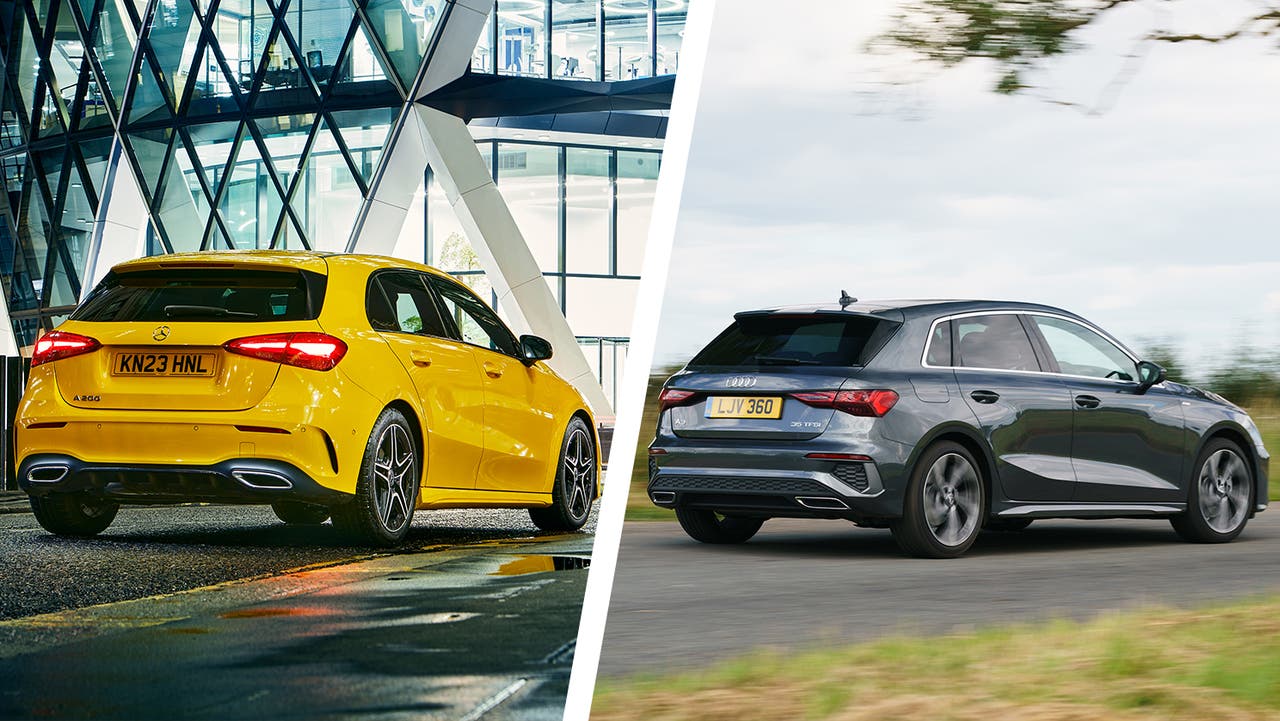 If you chose between the A-Class and A3 on styling alone, you'd still end up with a good car. Styling is very subjective, but the A-Class is likely to appeal if you like a sleeker, curvier shape, where the A3 has a more upright stance and looks a little more conventional.
Both of these cars get a choice of entry-level versions or sporty-looking trim levels, and we'd recommend going for an A-Class in an AMG Line trim or an A3 in S Line trim if you're keen to have flashy looks. Lower-spec cars miss out on the blingy big wheels and fancy headlights.
Interior and practicality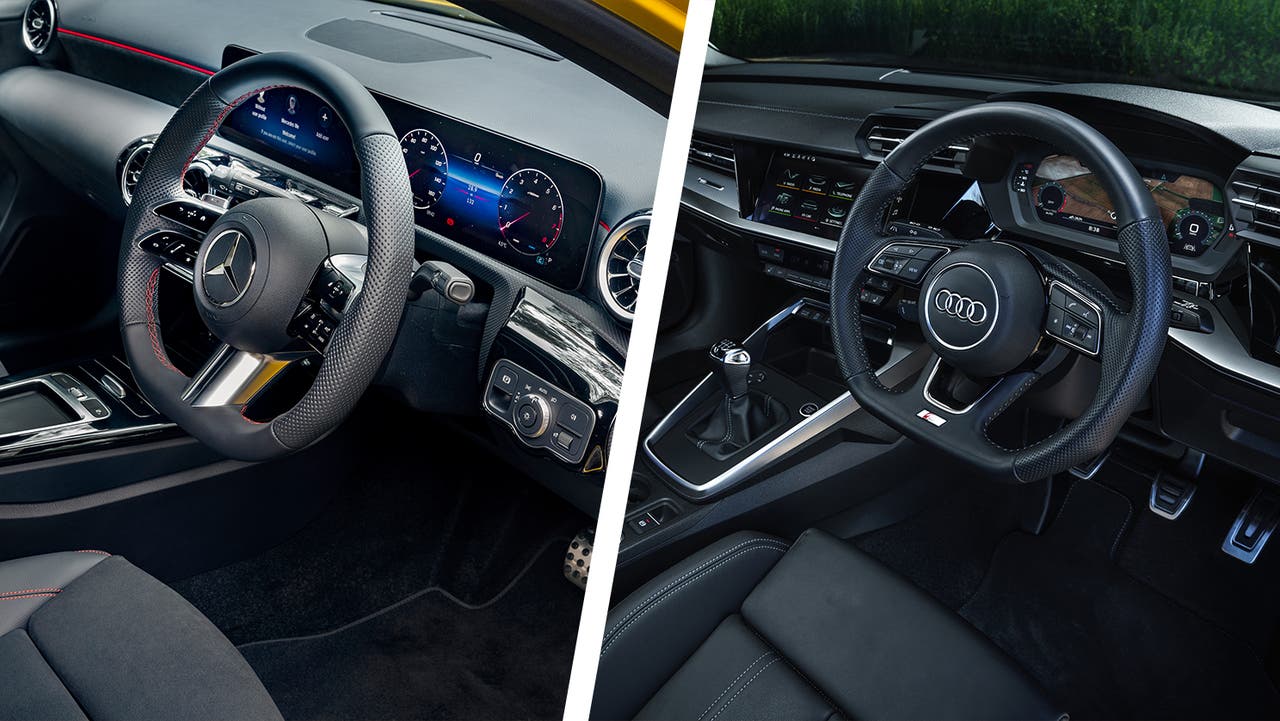 You'll probably base your decision on whether to buy the A-Class or A3 on their interiors. The Mercedes definitely has the edge when it comes to interior style and pizazz, especially on high-spec models with their huge screens. All the materials you touch feel great, with lashings of cool metal, soft leather and glossy piano black trim. Once you've got used to the fiddly steering wheel controls and the various submenus contained in the MBUX infotainment system, it's very responsive and easy to use.
Audi's interior design is more angular and geometric than Mercedes', but the two cars have a lot of similarities in terms of the tech and features on board. Both have sat nav, cruise control, keyless start, digital dials and air conditioning as standard.
Every Audi A3 comes with a large touchscreen – there's no small-screen option like you get on certain A-Classes. We find Audi's MMI system a little easier to use than Merc's setup, and it doesn't take long before you've got the measure of its capabilities. The steering wheel controls are more conventional but, importantly, easier to use than the scroll wheels in the Mercedes.
While the Mercedes definitely looks more flash inside, there are a few creaks and slightly flimsy plastics hidden away if you go looking for them. There aren't nearly as many in the Audi – its build quality scores slightly higher than Mercedes', although its styling is more conservative.
Both these cars measure in at the longer end of the compact hatch market – between 4.4 and 4.5 metres. The Audi is a little bigger, but it's noticeably more practical than the Mercedes – there's more rear-seat space, and a more capacious boot. Really, though, both can take four adults in comfort and a week's worth of shopping, so it might not be a dealbreaker if you're awed by the A-Class.
Engines and performance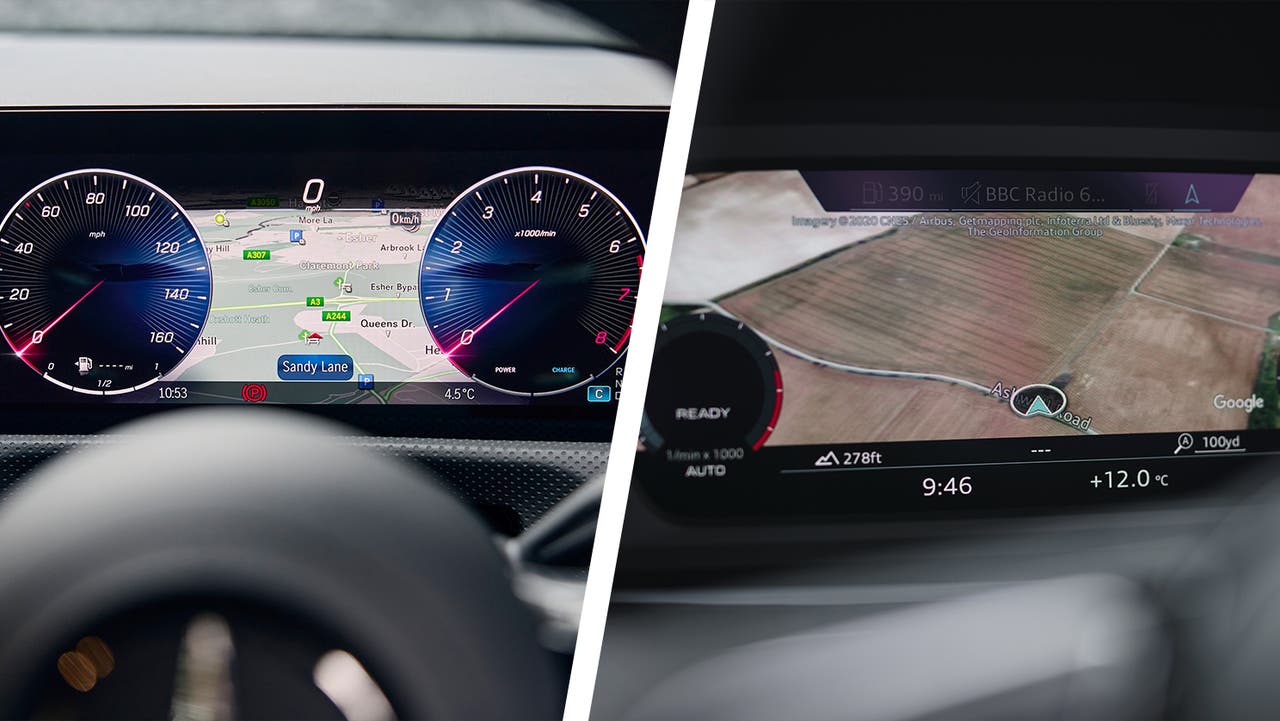 The A-Class' engine range includes two versions of a 1.3-litre four-cylinder petrol engine, two 2.0-litre diesels and a plug-in hybrid – plus two rapid AMG range-toppers and a couple of older petrol and diesel engines. There's not a bad one in the bunch, and most buyers will be well served by the 1.3-litre petrol. Of the two, we'd pick the A200 over the A180 as it's a bit more powerful – 163hp versus 136hp – but no less economical, with both managing around 48mpg. Long-distance drivers will appreciate the extra 10mpg or so that the diesel engines offer.
Audi's engine range starts with a 1.0-litre three-cylinder petrol engine, which sounds meagre but actually offers fairly decent performance. Above that is a 1.5-litre four-cylinder petrol with 150hp, which is well-suited to both congested city streets and long motorway hauls. This is capable of 50mpg, but the difference in fuel costs between this and the A-Class' A200 engine aren't going to be noticeable in day-to-day driving. Diesels are also available and, as with the petrols, are marginally more economical on paper than Mercedes' equivalents.
Both these premium hatchbacks offer a plug-in hybrid option, with an electric motor and battery mated to a petrol engine. If you believe the quoted economy figures, both can manage over 40 miles of electric-only driving and around 250mpg – although you'll need to make sure you're driving on electric power for the vast majority of the time to get close to the official figures.
Value and reliability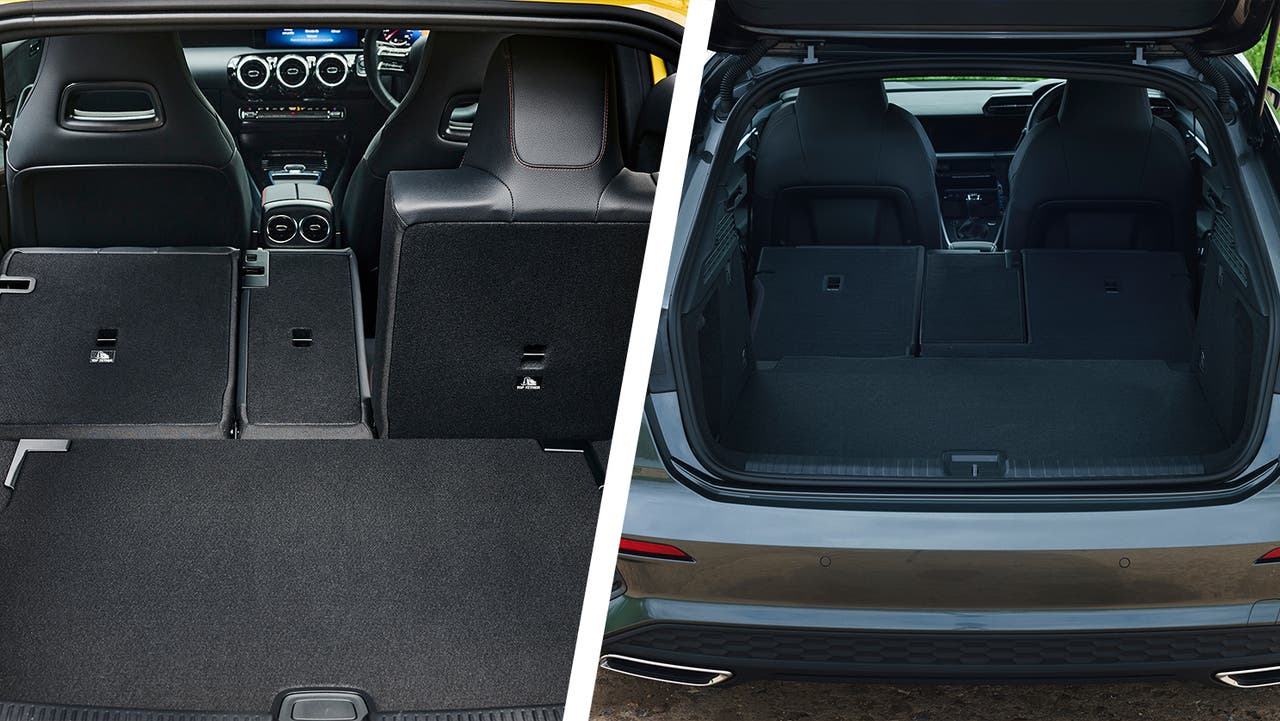 Neither of these cars can be called a value choice but, conversely, that's good news if you're buying on PCP finance. Both the A-Class and A3 have fairly high residual values – used examples are always in demand – and that means monthly costs aren't dramatically higher than for an equivalent Ford Focus or Volkswagen Golf. There's almost nothing in it when comparing the monthly payments for an A-Class against an equivalent A3.
Both are pretty well matched in terms of reliability, but neither do well as you might expect in owner surveys. Perhaps because there's a lot of tech that could potentially malfunction, or perhaps because Audi and Mercedes owners expect a faultless experience, these brands tend to be rated poorly for dependability. While the vast majority of cars will prove to be free from glitches, taking out an extended warranty can bring extra peace of mind.
Which is best?
As mentioned above, you won't be disappointed with either of these cars. Whether you plump for the A-Class or A3, you'll get a premium hatchback with powerful yet economical engines, a plush, high-tech cabin and a decent sized boot. On balance, we think the A3 just edges the A-Class – the Audi has a slightly bigger boot, slightly more spacious rear seats and a slightly higher-quality feel – but plenty of buyers have fallen for the A-Class' good looks.
Shop used Mercedes A-Class and Audi A3 cars
Browse our huge selection of used Mercedes A-Class and used Audi A3 cars for sale, all with low mileage and warranty cover.