We pit two premium German hatchbacks head-to-head to see which is better – the sporty BMW 1 Series or the luxurious Audi A3
On paper, the BMW 1 Series and Audi A3 look so closely matched that you might as well get them side by side and make your choice by going 'eeny meeny miny mo'. These two premium compact hatchbacks have been locked in stiff competition since the 1 Series launched in 2004, and the latest generations are closer than ever before.
To help you decide, we've driven both cars back-to-back and compared the specs of each one. And, whether you choose the Audi A3 or BMW 1 Series, you'll find lots in stock at Motorpoint – all with low mileage and with the option of convenient home delivery.
BMW 1 Series vs Audi A3 compared
BMW 1 Series
Audi A3

Pros:

Slightly better to drive
Sportier looks

Pros:

A little more rear-seat space
Wider choice of engines and body styles

Cons:

Boot can be awkward for larger items
No hybrid option

Cons:

Small boot on hybrid models
Not quite as fun to drive
Styling and design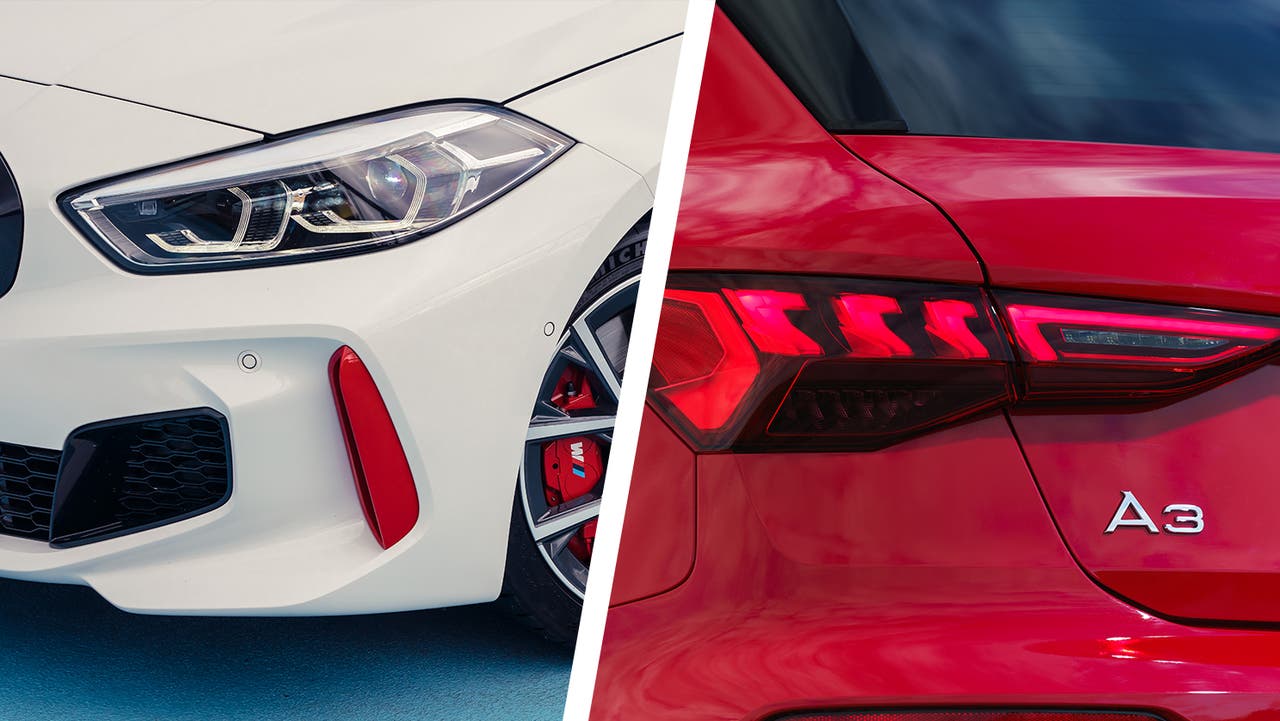 You'll no doubt prefer the looks of either the A3 or the 1 Series and, if you solely make your choice on looks, you won't be disappointed – both these cars are great. The A3 perhaps looks a bit more eye-catching from the front, and high-spec cars get some very fancy adaptive LED headlights. We'd say the A3 looks a little bit smarter than the 1 Series, although we could understand if you find certain specifications a bit chintzy or dour.
The 1 Series has a marginally more traditional look at the front, with a slightly snouty interpretation of the brand's large grilles. Side-on, we think the BMW has a pinch more styling flair – the Audi's side profile looks quite conventional – and the 1 Series' rear end looks a bit sportier as well.
Both come in restrained entry-level trims and sportier styles that bring hot hatch-like styling but without the associated running costs. Look out for S Line or Edition 1 on the A3, or 1 Series cars in M Sport trim if you like sharp bodykits and big wheels.
Interior and practicality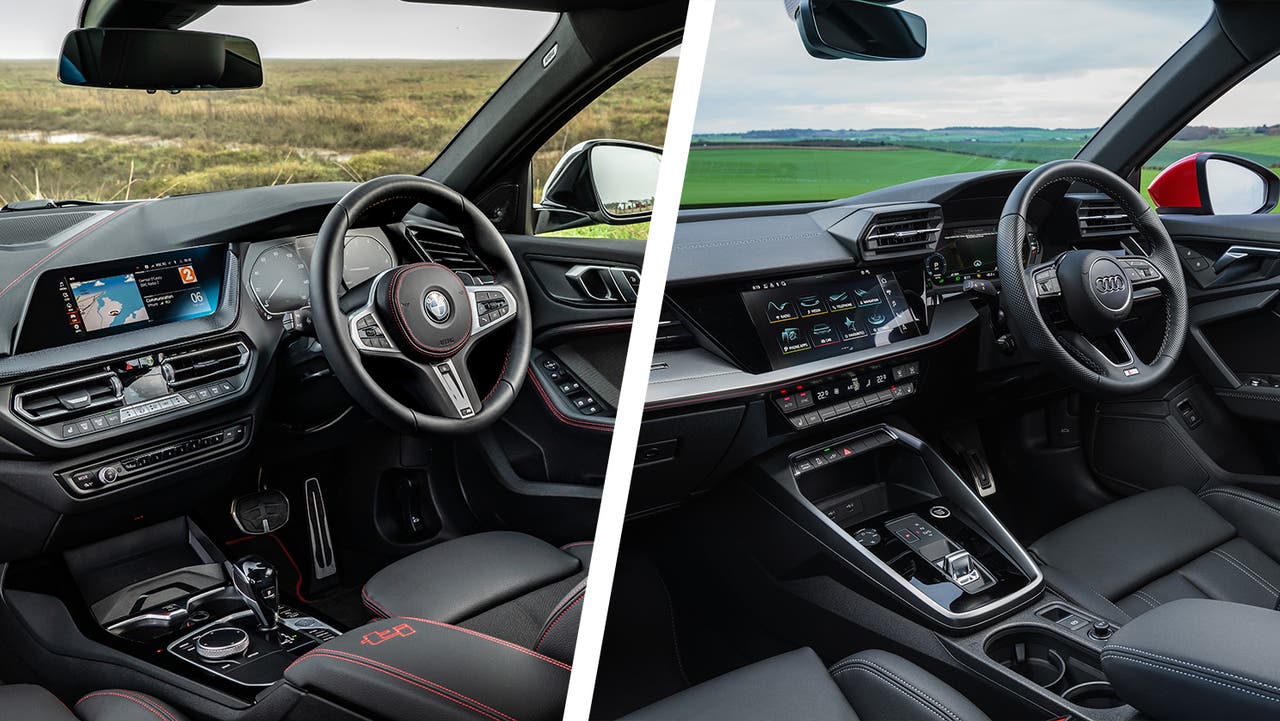 The A3 and 1 Series have premium interiors distilled into easy-to-park packages, and there's not all that much to separate them in terms of tech. Both have a large infotainment screen with built-in sat nav and phone connectivity, and both can come with crisp digital dials in place of traditional gauges. Neither goes without parking sensors, cruise control, LED headlights, air conditioning or alloy wheels, either.
Of the two, the BMW has a slightly more conservative interior design, but it's still smart and stylish. The curved infotainment screen surround adds interest, and the screen itself is much wider and slimmer than the Audi's squarer setup. We'd say that the Audi just edges it in terms of interior design and material quality – again, though, both feel well-built and expensive inside. One thing we'd note is that the BMW's standard sat nav setup gives you a green route to follow amongst similarly coloured main roads, so it can be hard to follow at times. The Audi's sat nav is much easier to read at a glance.
If you're regularly going to be carrying adults in the back seats, the A3 will be the better choice. The 1 Series' sleeker shape cuts into headroom very slightly, and the A3's legroom offering is marginally better too. On paper, the two cars' boot space figures are nearly identical, but we found that the A3's squarer boot floor made it a bit easier to load big suitcases and bulky items. The BMW wins back points for its large underfloor storage area, which is useful for stashing valuables out of sight.
Engines and performance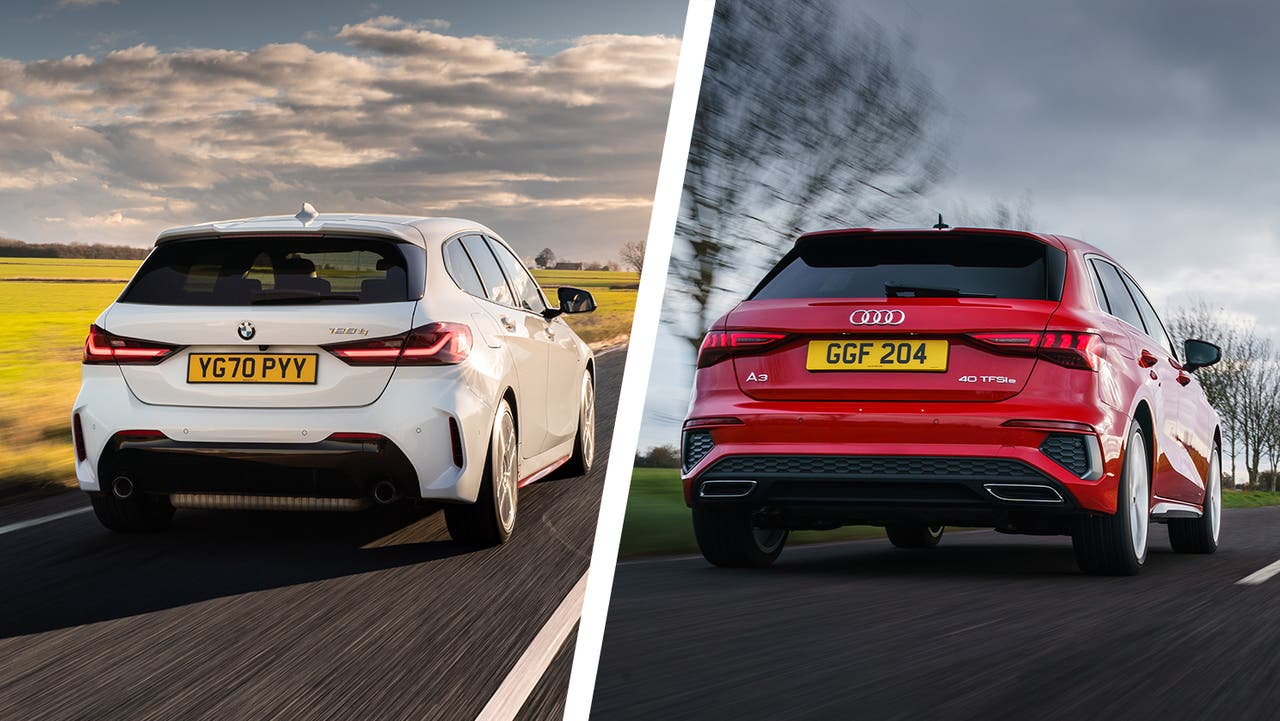 Previous generations of BMW 1 Series were unique in the family hatchback class by coming with rear-wheel drive, which helped its handling and balance and cemented the 1 Series as the top choice for keen drivers. This time, the 1 Series is front-wheel drive – this saves cost and improves practicality – and BMW says that the vast majority of customers won't notice the switch in the driving experience.
The current A3 is better to drive than its predecessors, so the gap between these two cars has never been closer. However, the BMW still provides a slightly more fun driving experience, while the Audi is a little better when it comes to comfort. The BMW is firm over potholes but not jarring, and even the diesel engine is impressively quiet.
BMW buyers don't have the same choice of engines as Audi buyers. There are two diesels – the entry-level 116d and the more powerful 118d – plus a 118i petrol engine. Above that are two hot hatchbacks, the Golf GTI-rivalling 128ti and the four-wheel-drive M135i. Meanwhile, the Audi has three petrol engines, two diesels, two hot hatches and a plug-in hybrid. We've compared the A3 and 1 Series engines here.
| | | | | |
| --- | --- | --- | --- | --- |
| Engine | Power and engine size | 0-62mph time (seconds) | MPG | Electric range (miles) |
| BMW 1 Series | | | | |
| 118i petrol | 136hp, 1.5 | 8.9 | 49.6 | - |
| 116d diesel | 116hp, 1.5 | 10.1 | 61.4 | - |
| 118d diesel | 150hp, 2.0 | 8.4 | 58.9 | - |
| 128ti petrol | 265hp, 2.0 | 6.1 | 40.1 | - |
| M135i petrol | 306hp, 2.0 | 4.8 | 38.7 | - |
| Audi A3 | | | | |
| 30 TFSI petrol | 110hp, 1.0 | 10.6 | 50.4 | - |
| 35 TFSI petrol | 150hp, 1.5 | 8.7 | 49.6 | - |
| 30 TDI diesel | 116hp, 2.0 | 10.1 | 60.1 | - |
| 35 TDI diesel | 150hp, 2.0 | 8.3 | 61.4 | - |
| S3 petrol | 310hp, 2.0 | 4.8 | 34.9 | - |
| RS3 petrol | 400hp, 2.5 | 3.8 | 31.4 | - |
| 40 TFSIe hybrid | 204hp, 1.4 | 7.6 | 235.4 | 40 |
Value and reliability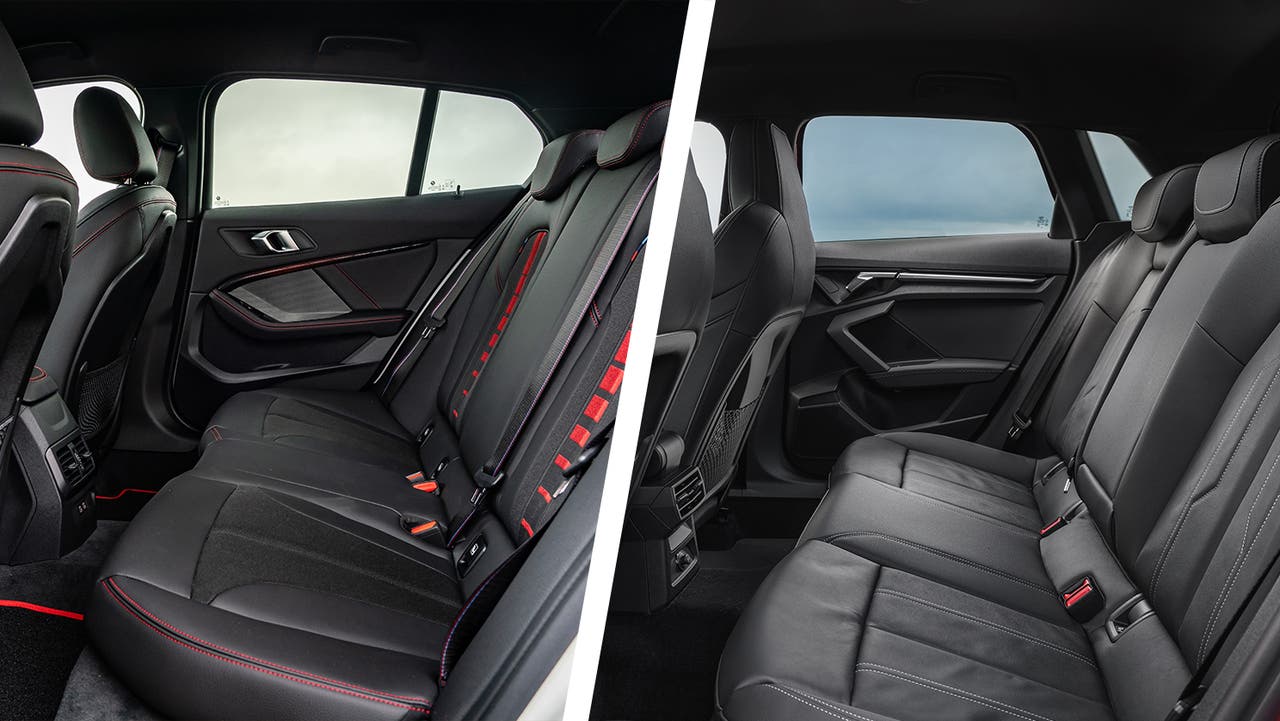 Are the Audi A3 or BMW 1 Series good value for money? That depends if you compare them to more mainstream hatchbacks such as the Ford Focus, or to larger Audis and BMWs. Both are more expensive than cars with less desirable badges, but you get the same tech and plush fittings as bigger and costlier cars. Both have good residual values, meaning attainable monthly payments on a PCP finance deal – so, in fact, the gap between an A3 or 1 Series and something like a Focus or Mazda 3 might not be that huge.
Neither the 1 Series or A3 has a faultless reliability record, which perhaps isn't surprising given just how much tech is fitted to both cars. While the majority of cars will cause no headaches whatsoever, it's worth considering an extended warranty when you buy your car for ultimate peace of mind.
Which is best?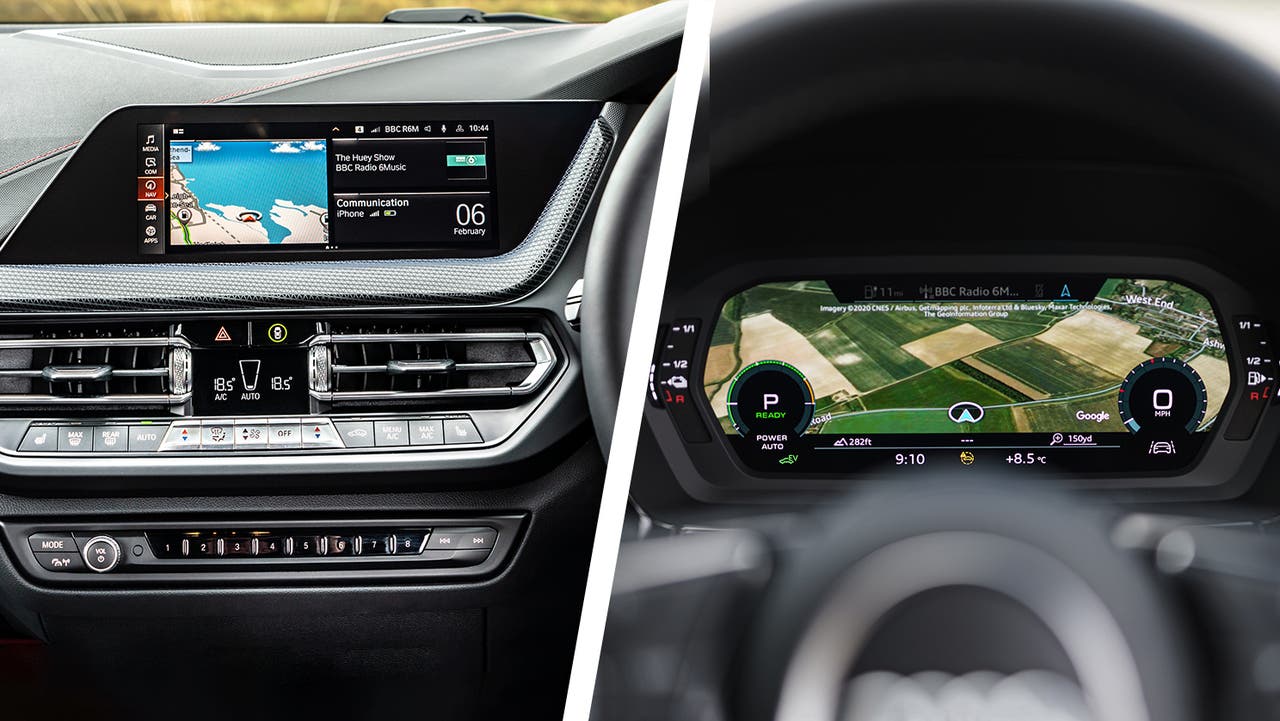 If you haven't decided based on looks or monthly payment alone, the answer depends on your priorities. With its slightly sweeter handling, the 1 Series is the better choice for sweeping B-roads and enthusiastic drivers. The A3 is a little more comfortable, a little more practical and, to our eyes, has a very slightly nicer interior. If we could only drive one, it'd be the A3. But only just.
Which premium hatchback is the one for you?
If you've chosen your ideal posh hatch, take a look at Motorpoint's choice of used Audi A3 cars and used BMW 1 Series cars. For more great options, take a look at our picks for the best used family hatches you can buy.