The Mercedes A-Class and BMW 1 Series both squeeze luxurious features into a compact, city-friendly package. Choosing between these two can be tricky when they're so close on paper, so which should you pick?
If you're weighing up which of these posh hatches to buy, keep reading to learn more about each choice. We've driven both and poured over the spec sheets to help you make a more informed decision. Once you've made your mind up, take a look at Motorpoint's selection of nearly new Mercedes A-Class and nearly new BMW 1 Series cars.
Mercedes A-Class vs BMW 1 Series compared
Mercedes A-Class
BMW 1 Series

Pros:

Comfier ride quality
Luxurious, posh-looking cabin

Pros:

Sportier driving experience
Slightly more refined on the move

Cons:

Not as fun for keen drivers
Slightly noisier on the motorway

Cons:

Firm ride
A touch more expensive to buy
Styling and design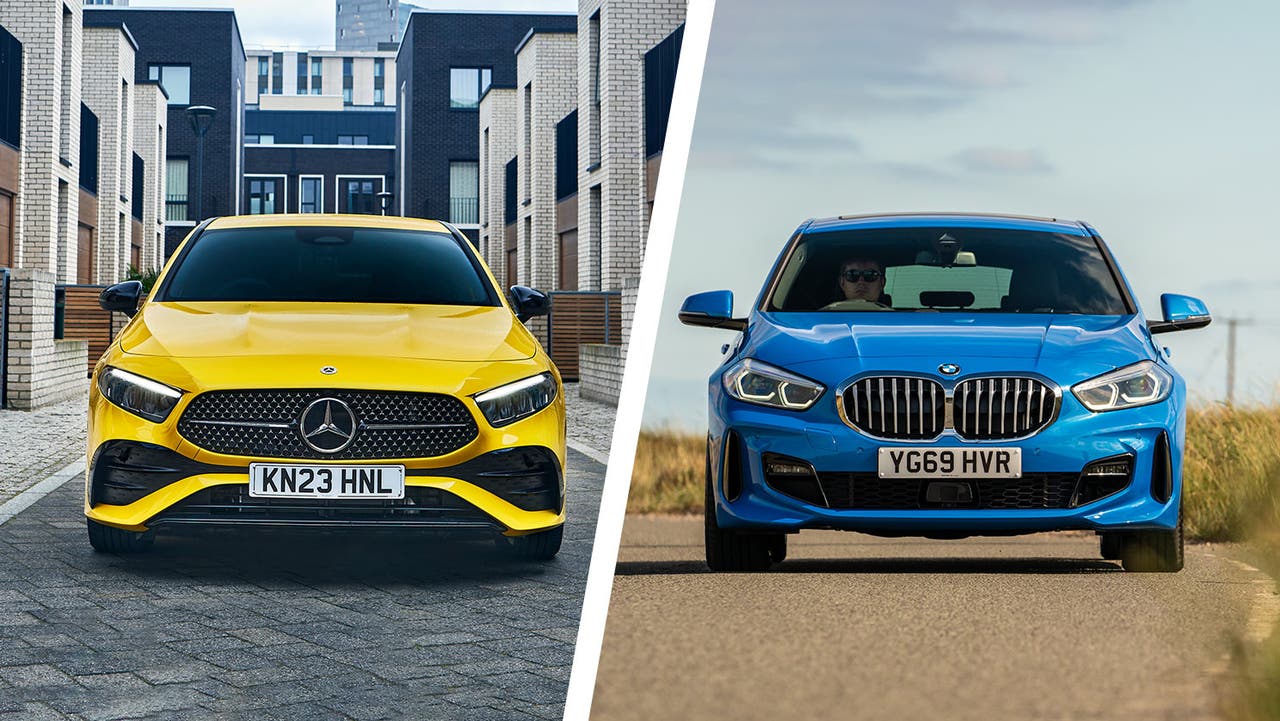 Neither of these hatches does a bad job of styling so, if you've already decided you prefer the look of one or the other, that might be the one to go for. If we had to choose, we slightly prefer the A-Class from the front, which has a simpler, more elegant look compared with the 1 Series' slightly snout-like front end.
Both cars look relatively anonymous from the side but, from the back, we think the BMW slightly edges it. The elongated brake lights give it a wider, more planted stance, which works especially well on the rapid 128ti and M135i hot hatch versions.
Like their predecessors, the A-Class and 1 Series are available in trim levels that ape the sporty look of the ultra-fast versions without the extra cost and fuel consumption. These are called AMG Line on the Mercedes and M Sport on the BMW and both editions help these models stand out thanks to aggressive body kits and wheelarch-filling alloy wheels
Interior and practicality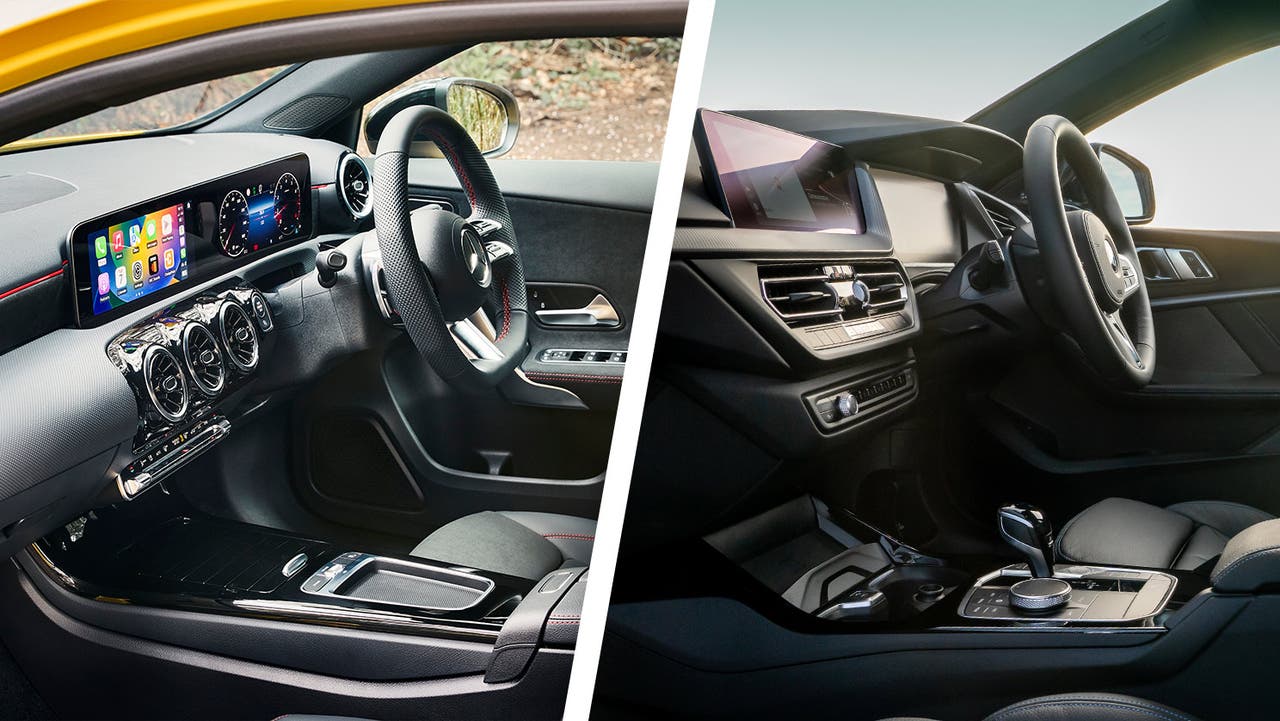 As you'd expect for premium cars, both the A-Class and 1 Series' cabins impress with their build quality and material choice. We think more people will prefer the look of the A-Class' interior thanks to more extensive use of gloss black and metal effect styling details, compared with the BMW's fractionally more conservative styling. We also prefer the more high-tech look of the infotainment setup in the Mercedes when equipped with the optional dual 10.25-inch infotainment displays – one for the driver and one in the middle.
Stepping into the BMW from the Mercedes doesn't feel like a downgrade, however. The car still feels upmarket with premium materials and excellent build quality. While the 1 Series' infotainment system doesn't look quite as nice as the upgraded setup in the A-Class, we think the layout of the menu is a little clearer and easier to understand at a glance. That said, while the BMW's central screen is wide, it is oddly short, which can lead to some of the on-screen buttons and information getting squashed.
As for practicality, there's little to separate these two cars. Both have five passenger seats but the rear row in both cars is far too narrow for three to sit side-by-side comfortably. With four adults on board, things are much better, leaving enough space for those in the back provided they're not far above six-foot tall. The 1 Series' 380-litre boot outshines the A-Class' 370-litre figure on paper, but the Mercedes is deeper in practice, making it better able to handle awkwardly shaped cargo. The BMW does score back some points, however, thanks to a lower and wider opening compared to the Mercedes.
Engines and performance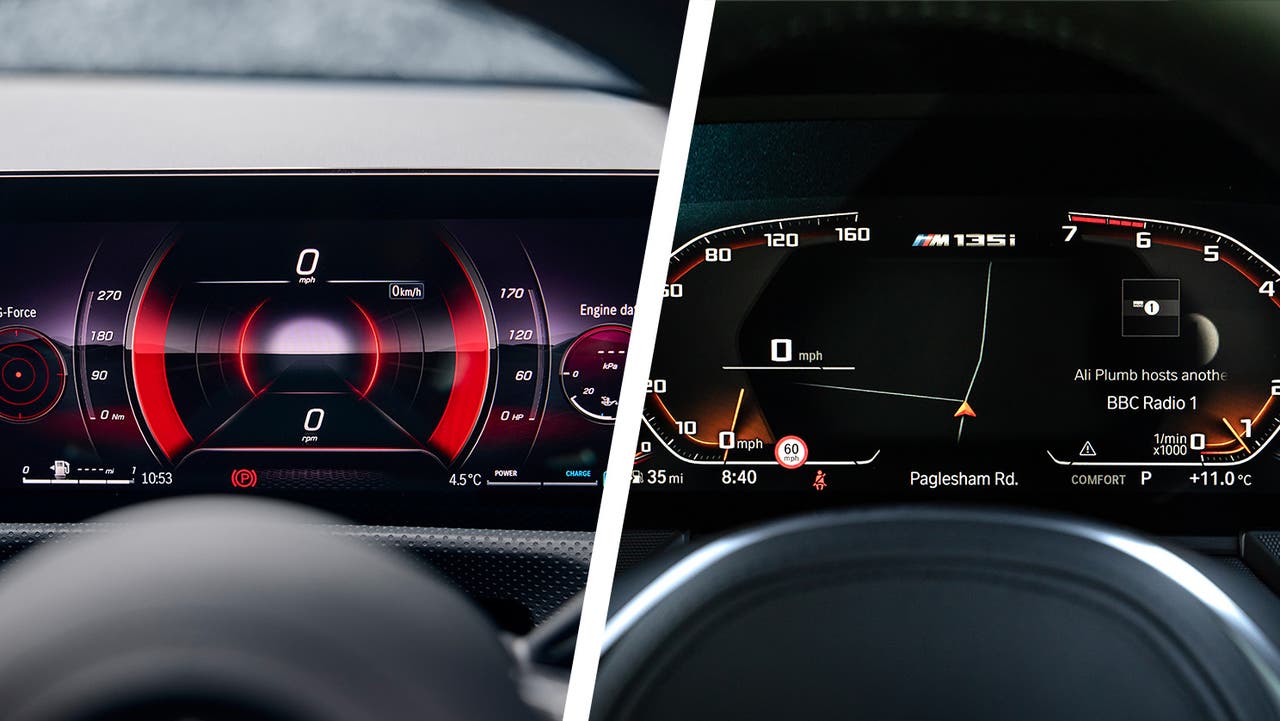 There's a wide selection of diesel and petrol engines on both cars. Entry-level engines avoid feeling underpowered on the motorway, but we'd still be tempted to upgrade to one of the mid-range choices as they feel more relaxed on the move. Both cars are available with an automatic gearbox and we'd recommend adding it in both cases. Neither manual option is 'bad', although the BMW's shift action is a little rubbery, but both feel much more relaxing to drive without having to shift yourself.
In practice, we found the Mercedes' engines to be a little more responsive, with a broader power delivery. If they're any faster than their BMW equivalents, it's too small of a gap to notice, but they feel fractionally nicer to use in day-to-day traffic. In general, however, the engines in the A-Class are a little noisier than those in the 1 Series, which remains extremely hushed under anything except hard acceleration.
Performance fans are well catered by both cars. BMW offers the front-wheel drive 265hp 128ti or the full-fat M135i with 306hp and four-wheel drive. However, the M135i is matched by the AMG A35 with its 306hp, and comprehensively outgunned by the AMG A45, which wades in with 421hp and supercar-slaying performance.
Driving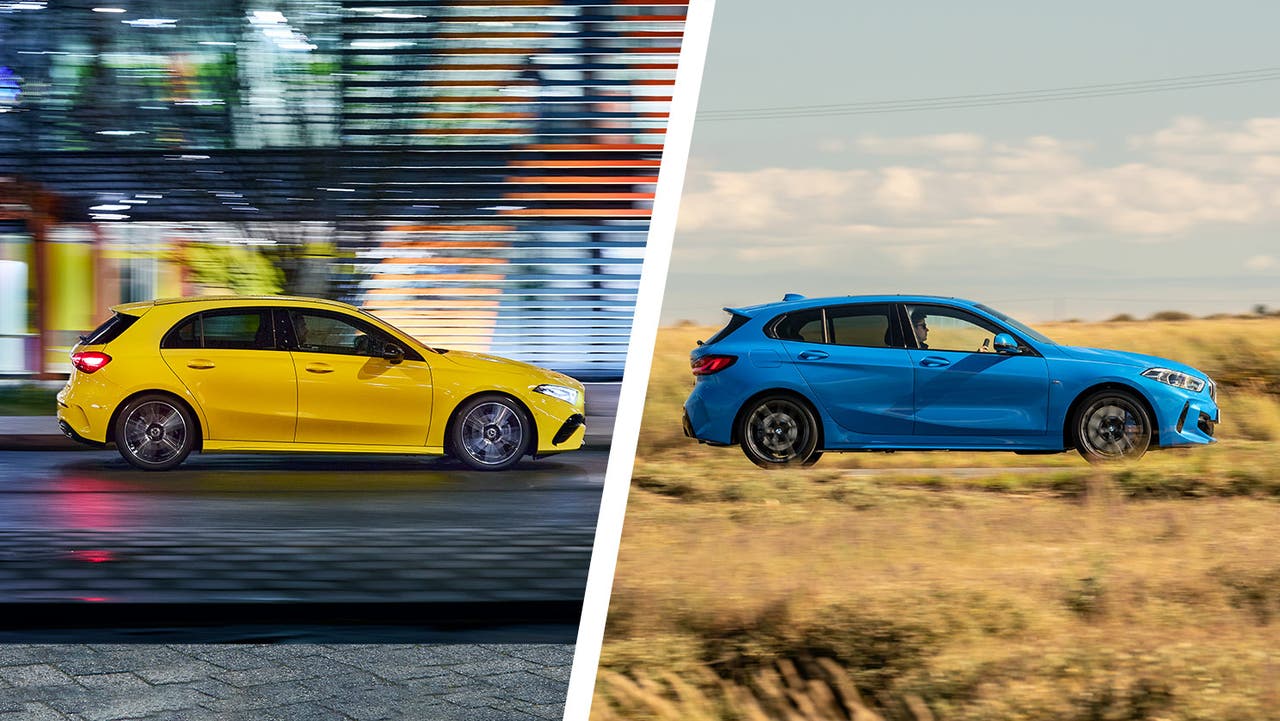 If you've not yet made your mind up, you'll probably be able to decide after taking both for a spin. Both cars drive well, but you'll probably prefer the Mercedes if you want a comfier, more relaxing experience, and you'll likely enjoy the 1 Series more if you're a keen driver.
On the road, the Mercedes impresses with its body control, smoothing out rough surfaces and big bumps. The steering is accurate and easy to use, although the feeling is slightly artificial. This is a car that doesn't reward aggressive driving but, instead, focuses on being easy and relaxing at everyday speeds. AMG models sharpen up the handling considerably to cope with the extra power.
Moving to the BMW, the driving experience is more focused. The suspension is noticeably firmer, with bumps being felt much more clearly in the cabin, but it's never so harsh that you'd call it uncomfortable. Of course, the benefit here is quicker, more agile handling with next-to-no body roll that makes even a regular 1 Series feel like a hot hatch – especially so for the rapid 128ti or M135i versions.
Value and reliability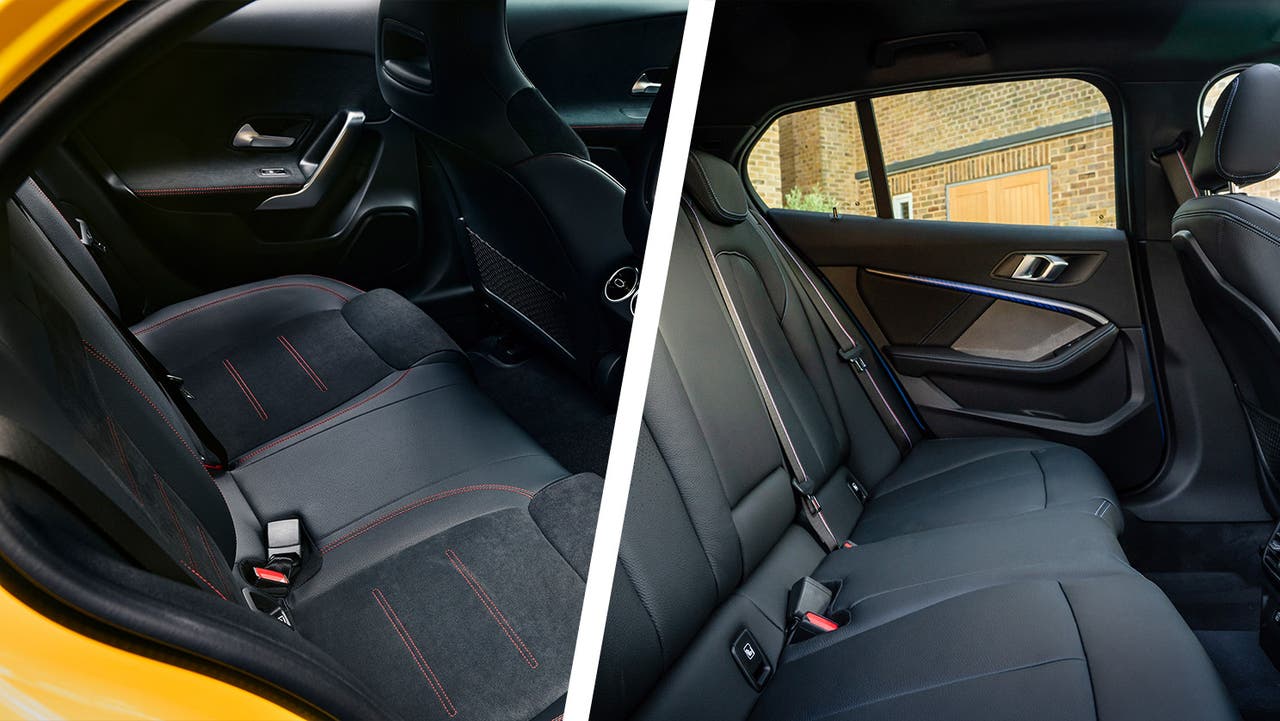 Good value is often a matter of perspective. If you need a family hatch or even a hot hatch, there are cheaper options than these two cars. However, if you want the premium look and feel, along with the brand kudos that comes with choosing a Mercedes or BMW, these are two of the most affordable ways to do it. Prices for the two cars, whether new or used are remarkably close but the A-Class seems to be a fraction cheaper than the 1 Series across the board when comparing like-for-like models.
Premium brands often struggle in reliability ratings often because the longer equipment lists translate to more potential things that could fail. Surveys from What Car? and Carbuyer suggest the A-Class is more troublesome than the 1 Series, while Motoreasy data suggests the opposite. For greater peace of mind, consider buying an extended warranty when you purchase either car.
Which is best?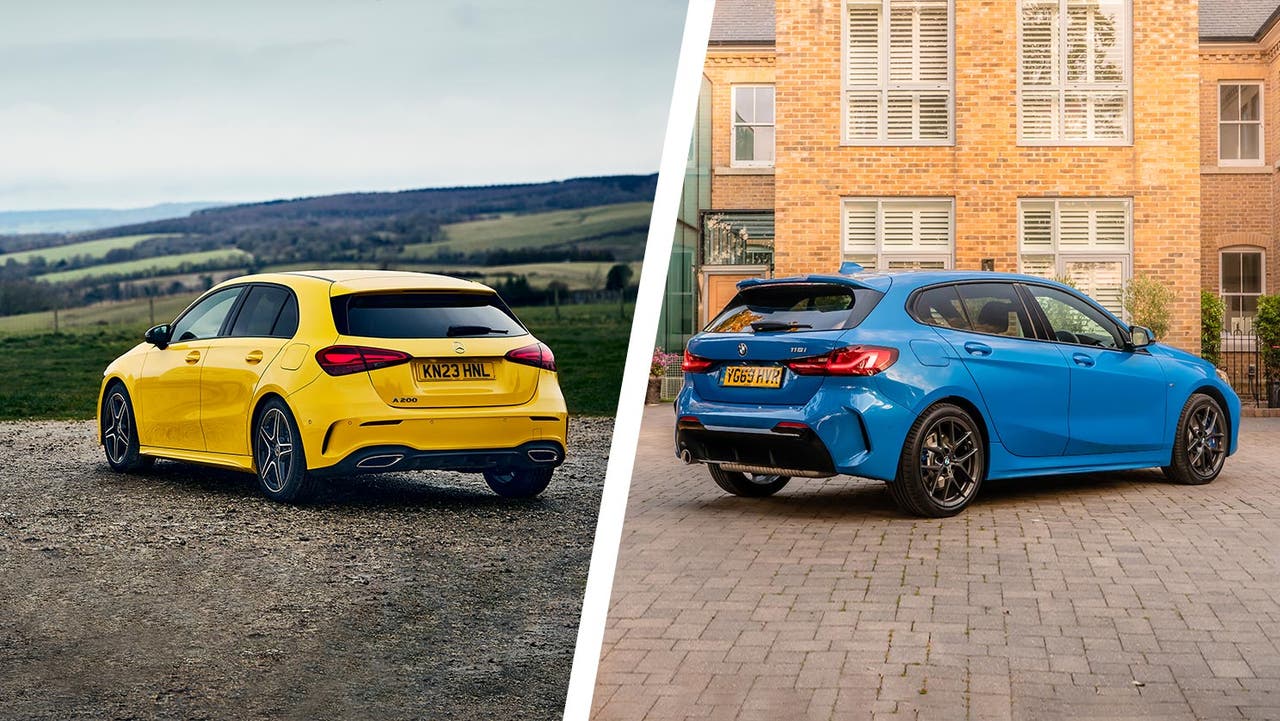 We wouldn't blame you for basing your decision here on looks alone. Both of these cars are so similar in many ways that you're unlikely to be disappointed when you first get behind the wheel of either.
You'll probably find the Mercedes is more your cup of tea if you like the exterior and cabin styling, and appreciate a comfortable, easy-to-drive car. We'd suggest choosing a model with the upgraded infotainment and driver's screen as this helps make the A-Class feel like the more high-tech choice.
If you enjoy driving but can't go without the practicality of a family hatchback, however, the BMW is the sportier, more entertaining choice here. Sharp reflexes, direct steering and, on potent 128ti and M135i versions, plentiful power make this hatchback a hoot to throw down a country road.
Which premium hatchback is the one for you?
If you've chosen the posh hatch for you, take a look at Motorpoint's choice of nearly new Mercedes A-Class cars and nearly new BMW 1 Series cars. For more great options in this class, take a look at our picks for the best used family hatches you can buy.
Mercedes A-Class vs BMW 1 Series FAQs