Want a stylish, practical, family-friendly SUV? The popular Tucson and Qashqai are two cars you need to check out
Walk into most UK clothes shops and you'll probably find t-shirts emblazoned with US city names. They seem exotic and cool – a world away from UK towns – even if there's no obvious reason why the t-shirt says 'Miami' or 'Los Angeles'.
The same logic has clearly been applied to the Hyundai Tucson, which has been named after Arizona's second-most populated city for… reasons. Nissan, meanwhile, chose to name its family SUV after a Middle Eastern tribe – perhaps to evoke a sense of go-anywhere ruggedness.
Whatever. In this context, the Hyundai Tucson and Nissan Qashqai are two of the most popular family SUVs, with thousands finding homes on UK driveways every year. SUVs are hotter than hot cakes at the moment and, if you're considering one for your next car, you'll probably want to check out both of these models. We'll tell you which one to pick.
Hyundai Tucson vs Nissan Qashqai compared
Hyundai Tucson
Nissan Qashqai

Pros:

Eye-catching styling
Most practical family SUV

Pros:

Cheaper than Tucson
Familiar feel

Cons:

Not the cheapest SUV
Entry-level engine not very quick

Cons:

Some SUVs feel more premium
Not the biggest boot in its class
Styling and design
Jaws were in danger of hitting the floor when Hyundai unveiled the latest Tucson. Its midsize SUV had always been handsome but also rather conservative. Not so with the current car, which has bold creases and slashes all over the body and a captivating front end. Its grille incorporates the daytime running lights in a clever way, with the main headlights actually underneath. This is a rare example when cars still look eye-catching when you see them regularly.
The Qashqai plays it a bit safer, and there's a clear connection between it and its predecessor. But its C-shaped LED headlights make it look a lot more modern than the car it replaces, bringing it up to date and keeping it fresh in this competitive market.
Interior and practicality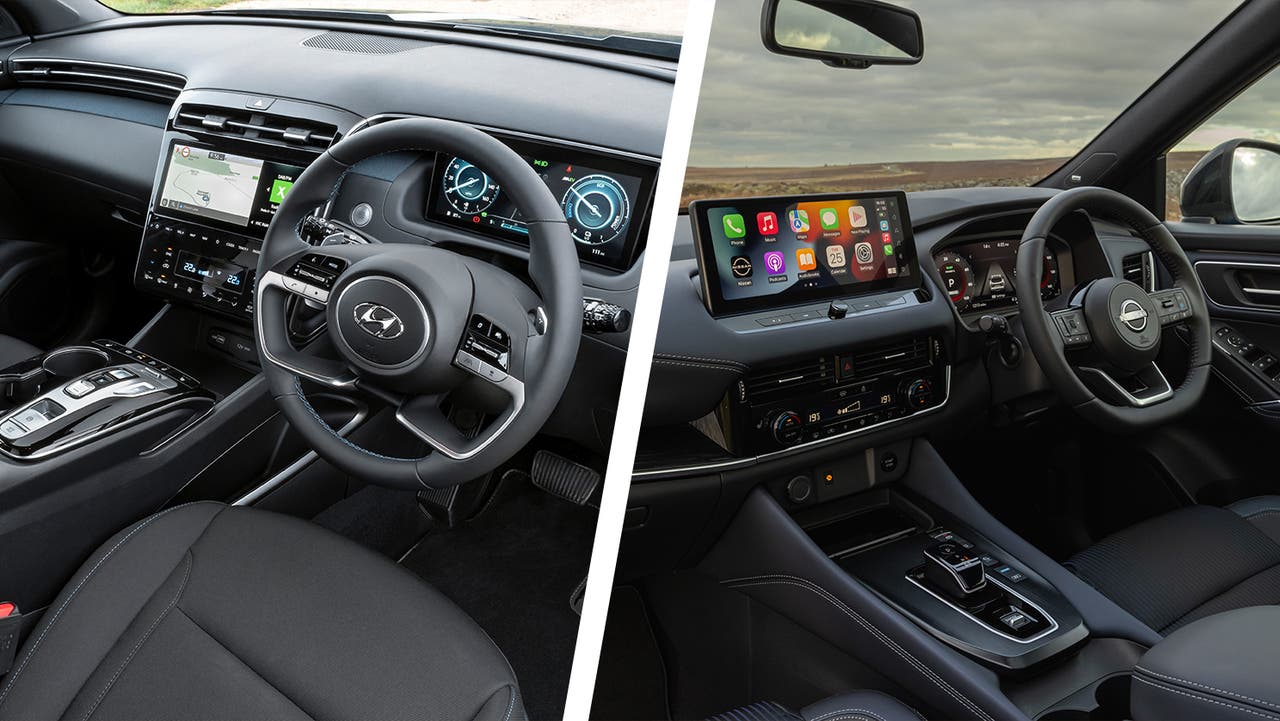 Just like the exterior, the interior of the Hyundai Tucson has had a glow-up in recent years. There are now three wide screens for your eyeballs to gaze at – the infotainment system, the climate control touch panels and digital dials are all standard. Build quality has improved, too, to the point where you genuinely could be in an Audi or Mercedes.
The Qashqai also needed modernising inside, and the new one certainly feels much more up-to-date than its predecessor. It boasts a new touchscreen sat proudly on top of the dash, and digital dials are available on higher-spec cars. It definitely looks more conventional inside than the futuristic Hyundai, although the physical climate control buttons and dials are easier to use than Hyundai's touch-sensitive panels. The Tucson's touchscreen is a little better to use, however, and the materials used feel slightly plusher. The Qashqai is still good in both these areas, but the Tucson is great.
It's the same story with practicality, with the Qashqai offering a competitive amount of rear-seat and boot space (479-504 litres, depending on trim level) and the Tucson being class-leading in these areas. The Tucson is slightly longer than the Qashqai, but makes the most of its dimensions with between 558 and 620 litres of boot space.
Engines and performance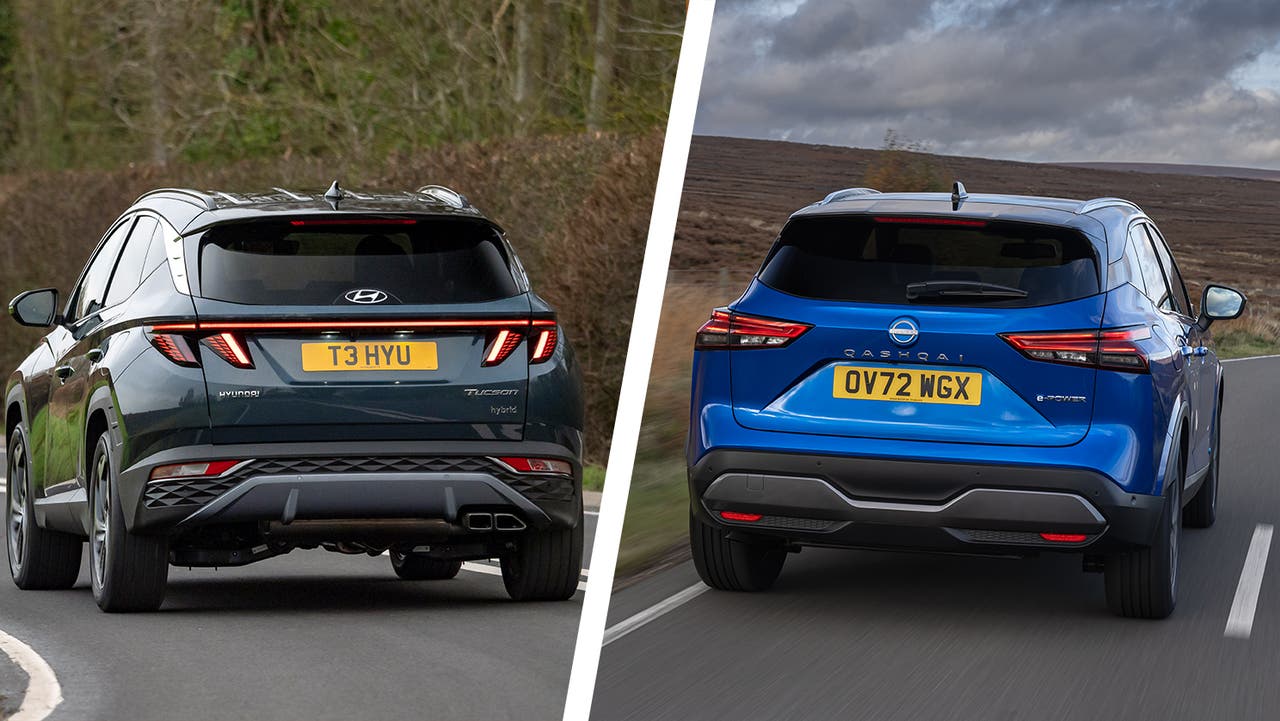 First off, diesel drivers don't have much to go for here. Both these cars have dropped their diesel engines in favour of petrol and hybrid choices, so you'd better look to older Qashqai and Tucson models – or look elsewhere – if that's a priority.
All Tucsons come with a 1.6-litre turbo petrol engine with varying degrees of electrification – none, mild-hybrid, hybrid and plug-in hybrid. Bet you're sick of seeing the word 'hybrid' after that sentence. The first three drive just like a normal petrol engine, but the bigger the battery and motor, the better the performance and fuel economy. The standard petrol engine returns 41mpg, the hybrid offers up to 50mpg and you'll get somewhere in between those figures with the 48V mild-hybrid engine. Meanwhile, the plug-in hybrid is able to drive 31 miles without using any fuel on a fully charged battery – so it could save you lots if you mainly drive locally.
Both these cars use updated engines that were also fitted in previous-generation cars. Nissan's 1.3-litre turbo petrol engine now comes with mild-hybrid tech as standard – it's able to return 45mpg, which is roughly a 10% improvement on an older petrol Qashqai.
Above that is Nissan's E-Power hybrid engine, which is clever and can manage 53mpg without needing to be plugged in. Unlike the Tucson, where the electric elements assist the petrol engine, the roles are reversed here, with the petrol engine acting as a generator to keep the battery and motor fed. With the electric motor always driving the wheels, the Qashqai E-Power has the same smoothness and quick acceleration that you get in electric cars at low speeds.
Driving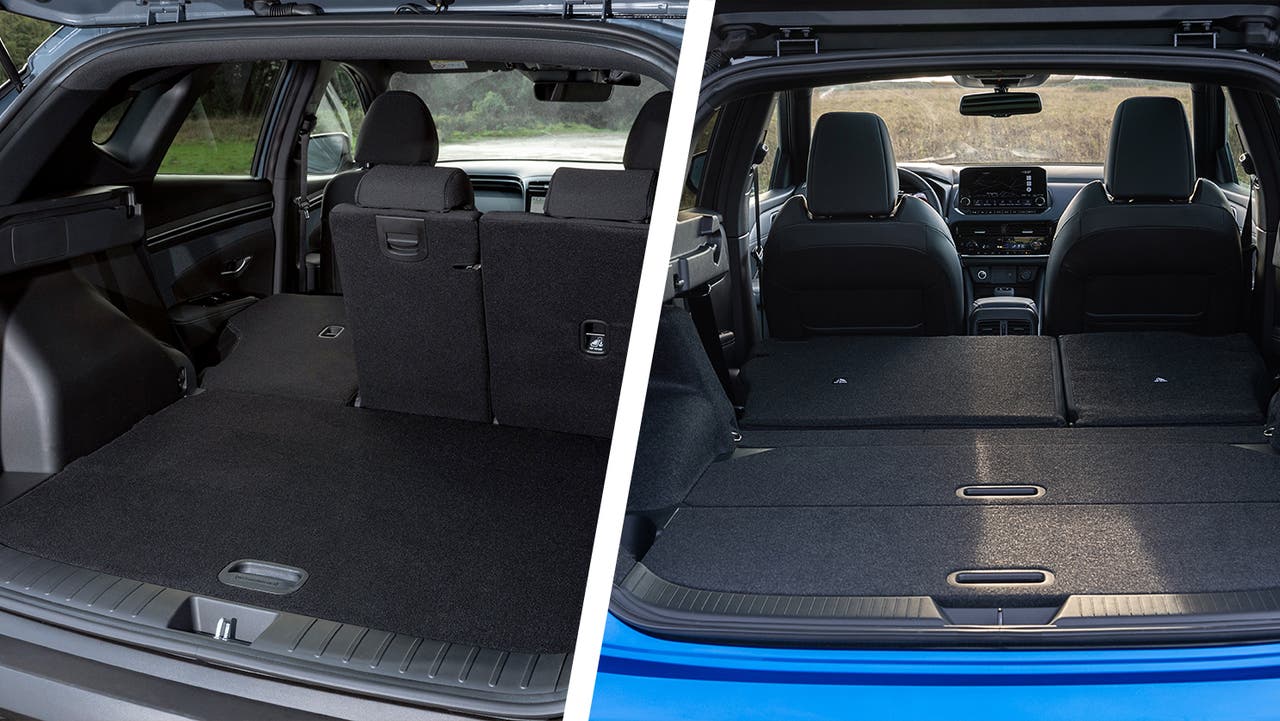 How has Hyundai got everything so right with the Tucson? It's even pretty good to drive. The handling is composed and a little playful, the hybrid engine is perky off the line and then settles down to a background hum when you're cruising. There's very little body roll and the switch between power sources is smooth. In other words, it's a top all-rounder from behind the wheel.
The Qashqai drives just as well as it needs to, given how far down the priority list exciting handling is for family buyers. You won't get up at the crack of dawn just to drive it, but it takes every conceivable road setting in its stride, whether that's inner city stop-start traffic or continent-crossing motorway journeys. It's easy, composed and comfortable. What more could you want?
Value and reliability
Typically, the Tucson will be a bit more expensive to buy or finance than the Qashqai, and even more so if you compare the Tucson's hybrid and plug-in hybrid engines. The Qashqai, then, is the clear choice if you don't want to spend the money needed to get behind the wheel of a Tucson.
However, if you're a high-mileage driver or are planning to keep your car for a long time, the Tucson has a more generous warranty – five years and unlimited miles, versus Nissan's industry-standard three-year/60,000-mile cover.
What if budgets are a bit tighter?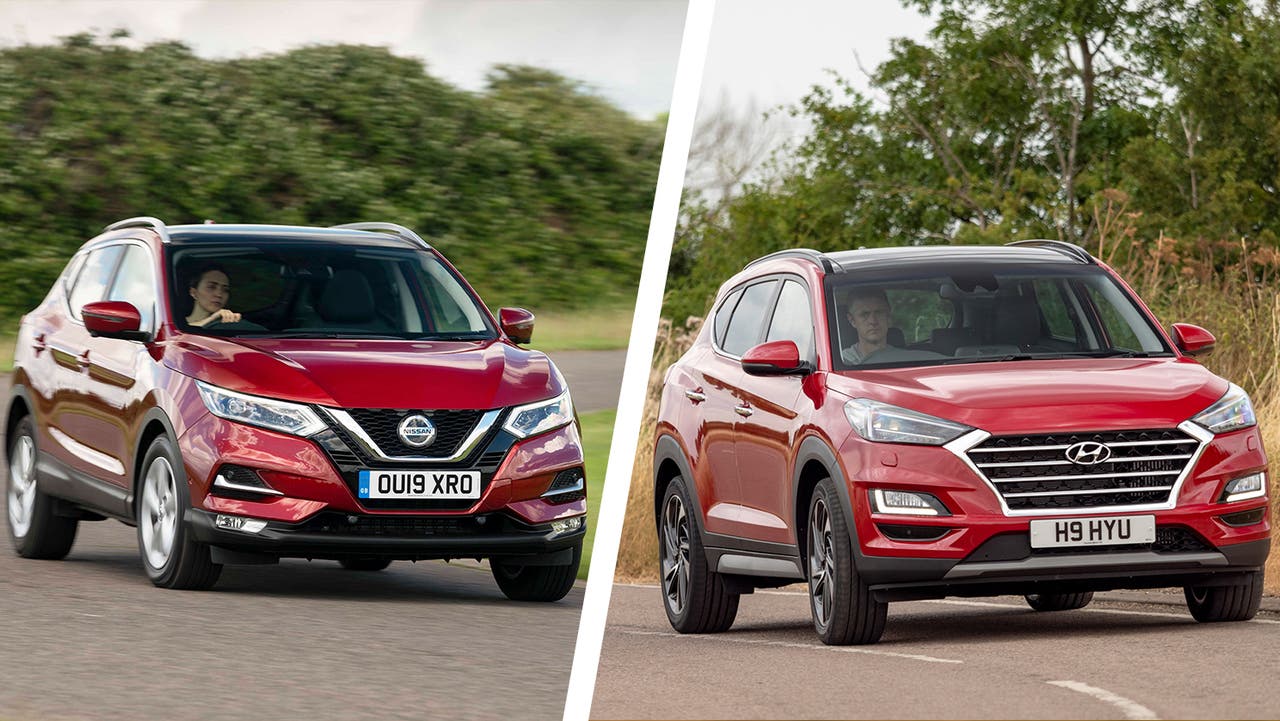 If your budget doesn't quite stretch to the very latest models, the previous Qashqai and Tucson are both excellent choices. Okay, they may not get the latest styling, interior design or hybrid tech, but both offer economical engines, a sure-footed driving experience and Apple CarPlay/Android Auto, giving you all-important phone connectivity.
The Qashqai just has the edge when it comes to value for money – as we write this, a low-mileage Qashqai starts at under £200 per month on PCP finance from Motorpoint, whereas higher-mileage Tucsons kick off at a whisker over £200 per month. For its slightly more modern-feeling interior, we think it's worth looking at the Tucson.
Which is best?
It has to be the Tucson if your budget allows. It's the best family SUV currently on sale, and its price premium is worth paying for its extra space, hybrid engines and sophisticated interior. Add in searingly sharp looks, a better warranty and a crisper driving experience and it's the clear choice.
Find your family SUV
Shop our exciting selection of used Nissan Qashqai and used Hyundai Tucson cars for sale. Or, check out our guides to the best family SUVs and the best Nissan Qashqai alternatives.