Understanding Ford's lineup requires some Focus – it's not always a Fiesta. You might want to bolt like a Mustang at the sight of all those different models, but it's worth getting to know the Galaxy of choice offered by the Blue Oval.
Ahem…
This guide will show you around the Ford range, covering the common cars and SUVs you'll see on the UK's roads. Almost all are available to drive away today as used cars from Motorpoint.
Ford SUV range explained
Ford EcoSport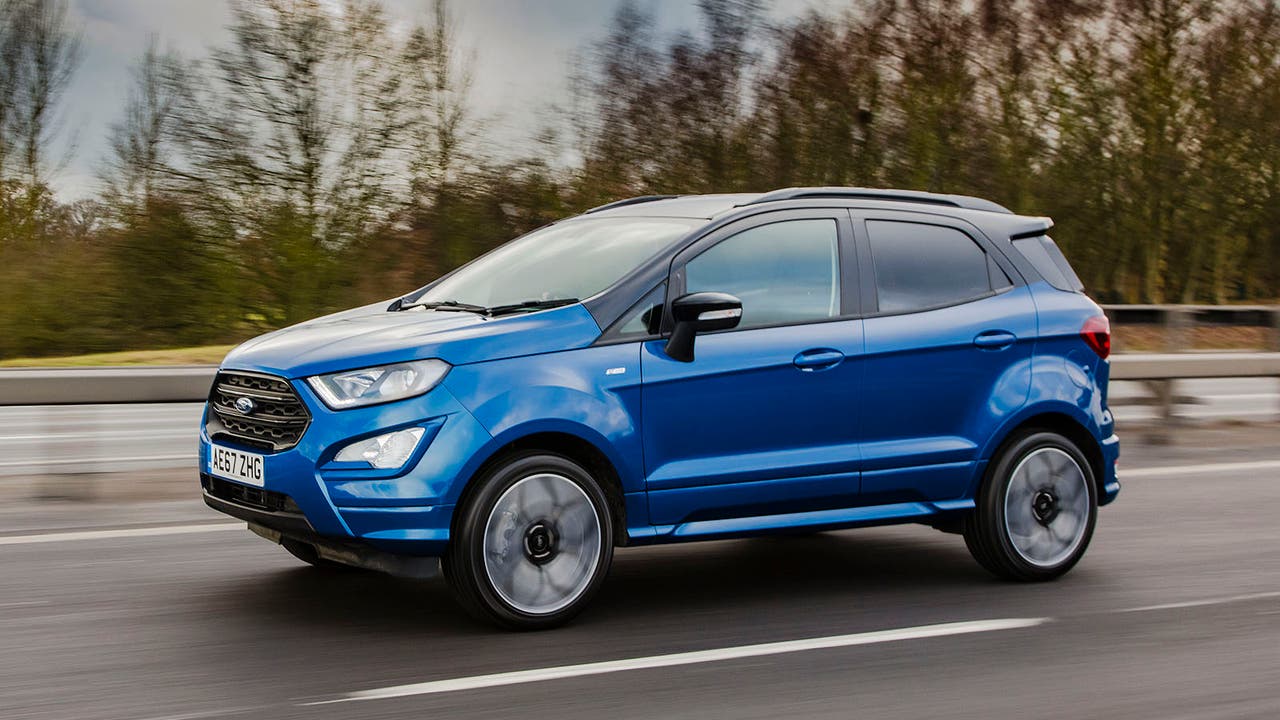 Ford's SUV lineup starts with the EcoSport. This chunky-yet-compact crossover has bluff styling and a tall body but, at less than 4.1 metres long, takes up scarcely any more room on the road than the company's Fiesta hatchback, making it easy to park in the city. It won't climb mountains like a proper 4x4, but the tall body means headroom is good for all passengers and the driver gets a commanding view of the road ahead. Ford's familiar 1.0-litre EcoBoost turbo petrol engine is a good match here and keeps fuel bills reasonable.
Ford Puma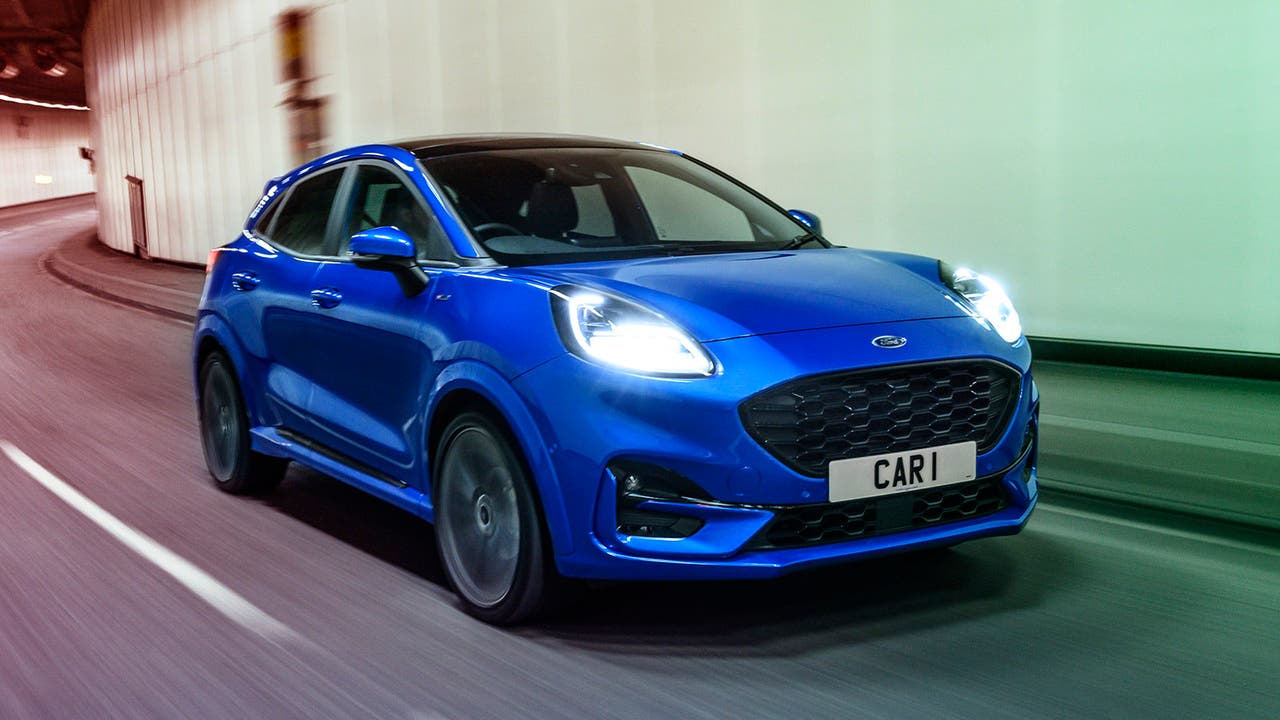 In the middle of the Ford SUV range is the Puma. Unlike the tough-looking EcoSport, the Puma doesn't use off-road styling cues – instead resembling a slightly taller, longer Fiesta. Of course, that's essentially what the Puma is beneath the bodywork, so you get similar composed handling to the Fiesta but with some crucial gains in rear-seat and boot space. EcoBoost petrol engines are the most common choice for this car with a good blend of performance and economy, with some models aided by mild-hybrid technology.
Browse used Ford Puma cars
Ford Kuga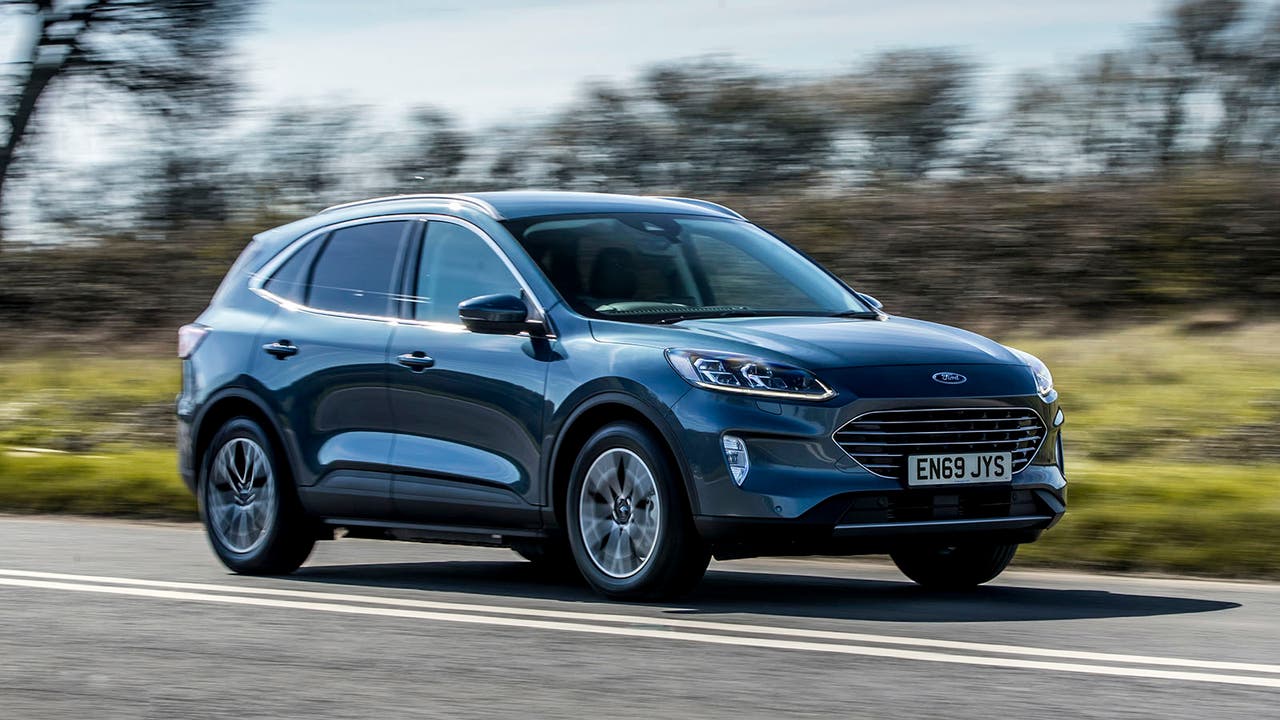 The largest Ford SUV you'll find on sale in the UK is the Kuga. This is a spacious, five-seat family SUV with lots of passenger and cargo space. If you need to ferry kids in child seats, this is probably the best choice because there's more room in the back to get little ones buckled up, along with enough space for a pushchair in the boot. Smooth EcoBoost engines are available and work well if you cover a mix of urban and longer drives, but you'll also find plenty of diesel options if you're a higher mileage driver, along with a plug-in hybrid option.
Search used Ford Kuga cars for sale
Ford hatchback range explained
Ford Ka+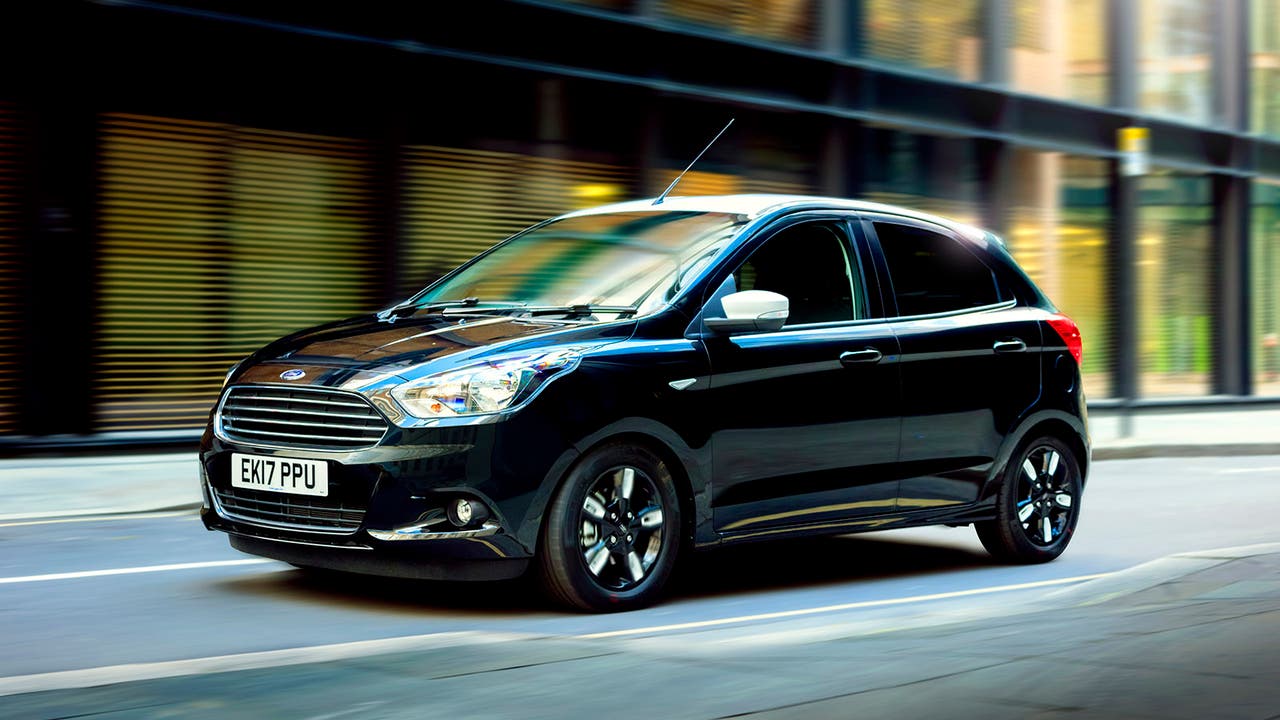 The Ka+ has been one of the most affordable cars in Ford's lineup. As a result, it represents excellent value for money, with Zetec cars including mod-cons such as air conditioning, cruise control and an infotainment system. The simple 1.2-litre petrol engine won't win any fans at the drag strip but should be able to return more than 50mpg with gentle driving. There's space for four adults in the cabin and a decently large boot for this class, plus the driving experience is composed and confidence-inspiring.
Check out used Ford Ka+ cars
Ford Fiesta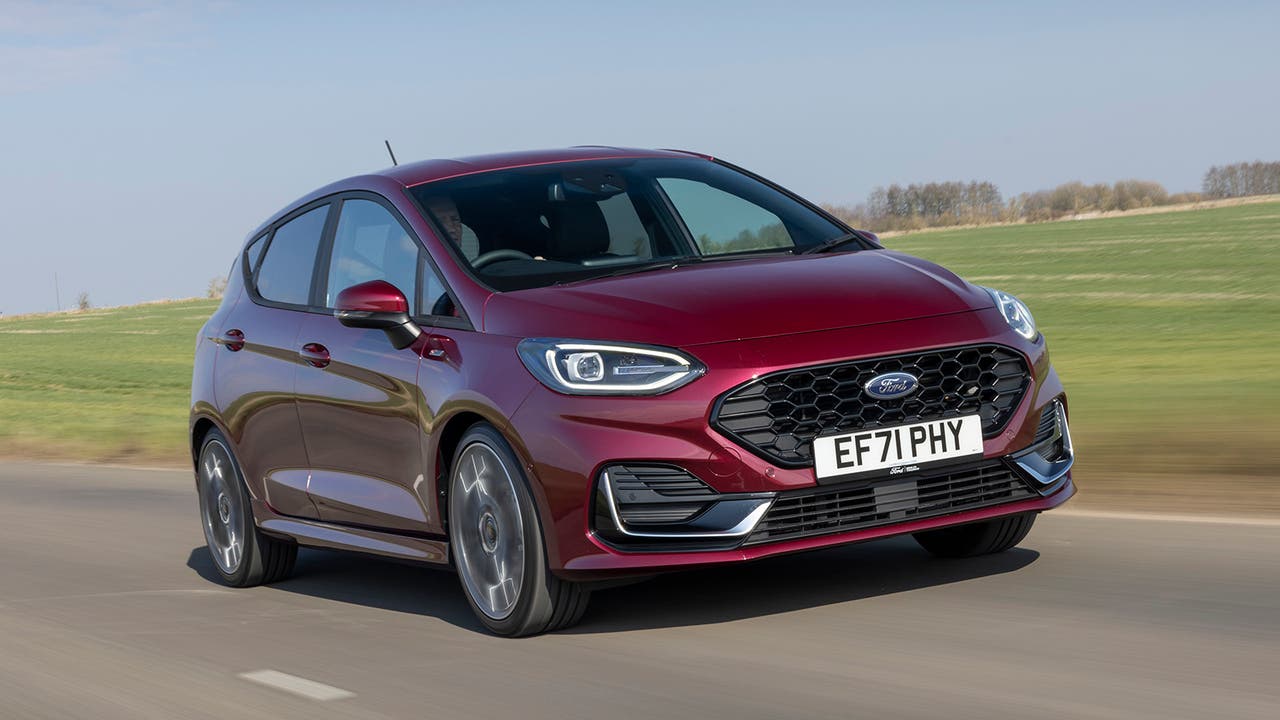 Ford has confirmed we won't be getting any more new Fiestas, but there are still plenty available as nearly new or used cars. So many of these compact hatchbacks found homes thanks to being excellent all rounders – they're spacious enough for four adults, they're fun to drive and they're easy to use. You'll find the same 1.0-litre EcoBoost petrol engines widely offered throughout the Fiesta range and, thanks to the car's light weight, they feel like a great match to the car. Or you can check out the hilarious Ford Fiesta ST hot hatch.
See used Ford Fiesta cars for sale
Ford Focus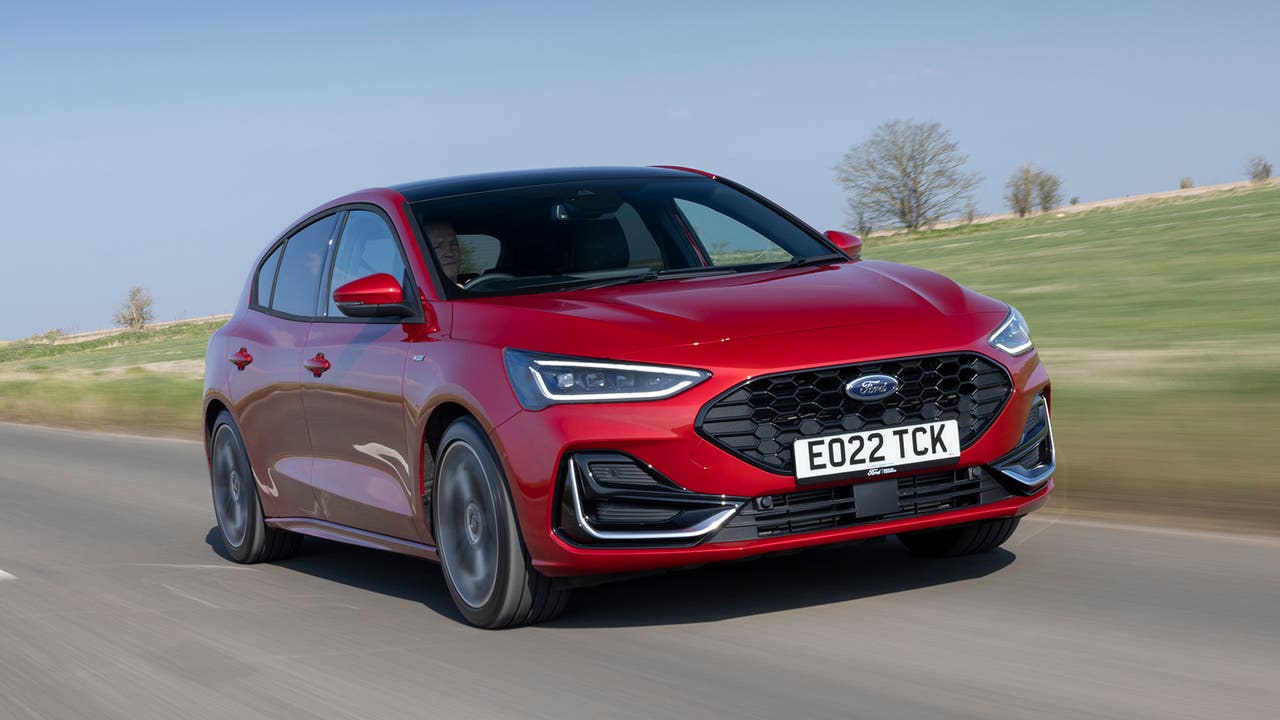 The Focus may be consigned to the same fate as the Fiesta as Ford switches to making SUVs almost exclusively, but it's still widely available and affordable on the used market. Like its little sibling, the Focus is a fantastic car, with a composed yet playful driving experience, an intuitive dashboard, and just enough space for a small family. EcoBoost petrol engines are the most common option under the bonnet, but you'll also find plenty of Focuses with EcoBlue diesels that are great for long-distance drivers.
View a choice of used Ford Focus cars
Ford saloon range explained
Ford Mondeo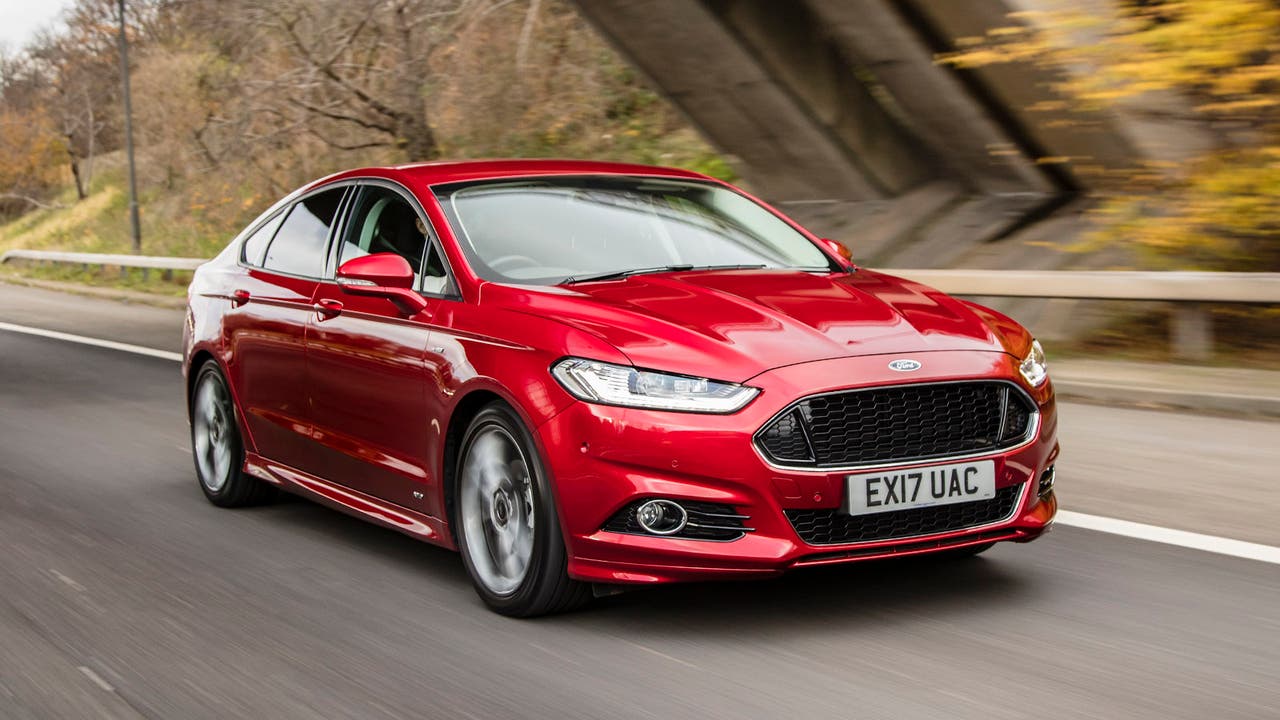 The Mondeo was once shorthand for an entire section of the British public. Its influence might've waned as SUVs have become more popular, but you'll still find lots of Mondeos offered on the used market. This model is deceptive because Mondeos that aren't estates or hybrids are actually hatchbacks because the rear glass opens with the boot lid – only the hybrid saloon is a true four-door car. Regardless of the body style you choose, all Mondeos have excellent passenger space with an abundance of rear legroom and a cavernous boot.
Check out used Ford Mondeo cars
Ford estate range explained
Ford Focus estate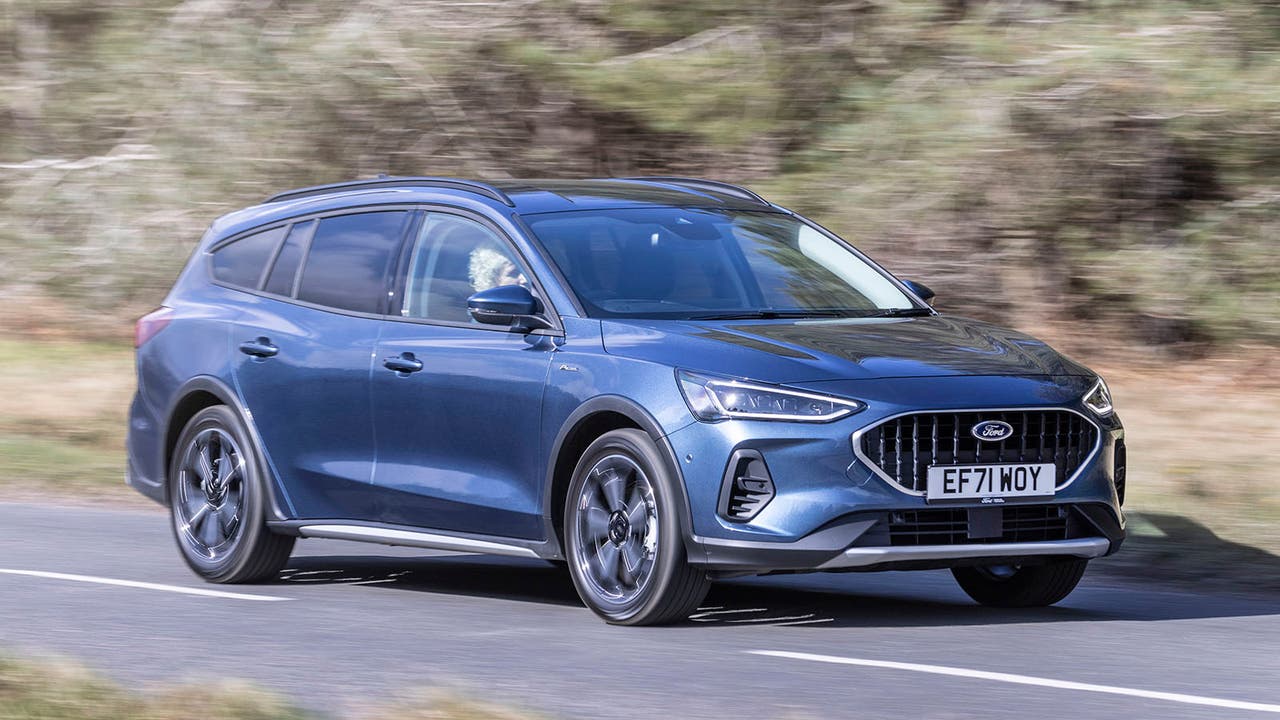 The Ford Focus estate takes an excellent family car and turns the practicality up to 11. Cargo room swells to 575 litres and is joined by a long, elegant roofline that sweeps back past the rear seats – making the Focus estate a great choice if you want to carry bikes or dogs, for example. The rest of the ownership experience is exactly the same as the Focus hatchback with reassuringly accurate controls, a great balance of ride and handling, and smooth engines.
Check out used Ford Focus estate cars
Ford Mondeo estate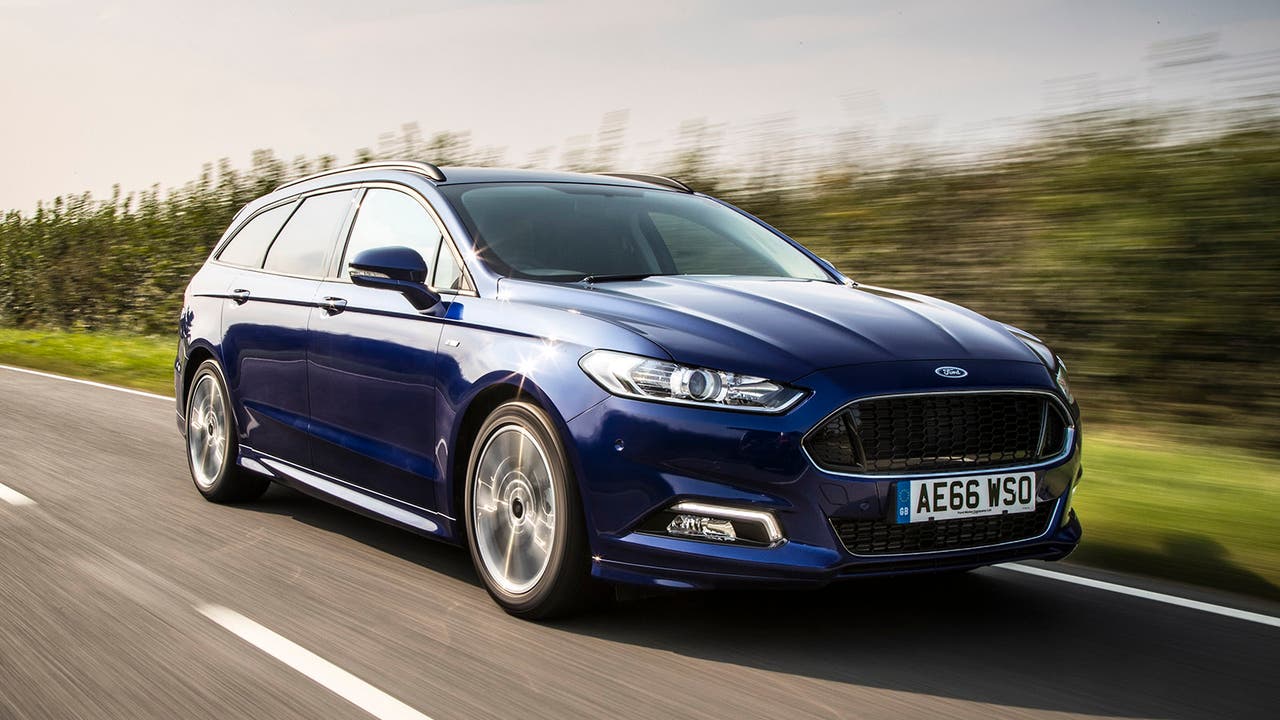 There are no prizes for guessing what the Mondeo estate offers over its regular saloon counterpart. Again, a longer roof extends the top of the cargo area, perfect for airport runs or dog walks. The Mondeo's extra rear-seat space means the 542-litre figure isn't actually as vast as the Focus estate's, but it still makes the car a good deal more useful than the Mondeo saloon. Long-legged diesels and smooth-running hybrid engines are widely available on the used market.
Check out used Ford Mondeo estate cars
Ford coupe range explained
Ford Mustang
For years, UK buyers simply had to stare jealously at the US's mighty Ford Mustang, or import a left-hand-drive model themselves. Now, Ford sells the original pony car on these shores complete with right-hand drive and a muscular V8 under the hood. The Mustang isn't just a loud engine, either, with sporty handling and genuine performance when you flex your right foot. Cars like this won't exist for much longer so, if you want to feel truly special every time you press the start button, there's never been a better time to scratch that Mustang itch.
Shop used Ford Mustang cars for sale
Ford EV range explained
Ford Mustang Mach-E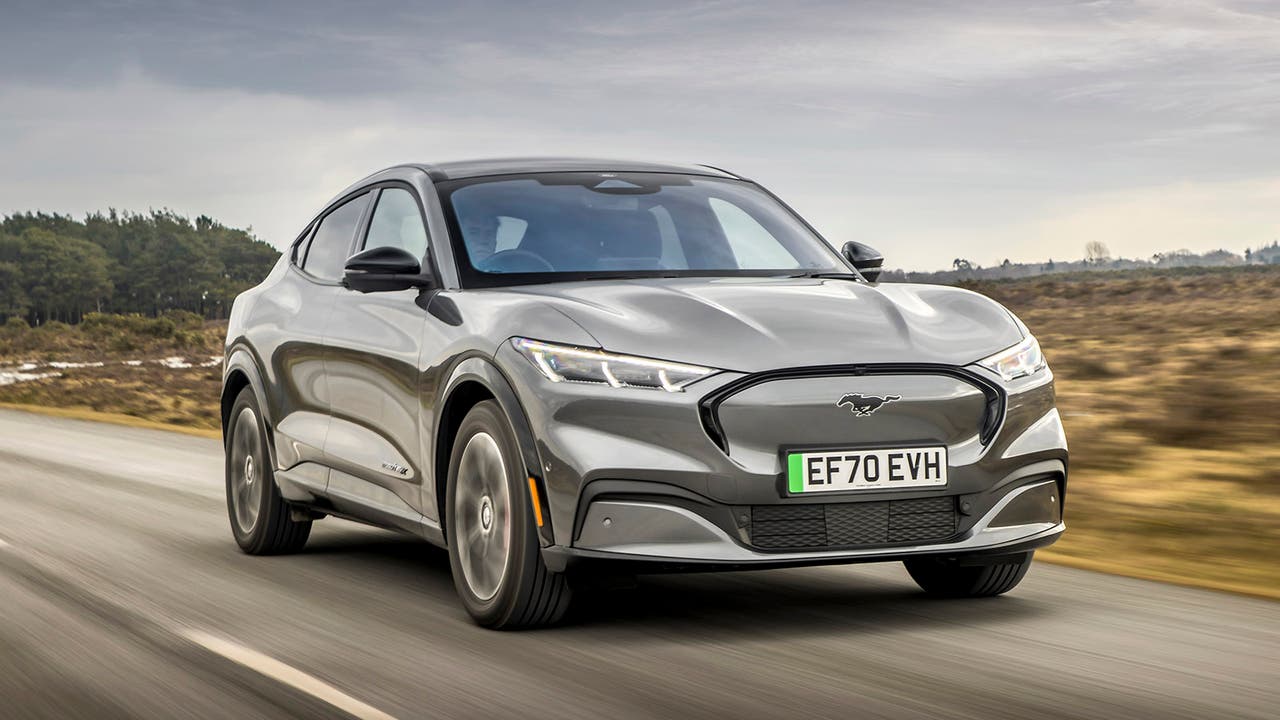 The Ford Mustang Mach-E certainly upset some people when it arrived as a 'planet-saving' electric SUV while still bearing the name of Ford's iconic fuel-burning sports car. A few minutes behind the wheel will be enough to silence most critics, however, because the Mach-E is great fun to drive, whether you're winding down a twisty back road or being thrust into your seat by the instant electric acceleration. All versions return decent range figures but Extended Range models can travel more than 370 miles on a charge in ideal conditions.
View used Ford Mustang Mach-E electric cars for sale
Ford people carrier range explained
Ford C-Max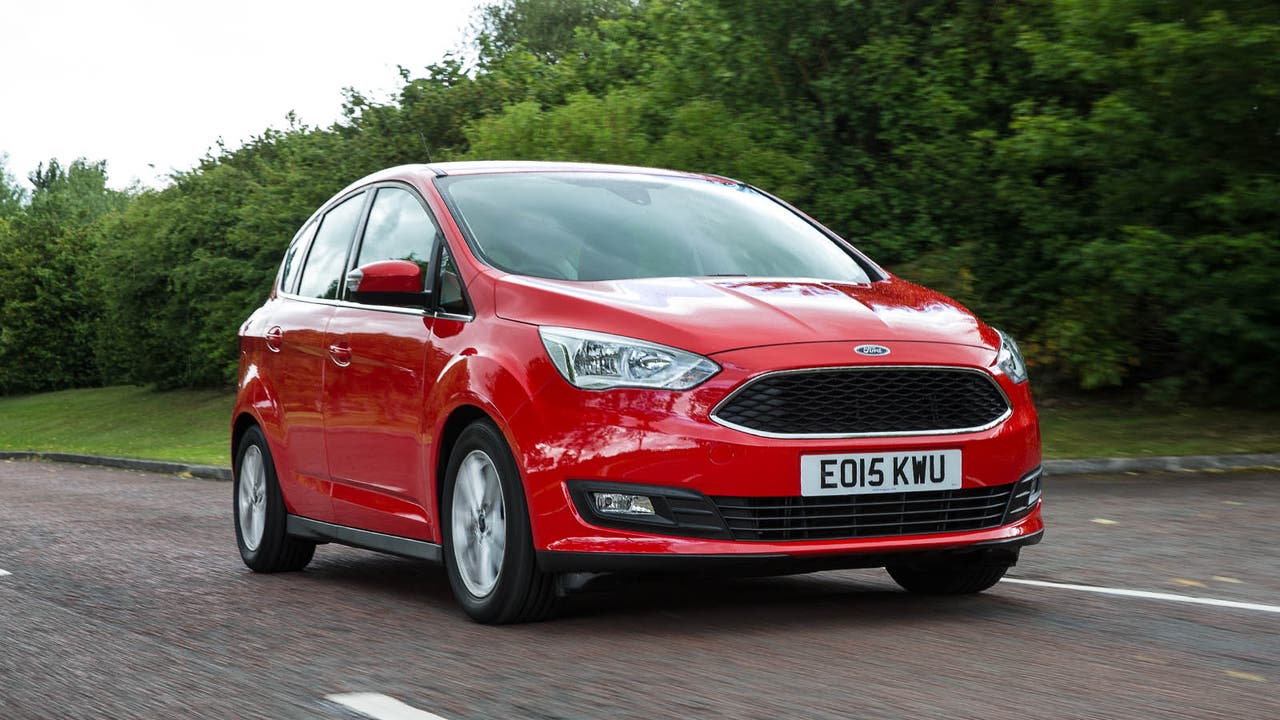 The Ford C-Max has essentially the same footprint as a Focus hatchback but with substantially more passenger and cargo space thanks to its practical MPV body style. These models escape the 'style tax' that seems to get applied to SUV models, so make very affordable family cars when purchased on the used market. You won't find too many frills in the C-Max's cabin, with the design kept as simple and intuitive as possible, but you'll be grateful for the vast amount of space on offer if you're wrestling kids into their car seats.
View used Ford C-Max cars for sale
Ford S-Max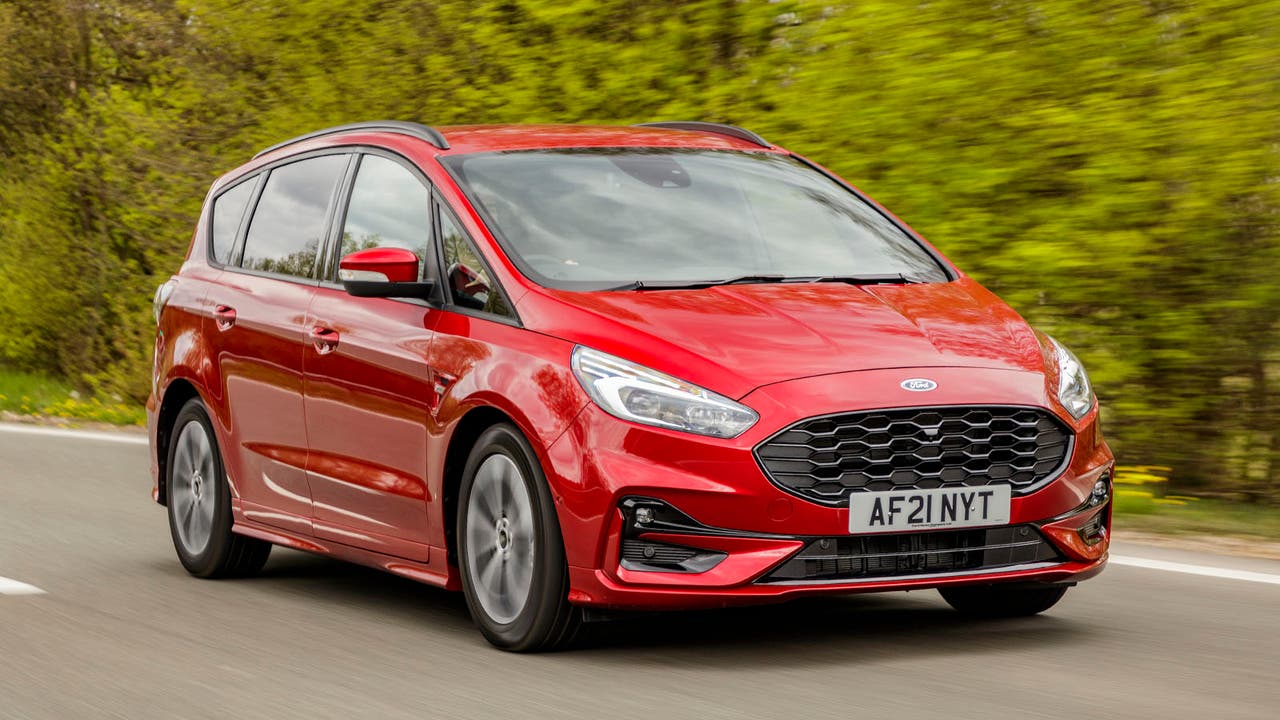 In Ford MPV terms, S follows C with the S-Max being a noticeably larger car with a total of seven seats. The rearmost pair of chairs are best suited to children or smaller adults, and you won't be left with much cargo space with all seats in place. Fold the unused seats down, however, and the S-Max switches from mini-bus to mini-van, with an enormous boot that's ideal for big dogs or bulky items.
See used Ford S-Max cars for sale
Ford Galaxy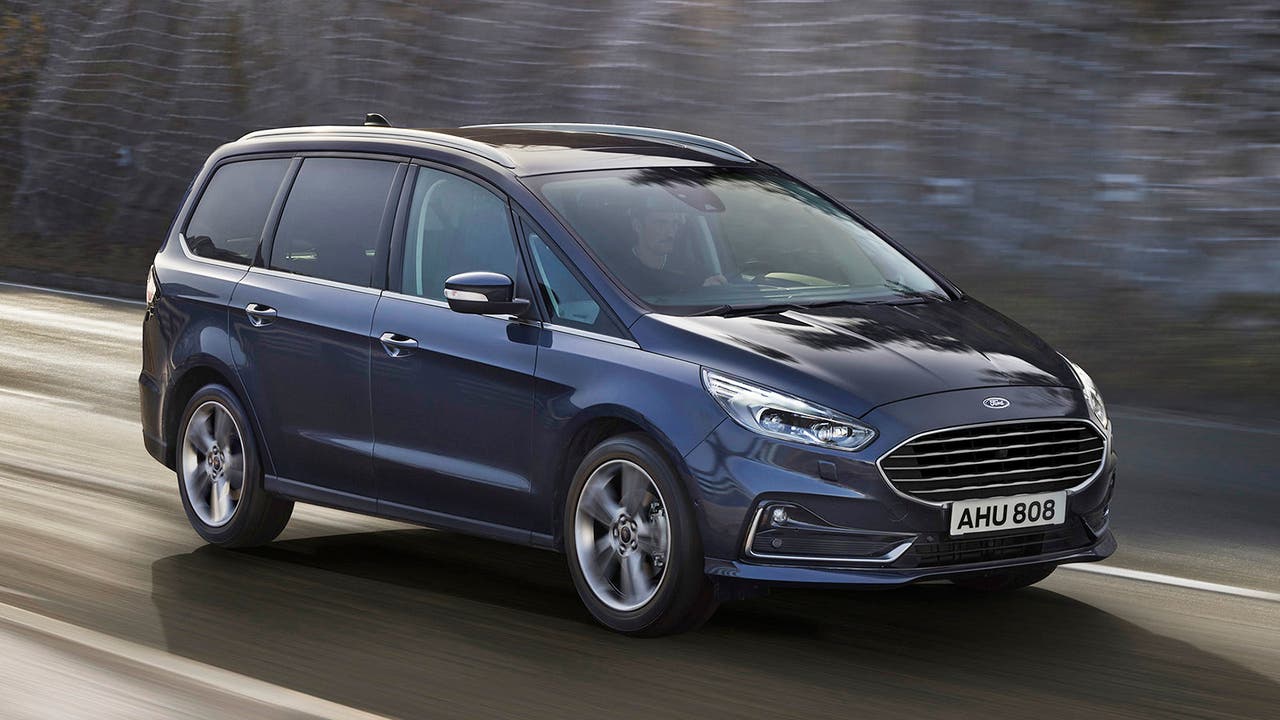 While there's little to criticise about the S-Max's practicality, the Ford Galaxy still takes it one step further. Now, there's room even for adults in the sixth and seventh seats and, with every seat occupied, you'll still find lots of space in the boot for luggage. Just like the S-Max, the Galaxy feels grown up from behind the wheel, with a sense of composure to the ride that makes long-distance driving easy.
See used Ford Galaxy cars for sale
Ford Tourneo Connect and Tourneo Courier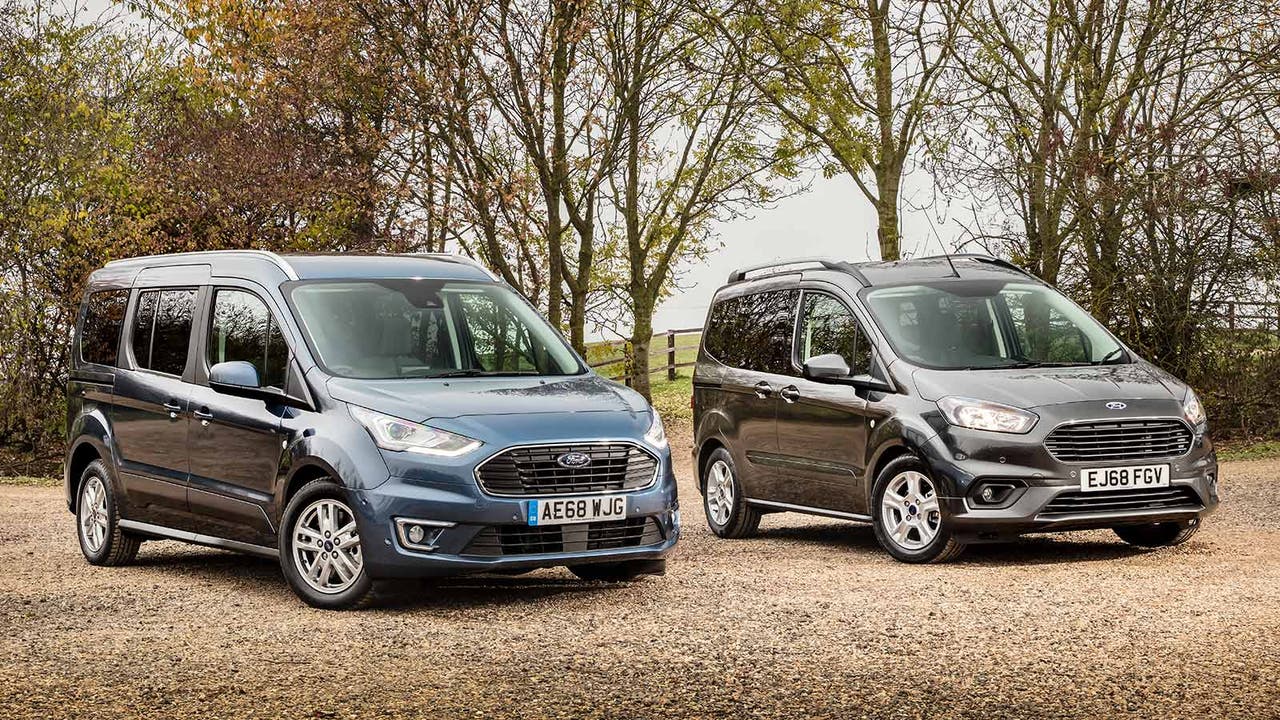 Ford's Tourneo lineup blends elements of its road cars with its practical van models. The Tourneo Connect is a similar size to a Focus, while the smaller Tourneo Courier is closer to a Fiesta. Both models are five seaters with simply massive amounts of passenger space, backed up by a square boot that's perfect if you're often hauling bulky or awkwardly shaped cargo.
See used Ford Tourneo Courier cars and used Ford Tourneo Connect cars for sale
Found the right Ford for you
Take a look at great-value used Ford cars from Motorpoint. All models include the protection of warranty cover and reassurance of our Price Promise.