The Ford Fiesta and Vauxhall Corsa are two of the most enduringly popular choices for buyers after a small hatchback.
If it's a contest of longevity, then the Corsa's already won, with the Fiesta stopping production in 2023 after more than 45 years on sale. Both cars are still plentiful on the used market, however, so which is the better buy?
We've put these two superminis head-to-head so you can choose the one that suits you best. Find out how much you can save by buying a used Ford Fiesta or a used Vauxhall Corsa from Motorpoint.
Ford Fiesta vs Vauxhall Corsa compared
Ford Fiesta
Vauxhall Corsa

Pros:

More fun to drive
Cabin materials slightly nicer
Better refinement

Pros:

More standard equipment
Feels a bit quicker
A little cheaper like-for-like

Cons:

Slightly slower and less efficient
Fractionally more expensive
Not as well equipped

Cons:

Not quite as fun on twisty roads
Engine is a bit more noisy
Some cheap plastics dotted about
Styling and design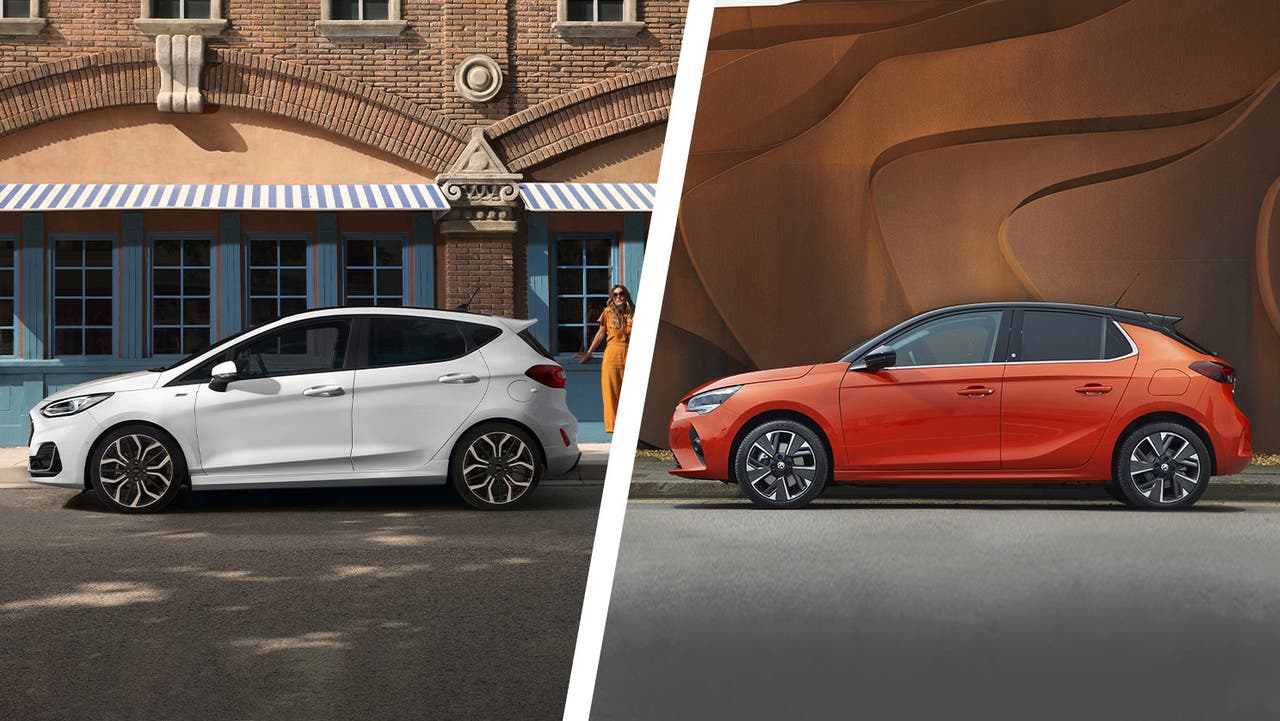 There was a period where both the Fiesta and Corsa's styling seemed to be converging. Both hatches adopted egg-shaped bodies with a less pronounced step between the bonnet and the windscreen. However, an entirely new Corsa arrived in 2019, now sharing parts with the Peugeot 208 and Citroen C3 – this model has gone back to a more traditional 'two-box' hatchback shape, where the engine compartment is more obviously separated from the car's cabin.
Which model you'll prefer will mostly come down to personal choice. The Fiesta's styling has remained mostly unchanged since it launched in 2017 and, even then, arrived looking like an evolution of the model that'd been on sale since 2008. That said, a facelift in early 2022 saw Ford add a larger grille to the Fiesta which, to our eyes, looks a little ungainly.
Interior and practicality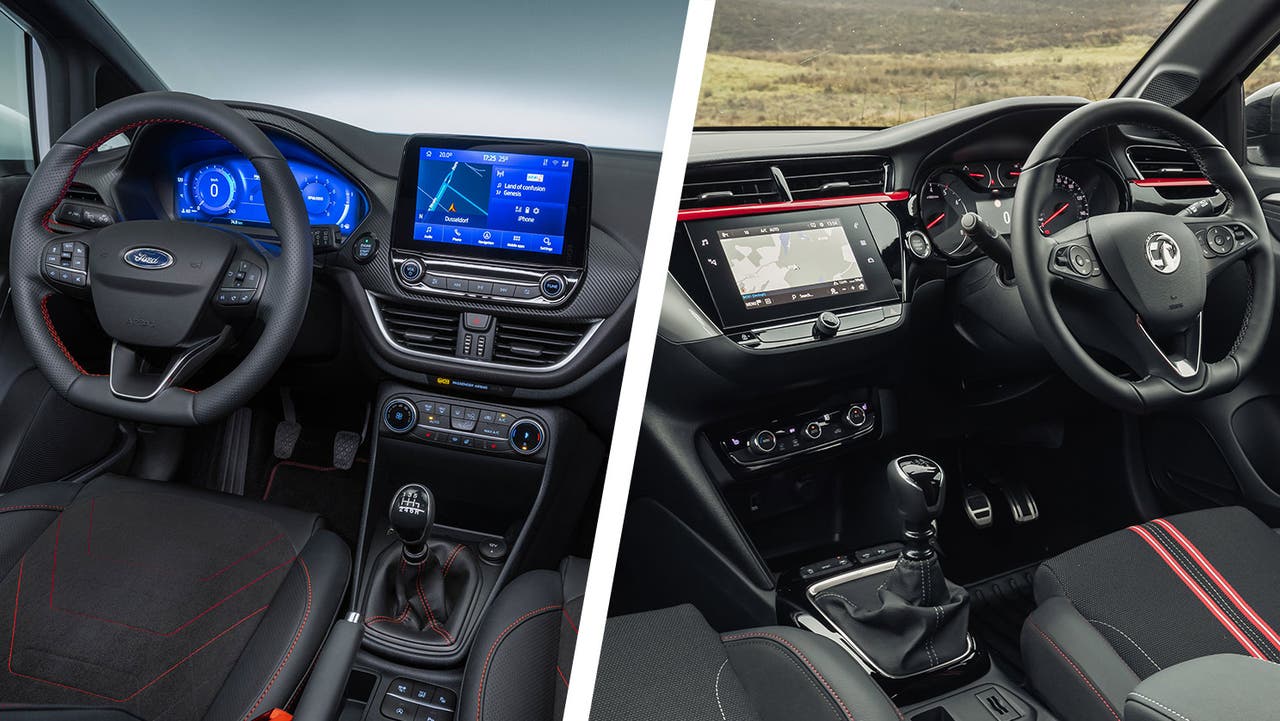 Things are pretty harmonious between the two cars' cabins. Each has a handful of heater and A/C buttons beneath a central touchscreen that handles all the other major on-board functions.
Styling-wise, the Corsa has slightly more going on for front-seat occupants. There's a wide strip of silver or coloured plastic that runs the width of the dashboard, helping to lift the ambiance slightly. However, you can tell that overall material quality is acceptable rather than outstanding, with some plastics on the door panels and centre console feeling scratchy and cheap. The Fiesta is hardly a luxury car in comparison and there's more dark-coloured trim than we'd like, but the baseline level of material quality is a small notch above the Vauxhall.
Both the Fiesta and Corsa offer middling practicality – the Volkswagen Polo, SEAT Ibiza and Skoda Fabia all have better passenger space and cargo room. Neither the Ford nor the Vauxhall offer lots of rear seat space, with legroom being at a premium in both cars and the upright seatbacks making long journeys less comfortable for passengers. The boots in both cars are large enough for a few cabin cases or a weekly shop, but narrow openings mean they're not the most useful load luggers in this class.
Engines and performance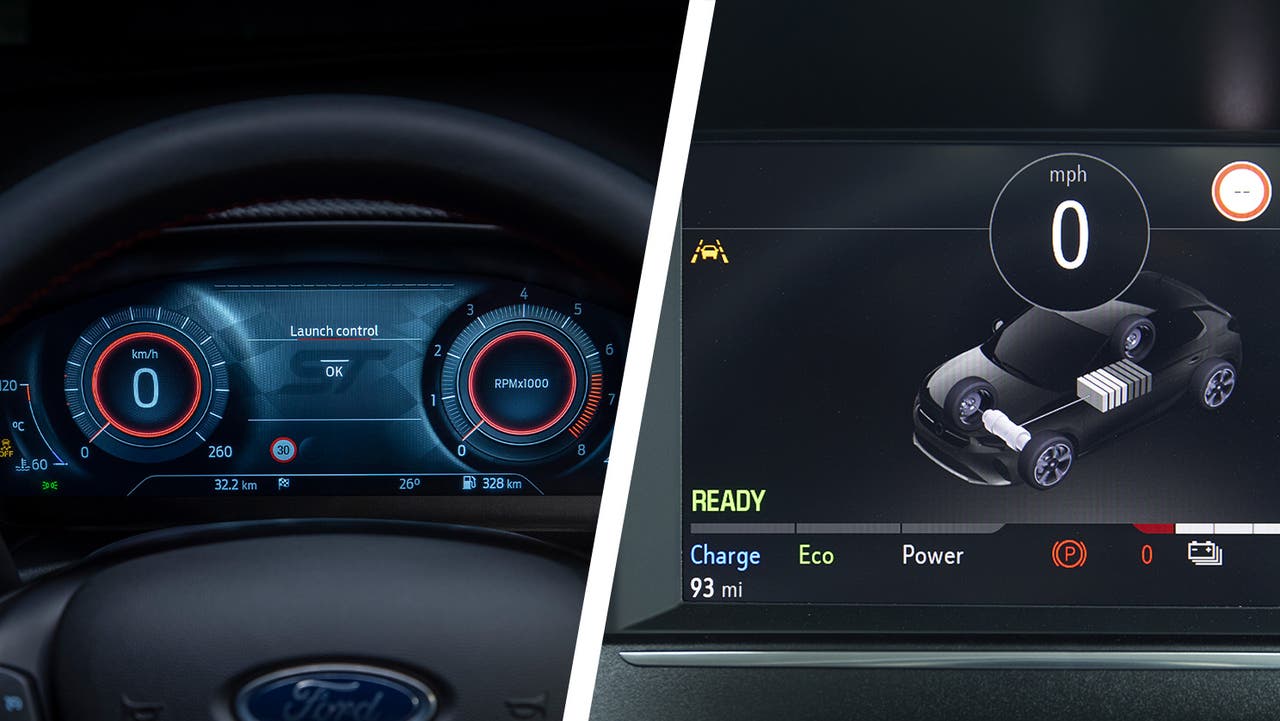 Petrol power is the most popular choice for both cars and, for most buyers, will be the best option. Ford's 1.0-litre turbo EcoBoost engine has been around for a while and serves the Fiesta well, with a generous hit of power when you lean into the throttle. The 100hp version is powerful enough for most drivers, while 125, 140 and 155hp editions offer even more urgent acceleration. The entry-level, non-turbo 1.1-litre petrol can feel a bit sluggish at higher speeds.
Every Corsa engine compares favourably against its Fiesta counterpart, although there's a touch more noise in the Vauxhall when you put your foot down. Even the Corsa's entry-level 75hp non-turbo unit outpaces the equivalent Fiesta, while the 100hp Corsa 1.2 Turbo feels substantially more punchy than the Ford's 100hp EcoBoost. There's also a 130hp petrol engine available for the Corsa, but it's uncommon and the modest jump in performance over the 100hp model won't be worth the extra cost for most buyers.
If you want a genuine hot hatch experience, only the Ford will do, with the 1.5-litre Fiesta ST offering true performance car pace – Vauxhall hasn't brought back the Corsa VXR for this generation. The Corsa is the only one of the pair, however, that offers a diesel engine option for long-distance drivers or an entirely battery-powered EV version that's perfect for urban drivers.
Driving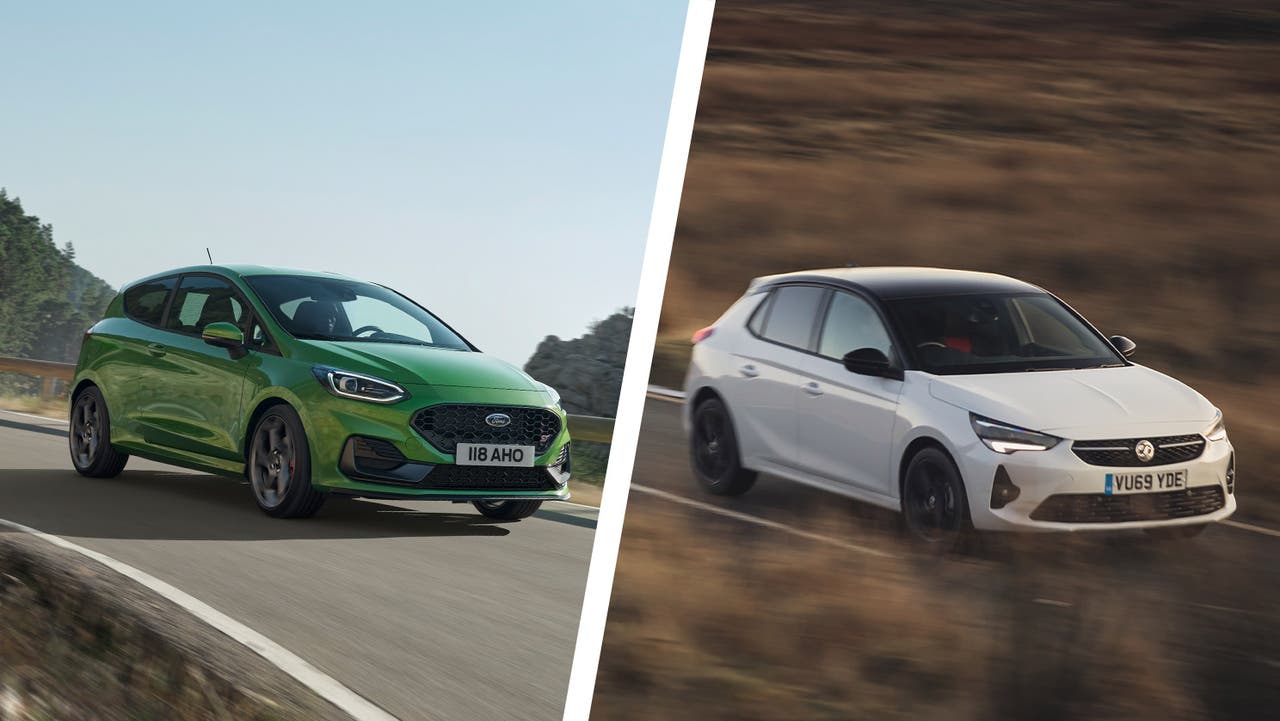 Traditionally, the Fiesta has been the better car to drive and that remains true for these most recent models. However, the difference is quite small, so only the keenest drivers are likely to notice the Ford's extra sophistication.
Around corners, the Fiesta remains a little more level and feels more willing to throw its front end at the apex of a corner, whereas the Corsa tends to isolate you from any drama at the front axle. The Ford is fractionally more supple, too, and soaks up nasty road bumps with less fuss than the Corsa, which can get jostled about by the very worst potholes. That said, the most recent Fiesta has lost some of the sparkle that made its predecessors such great fun to drive, in pursuit of a more composed ride.
While it plays second fiddle to the Fiesta behind the wheel, the Corsa still drives well enough. The controls are intuitive and naturally weighted, and there's enough compliance over rough surfaces that it's easy to cover miles in the little Vauxhall without getting a stiff back. Plus, you always have the extra punch of the Corsa's more potent engines for entertainment – somewhat making up for its less sporty handling.
Value and reliability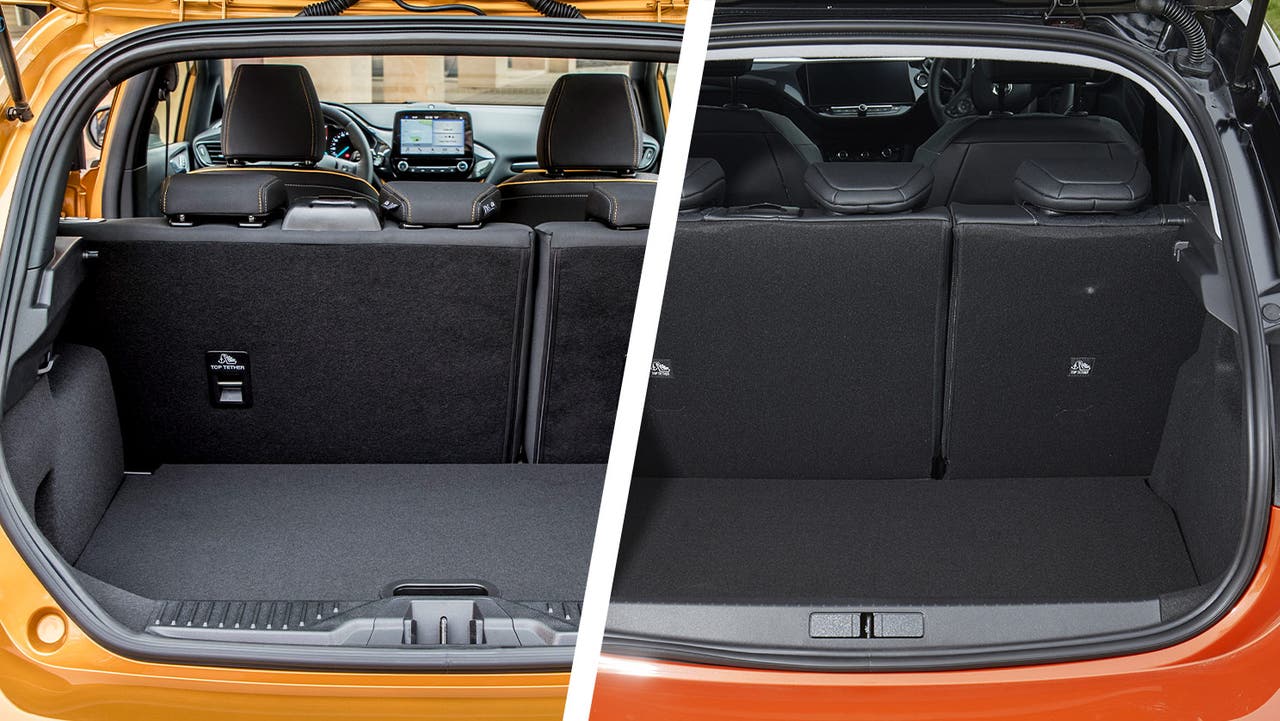 With competition between these two cars being so fierce, it's unsurprising that their prices are very closely aligned. However, as a rough rule of thumb, Corsa models tend to be a little more when compared against like-for-like Fiesta cars. That said, the difference can often be as little as a few hundred pounds, or just a few pounds per month, so it's worth taking a close look at each car's spec sheets to see which comes out on top.
Speaking of equipment, the Corsa once again has an edge over the Fiesta, with more models in the Vauxhall's lineup coming equipped with luxuries like rear parking sensors and sporty visual upgrades. All the same features are available in Fiesta models, but they'll often be priced a fraction higher. That means, if you shop both cars' lineups with the same budget, you'll probably be able to get a better-equipped Corsa that's newer or has covered fewer miles compared with a Fiesta of the same price.
Both the Fiesta and the Corsa earn mid-table results in most reliability surveys. There aren't widespread reports of issues with either car, but you can improve your peace of mind by buying either with an extended warranty to insulate you from unexpected repair costs.
Which is best?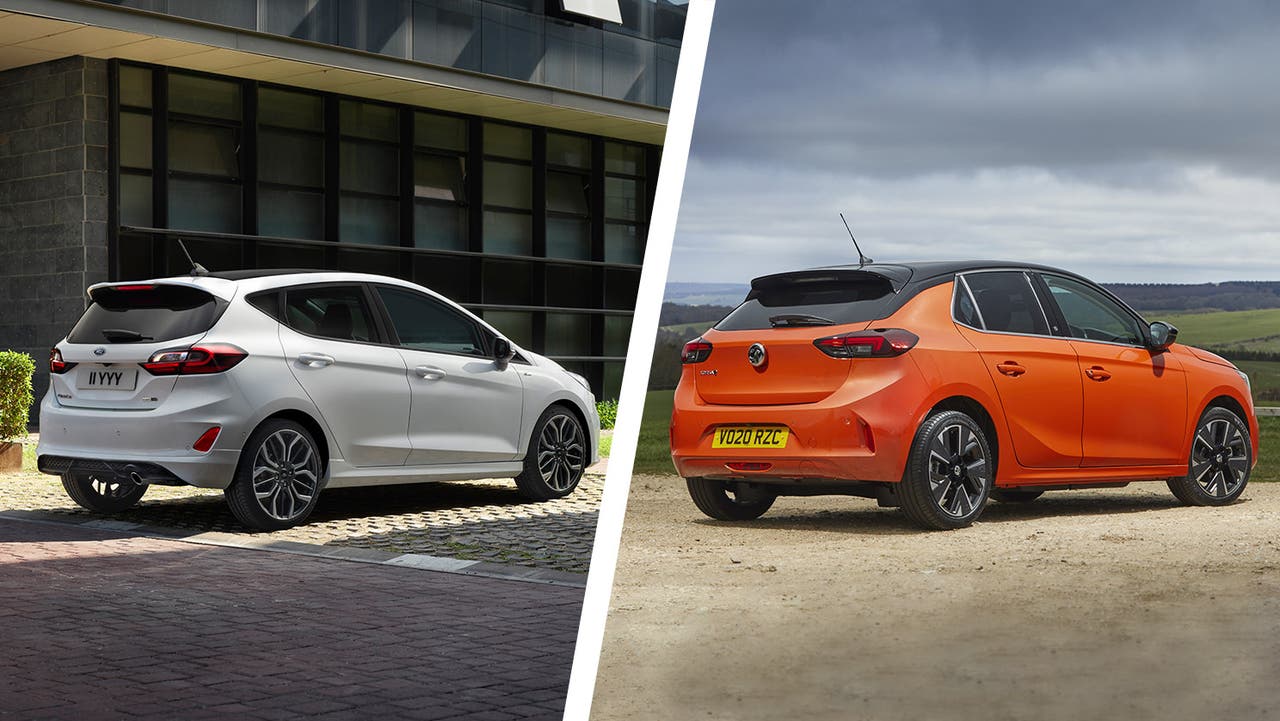 Both the Fiesta and the Corsa are widely available on the used market, so you can be confident you'll find a model that's within budget and includes all the spec you need. With prices so closely matched between the two, it's worth weighing up whether you'd prefer the fun-handling Ford or the better equipped Vauxhall.
You might also find your decision made for you if you're looking for something special under the bonnet. High-performance fans only need apply for Ford ownership, with the Fiesta ST remaining one of the best small hot hatches ever made. If you do lots of long journeys or regular urban crawling, however, only the Corsa offers the flexibility of diesel power or a pure electric option.
See how much you could save by shopping Motorpoint's huge range of used Ford Fiesta and used Vauxhall Corsa cars – all backed by a warranty and our Price Promise. To see more choices, browse our picks for the best supermini hatchbacks you can buy.