Thousands Of Cars Available Under £250 Per Month
29 January 2021
We have a choice of cars to suit all budgets. With over 5,000 cars available for under £250 per month, you may be surprised by the selection available.
We give you more than low prices. We only sell nearly new cars, which means in addition to the low price tag you will also benefit from:
Low mileage - all our cars are under 30,000 miles

Latest model - every on of our cars is under four years old (some are only six months old)

Manufacturer's warranty - nearly all cars are still under their original manufacturer's warranty

Added features - many vehicles come with additional features such as sat nav, parking sensors, heated seats and more already fitted
Thousands Of Cars Under £250 Per Month
Not only do we offer a large choice of makes and models, we have thousands of cars available on car finance deals under £250 per month.
Here are just some of our more popular car models available in this price range:
Kia Ceed From £152/Month
The Kia Ceed offers both style and value for money. The spacious interior not only makes this a great family car, but it is also economical.
The Ceed has five seats and a 360 litres boot offering plenty of space to fit all your essentials, and more. It also offers the added practicality of folding rear seats further increasing the amount you can carry.
All models come equipped with air conditioning and bluetooth phone connectivity. The manual option comes with a six-speed gear box. If safety is your main concern, all models are fitted with six airbags and electronic stability control.
Don't forget that Kia offers a seven year manufacturer's warranty on all their vehicles. We only sell cars under four years old, meaning you can buy your Kia with the knowledge it will still have at least three years of this warranty remaining.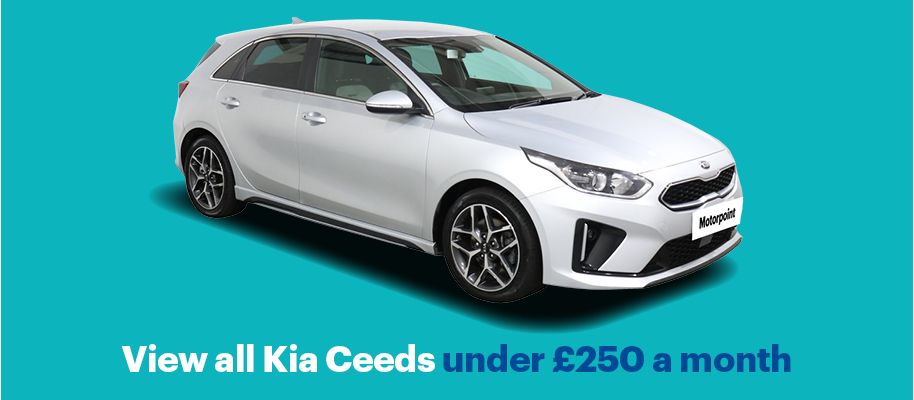 Volkswagen Polo From £170/Month
It may be a small car, but the Volkswagen Polo sure packs a punch. Offering a premium look and feel, the Polo is as refined as it's sibling the Golf and just as economical too providing 49-54mpg.
They are packed with quality features such as Car-Net App Connect (allowing smartphone connectivity), 5 star NCAP rating, alloy wheels, air con and bluetooth, as well as providing excellent performance and drivability. There are also some special editions available, for example the 'Beats' edition with upgraded audio options (six Beats loudspeakers), ideal for all you music fans! The GTI model provides an extra edge with a sporty front, black grille and twin pipes.
The Polo makes an ideal city car as well as being a suitable family runaround, making it a great all-rounder.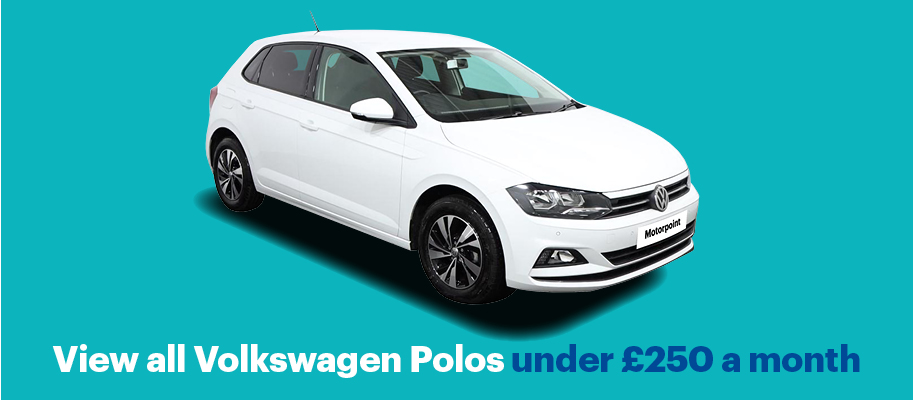 Fiat 500 From £101/Month
If style and fun are what you're after, look no further than the Fiat 500. The modern interpretation of the original Fiat 500 has been popular since its return to our roads with its perky colours and retro charm.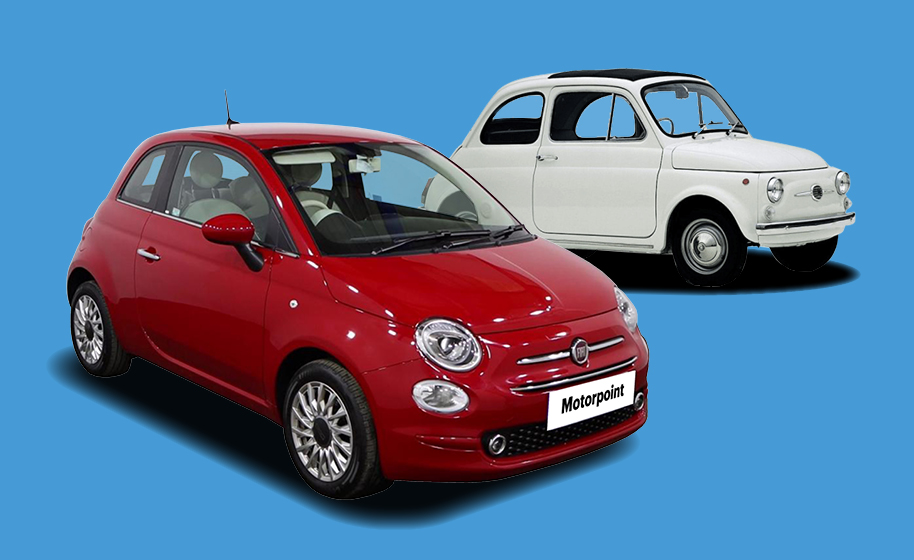 Sitting inside the Fiat 500 can be described as a bit like being in a fashion shoot… it's trendy, offers a colour coordinated dashboard, and some models even come with a white steering wheel!
The Fiat 500 provides great fuel economy doing over 55mpg, and its compact size is perfect for nipping in and out of busy city traffic (and parking in those tight spots)!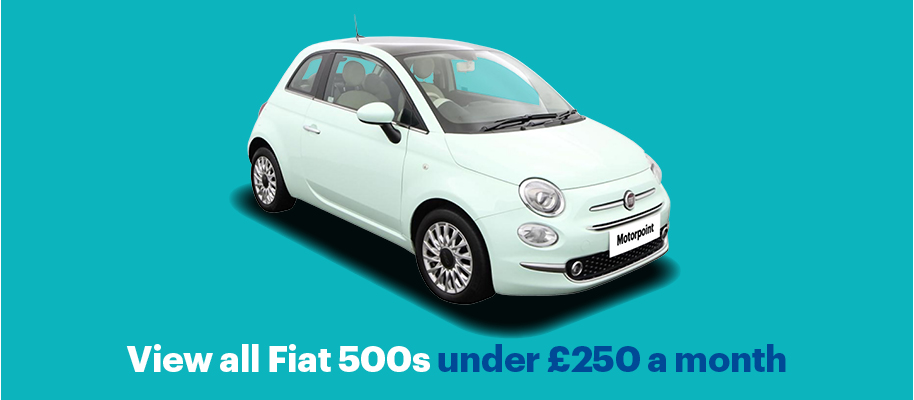 Ford Fiesta From £140/Month
Our best selling car of 2020. There's a reason the Ford Fiesta regularly tops the list of best sellers. This iconic hatchback is renowned for its reliability, styling and price.
The Ford Fiesta not only makes a practical family car but is a popular choice for smaller households too. There are a choice of engine sizes, from the economical 1.0 Ecoboost engine through to the more powerful 1.6. Choose from a three or five door option, depending on your transportation needs. Coupled with its reliability, and the reasonable servicing and maintenance costs the Ford Fiesta makes a perfect choice for a variety of driving needs.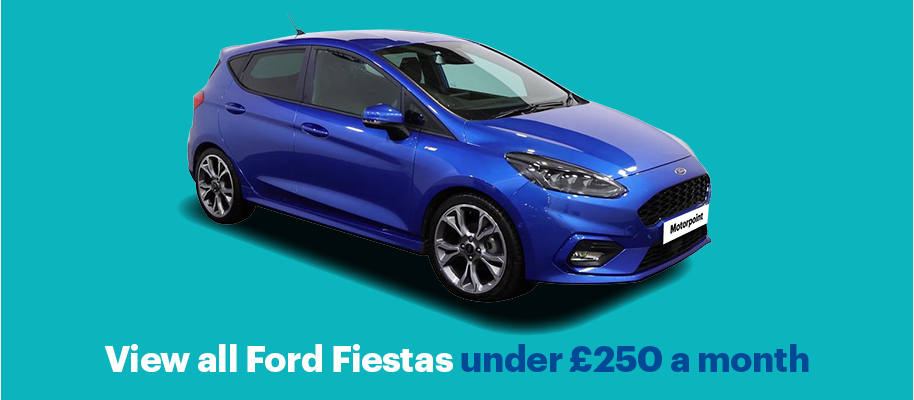 Audi A1 From £191/Month
The baby of the Audi family offers everything you could want in an Audi… all wrapped up in more compact size! You will notice the familiar aluminium trim on the interior, and the A1 also benefits from the same petrol and diesel engines as the other cars in the Audi range.
For those looking for a sportier look, the A1 is available with an S Line trim, as with the A3 and A4. Keep a lookout for the newer 2020 A1 models we have in stock. They underwent a facelift, with the new model having a redesign to modernise the look of the car both inside and out (including a virtual cockpit).
Style. Comfort. Luxury. The A1 offers a great first step for those looking to get on to the Audi ladder. It is perfectly at home being driven as a city car, as well as faring well on longer motorway journeys too.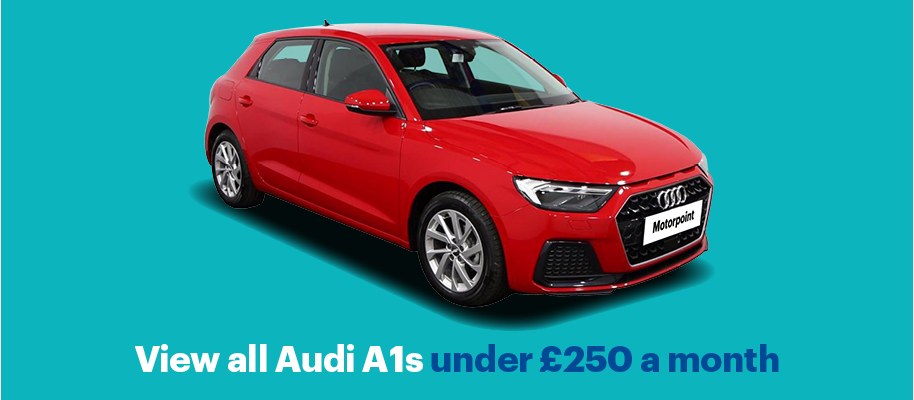 Nissan Juke From £164/Month
Looking for something a little bit different? The Nissan Juke benefits from the high up seating position of an SUV in the size of a hatchback.
The dramatic styling will help you stand out from the crowd. The Juke's quirky face and twin double headlights at the front make it impossible to ignore. Other design features include big flared wheel arches and boomerang shaped rear lights.
The Juke handles like a hatchback, making it an ideal choice for those looking for a bigger car without going full SUV. If fuel economy is important to you, the Juke comes in a range of petrol and diesel engines from 1.2 to 1.6, as well featuring three driving modes (eco, normal, sports), that give you anything from 45 to 60+mpg, helping you get the best fuel economy.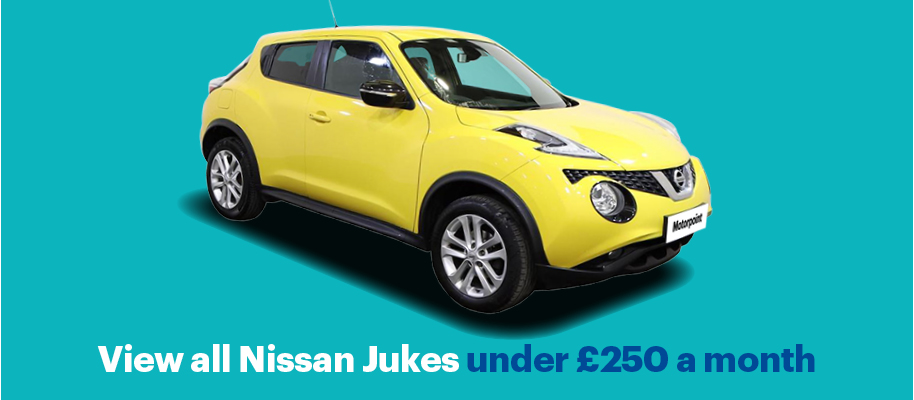 Ready To Buy Your Nearly New Car?
Browse all our cars that are available with car finance under £250 per month to help you spread the cost of your purchase. Part exchange is also available on all vehicles, meaning the value of your current car can be put towards your new one.
Getting your new vehicle is easy. Simply choose from our free Home Delivery service, or reserve your car online for £99, and arrange a date to collect it from your local Motorpoint store with Reserve + Collect.