The best nearly new SUVs on sale
16 February 2022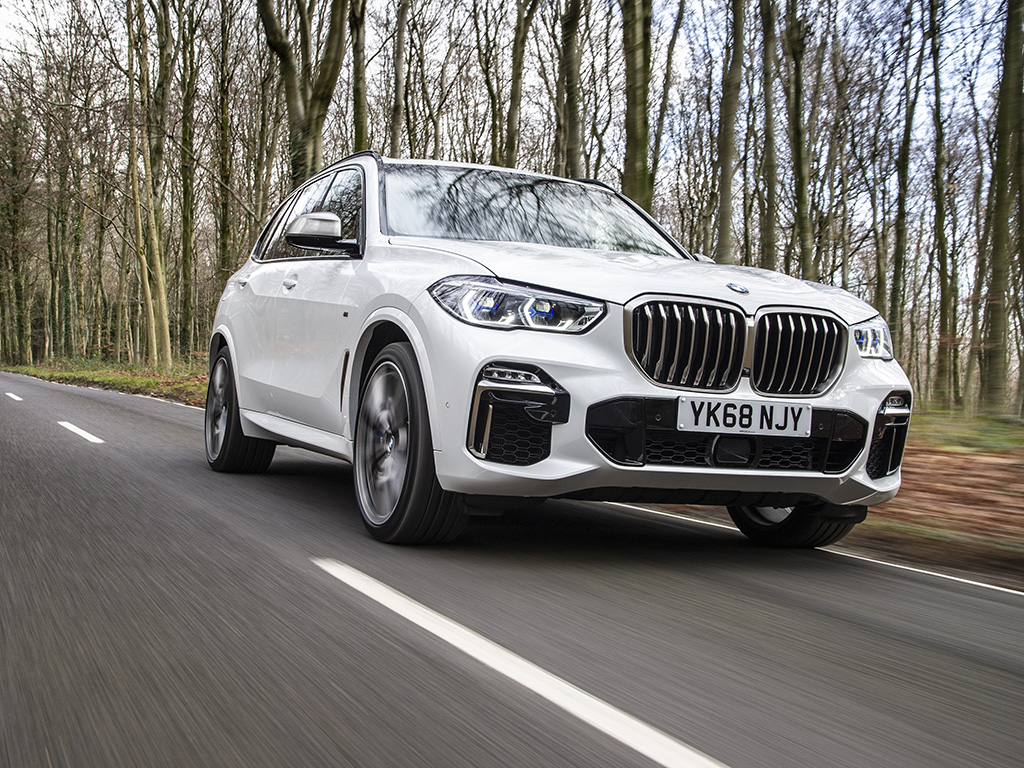 Photos © 2022 Manufacturer photos
So you've decided you want an SUV but don't know which one? Check out our top 10 list of the best nearly new SUVs to suit all budgets
It's easy to look at SUVs and think they're too big, too heavy and too expensive – but once you've lived with the safe feeling you get from an SUV's high driving position, it's hard to go back to a regular estate or hatchback. Factor in the sheer practicality of the things (including how easy it is to wrestle your kids into and out of the back seats without bending over) and it's obvious why SUVs are incredibly popular.
With that in mind, here are what we think are the best nearly new SUVs you can buy today. And we mean today – you can drive any of these cars away today from your nearest Motorpoint store.
SUVs used to drive like bouncy castles, then BMW launched the X5 and ripped up the rulebook like it was the final lap of a Formula 1 title decider. Over two decades on, the X5 still shows an off-roader can double as an ultimate driving machine – it's just that it's cushy, spacious with up to seven seats, loaded with tech, and even impressively frugal too. Some rivals are better off-road, but the X5 is the most complete BMW of all.
Find a nearly new BMW X5 at Motorpoint

Take a Skoda's value, a Jeep's go-anywhere capability and a Nissan's dependability, feed it all into a Romanian factory and out pops the very excellent and super-cool Dacia Duster. It might be basic as a bivouac and only slighter quicker than catching the bus, but the Duster makes no-frills not just a virtue, but The Whole Point. No wonder this big-value SUV has a cult following.
See our range of Dacia Dusters

Volvos are made for safely dodging elks while driving to the self-assembly furniture store in a blizzard, so why it took those Swedes so long to make an SUV is beyond us. No matter, the very good first XC90 got the ball rolling, and predictably this second-generation is a belter, with icy cool design, frugal four-cylinder petrol-, diesel- and plug-in hybrid engines, and seven seats as standard. The focus here is comfort with decent dynamics, if not quite German-spec corner-carving.
Find a used Volvo XC90 at Motorpoint

The Karoq is the filling in Skoda's K-based SUV sandwich – bigger than a Kamiq, smaller than a Kodiaq – and rolls the Czech brand's trademark value for money, no-nonsense versatility and top-notch VW engineering into one tempting mid-size crossover package. There's so much storage in a Karoq you could rent its cubbyholes to millennials, and the optional VarioFlex rear seats are genius – roll them forwards, fold them flat or lift them out, but please do remove passengers first.
Find a used Skoda Karoq to drive away today

The world record for squeezing people into a classic Mini is 27, but this still isn't enough for some buyers. Enter the Countryman, which is not only significantly more spacious (it shares oily mechanical under-bits with a BMW X1) but also gets a raised ride height and the option of all-wheel drive to carry many, many people* over all kinds of terrain. Mini's perky go-kart handling is still in the mix (if a little diluted), and you can choose from everything from feisty John Cooper Works spec to a frugal plug-in hybrid.
*legally five

The Evoque is like the offspring of Victoria Beckham and Bear Grylls on four wheels. Posh enough to swish down a catwalk, handier off-road than a mountain goat in wellies, the Evoque is arguably the most desirable compact premium off-roader of all. Now in its second generation, the smallest Range Rover is also far better on-road than your average off-roader, and surprisingly affordable to run too, especially as a plug-in hybrid. Check out the Peugeot 2008 or Kia Sportage for a similar fix on a budget.
Check out our used Range Rover Evoques

If you've outgrown your Tonka toy but find the Land Rover Defender too big and pricey, you're smack-bang in the middle of the Suzuki Jimny's target market. Chunky looks are key to the Japanese off-roader's cult appeal, but there's proper substance beneath the surface, with rugged body-on-frame construction, solid axles, a low-range gearbox and all-wheel drive. One-of-a-kind, the Jimny's great off-road, still fun and practical for regular driving, if not the last word in refinement.
Grab yourself a used Suzuki Jimny

When Nissan dumped its hatchback for the Sunderland-built Qashqai in 2007, some thought it had gone round the bend. Instead, the Japanese maker was way ahead of the curve, and the Qashqai soon became its UK best-seller. Very good at many things, exceptional at none, this second-generation Qashqai is a near-constant Ed Sheeran-like presence in Britain's top-ten best-sellers, lavishing family buyers with comfort, versatility, smart design and affordable running costs at a cracking good price.
Check out our range of used Nissan Qashqais

Guess Britain's best-selling car of January 2022? Given the picture above clearly shows a Kia Sportage, we're not exactly University Challenge here, but yeah, those hard-grafting Koreans have topped the pops with the Nissan Qashqai's nemesis. Always a fixture in our top-10 best-sellers, the Sportage is loved for its sharp design, raised ride height and keen pricing, but it's Kia's unbeatable seven-year warranty that really seals the deal.
Find a nearly new Kia Sportage at Motorpoint

Wikipedia says 2008 was a leap year starting on a Tuesday of the Gregorian calendar. Peugeot argues 2008 is actually a compact and highly versatile SUV with a choice of economical petrol-, diesel- or pure electric powertrains, stylish '3-claw' headlights and the mad-cool 3D i-Cockpit on some models. It looks amazing inside and out, offers plenty of space, drives beautifully and – unlike the year 2008 – won't kickstart a financial crisis in your pocket.
Have a look at our range of nearly new Peugeot 2008s