Best 5 hybrid 4x4s on sale
31 March 2022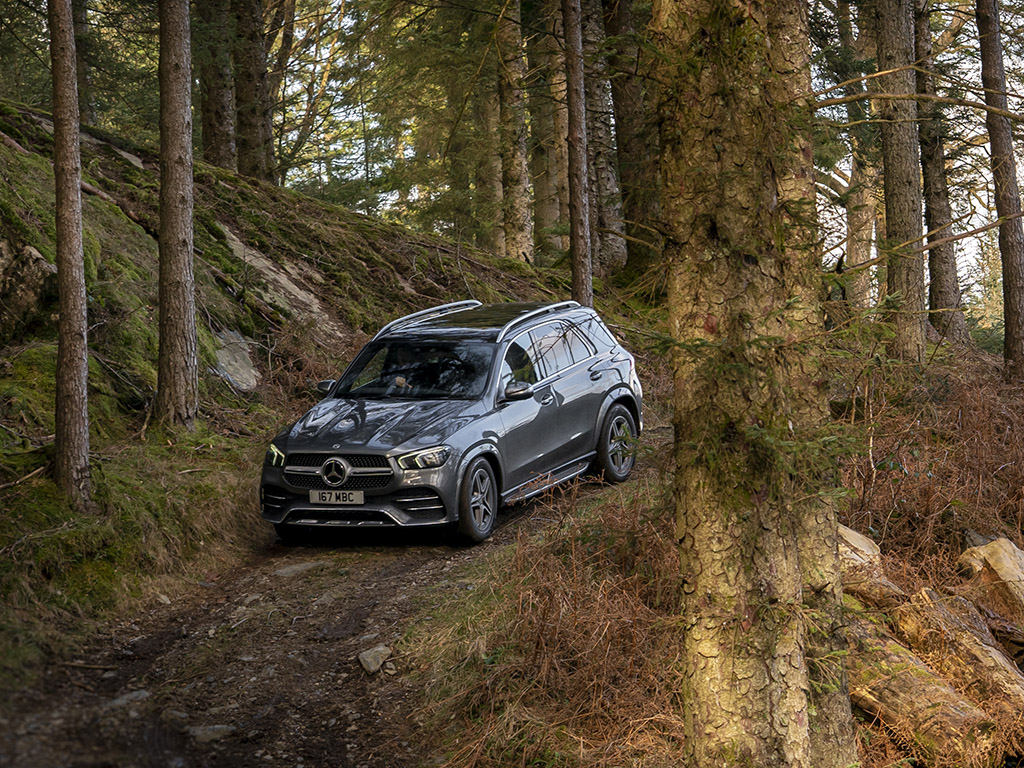 Photos © 2022 Manufacturer photos
Need to reach places other cars can't – but want to reduce your emissions at the same time? Step this way to see the best hybrid 4x4s!
If 4x4s are a better way to connect with the great outdoors than regular cars, it's an uncomfortable truth that they're usually more damaging to it thanks to higher emissions. So imagine if you could combine an SUV's all-terrain expertise with a planet-friendly hybrid engine… Well, you and a bunch of carmakers are one step ahead of the game here, because that's exactly what this Top 5 Hybrid 4x4s guide is all about. So read on to discover Motorpoint's top picks…

Plug-in hybrids are great for shorter trips where they use nothing but electricity, but diesels are best for longer jaunts because they're just as efficient after 20 miles as they are at 200. The GLE 350 de 4Matic rolls the two into one tempting package with a very long name. Its battery is bigger than usual for a plug-in hybrid at 31.2kWh, giving up to 66 miles of pure electric running on a charge with an astonishing official economy figure of 403.6mpg. A petrol version is also available (the 300e), but the battery's less than half the size and electric range half as generous. The boot's still commodious at up to 1,915 litres if you drop the rear seats, but there's no seven-seat option here, unlike other GLEs.
Find a used Mercedes GLE at Motorpoint

Want a seven-seat SUV that can fit adults comfortably in the third row, plus epic value for money, off-road ability with on-road manners, a warranty that's good for seven years or 100,000 miles, and less thirst than a desert cactus? Some people would call that completely unreasonable, but Kia calls it the Sorento – it's the Korean firm's most versatile SUV. The regular 'self-charging' hybrid model is good for 40.9mpg (only a fraction less than the diesel fuel-sipper), but bag the plug-in and you're good for 35 miles of zero-emissions motoring and up to 176.6mpg. Few cars tick so many boxes.
Check out our selection of used Kia Sorento models

If you really want to use the 4x4 bit of your hybrid 4x4, the Discovery Sport takes some beating. It's a Land Rover, after all, and comes with hill descent control, wade-sensing tech and Terrain Response 2 that magically adapts to everything from snow to sand. On road the Disco Sport's comfier and more refined than most cars, and seven seats are unusual in such a compact footprint too. As for the plug-in hybrid bit, well that pairs up a three-cylinder petrol engine with an electric motor, so it can run for 37 miles on a charge and crack 141mpg. As much all-rounder as off-roader.
Fancy one? See our range of used Discovery Sport models – available to drive away today

Toyota's RAV4 takes an innovative approach to four-wheel-drive hybridness, giving you a 2.5-litre petrol engine and a powerful electric motor to drive the front wheels and a smaller motor to take care of turning the back ones. This means it can send power to the back more quickly and efficiently than a regular four-wheel-drive system. On the road its self-charging system gives decent fuel economy for such a large car, although the CVT auto gearbox can sound like a cow in labour when you accelerate hard. It's roomy and comfy, though – and its quirky design certainly stands out.
Find a used Toyota RAV4 at Motorpoint

The XC90's design may be a few years old now, but it's still a stunning thing, with cool Scandinavian style backed up by a minimalist interior that'll have fashionistas cooing at all the exposed wood trims. The T8 plug-in hybrid version is pretty chic as far as technology goes too – it'll travel about 25 real-world miles on electric power alone thanks to its 18.8kWh battery, and the 2.0-litre petrol engine's got your back for longer trips. That combustion engine shouldn't be overlooked either – it's powerful thanks to supercharging and turbocharging, making this is a 450hp car once you take into account the electric motor that powers the back wheels. It's comfy too, and has acres of space inside – it seats seven people, although the third row of seats is best reserved for short journeys.
Check out our selection of nearly new Volvo XC90s